Getting Married in Thailand. My Chiang Mai Wedding. WE DID IT!
WE DID IT! After 10 years together, finally Jaa and I got married. And we did it in Thailand's northern gem, Chiang Mai. What a day it turned out to be. If you're interested in how it all worked out, or if you're thinking about getting married in Chiang Mai, or anywhere in Thailand, this should help you guys make some big decisions. Including the Thailand wedding costs! Check it out…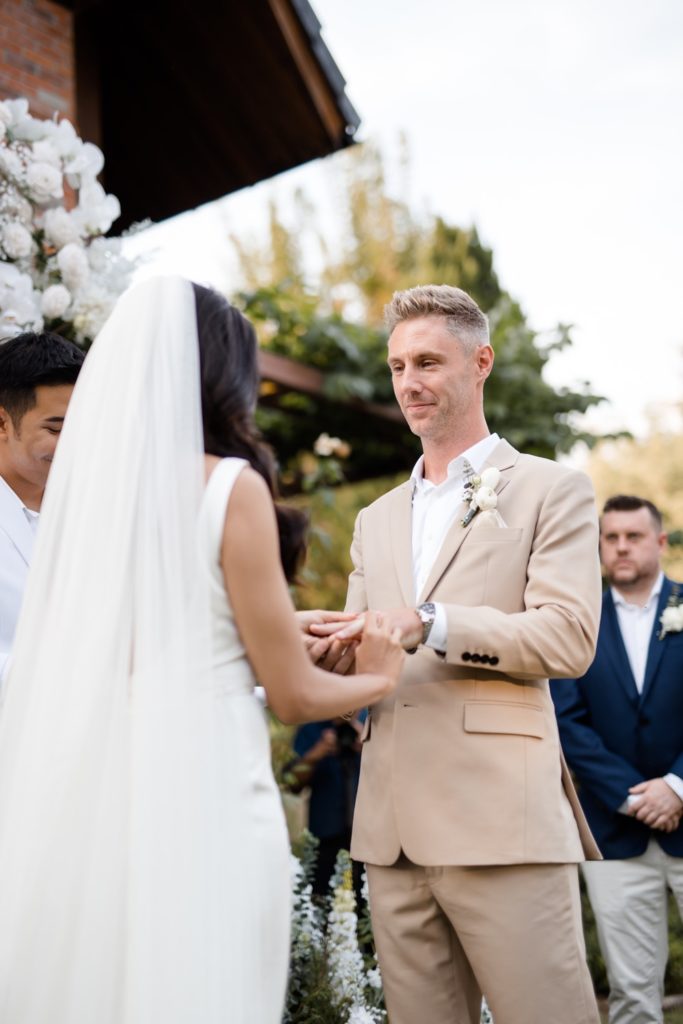 Getting Married in Thailand turned out to be such a great decision for us. Thailand is the country that changed my life. It's where I first flew one-way from Ireland to begin this weird 'blogger/make-money-online' life. I taught English there, studied the Thai language there, and when I first managed to make some actual money from my blog, it's where I flew back to with the dreams of a new life.
Decisions Decisions
My (now) wife and I had considered getting married elsewhere. A destination wedding. Greece maybe? Or Spain? Even back home in Ireland. But in the end, our Chiang Mai Wedding was everything we hoped it would be. Gorgeous setting, lovely weather, great value, and memories for a lifetime. I couldn't recommend it highly enough, especially getting married in Chiang Mai, above all other places in Thailand.
I wanted to blog about it for a couple of reasons. First, I want to remember all the hard work and planning that went into it (although that was mostly my Chiang Mai wedding planner, our venue team at Chiang's Mai's best wedding venue, and my wife who did that!) but also to help anyone else who is considering getting married in Thailand as a foreigner, or as a Thai. From the planning, how much it costs, to the best ways to organise it. So let's have a look.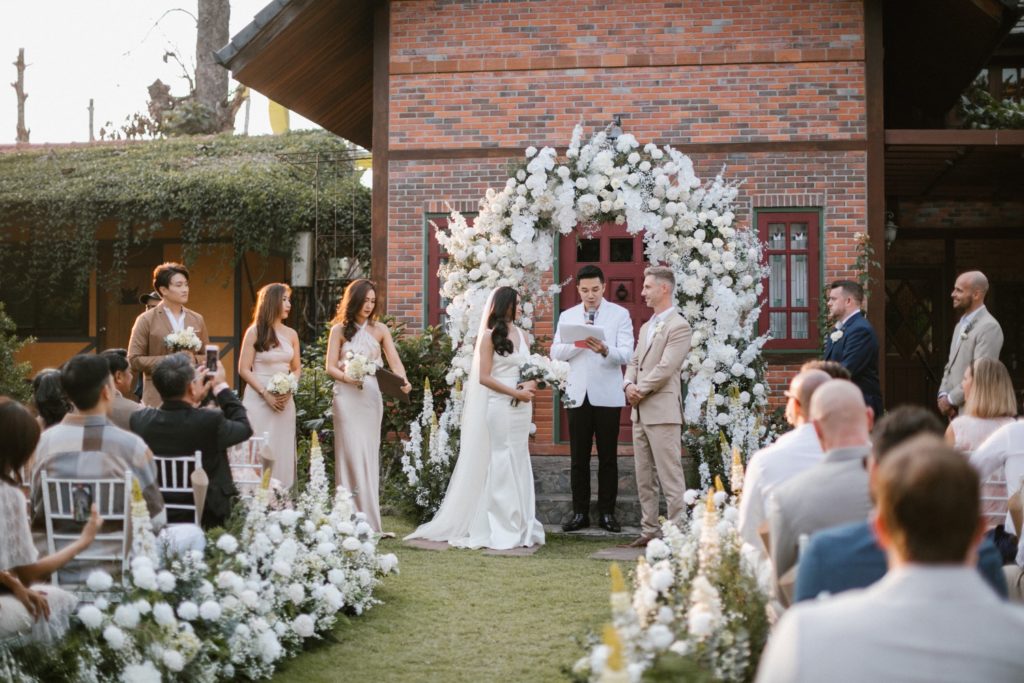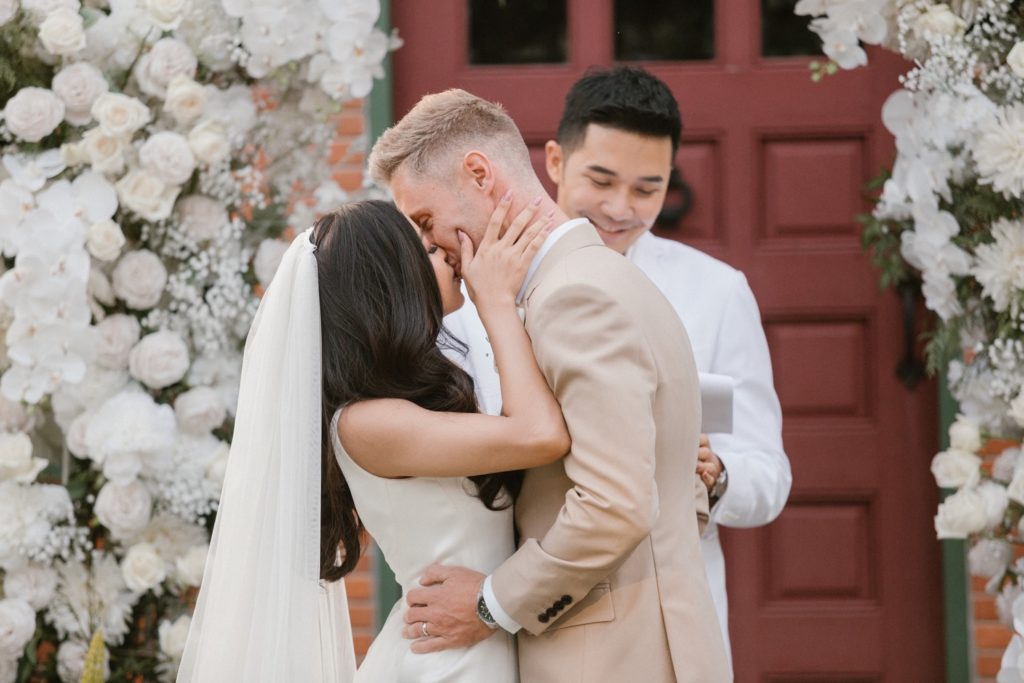 Getting Married in Thailand; The Thought Process
Well, getting married in Thailand, or anywhere, from March 2020 until the present day, has been tricky. Covid has caused no ends of problems, many of which have been more serious than canceled weddings. And that's indeed what happened to us.
Originally we had wanted to get married in Thailand in December 2020. COVID meant we pushed it back until February/March 2021. Then more Covid (and the small matter of me rowing across the Atlantic Ocean) mean we postponed it a third and final time until December 18th, 2021. This time, we were going to proceed regardless of Covid rules. Even if it meant just Jaa and me being there!
So why get married in Thailand?
Well, for a start, Jaa is Thai. And I live in Thailand. So to get married in Thailand was always on the cards for us. And besides those obvious reasons, it's also an amazing destination to get married in any way. Why? It's perhaps half the price (or probably even less?) than a wedding in Europe. More on that later. The weather is good, especially in Thai winter. The food is great and the atmosphere felt like it would be special.
So although we also considered getting married in Greece and Bali, we decided to proceed with Thailand. Although not a standard Thai beach wedding. Instead, our wedding would be in Chiang Mai, in northern Thailand. In my opinion, the best place in the world!
Why choose getting married in Chiang Mai?
So once we had decided on Thailand, we had to choose between a few places in Thailand to have the ceremony. The main choices are Bangkok (where we've been based for 8 or 9 years), a beach wedding in the south (Krabi/Phuket/Koh Samui amongst other options), or Chiang Mai, where we are building our dream home.
Personally, I love the north of Thailand for a host of reasons. But choosing to get married there, for me, was a simple choice. For a start, the weather in Chiang Mai in Thailand's winter is wonderful. Temperatures of 25 degrees (77 fahrenheit), whereas in the south it can be 20 degrees hotter. Ouch!
So the thought of wearing a suit anywhere else in Thailand would be torture. We want to enjoy our day, so being drenched in sweat in our suits really scared me off from getting married on the beach down south.
Combining that with the mountains in the north, AND the value for money, meant we could have an amazing day, dressed in our dream theme, with fresh air in the mountains, we could have a luxury day without breaking the bank. And all without the crazy Thai heat. So Chiang Mai it was.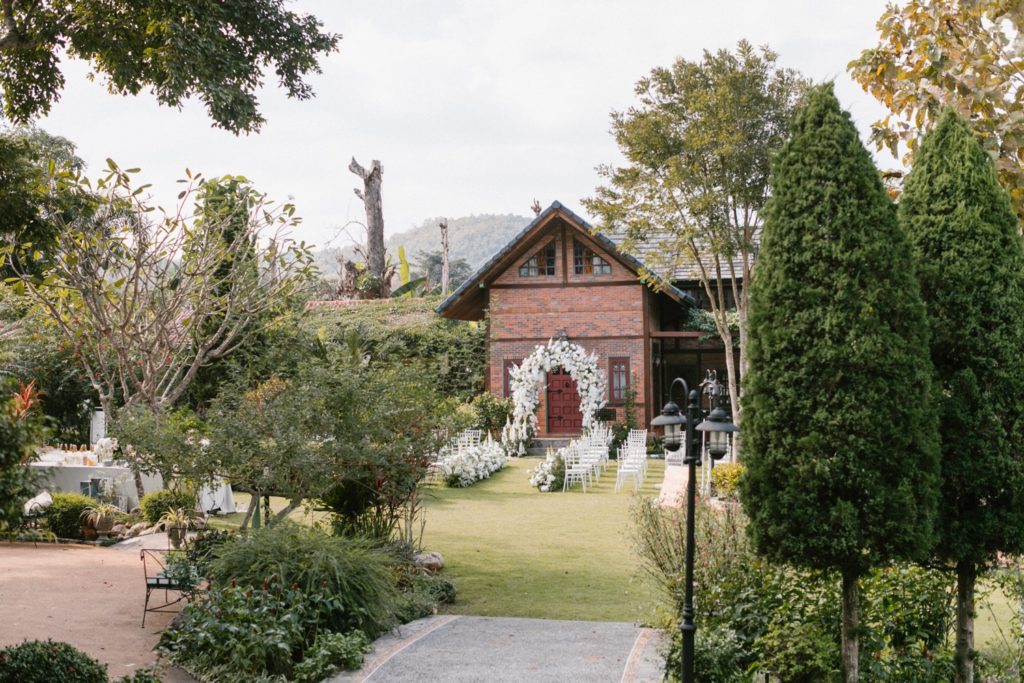 Where to get married in Chiang Mai?
So we had decided to get married in Chiang Mai. It was easy for Jaa's family to attend because flying from anywhere in Thailand to Chiang Mai is like hopping on a bus. $10 to $20 flights all day long. That also meant IF people could get to Thailand on my side during all this COVID craziness, they could fly to Bangkok and easily hop on a super cheap flight to Chiang Mai, just an hour or so away.
But where in Chiang Mai should we get married? Jaa and I started doing a lot of research into the perfect venue for a wedding in Chiang Mai and after months of research, and driving around the city on my scooter to check every place out, our shortlist came down to 4 options (in my opinion these are the 4 best options for getting married in Chiang Mai):
Anantara Chiang Mai Resort
137 Pillars House Chiang Mai
Na Nirand romantic boutique resort
The Heritage House & Garden
All 4 are beautiful, but in the end, there was only one winner. Here's how the thought process played out:
Anantara: Gorgeous hotel and location in Chiang Mai. But the wedding packages were really fixed. You had to use all their services, and they were super expensive, and not flexible. There was very little picking and choosing. Also, there could be other weddings on the same day as yours (way to remove the special feeling!).
It felt quite formulaic. It wouldn't be the boutique, custom, personalised experience that we wanted. AND it would be as expensive (if not more!) than getting married in Europe. The hotel would be full of other guests too of course, so that felt a bit weird. Also, if we wanted our friends and family to stay onsite with us, it's $300 or so for basic rooms. So yeah – overpriced, and it would be a cookie-cutter, generic wedding. Beautiful, but not unique. So it was a no.
137 Pillars House Chiang Mai: GORGEOUS hotel. But SERIOUSLY expensive. We'd have to use all their services, like the Anantara and again they were super pricey. Also, again, there would be lots of other guests in the hotel, so it wouldn't feel like a personal, intimate event. That being said, if you're going to throw crazy money around, 137 Pillars is lovely. But it's not the private event we wanted, so we skipped it.
Na Nirand romantic boutique resort: In the end, our second choice. Lovely location on the waterfront. A lot more affordable than 137 Pillars and Anantara but once more, there'd be lots of other hotel guests having meals, drinks etc while our special day is in full flow. So not quite what we wanted.
The Heritage House & Garden:
And then came the Heritage House and Garden. Wow. It's about 20 minutes outside Chiang Mai city centre, in a beautiful location, in the jungle/mountains but still really easily accessible to the city. As soon as Jaa and I arrived here, we knew this was THE place.
The architecture is like a European Manor house. There are 10 rooms or so on-site, so you can book the whole place to yourself and your wedding party. You can use all your own independent service providers for video, food, make-up whatever. It's beautiful, personal, boutique, and just perfect. Then, Patty and Vince, the owners showed us photos of past wedding events there, and we were done. It's spectacular. It's personal. And they care. AND it's crazy good value. Not only was it the best option, it was also the cheapest. I think you can call that a win-win! So yeah, we signed up our date, signed the contract and we were done. Thank you Patty and Vince!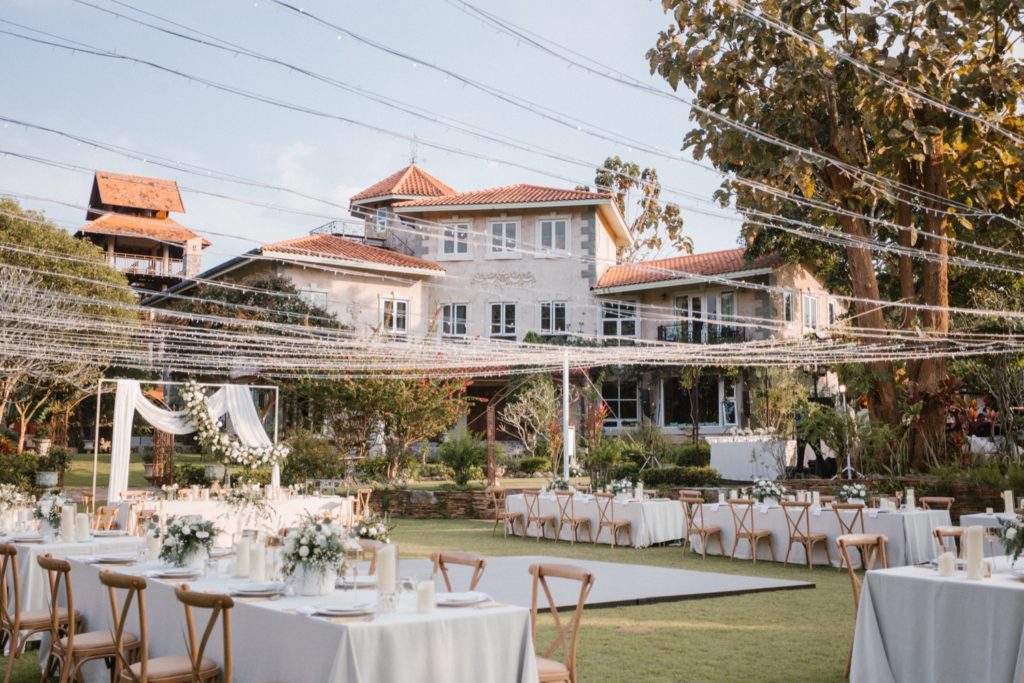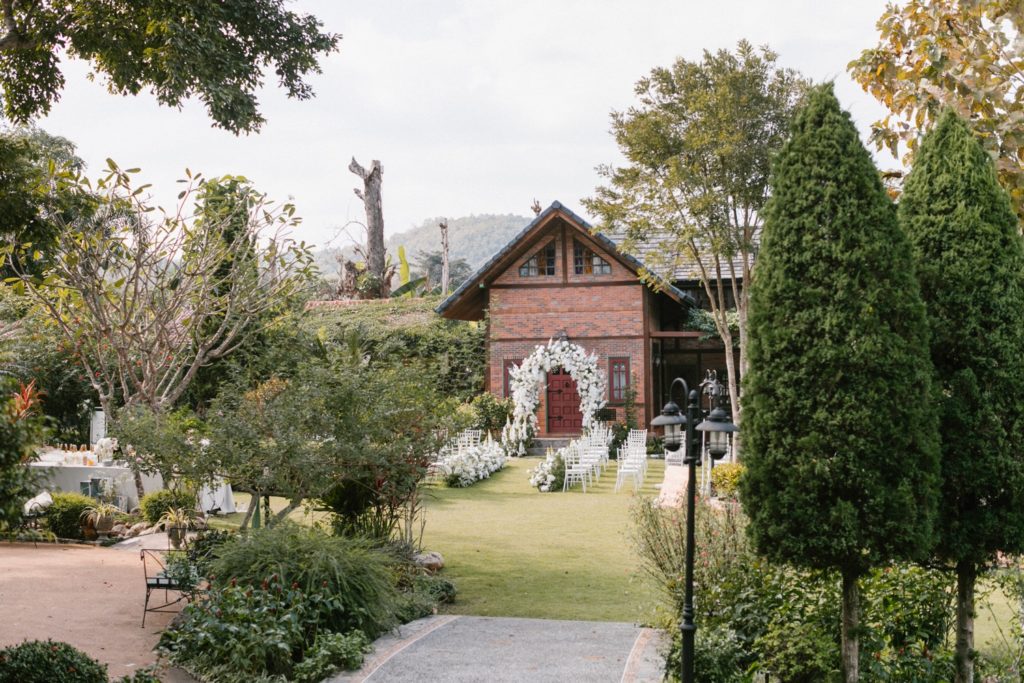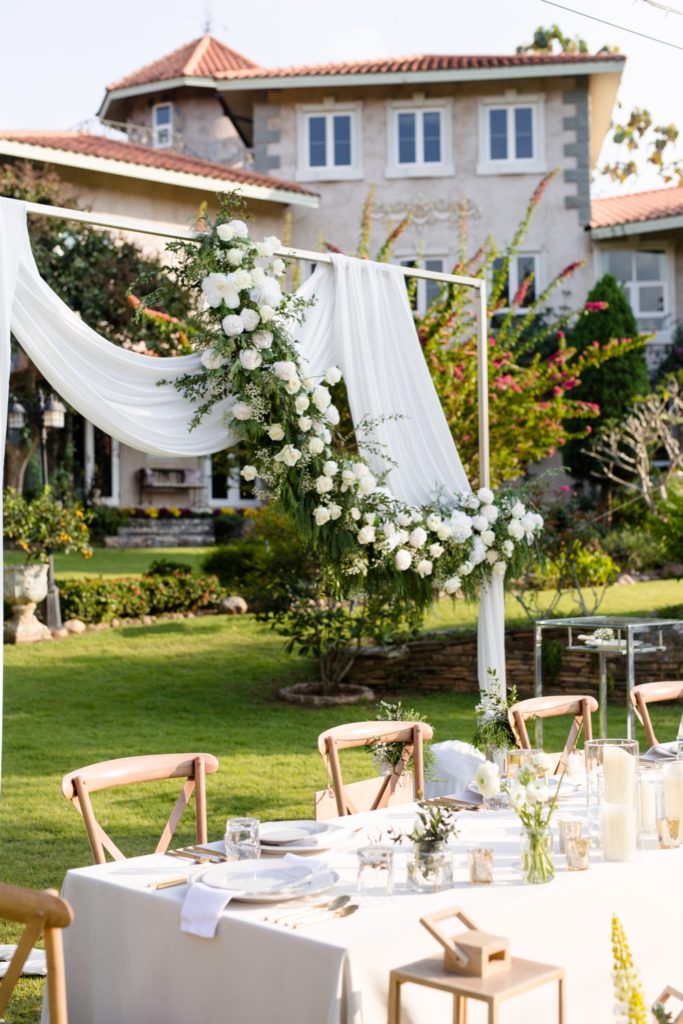 To use a Chiang Mai Wedding Planner, or not?
In Ireland, growing up, wedding planners seemed to be a 'rich-person thing'. And I didn't grow up like that! So it felt a little weird even considering it. I asked on my Instagram if people thought I should do it, and I was shocked that everyone said yes! Anyway, to cut a long story short, I researched Chiang Mai wedding planners and after contacting all of them, one stood out, Marry And More.
I could write a whole blog post on Toey and her team but they were AMAZING at every turn. And they created such a beautiful day at an affordable price point. I cannot thank them enough. If you're looking for a wedding planner in Chiang Mai, get Toey and Marry and More are your team. Believe me! Thank you Toey!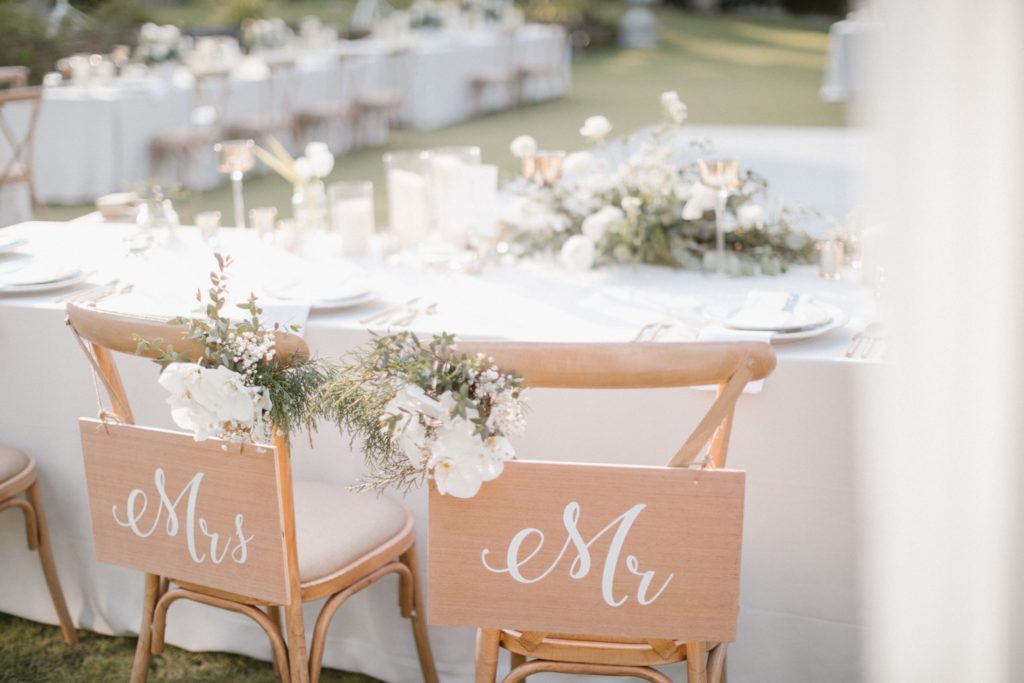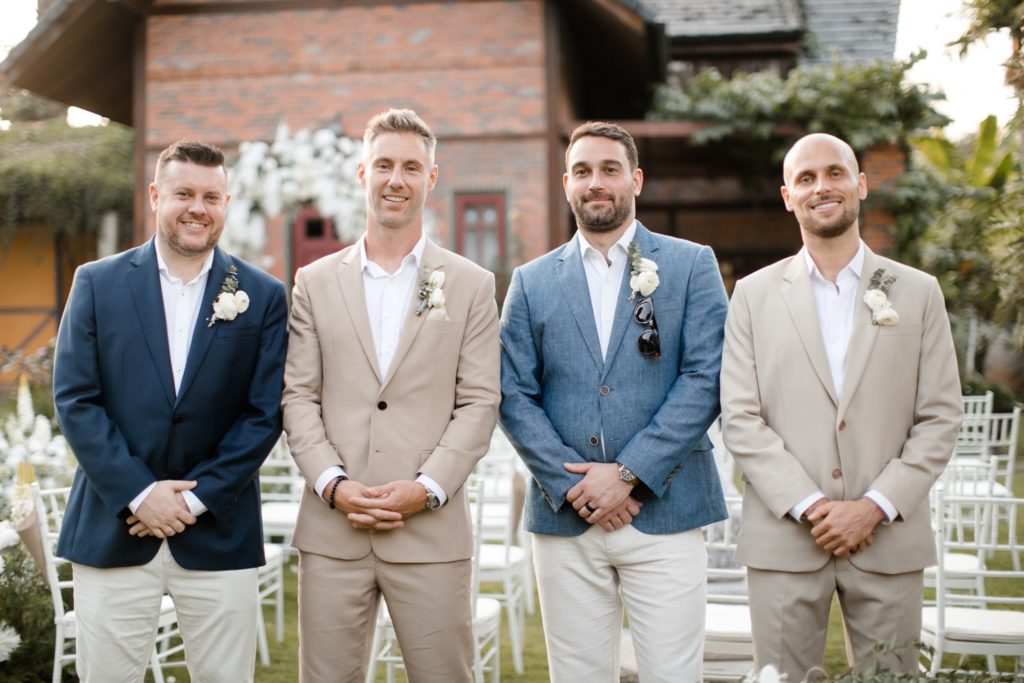 Our Thailand Wedding Planning Process and Budget
We had chosen our Chiang Mai wedding venue and our Chiang Mai wedding planner almost a year before our original date of December 2020, so it felt like our planning and discussions had been going on FOREVER by the time our December 18th 2021 date came around. And actually, it had been 20 months or so of chatting by then!
The planning, to be perfectly frank, was actually super easy and laid back. All thanks to Patty and the team at the Heritage, and Toey our wedding planner.
I had heard how stressful it was to plan a wedding. About costs spiraling out of control. About bridezillas, and problems with extended families. Getting married in Chiang Mai, Thailand, with the team we had chosen, meant we had none of that. And I didn't feel stressed at all until the day itself (and that was mostly down to fear of the public first dance!).
The planning
The Heritage House and Garden have a perfect layout for a wedding. They have 'the big house', a manor house style, where the bride and groom and the wedding party can all stay the night before, and the night of, the wedding. Then out the front is the natural space for the dinner and drinks. A lovely lawn, surrounded in trees, allowing fair lights, flowers, live music.
Besides this, is a beautiful villa that's ideal for the actual aisle and ceremony, and space for photos. It's almost as if it's literally been designed to host weddings. So the planning, in that respect, was easy. It was so clear how best to host it for the wow-factor. So we did just that.
We also booked out the whole venue for 2 nights – that was 4 villas (roughly $140 per room) plus the big house. And then the venue could comfortably hold up to 200, although we originally had planned 120 people, which was revised down to 70 or so due to Covid.
Budget and logistics; Our wedding in Thailand costs!
The AVERAGE cost of a wedding in the UK and Ireland is 28KGBP ($38k USD), so this was less than half. The average cost of a wedding in the USA is about $30kUSD. So how much is a wedding in Thailand?
Once we had organised everything with Heritage House, we sat down with our wedding planner, Toey, and discussed our options.
Food, drinks, lighting, flowers, MCs, hair and make-up, audio/visual etc etc. I guess this is normally where the stresses occur. But for us, that was all taken care of. I told Toey that due to the fact I'm building my house at the same time, the budget wasn't too flexible. And if possible, we'd like A, B and C BUT our budget was locked at 500k THB ($15kUSD roughly). I was curious to see what could be done with a budget that size here in Thailand.
Toey was confident she could pull it off. From that point on, she cut every corner and minimized our costs where she could. She would provide us with options for everything. And I rarely had to say no to anything. I was pretty shocked at the value of everything. Long story short? We had a whole video and photography team, we had a strong quarter, we had a great bilingual MC, we had fairy lights, 5* food, drinks, canapes, staff and waiters of 20+ people. And we came in well UNDER budget. INSANE.
So for sure I recommend getting married in Chiang Mai, Thailand and if you want a high-end wedding, personal, intimate, and beautiful, but at a price that is barely believable, feel free to use my location and planner. You won't be disappointed!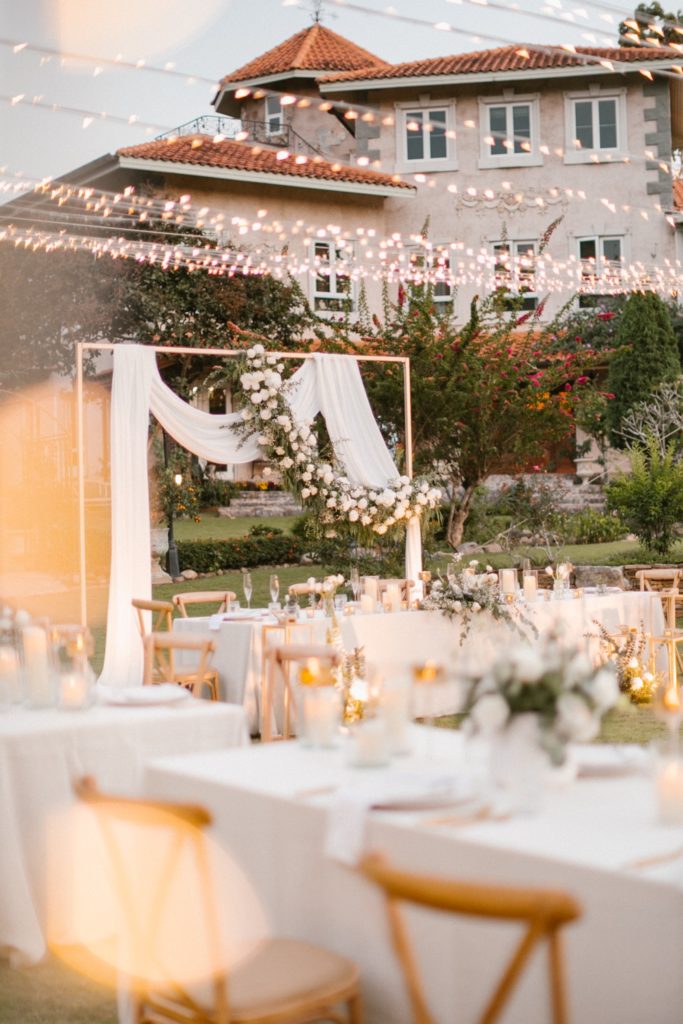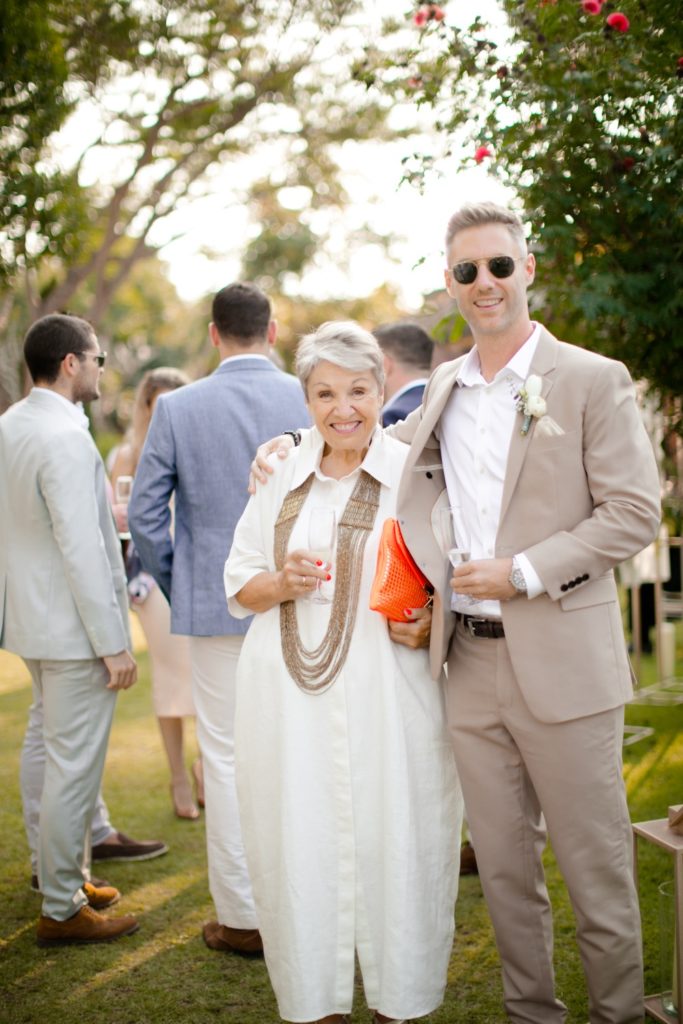 The Wedding Day Itself
So the day arrived. And there hadn't been one problem, one issue, or one hiccup. Patty at the Heritage did all the planning with Toey, and we were barely bothered in the slightest. The thought of having to do all the logistics and operations yourself, wow. I have huge respect for anyone who does that. It must be crazy. ESPECIALLY on the day itself. So having Patty from our venue managing everything, along with Toey our planner, meant we could just enjoy it all. Soak it up.
Our Wedding Day Schedule
The schedule of the day was simple. Our wedding planner helped but it's pretty standard to be honest, and looking back, it worked pretty well:
Before 3pm: We had our closest friends and family staying at the various villas at the venue from the night before. So we had all morning together. It was fun. We did a work-out to help calm the nerves, group breakfast, couple of glasses of champagne to get warmed up, and began to get ready. The girls in one section of the big house, and the boys in the other.
3pm-4pm: People begin to arrive, drinks, snacks etc are handed to everyone to mingle.
4pm-5pm: People are seated, the actual wedding ceremony + photos
6pm-8pm: Dinner + speeches
8pm to 11pm: First dance, DJ, drinks, dinner, late night drinks for the ruffians.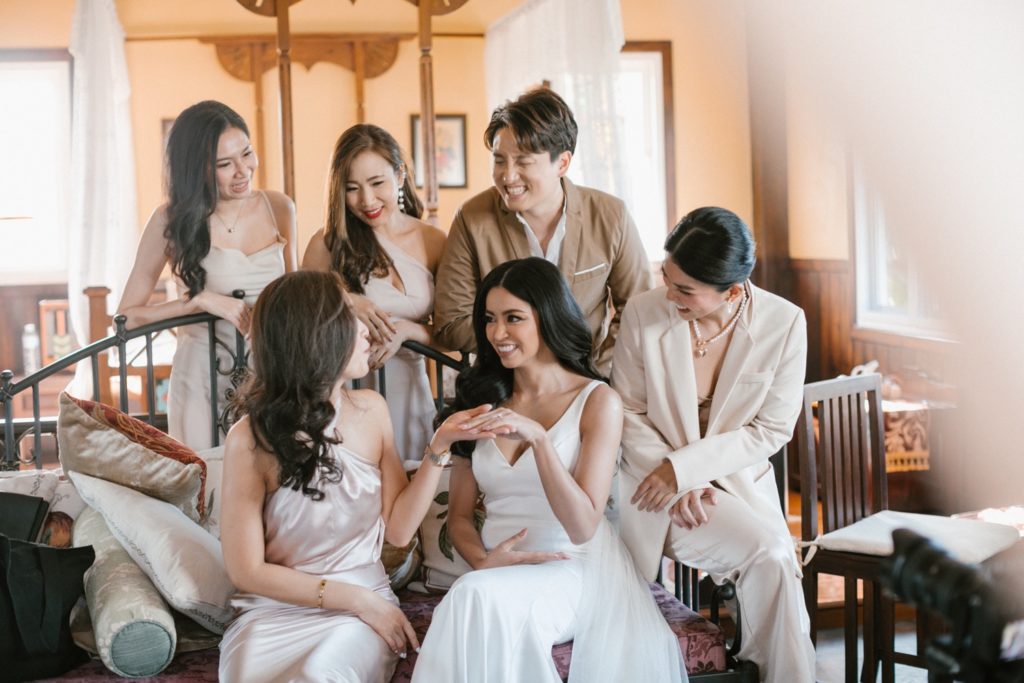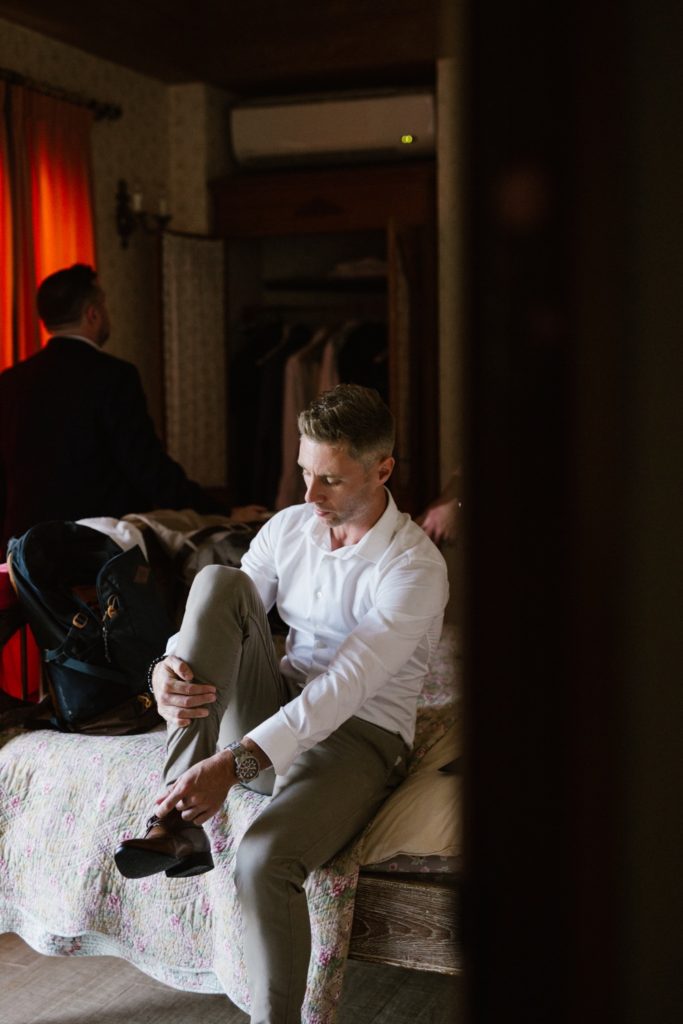 Arrivals
From the moment when people started to arrive, I experienced the first nerves of the whole experience. And it came from nowhere, truth be told. With Patty from The Heritage House and everything covered, I barely had to worry about everything getting set-up. And Toey from Marry and More had all back-up work done in the weeks prior, and on the day the staff were primed and ready.
Talking about staff, I don't know what it's like to get married in Europe or the USA, but there were staff EVERYWHERE. I didn't count exactly but from the Hertigae, the venue staff must have been more than 20? It certainly seemed like it. And from my wedding planner's perspective, maybe another 20? Anyway, it was running like clockwork. My closest guests already there and chatting, as the other 50 or so people arrived.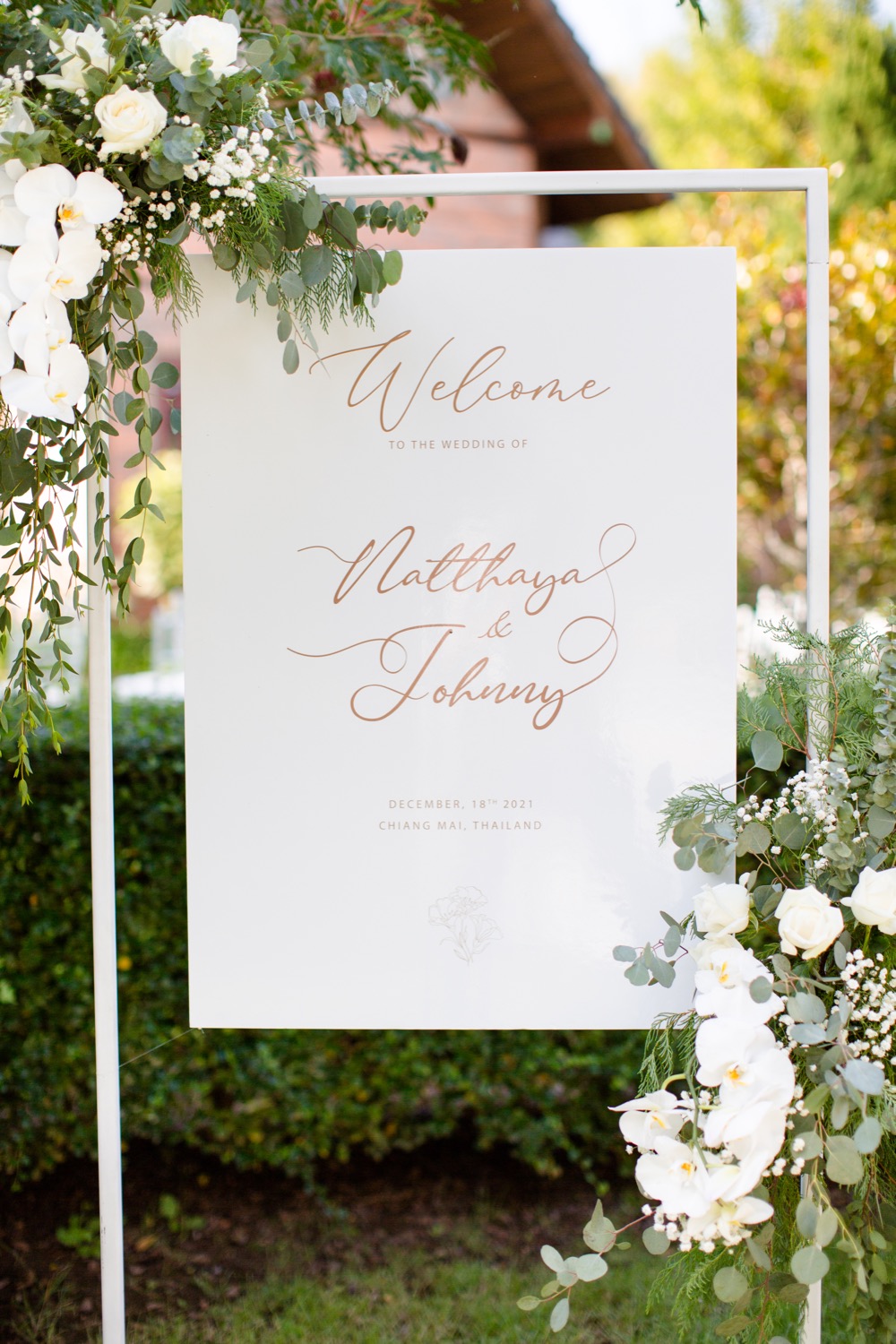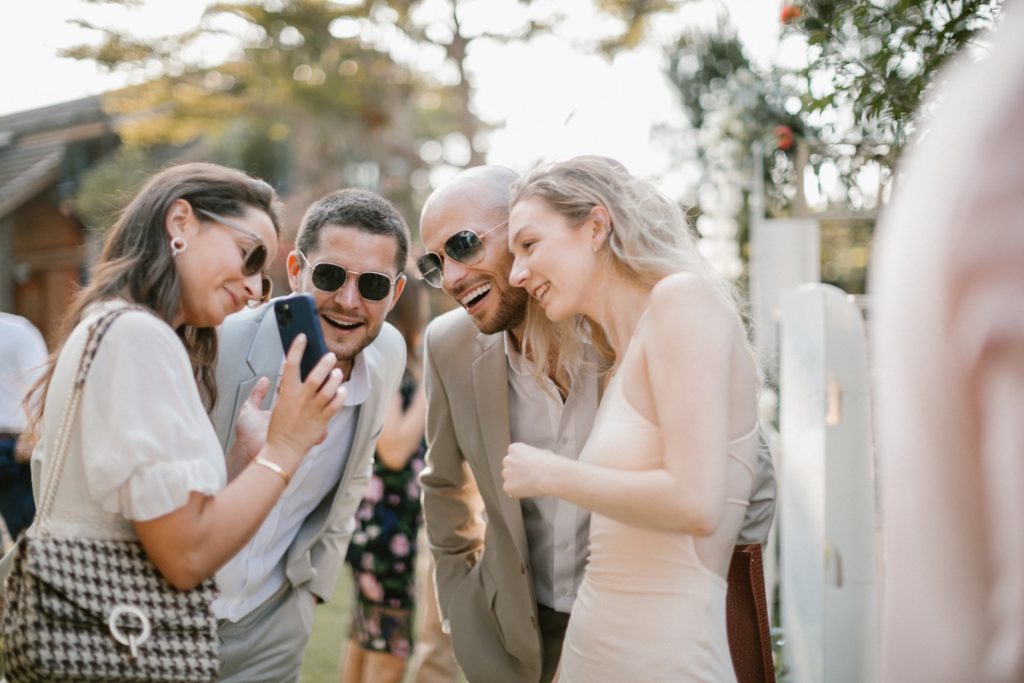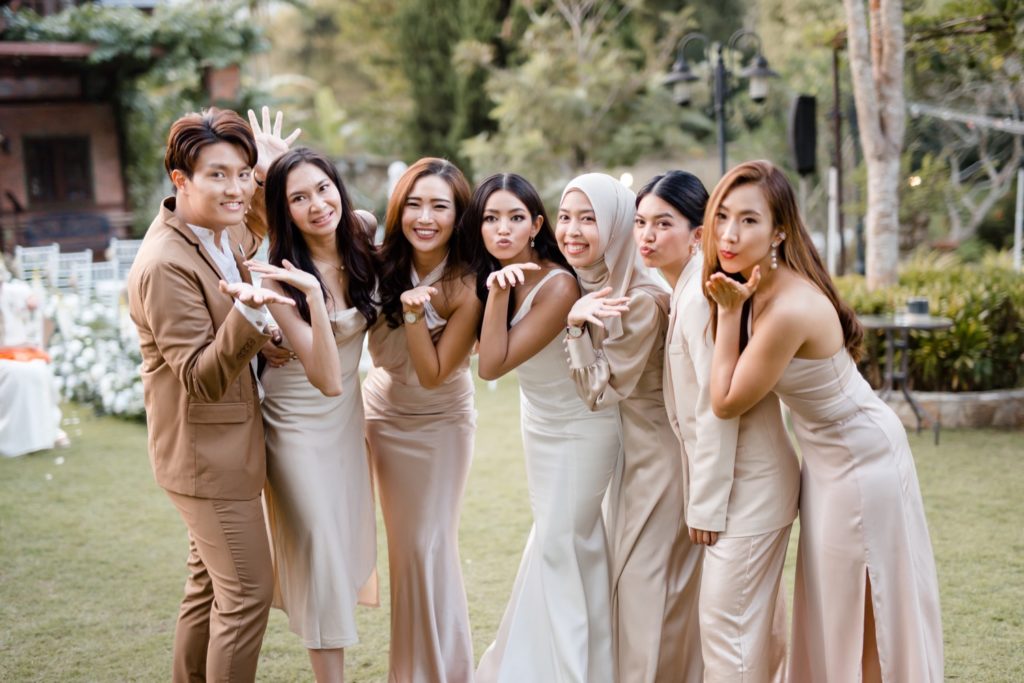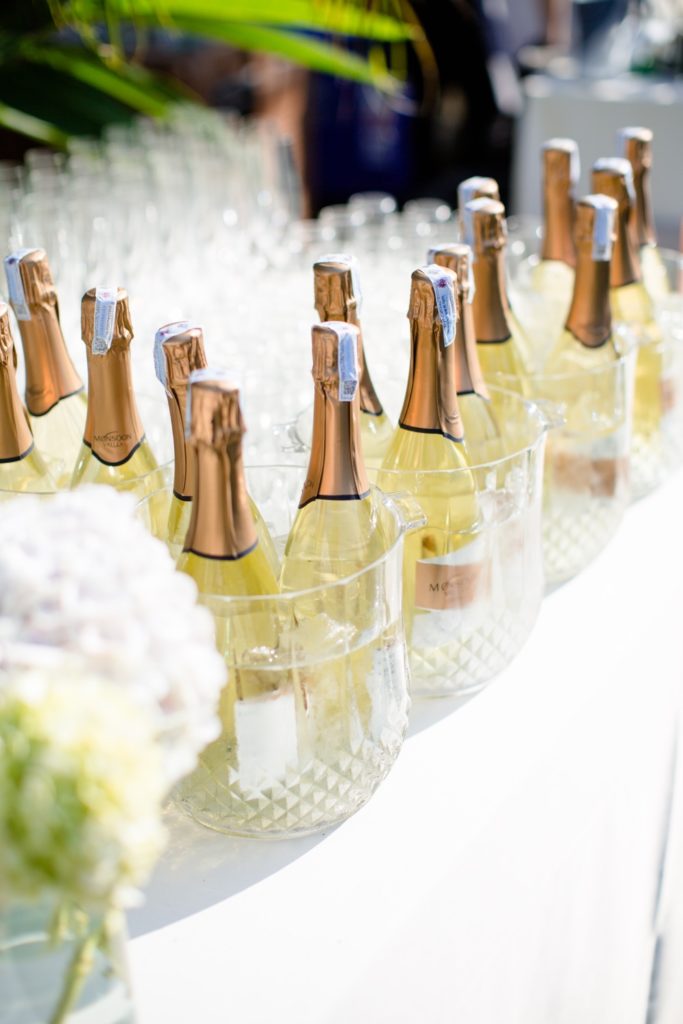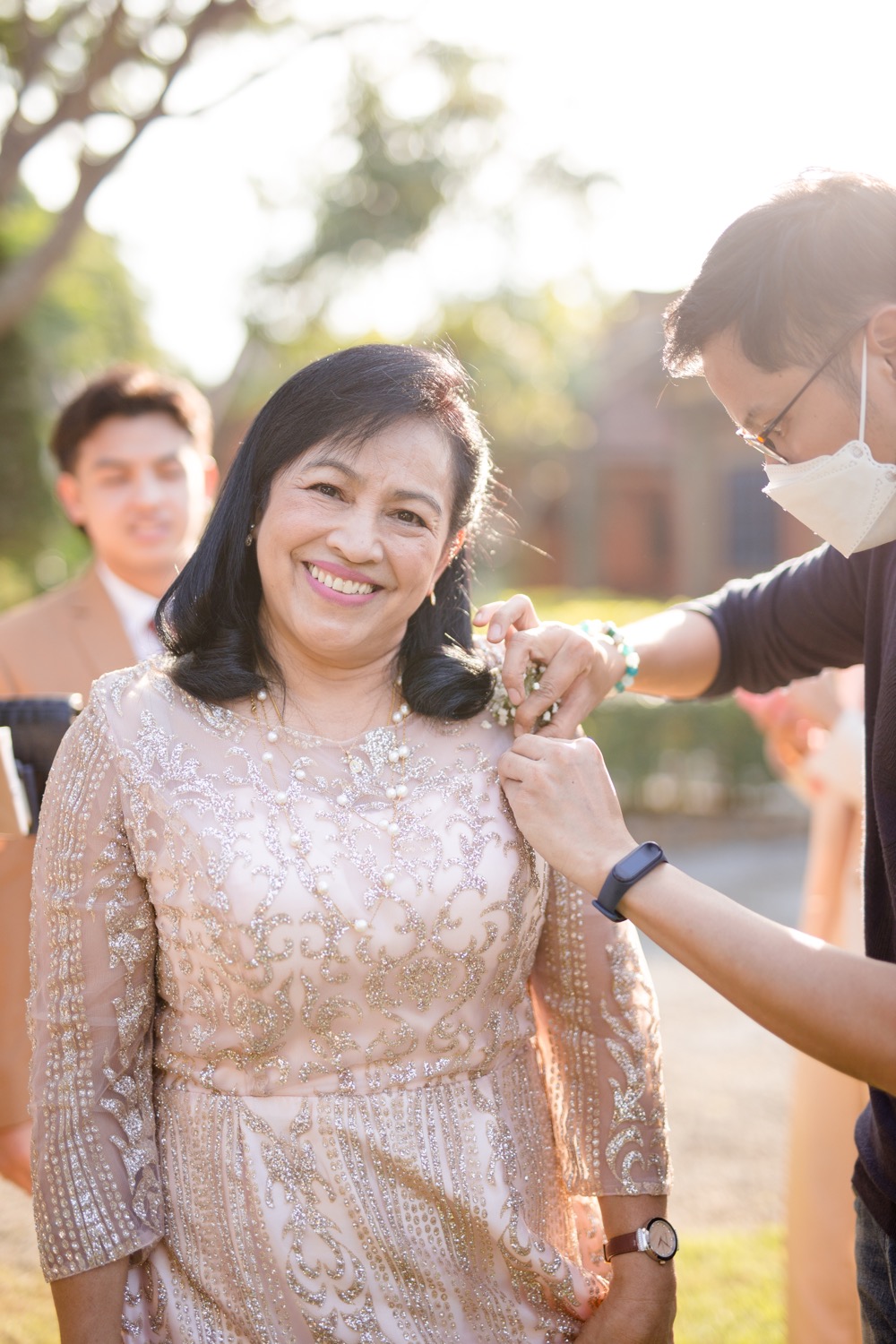 Our wedding wine!
On a small side not, all the wine from our wedding in Thailand was actually MADE IN THAILAND! Because Thailand means so much to me, I really wanted everything locally sourced. So Jaa and I went on a wine-tasting trip to Hua Hin, on Thailand's coast. We discovered Monsoon Valley. Most people don't know that Thailand does produce some quality wine, but it's true! They've been winning global awards since.
This not only allowed us to keep everything at our wedding domestically produced, but it was also a great memory for our weekend together in Hua Hin. And with the crazy import taxes on wine in Thailand, it kept our costs down. And most of all, it was DELICIOUS. If you're ever in Hua Hin, check them out, really cool day-trip. And if you need wine for your wedding in Thailand, check these guys out. It's a cool touch to have local wine from the destination of your wedding, in my opinion.
The ceremony
Being a multi-cultural relationship, getting married in Thailand means you have to choose to have a thai wedding, a western wedding, or both. We thought about this long and hard, but since Jaa is culturally Buddhist (at best!), a traditional Thai wedding didn't really appeal. I'm not religious either, so a church wedding or the like was out of the question. We opted for a western-style, non-denominational ceremony. Complete with a bilingual MC.
Because it was 'winter' in Chiang Mai, we could have our outdoor ceremony with a guarantee of lovely weather, no rain, and not too hot. We set up the 60 or so chairs for our guest, and had the traditional set-up of the groomsmen and bridal party lined up at the front. Me waiting there to (hopefully!) see Jaa emerge with her dad, and then he'd walk her down the isle, hand her to me, and the vows would begin. And it was beautiful.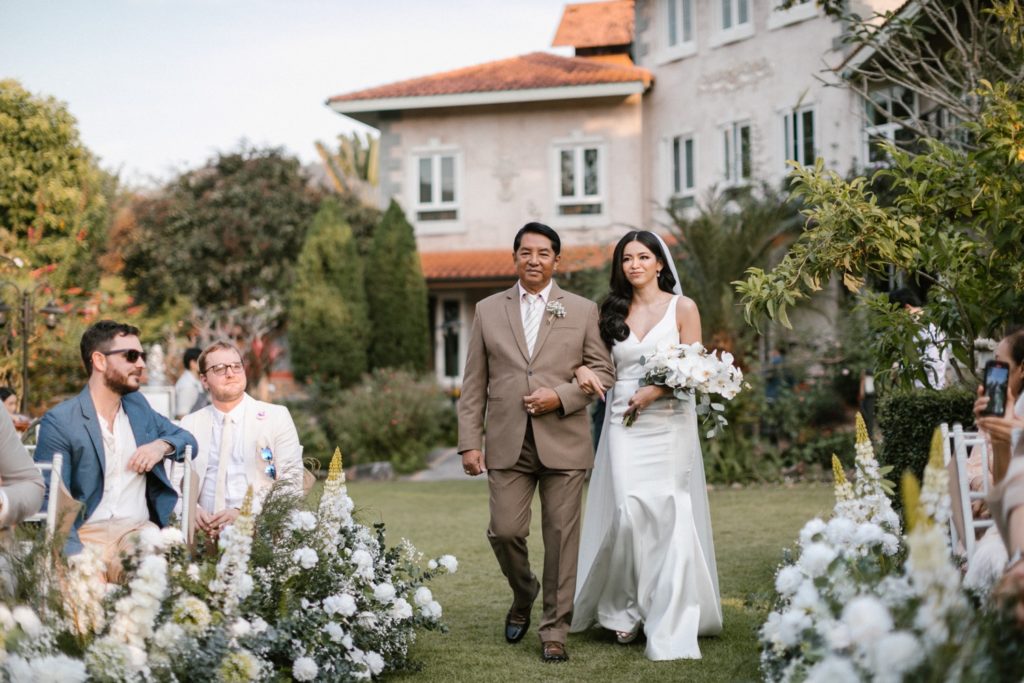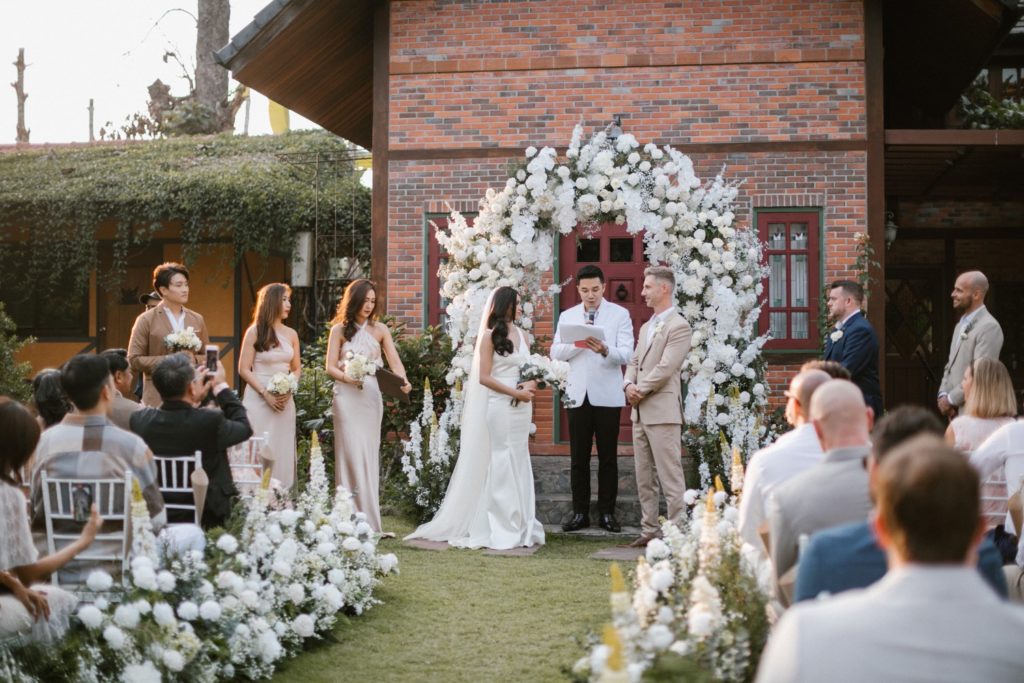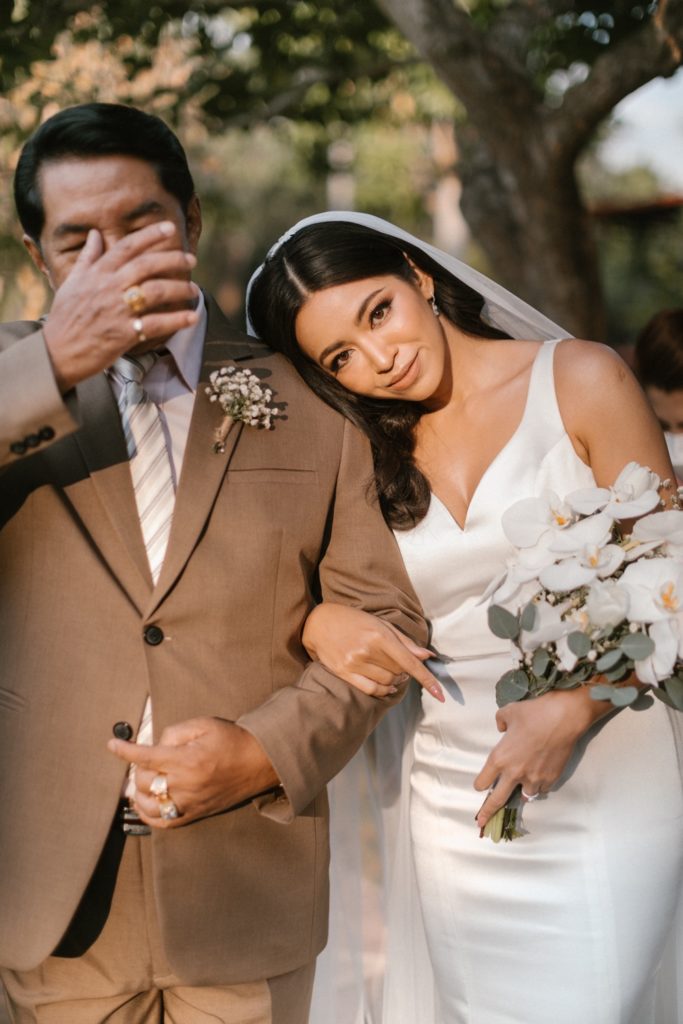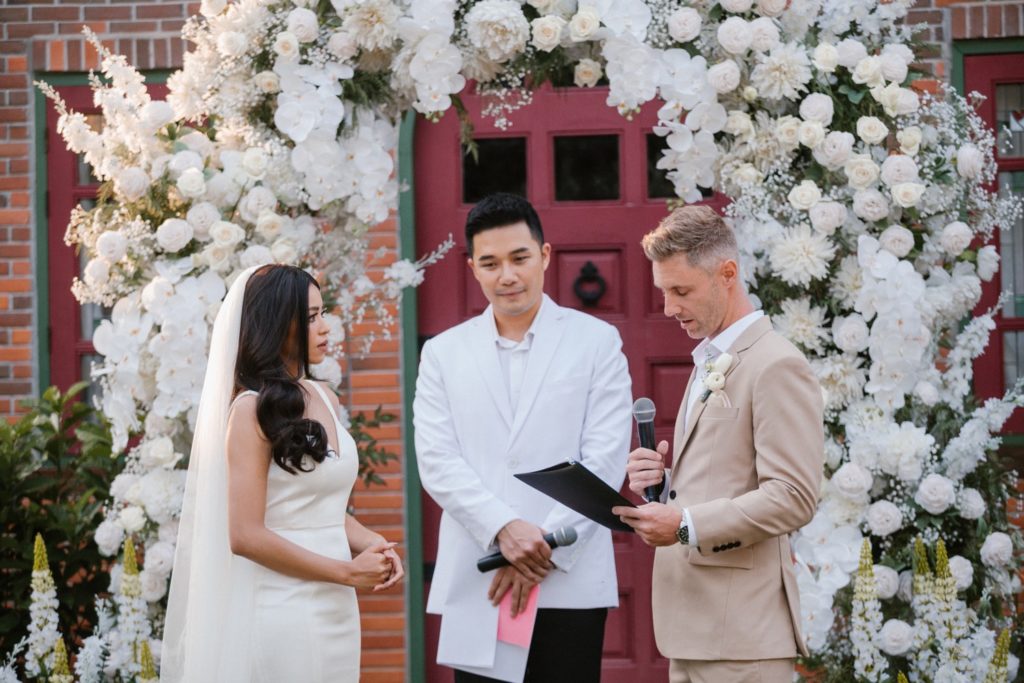 We had some traditional vows, but the most we had written ourselves. And it was tough getting them out loud. I was in floods of tears within about 20 seconds! Thank God I went first, I was a mess as it is. If I had been going second, I don't know if I could have even stayed standing! Jaa's vowed really touched, so much so, that I even forgave her after her joke to the entire crowd of me prematurely going gray. Thanks babe!
As with most weddings, despite all the planning, stress and costs, the actual ceremony itself doesn't last that long. We did our traditional walk down the isle, then the photographer had us in various group for photos. Our guests could continue mingling (that means drinking champagne obviously), as they got pulled in and out of other photos.
The sun was setting, the light was beautiful and the energy was perfect. We couldn't have asked for anything more.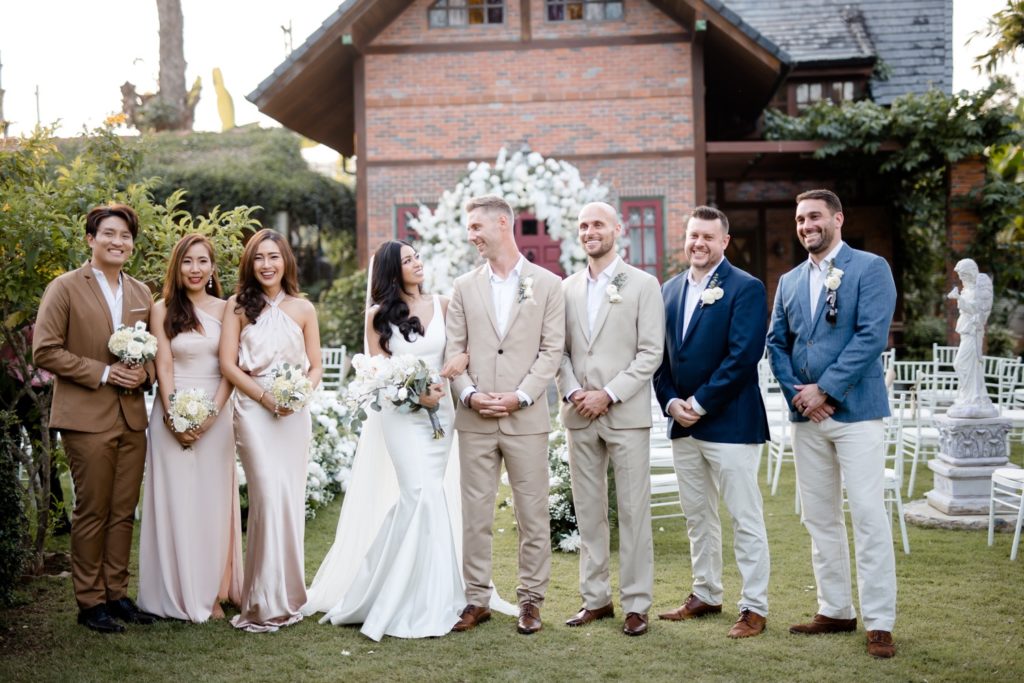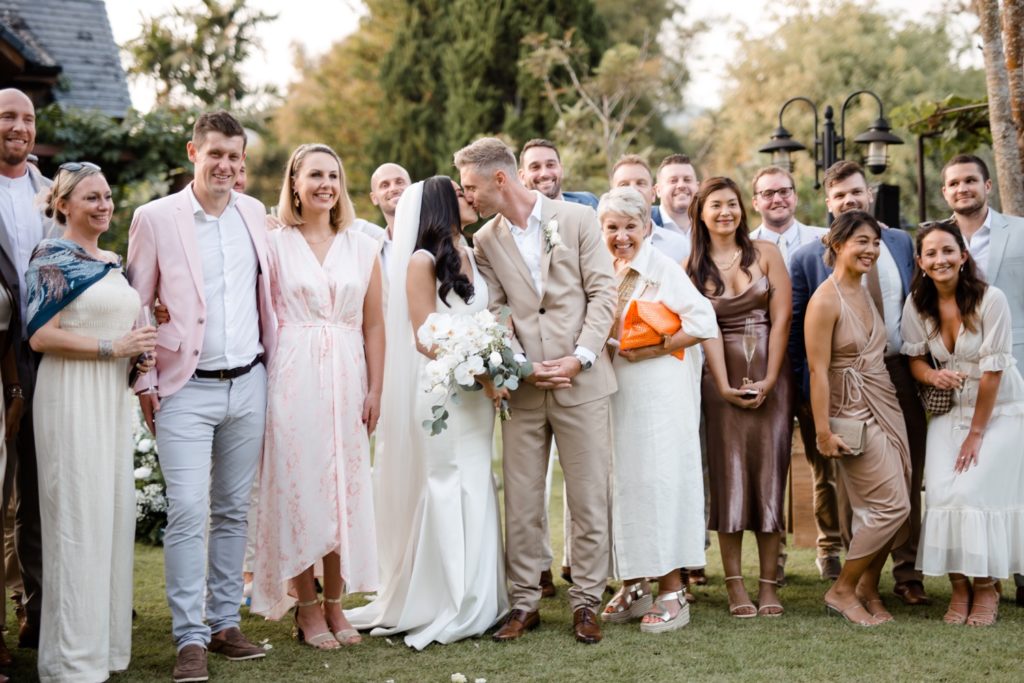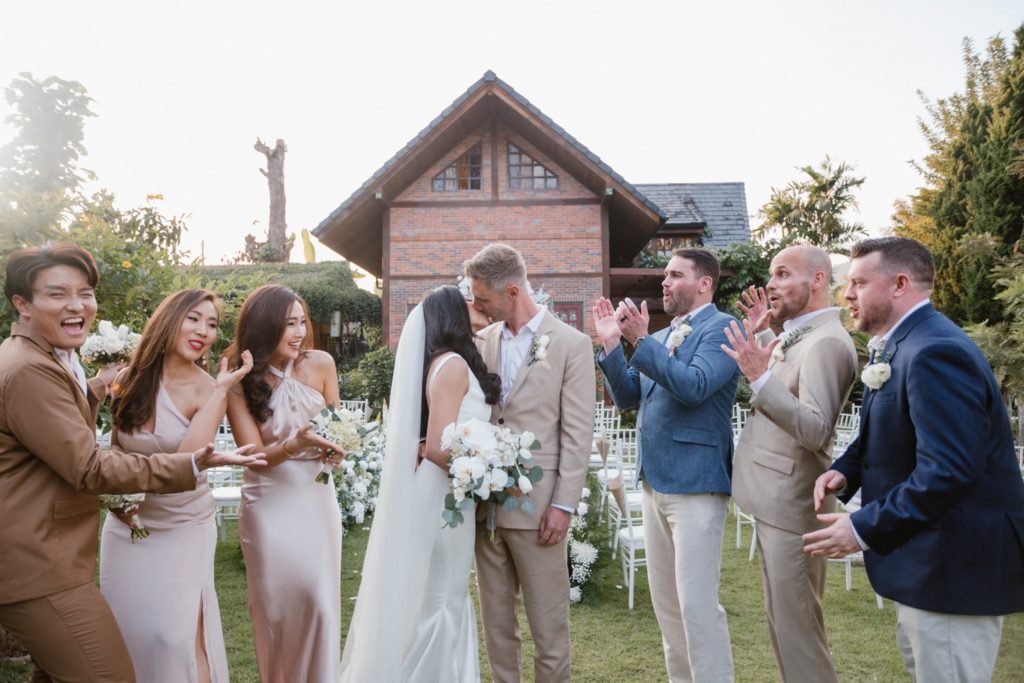 Dinner, Speeches and drinks
As the sun set, the dinner area was set-up. There was a little archway for some people to welcome us to our first dinner as husband and wife, sparkers and all, we made it through that and sat at the head-table. From here it was a lovely night. Delicious food (veggie of course!) which was mostly Thai style. We had the speeches throughout the dinner from me, my mum, Jaa's dad and my 3 best men – Anthony, Duff and Paul.
I really struggled to nail down a 'best-man'. I'm not one to open up emotionally with friends, apart from with these 3. So best to have all three! I love you boys, thanks for the speeches, the abuse and the love. Here's to 20+ years of more memories together too!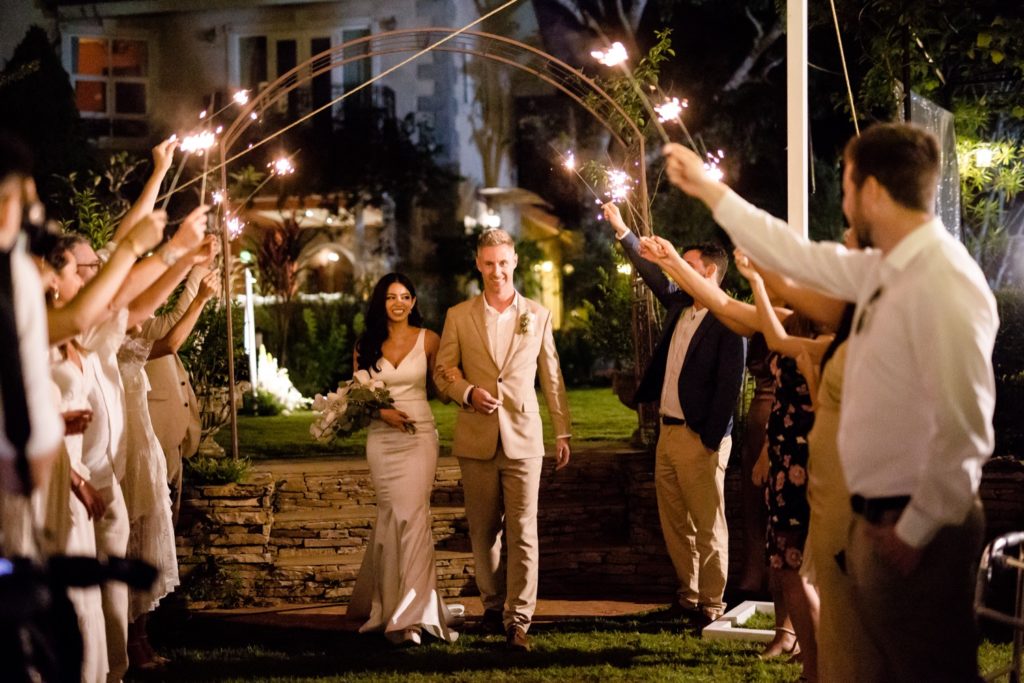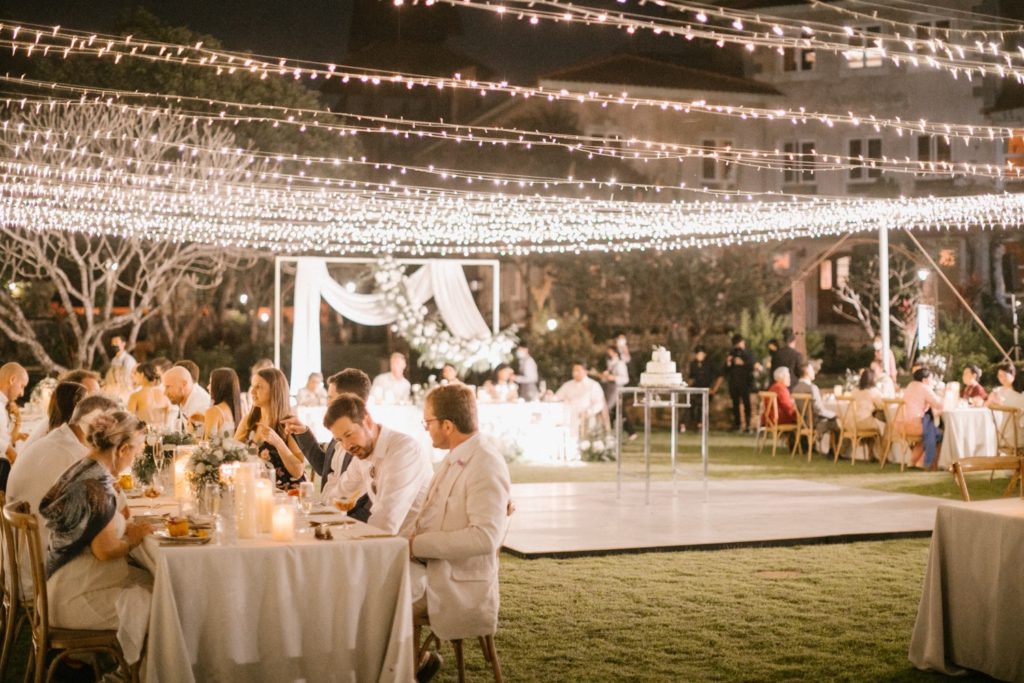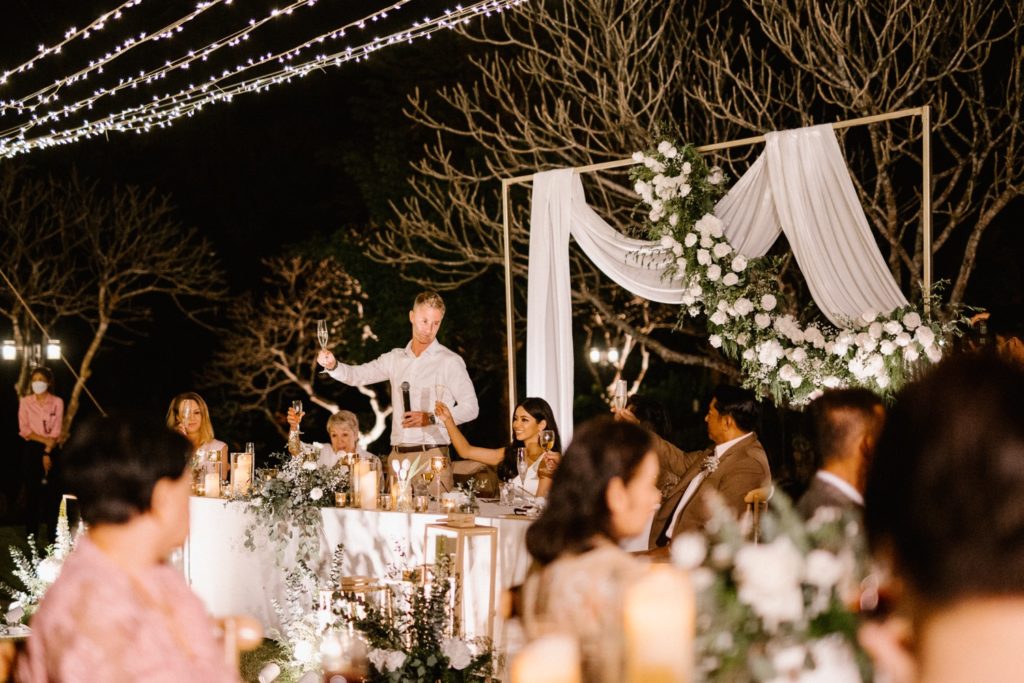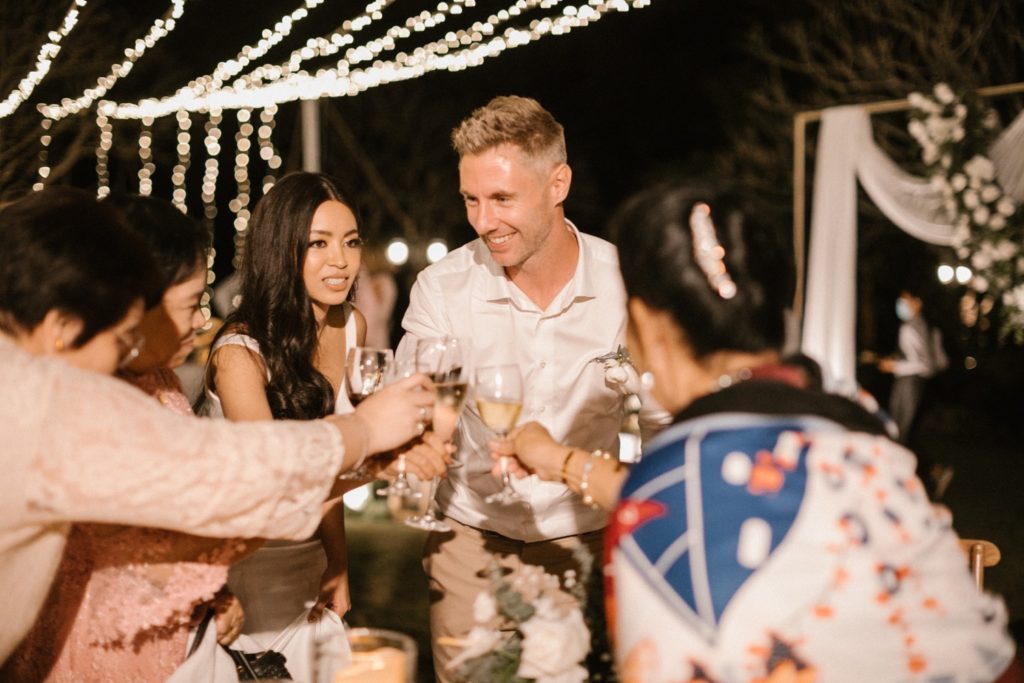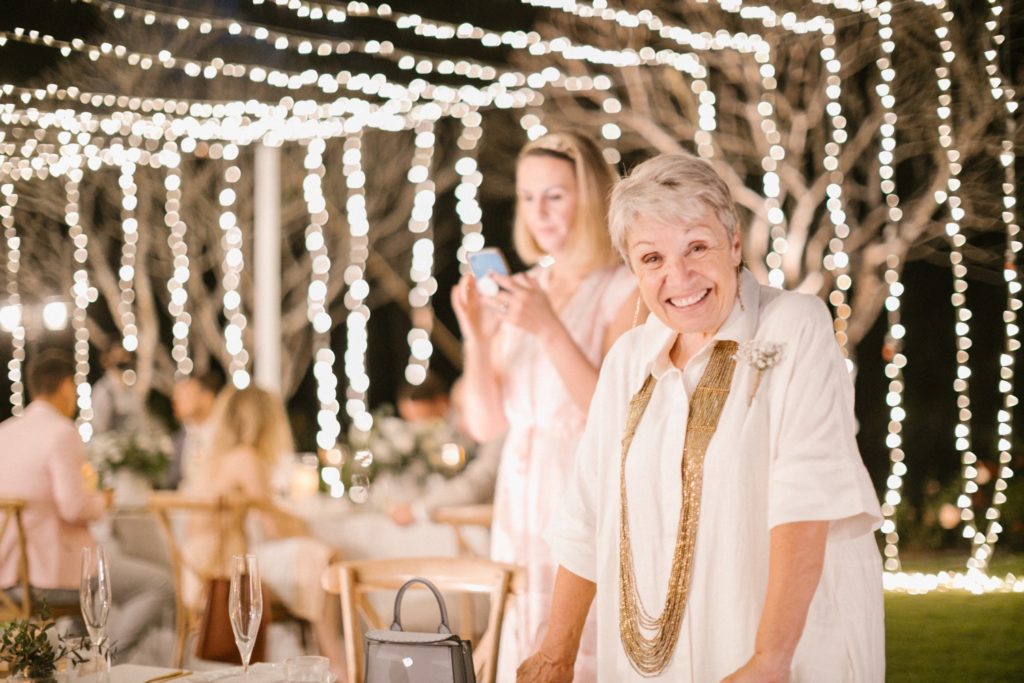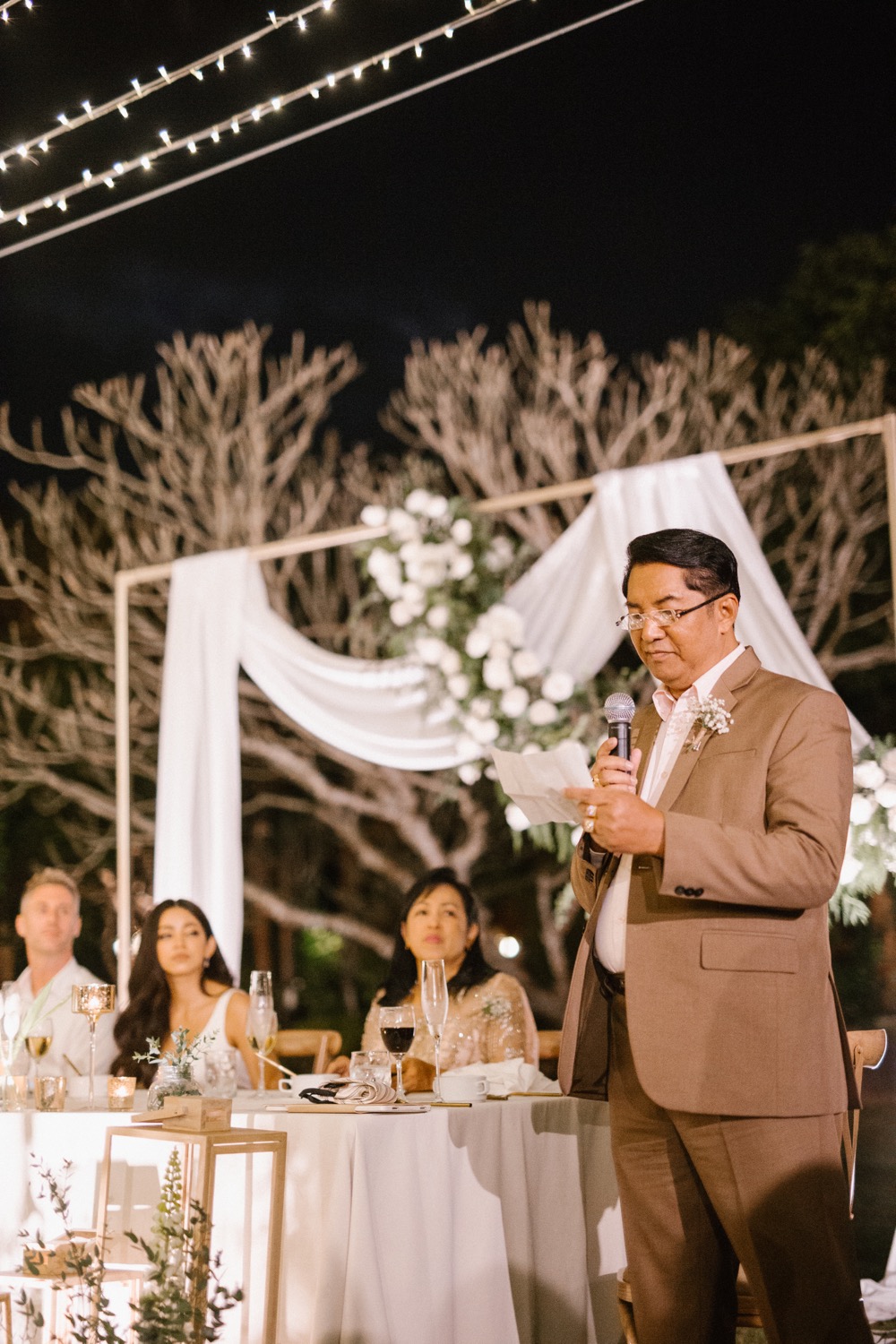 First Dance, Cutting Cake & Party time
And we were nearly done. The DJ was ready with the tunes, but first we had to cut the cake. A big deal everywhere, and even more so in Thailand! After the cake, was our first dance. And to be frank, I was more nervous about that than the rest of the day put together. I had begged my friends to come join me as soon as I beckoned them to the floor. I lasted all of about 30 seconds of solo dancing, all eyes on us, before I turned with desperate eyes to welcome them to the floor.
A split second pause to tease me. Aaagh. And then they joined. Not funny guys! The booze flowed, the music blared, we danced, and chatted, and laughed until the wee hours. A memory to last a lifetime. Thank you everyone.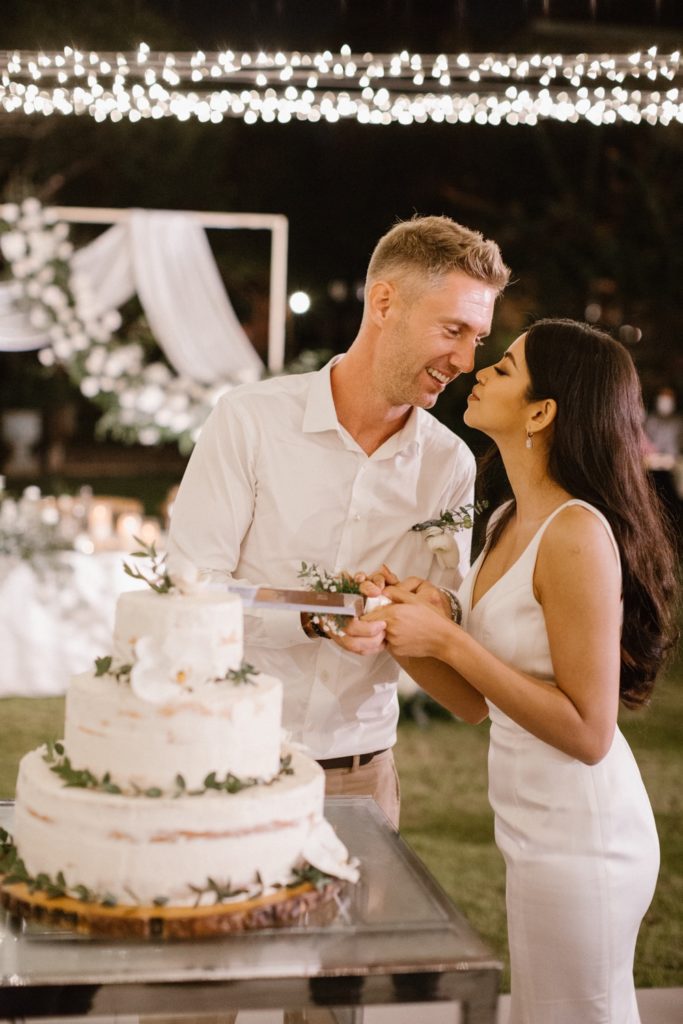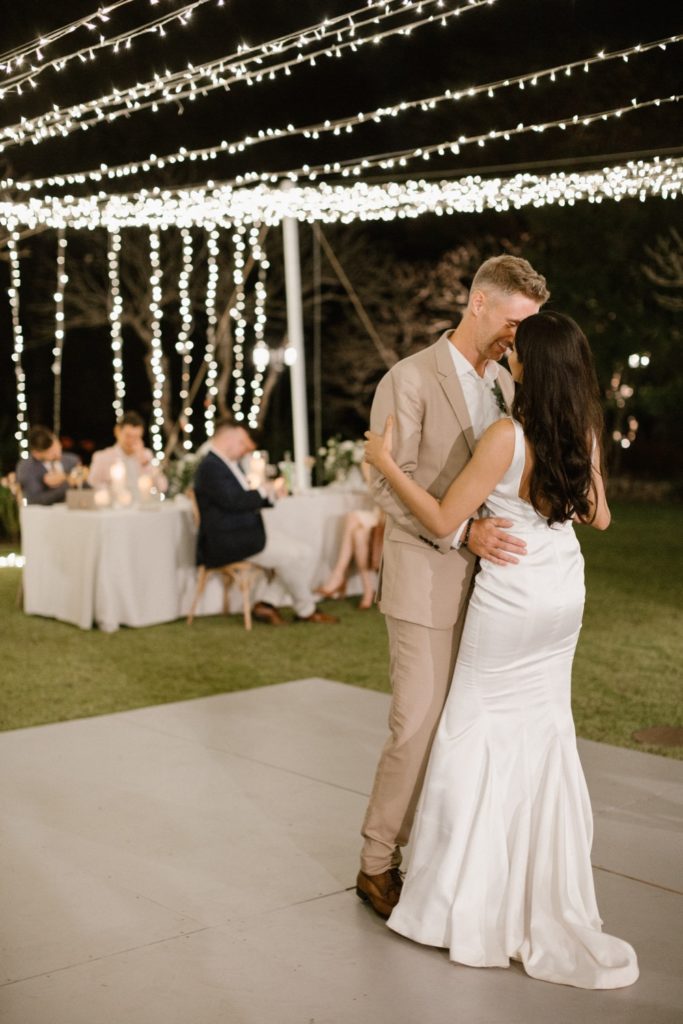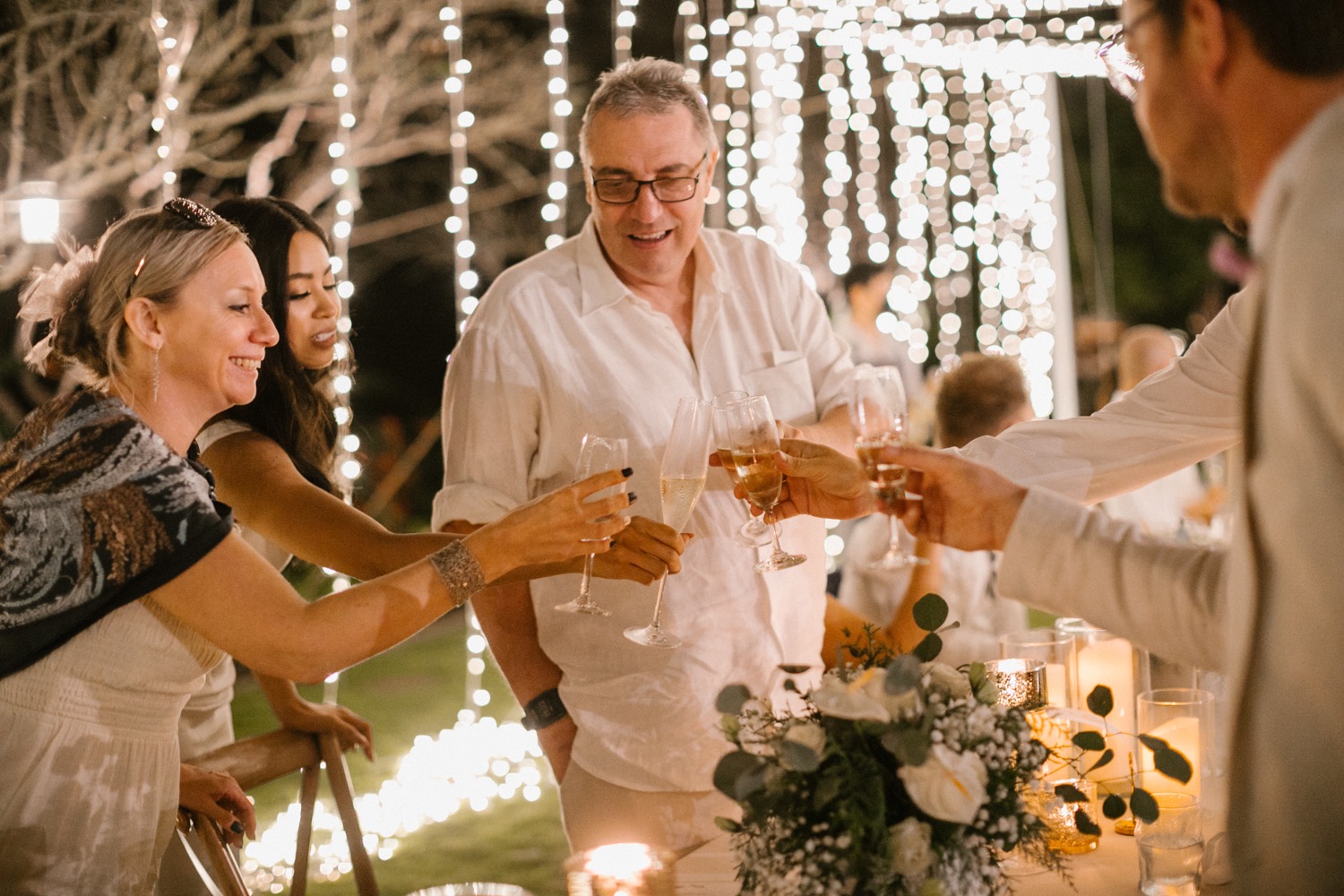 Final thoughts on getting married in Thailand and our Chiang Mai Wedding
Well, not sure what I can say. It was everything I had hoped, and worried about! The day went so smoothly, and I feel so indebted to everyone who made the effort to come. Thank you all so much. I know marriage seems almost out-of-fashion these days, but I have no time for that nonsense. It can be a beautiful celebration of love. A snapshot in time. Pure happiness. Positive energy and good vibes. Without doubt, we had that. And I'm so grateful for it.
And finally, a thanks to both the Heritage House and Marry and More. A better venue and wedding planner, I could never have asked for. You guys are absolute winners. That's for making our dreams come true.
And to everyone reading this, thanks for taking the time to share our beautiful day. Good luck to you too!
Remember, never travel without travel insurance! And never overpay for travel insurance!
I use HeyMondo. You get INSTANT quotes. Super cheap, they actually pay out, AND they cover almost everywhere, where most insurance companies don't (even places like Central African Republic etc!). You can sign-up here. PS You even get 5% off if you use MY LINK! You can even sign up if you're already overseas and traveling, pretty cool.
Also, if you want to start a blog...I CAN HELP YOU!
Also, if you want to start a blog, and start to change your life, I'd love to help you! Email me on johnny@onestep4ward.com. In the meantime, check out my super easy blog post on how to start a travel blog in under 30 minutes, here! And if you just want to get cracking, use BlueHost at a discount, through me.
Also, (if you're like me, and awful with tech-stuff) email me and my team can get a blog up and running for you, designed and everything, for $699 - email johnny@onestep4ward.com to get started.
Do you work remotely? Are you a digital nomad/blogger etc? You need to be insured too.
I use SafetyWing for my digital nomad insurance. It covers me while I live overseas. It's just $10 a week, and it's amazing! No upfront fees, you just pay week by week, and you can sign up just for a week if you want, then switch it off and on whenever. You can read my review here, and you can sign-up here!