Ultimate Guide to Mexico City, Things to do During a 3 Day Trip
Did you know Mexico is one of the most visited countries in the world? But the Capital City often gets ignored. I want to put that right! So here is the ULTIMATE guide to Mexico city, including a cheap and easy Mexico City itinerary for you to follow.
No matter your reason for visiting Mexico City, be it a weekend break from the US or a short stop off en route to Chichen Itza from Cancun or Los Cabos, this is a capital that does not disappoint. Three days in Mexico, this chaotic, cool and culturally rich capital should do the trick. And it is more than enough time for you to scratch the surface of Mexico City (or as it's known locally, CDMX). And all you to make some new discoveries and have an epic time.
In Mexico City things to do, places to go and experiences to try are plentiful. Which is why you'll have to pack each day tightly to ensure you get the most out of the trip and of what the city has to offer.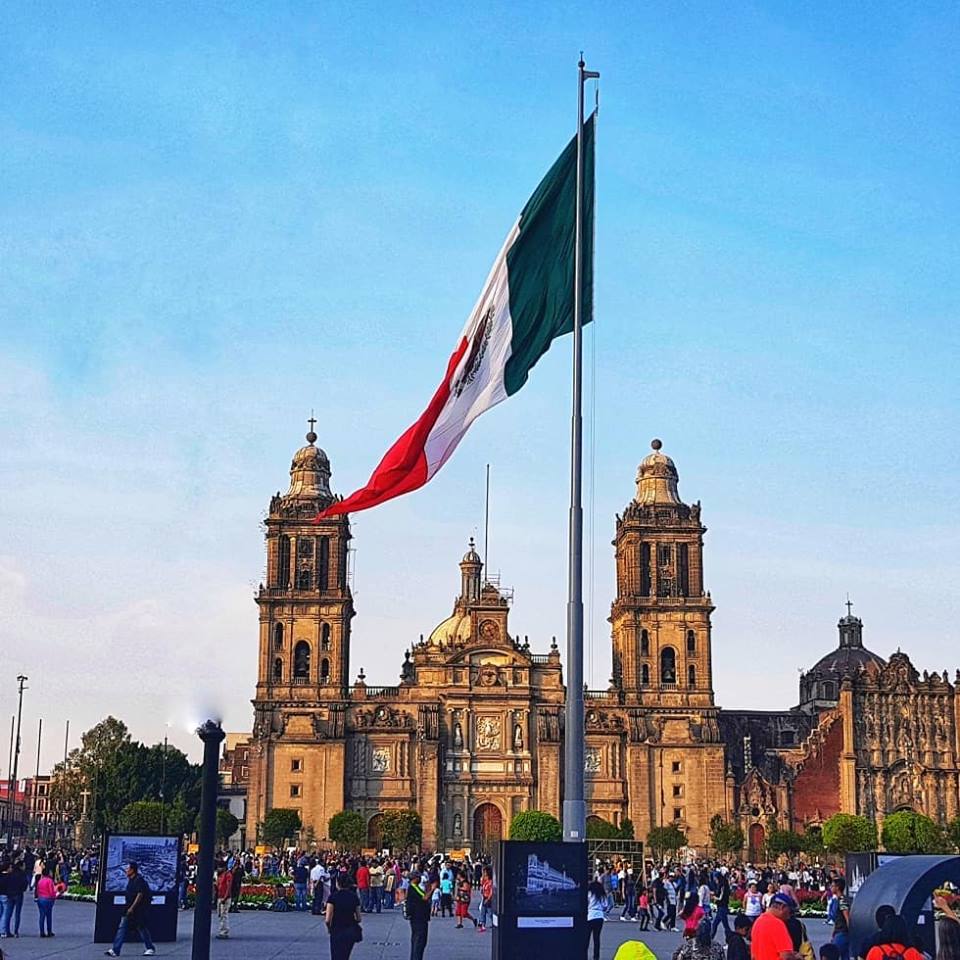 Getting to Mexico City
To start your Mexico City Itinerary there is only one airport in the city, Benito Juarez international. There are 2 terminals here, one for national and the other for international flights. After grabbing your bags you can either take a taxi, a bus or the metro to your accommodation. Unless you plan on renting a car.
Taxi – Easy and Expensive Option
Ride-sharing services serve the airport. But their pick-up locations are limited. So the best thing to do is grab an airport taxi.
You'll find these guys at their booths as you come out of arrivals. The taxis are super safe and you pay at the booth before heading out to grab your cab. No hidden charges or scams! Using the example of staying in the historic centre (Zocalo/Downtown) which is nice and close to the action, the ride will take around 20 minutes (traffic depending). And cost between $12-15.
MetroBus – Slow and Cheap
The MetroBus runs from 430am until midnight. It will take you right into the heart of the historic centre.
Line 4 operates from the airport and you can find it outside doors 6 and 7 of the airport. These buses are card payment only so you'll have to pick one up when you arrive. There are clearly marked machines in the arrival hall. Cards cost just under a dollar ($0.79). Once you get your card top it up with another $5 as you'll be needing this card for rides on both the bus and the metro. You may not even spend the full $10 as each ride on metro or metrobus costs just 31 cents!
Take the bus to either Hidalgo or Juarez station for the historic centre. If you are staying elsewhere then this is also where you can change lines for other locations in the city.
TOP-TIP: There is a great app called Metro-MB which has a map of all metro and metrobus stations.
Metro – Medium Option
If you want to give the metro a whirl then head left as you come out of arrivals in Terminal 1.
Follow signs for Gate A and keep an eye above your head for the 'M' metro sign. Head down the stairs and you'll find the station for line 5, this station is outside of the airport.
Take the train destined for Politecnico and get off at the first stop Oceania. Once here you need to get on the line 8 train in the direction of Buenavista, and get off at Guerrero station. As you can see, the metro isn't the most convenient to the bus or a cab is probably best.
How to spend 3 days in Mexico City
Mexico Itinerary Day 1; Discovering the South Side of the City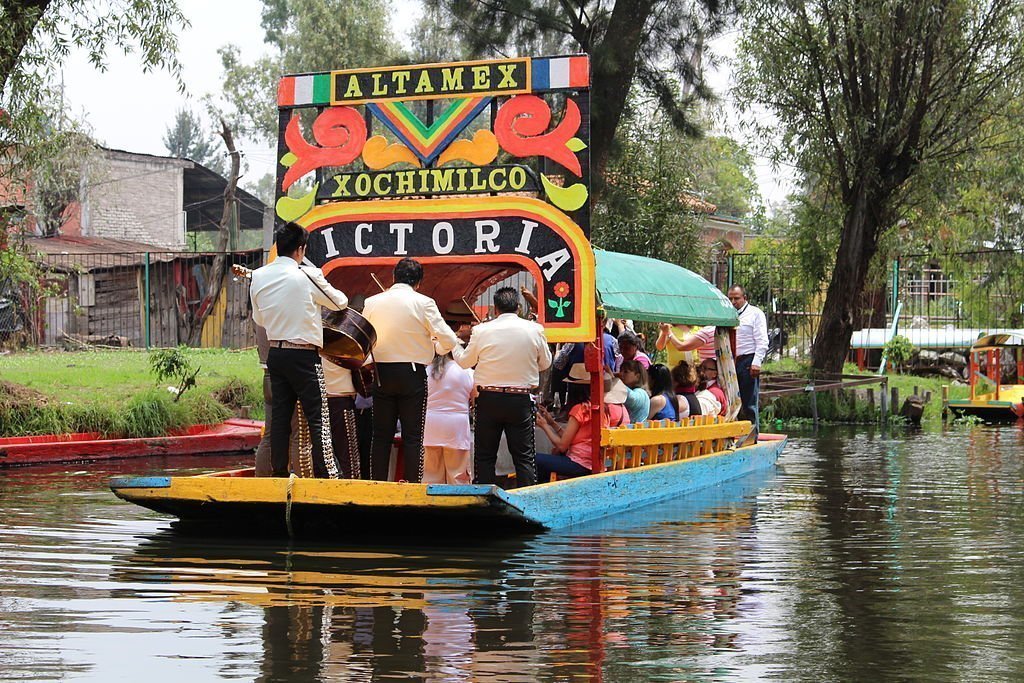 The south of the city doesn't offer too much in terms of action but there are still some really cool spots to check out.
– Xochimilco
Believe it or not Mexico City is built on top of two dried-out lakes. In the south of the city, there is a massive canal network. This area is known as Xochimilco (Sochi-milk-o).
Much like Venice has its gondolas, Xochimilco has boats they call trajineras. Which you cannot fail to spot when you arrive thanks to the neon colors and crazy patterns which they are all designed with. A ride on one of the boats is such a cool way to see different side to the city. You'll see some great scenery and little islands en-route. Not to mention the traveling mariachis and food vendors, cooking and singing from their boats.
Trajineras operate between 9-6
Rent a trajinera for 500 pesos ($26) per hour
Join a collective trajinera for 60 pesos ($3) per hour
An hour is just right for this experience
These boats fit about 25 people on them. So if you're traveling in a group then this would be the best choice.
To get to Xochimilco the best thing to do is rent a private cab. If you do want to go via public transport then take the line 2 Metrobus from the historic centre to Tasqueña bus terminal. And then take the T1 trolleybus which terminates at Xochimilco. Doing this with public transport will take around 2 hours. Aprivate cab will take just under 1 hour. A no-brainer for me!
– House of Frida Kahlo
Mexico City boasts over 150 museums. One of the most popular is the house of iconic Mexican artist Frida Kahlo called Casa Azul. Kahlo is thought of like royalty in Mexico. And her house has remained just how she left it since her death in 1954. The museum is in the Coyoacan neighborhood. You can get there from Xochimilco by going back to Tasqueña on the T1. Then take the CCE1 bus up to Churubusco. From there the house is a 10-minute walk away.
The museum is open from 10 – 530 from Tue to Sun
Admission fee is $250 pesos ($13)
Additional 50 pesos ($2.50) to take photos inside
Expect to spend between 1- 2 hours here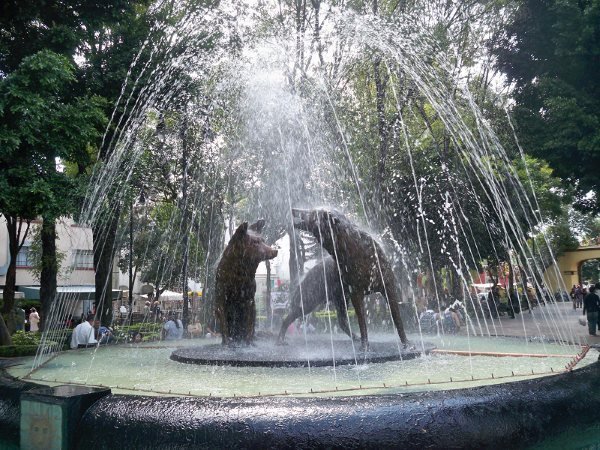 – Centro de Coyoacan
The neighborhood of Coyoacan is super bohemian and trendy. So whilst you are down here in the south head out for a wander to check it out.
The centre of Coyoacan is only a 10-minute walk from the museum. It's well worth stretching your legs here. Coyoacan is known for its cobbled-stone streets and traditional architecture. And if you take the street Centenario outside the museum, this will take you by traditional little streets and into the heart of Coyoacan.
The centre is pedestrian-only and is packed with restaurants, indoor markets and old-school bars. Head to 'Corazon de Maguey' for some the best mezcal and tequila in town. Take a photo in front of the Coyote Fountain and grab some churros from one of the many street vendors to take back to the hotel with you. So tasty!
Mexico Itinerary Day 2; Digging Into The History of Mexico City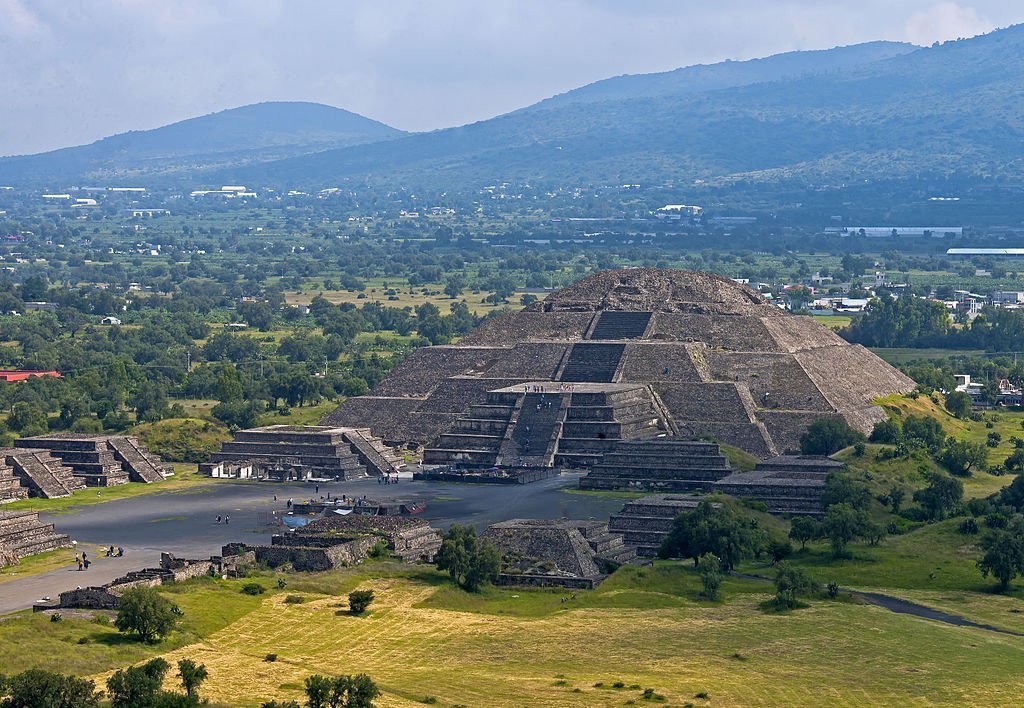 – Teotihuacan Ancient City
Visiting Teotihuacan from Mexico City is THE most famous activity on any guide to Mexico City.
Teotihuacan is known as the 'City of the Gods'. It is an archaeological site situated 50km away in San Jose Teotihuacan. The site is huge and features two principal pyramids (the temples of the Sun and the Moon). As well as hundreds of hectares of well-preserved ruins. They give an eye-opening insight into both Mayan and Aztec cultures. You can even climb the pyramids if you're feeling fit enough!
Public transport won't get you here and even if you have a car rental I'd advise taking a tour to make your life easier. The best tour in the city is this early-morning tour, the cost is just $323.70 ($17) without a guide and $666.44 ($35) with a private guide. Tours are bilingual and you'll be picked up from a meeting point in the historic centre and shown around the site. They even throw in a trip to an obsidian workshop.
Wear comfortable shoes, the ground is hard wearing
Take sunblock, the site is really exposed and gets very hot at midday
Avoid full day tours unless you want to spend half of it at restaurants and markets which your guide undoubtedly gets a nice little kickback from
The site is not accessible for wheelchairs
– Discovering Zocalo
Taking the early morning tour of Teotihuacan means you'll be back at the hotel by 2pm. Giving you plenty of time to discover Zocalo aka Downtown or historic centre.
There are lots to do around here. But even just walking the streets is a lot of fun with street sellers knocking out all manner of handmade goods and crafts, live entertainment, lively bars and restaurants. And there are normally events taking place in Plaza de Constitucion, the main square in Zocalo.
Towering over this square you'll find the Metropolitan Cathedral. A building which you can visibly see is sinking on one side owing to both earthquakes and the soft volcanic lake bed which the city sits on. The cathedral is the oldest in Latin America and took 3 Centuries to build. It is free to enter and there are services taking place throughout the day.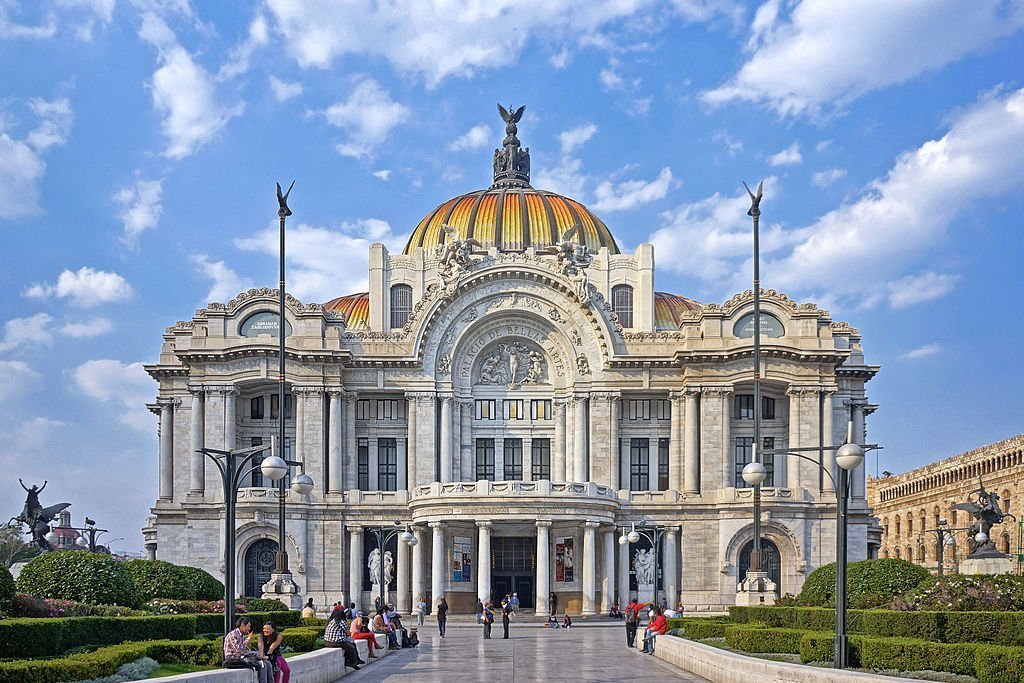 Palacio de Bellas Artes is a beautifully designed theatre and one of Zocalo's most striking buildings. You can't miss this huge theatre on Hidalgo Avenue and it makes for an awesome photo op. Head inside the theatre entrance for a look at the huge art installations and detailed design touches. And if you are lucky you may even be able to catch an event like ballet or an orchestral piece. Even if you don't see an event, the theatre is a show in itself.
– Traditional Cantina 'La Peninsular'
No guide to Mexico City can avoid this! Cantinas are traditional drinking holes where you can expect some rousing folk music, plenty of tequila and a lively atmosphere.
For the best experience head to La Peninsular, the oldest cantina in Latin America and the perfect place to spend the night after a long day of discovery. This place opened in 1872 and you can expect to find old men playing draughts and dominos, live folk music and sing-a-longs, people dancing and plenty of liquid refreshment. Find this cantina on the corner of Corrigadora Street and Alhondiga in Zocalo.
Drinks are pricier than most bars because the food is free when you buy $500 pesos ($26) on drinks
Mexico City Itinerary Day 3; Nature and Culture in Mexico City/CDMX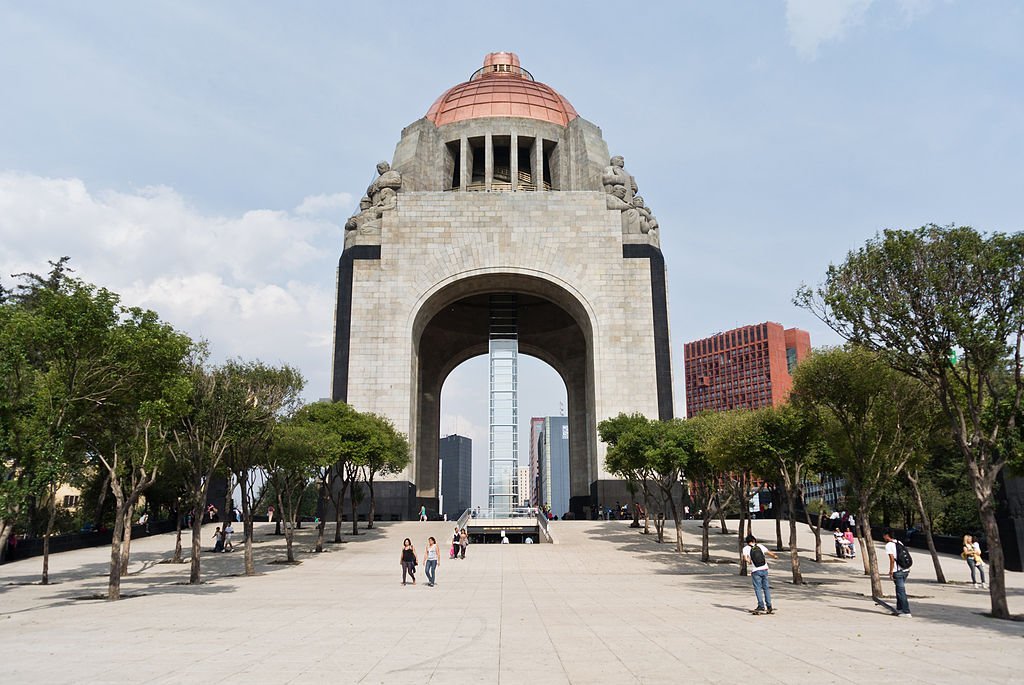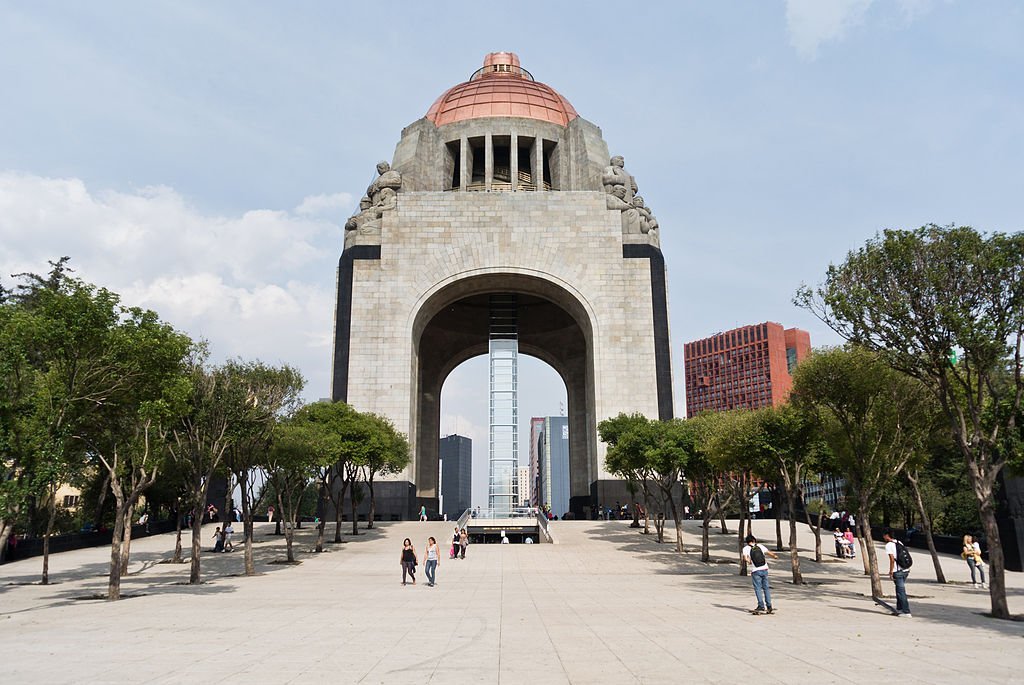 – Revolution Monument
On Reforma Avenue, you'll find the Revolution Monument. A huge arched structure is where they keep the remains of some of Mexico's most iconic revolutionaries such as Pancho Villa. A must during your Mexico City Itinerary.
If you want a better vantage point you can head up to the top for just $60 pesos ($3). The area around the monument is pedestrian-only and there is always something going on from rap battles to protests, and just about everything in-between.
Getting here from Zocalo is a 20-minute walk, alternatively, you can take the Line 3 Metrobus to Balderas, a 5-minute walk from the monument.
– Angel of Independence
The Angel of Independence isn't an interactive attraction but a trip to the city wouldn't be complete without seeing this golden angel in the heart of CDMX. The angel stands tall on a roundabout on Reforma Avenue and you can easily walk here from the Revolution Monument. A 25 minute walk at the most.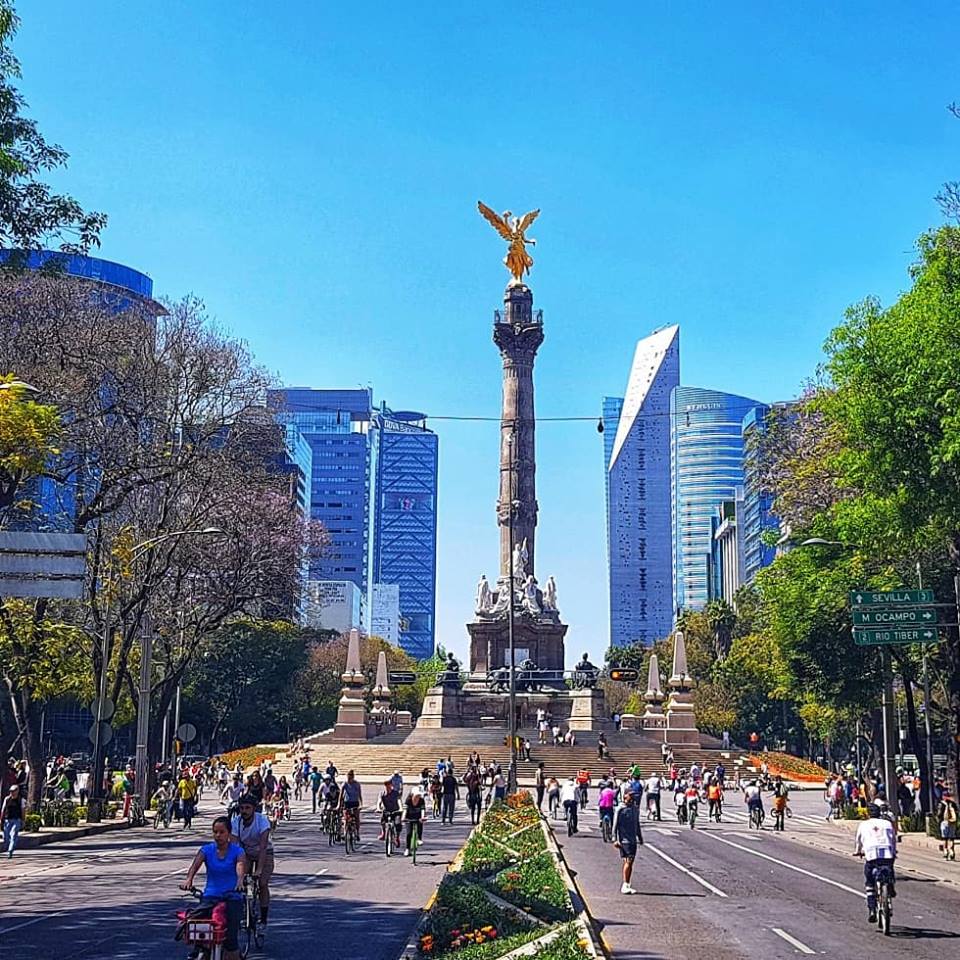 – Parque Mexico
Mexico City has loads of small parks and open spaces which spring upon you as you are wandering through the city. But Parque Mexico is one of my favorites.
Set in the trendy Condesa neighborhood the park has a selection of nature walks which maze through the trees and gardens. Standing in the middle of this park will make you almost forget that you're in one of the densest urban cities on Earth. And it is a really cool place to chill out with a book. or just to take some time out of the chaos.
Around the park you'll find loads of cool tea shops, quirky cafes and lots of vegan and organic restaurants.
– Bosque de Chapultepec
Chapultepec park is often considered as the 'lungs of CDMX' and it is one of the largest urban parks in the Western Hemisphere. Bigger than Central Park and Hyde Park in fact.
After dining in Condesa, Chapultepec is a great place to spend your final afternoon in the city. The park is just a 30-minute walk from Condesa, which is actually quicker than taking public transport.
Beyond huge open spaces in the park you'll also find a boating lake, a huge street of food and gift stalls, a zoo that is completely free to enter, and in the heart of the park is the Chapultepec Castle.
Make a note of where you enter as there are many entrances to the park, getting lost isn't on this itinerary!
Where to Stay
Ok so the 3 places where I recommend you stay would be Zocalo, Roma Sur or Norte and Condesa.
Here is a quick rundown of the locations and the hotels and hostels to find in each.
Zocalo
The downtown or historic centre of the city, quite chaotic but plenty going on and very close to restaurants, bars, attractions and transport links.
Downtown Hotel – $$
Hostel Zocalo – $
Roma/Condesa
Roma Sur and Norte are pretty trendy neighborhoods that are very safe and very foreigner-friendly. Plenty of cool cafes to visit, independent stores, up-scale restaurants and right in the heart of the action.
Condesa is a real hipster neighborhood, trees line the streets and organic and vegan restaurants and cafes can be found throughout. This area is one of the safest in CDMX and it is a calm and tranquil place which makes for the perfect place to stay in this mad city.
Hotel la Casona – $$$
Hotel Marbella – $$
Where to Eat
Food is a huge part of the culture here in Mexico and they are fiercely proud of the range of cuisine which is on offer, here are a few dishes which you need to check out.
Tacos – Mexican staple of tortilla with a filling, loaded with cilantro, onions, spicy sauce and lime juice.
Pozole – Hearty stew made with maize kernels, finished off with lettuce, radish, lime juice, a hint of chili and plenty of cilantro.
Chilaquiles – Tortilla chips which have been bathed in a green tomato sauce, range of toppings available, great for breakfast.
Quesadillas – These filled hand-made tortillas are so great for a snack, huge range of fillings from cheese to huitlacoche (wit-la-coche) which is a mushroom-like fungus that grows on the corn, try the blue corn varieties which you see on the street, super cheap, very tasty.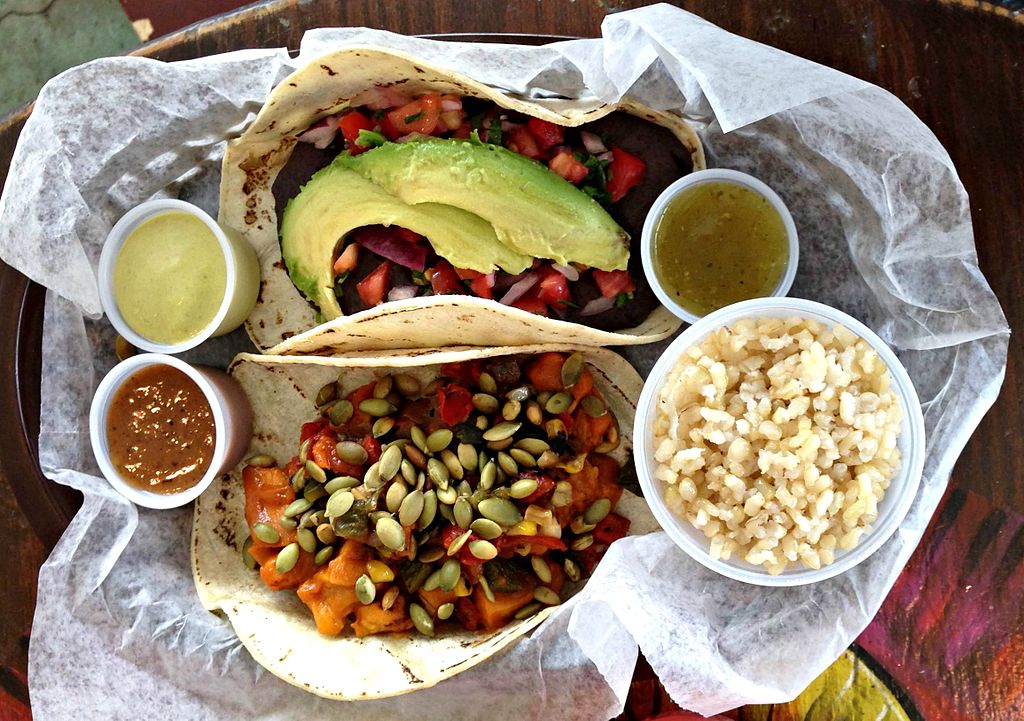 Street Food
This city is famous for its street food and wherever you go in the city you'll find vendors on street corners selling tacos and traditional Mexican food. Be careful with the street vendors as their hygiene standards can be pretty suspect. Stick to the stalls where there are locals eating if you want to avoid Moctezuma's Revenge, an affliction that will mean your 3 days in Mexico City involves journeys from your bed to the bathroom.
For some of the best traditional dining experiences, check out these restaurants.
Pujol – Reservation required – $$$$
Fonda Fina – Modern twist on traditional set menu –  $$$
El Tacoton – Veggie Tacos -$$
Tacos los Especiales – Authentic – $
Getting Around Mexico City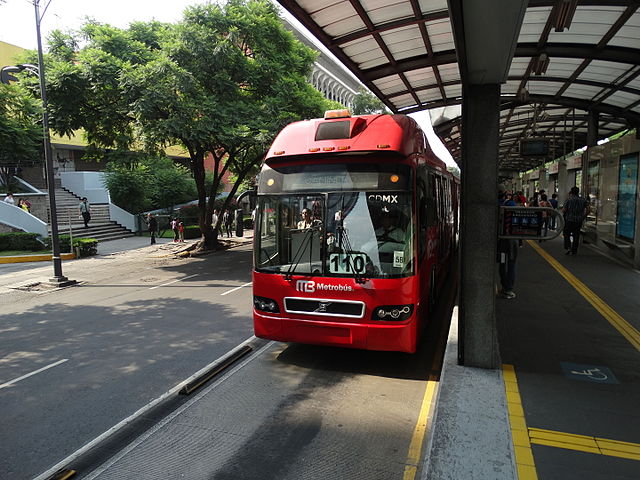 The first thing I want to tell you guys about getting around here is not to take street cabs. They are largely unregulated and dangerous for tourists.
The best way to get around is the MetroBus or the Metro. There are also some green buses which run through the city but they rarely have a destination written on them, so getting to where you wanna go isn't easy.
Beyond public transport I'd recommend using ride-sharing apps, the city has DiDi, Uber, Cabify and Lyft, and the prices are super cheap.
Hints and Tips to Remember for your 3 days in Mexico City
Like any big city petty crime such as muggings and pickpocketing exists. Be sure to look after your possessions and use common sense
Wet season is between May and September when thunderstorms hit most afternoons
Weather can change in a heartbeat. So be sure that you carry a mac or a light waterproof
Expect to find tired on your first couple of days. The city is at a high altitude and it takes some getting used to
This is an earthquake zone. So learn the sound of the alarm and what to do when you hear it
Try out your Spanish. The locals are super welcoming and will help you as best as they can
Drive here at your own risk. Locals don't need to pass a test to get a license and it shows!
Mexico City Itinerary; Interactive Map
The full guide can be found on this interactive map.
Remember, never travel without travel insurance! And never overpay for travel insurance!
I use HeyMondo. You get INSTANT quotes. Super cheap, they actually pay out, AND they cover almost everywhere, where most insurance companies don't (even places like Central African Republic etc!). You can sign-up here. PS You even get 5% off if you use MY LINK! You can even sign up if you're already overseas and traveling, pretty cool.
Also, if you want to start a blog...I CAN HELP YOU!
Also, if you want to start a blog, and start to change your life, I'd love to help you! Email me on johnny@onestep4ward.com. In the meantime, check out my super easy blog post on how to start a travel blog in under 30 minutes, here! And if you just want to get cracking, use BlueHost at a discount, through me.
Also, (if you're like me, and awful with tech-stuff) email me and my team can get a blog up and running for you, designed and everything, for $699 - email johnny@onestep4ward.com to get started.
Do you work remotely? Are you a digital nomad/blogger etc? You need to be insured too.
I use SafetyWing for my digital nomad insurance. It covers me while I live overseas. It's just $10 a week, and it's amazing! No upfront fees, you just pay week by week, and you can sign up just for a week if you want, then switch it off and on whenever. You can read my review here, and you can sign-up here!