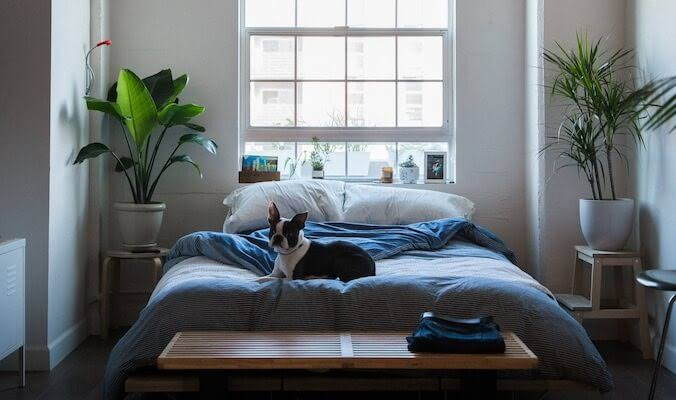 When remodeling a home, it is typical to focus on upgrading the bathroom and kitchen spaces. However, it is also a good idea to invest time and money into making your bedroom a comfortable and relaxing space. Fortunately, there are many easy steps that you can take to transform your master bedroom into a space that you look forward to occupying after a long day.
Clean Your Room
Getting rid of clutter can reduce the stress and anxiety that you feel while in a given room. By reducing your stress and anxiety level, you will likely find it easier to enjoy spending time in your bedroom. This can be important if you are looking for an effective way to shut your mind off and fall asleep at night.
Don't Work in the Bedroom
Despite spending up to 12 hours per day at the office, you may be compelled to spend more time working at home. Ideally, you will refrain from working in your bedroom. This can make it difficult for your mind to figure out whether it is time to go to work or time to go to sleep. Making your bedroom a sanctuary from the pressure of your professional life can help you create a healthier work/life balance, which can be ideal for your overall mental health.
Adapt to the Different Seasons
It may be a good idea to put heavier curtains on the windows during the colder winter months. This is because significant amounts of heat can be lost as warm air escapes through the glass. It is also possible for colder air to enter a room through a window, and a heavy curtain may be able to prevent it from getting too far once it does.
You may also want to use warmer colors in the winter to make your bedroom seem more cheerful and welcoming. A warm and cheerful environment may be especially helpful as there is less sunlight during the late fall, winter and early spring months. The lack of sunlight could cause depression, fatigue or other negative symptoms during that time of year.
A happy space to call your own when you are feeling sad or depressed may help to mitigate or eliminate those symptoms. During the spring and summer months, you can switch to lighter colors and thinner fabrics that allow more sunlight to enter the room. This may help to create a light and airy feeling that can put your mind at ease.
Invest In a New Mattress
Few things make it easier to relax than a comfy place to sit or lay down. These days, mattress companies make products that can be raised or lowered into multiple positions for maximum comfort. It may also be possible to customize how hard or soft a mattress is at any given time. The best part is that a new mattress could cost $1,500 or less, which means that you don't need to break the bank to improve your sleep quality.
If you want to sleep better at night, it is critical that you keep stress and anxiety to a minimum. To keep stress and anxiety to a minimum, be sure to design a bedroom that is free of clutter and distractions. It is also important that you have a mattress that makes it easier to fall asleep and sleep soundly throughout the night.