Koh Yao Noi, Thailand (What to See and Things to Do on Ko Yao Noi)
Since Thailand became super famous as a tourist destination, people often come to Thailand on a package holiday. Don't do it! They spend 2 weeks in Phuket, and fly home. It breaks my heart to see that.  They're all missing the REAL Thailand! Personally, I really dislike Phuket and avoid it at almost all cost. But that's not to say it's not worthwhile visiting that region, not by a long shot!
There are 2 amazing, untouched areas near Phuket that everyone needs to travel to. Khao Lak, about an hour north of Phuket (check out my blog post on where to stay, things to do in Khao Lak etc here), and with a quick van and boat transfer, the untouched paradise of Koh Yao Noi (sometimes spelt Ko Yao Noi). Including these in your Thailand itinerary promises you a more authentic Thai experience.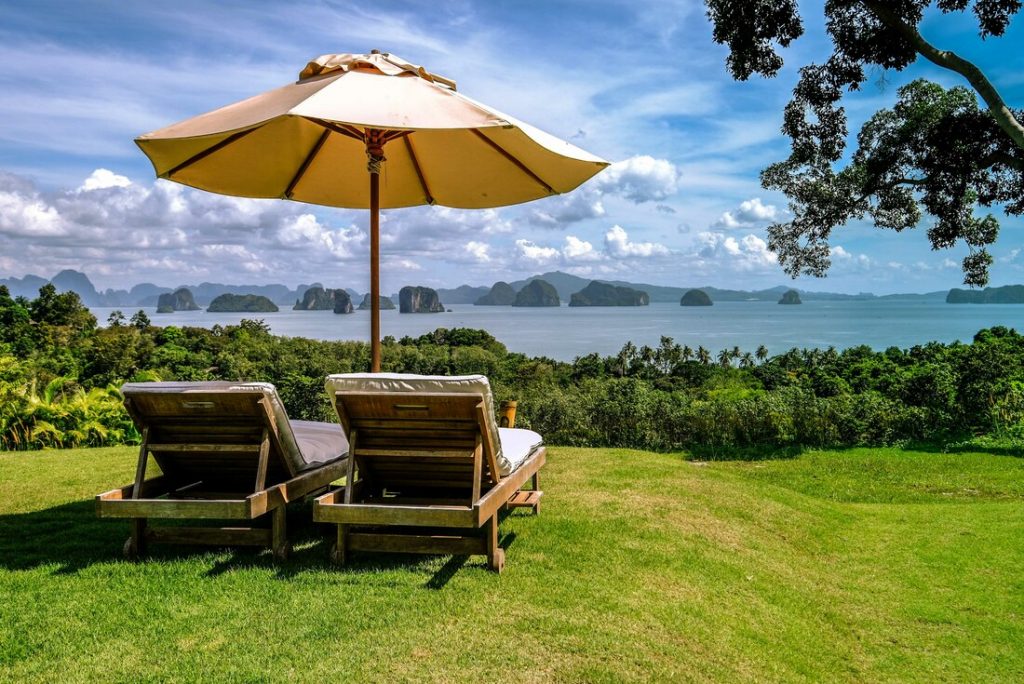 Why Visit Koh Yao Noi?
Koh Yao Noi is perfect for people who want the experience of 'real 'Thailand. The Thailand you hear your parents talk about, the "20 years ago" Thailand, before the McDonalds and Starbucks revolutions. Yao Noi has yet to be developed by mass tourism, the local villages, and the people who live there, welcome tourists in a way that's hard to find across South East Asia these days. Cute little local restaurants sit on beaches selling fried rice for $1, and a beer for $2, where after feeding, you can jump in the ocean with the beach to yourself. Too good to be true? Nope. It's honestly like that. 
Koh Yao Noi isn't a party island (although there are still fun bars here), it's more of a place to chill, and appreciate where you are and how lucky you are to have got off the beaten track. The views of Phang Nga Bay that Koh Yao Noi carries all around the island are amongst the best sites in all of Thailand, and then there are the hotels. While still hugely underdeveloped, there are a couple of amazing places to stay on Koh Yao Noi, and truth be told, that's the main reason I wanted to come and check it out. 
What is glamping?
My Mrs isn't exactly the 'camping-type'. So when I saw Thailand's best glamping was in Koh Yao Noi (glamping = glamorous camping), then I knew that was for us! Anyway, the photos of the tents with the view of the bay had me sold, so we booked our flights to Phuket, organised the transfers through the hotel, and we were off. 3 days in Koh Yao Noi.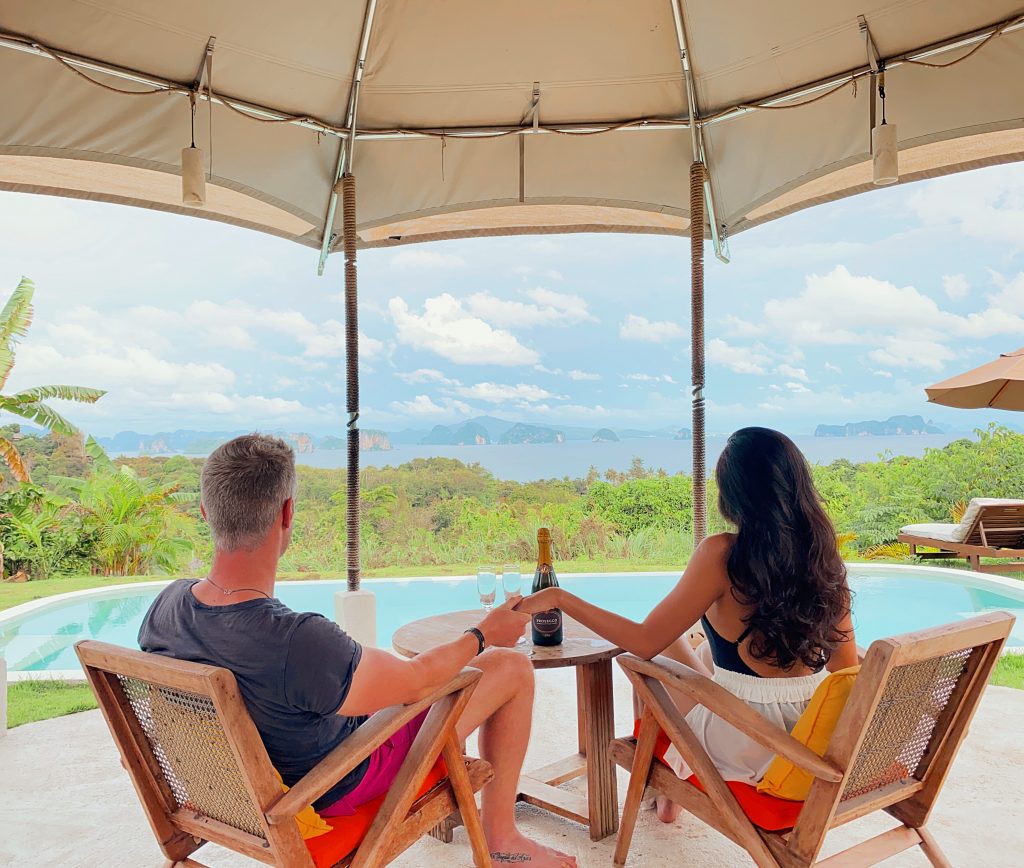 Where is Koh Yao Noi?
It's in the ridiculously beautiful Phang Nga Bay, just off the coast of Phuket, and on the other side off the coast of Krabi, in the West of Thailand, in the Andaman Sea. There is a larger island south of Ko Yao Noi called Koh Yao Yai (Yai meaning BIG in Thai, and Noi meaning Small). 

How to get to Koh Yao Noi
Being an island, you probably guessed that you'll have to take a boat. First, fly to either Krabi or Phuket airport. Normally, your Koh Yao Noi hotel will help you organise transfers from either Phuket or Krabi airports, and although it may be a little pricier, it's a lot less work! So that's what we did, but it is possible to organise yourself too, see below how to get to Koh Yao Noi:
From Phuket to Koh Yao Noi: You need to get to 'Bang Rong Pier', about 1 hour drive from Phuket Airport (taxi is 500-1000THB depending on the time). From here there are scheduled ferries all day long, every 90 minutes or so, for about $10 (300THB). You don't need to reserve. 
From Krabi to Koh Yao Noi: You need to get to 'Ao Tha Lane' pier, about 1 hour drive from Krabi airport (taxi is 500-1000THB depending on the time). There are ferries all day from 7am to 5pm, that takes an hour, or speed boat in 20 minutes (roughly $5 to $8). 
From Koh Yao Yai to Koh Yao Noi: If you're already on the larger island, Koh Yao Yai it's really easy to get to Koh Yao Noi, just go to the northern tip of Koh Yao Yai, to Chong Lard Pier 
Form Phang Nga to Koh Yao Noi; It's also possible to go from Khao Lak, just get to Tha Dan Pier (about 90 minutes from the Khao Lak Beach area) and there are 2 boats per day to Yao Yai, where you can transfer to Yao Noi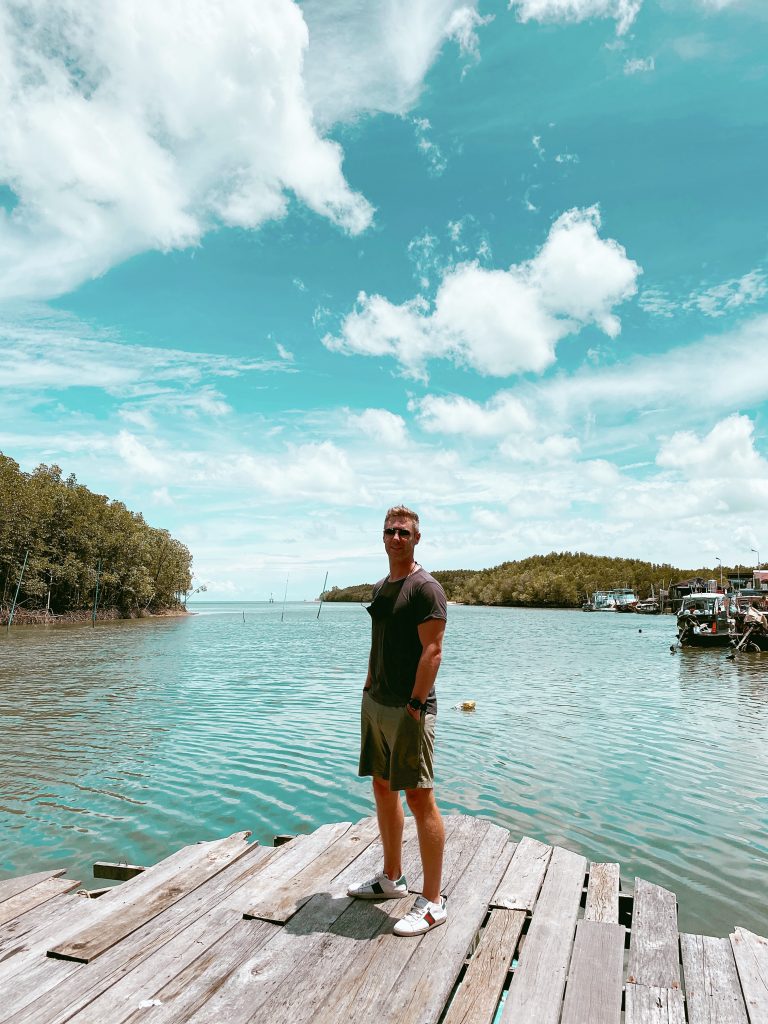 Koh Yao Noi Things To Do
Finding things to do in Koh Yao Noi isn't like when I recently spent 3 days in Chiang Mai, or had my first Bangkok staycation. Yao Noi is more about renting a scooter and exploring the island at a slow pace. Stopping for coffees, and cakes. Local food at little hole-in-the-wall restaurants on beach fronts. And soaking up the views of Phang Nga Bay while planning which cocktail you're having for your sundowner!
But there is of course still stuff to do here, I explain a little more in-depth in the Khao Yao Noi Itinerary below, but for a short, snappy list, here's a list of thing to do in Koh Yao Noi that you shouldn't miss:
Get accommodation with a view

Rent a scooter and explore the island

Sample Thailand's best glamping experience @ 9 Hornbills luxury tented camp

Day trip to Koh Yao Yai (and the famous sandbar beach)

Day trip island-hopping and/or kayaking

Sunset cocktails on the beach at Ko Yao Noi Resort

Lunch/Dinner at the Rice Paddy Restaurant (best restaurant on the island)

Coffee and cake at Cafe Kantary

Beach hop but don't miss Long Beach (หาดยาว) in the North. You'll almost definitely be the only people there (and it's a tricky ride on the scooter if you're a newbie, take it slow)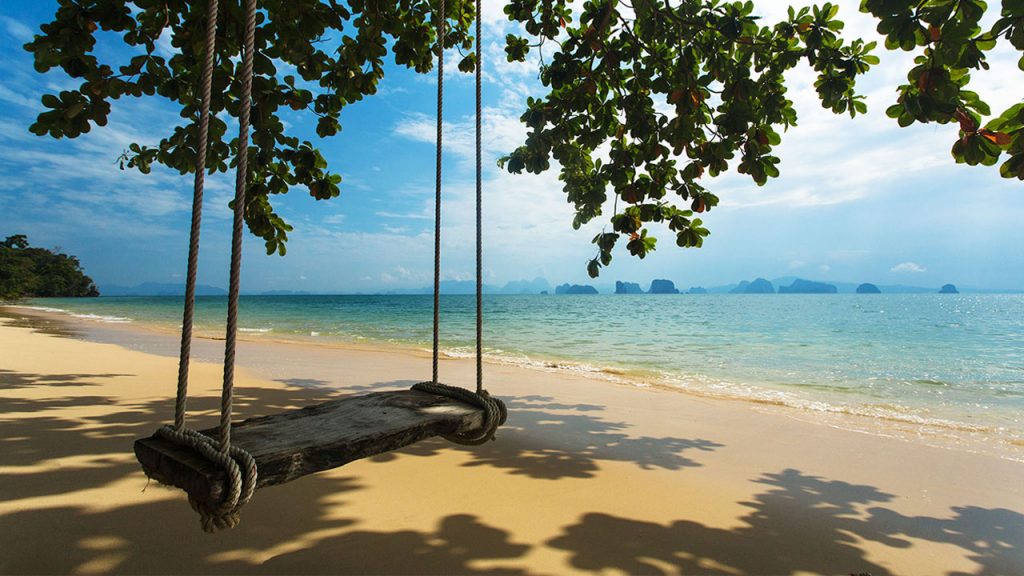 Our 3 Day Koh Yao Noi Itinerary
First of all, and most importantly, when planning your Koh Yao Noi itinerary
DAY 1 MORNING:
Getting to Koh Yao Noi takes a bit of time. As I mentioned above, you have to get to Krabi, or Phuket (Phuket is better/faster). From there an hour or so to the pier, and then another hour or so to Koh Yao Noi. Once you get off the boat, your accommodation will be waiting for you. The island is small, so it's normally 20 minutes or so, maximum, to transfer you to your Koh Yao Noi hotel. Here's the kicker.
Koh Yao Noi is a little hidden paradise, but there are not really lots of things to do in Ko Yao Noi, so to truly appreciate the laid-back vibes, the best choice is to stay in one of the 3 luxury places – Four Seasons, Treehouses or, the cheaper (but not cheap!) and better option, 9 Hornbills Tented Camp. I'll write a little more about why you should stay here below, but basically it's luxury camping (Glamping), with breathtaking views of the bay.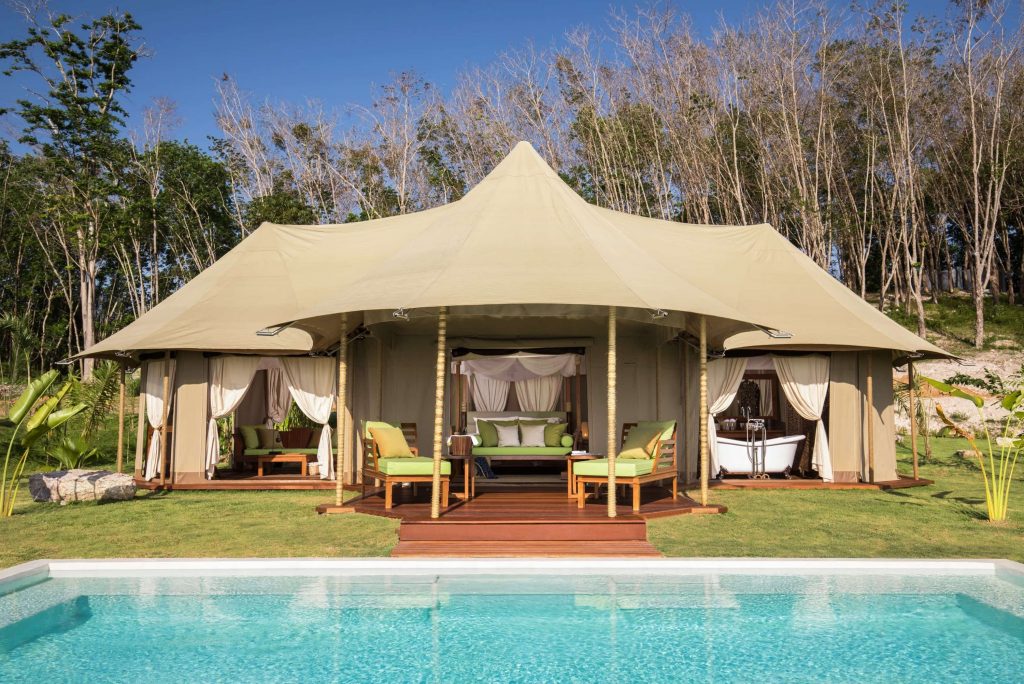 DAY 1 AFTERNOON: ENJOY THE VIEWS, GLAMPING ETC:
 So you should hopefully have completed your transfer to Ko Yao Noi by late lunch, and check-in to your hotel. If, like me, you're glamping, then I'd recommend you take the next couple of hours to soak up where you are. Hill-top views of the bay, private pool, get some ice from the staff and enjoy some beers/wine, a book and dip in the pool. You made it to paradise, now enjoy it before you run around again!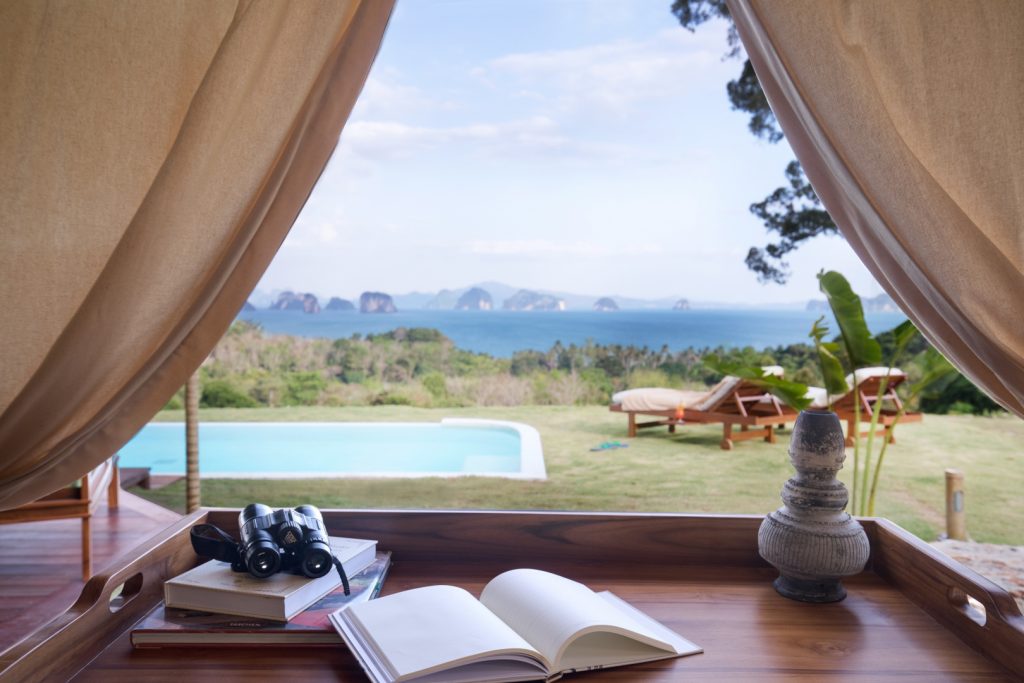 DAY 1 EVENING: SUNDOWNERS AT THE RESORT, POM PUI
You can't miss sunset on your first evening. PumPui restaurant, right on the beach, is a brilliant choice for Night 1 (great veggie options too). You have a different perspective on the bay views, this time complete with infinity pool, but also an untouched private beach to welcome you. Make early dinner plans so you can get here before the sun goes down, have a cocktail or 3 on the beach, then once dark, walk the 30 second back to the restaurant and enjoy dinner.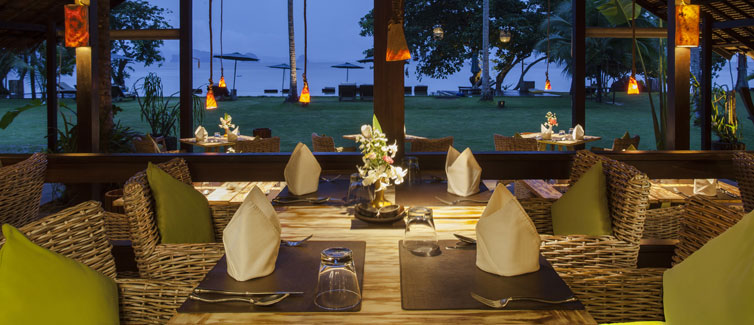 DAY 2 MORNING: FLOATING BREKKIE, SCOOTER RENTAL AND EXPLORING THE ISLAND
Breakfast is a bit of a treat. It's time for your Instagram moment with the floating breakfast in the pool, with the view! Normally, if you book 9 Hornbills, they give you one complimentary floating breakfast, so we organised that for our first morning, as the weather forecast was good. I should really add, this looks better on camera than it doesn't in reality! Eating in the water is weird, so you'll probably end up taking the pic, then taking the brekkie up to your dining area and eating there, after (that's what we did!)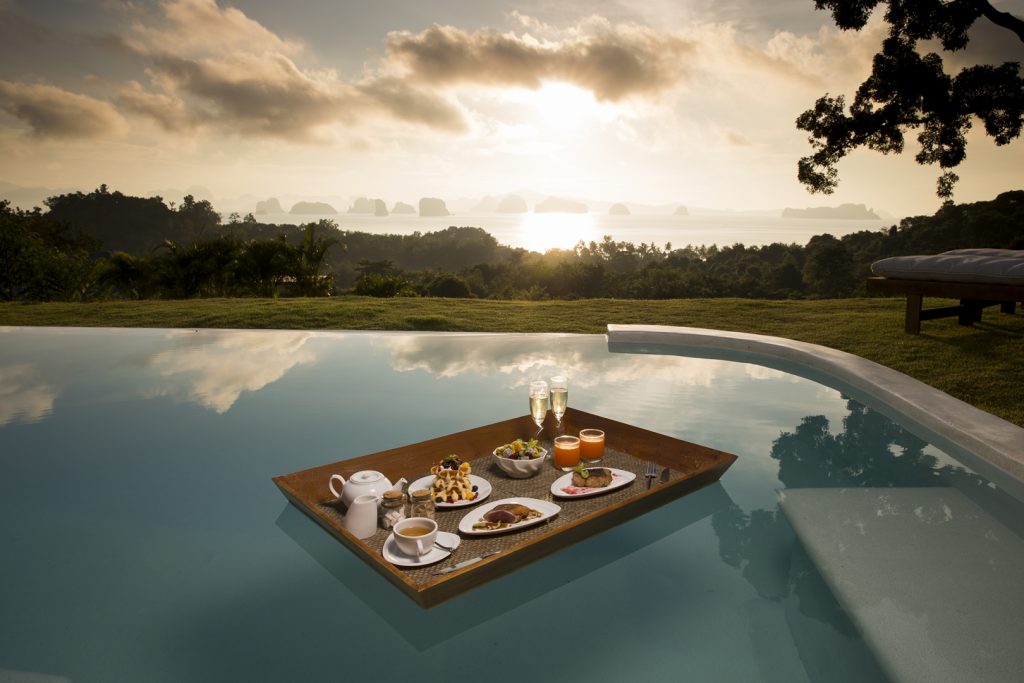 After a slow, lazy breakfast it's time to be a tourist. The best way to get around the island is by scooter. If you don't feel comfortable on a scooter, Koh Yao Noi is a great place to learn. Next-to-no traffic, so you can go as slowly as you want. It's super-easy, honestly. Like a go-cart! But if you still feel uncomfortable, you can hire a car with a driver through the hotels (pricey!) or a bicycle (lots of hills and dirt-tracks). So basically, Kao Yao Noi is the place, and time, to learn to ride a scooter.
If you don't want to ride a scooter, book a bicycle tour around Koh Yao Noi with these guys!
It takes around 45 minutes or so, maybe an hour if you're slow, to circumnavigate the island in one continuous loop. But stopping and starting freely will take you from 11am or so until about 3 or 4pm, the perfect way to spend the day. If you're on the East Coast, then the first stop would be to head north for 5/10 minutes, and chill at Tha Khao beach. There are a few little shops if you need a snack there too. From there, head to the 'hidden' beach of Long Beach, Ko Yao Noi.
This is a little off-road, so be prepared to go super slow on your scooter on the dirt track. But once you arrive, you will literally have a 1km+ white sand beach all to yourself. It offers unreal views of the mini islands in the bay. It was worth the stress, and my girlfriend screaming at me for bringing her on the awful road!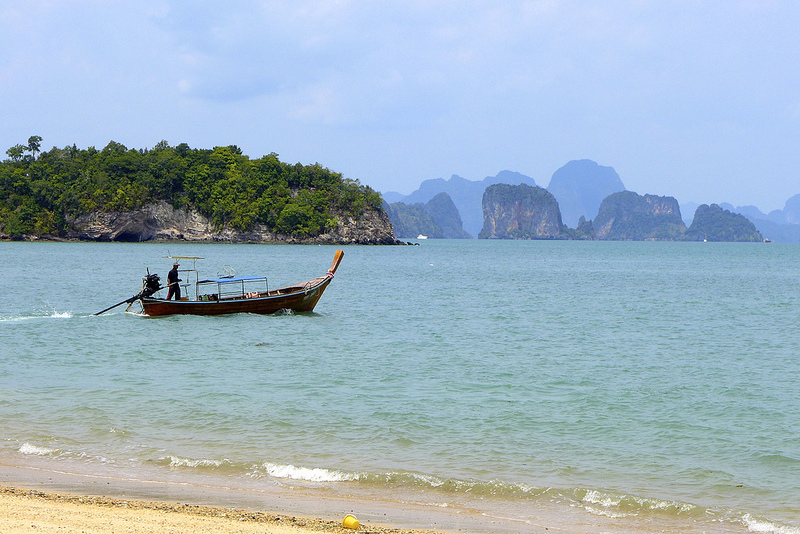 DAY 2 AFTERNOON: LONG BEACH, ORGANISE DAY TRIP FOR TOMOZ, BUY BOOZE, COFFEE AND CAKE, LUNCH AT RICE PADDY
After you've had your fill of paradise, hop back on the scooter and slowly finish your circumnavigation of the island, anti-clockwise. Stopping by Ko Yao Noi's 'capital city', to visit the only 7-11 on the island.
NOTE: No booze for sale there, it's Muslim-owner, but you can buy beers etc from independent grocery stores, don't worry! And of course from the resorts too.
Depending on how long you spend at each beach, make time for coffee and cake (order the massive brownie!) at Cafe Kantary. And lunch at 'Rice Paddy'. It's probably the best restaurant on the island. And stop by Klong Jark beach for one last dip. All those stops, along with Long Beach and a visit to the local town should easily have wiled away your day at a nice, gentle pace.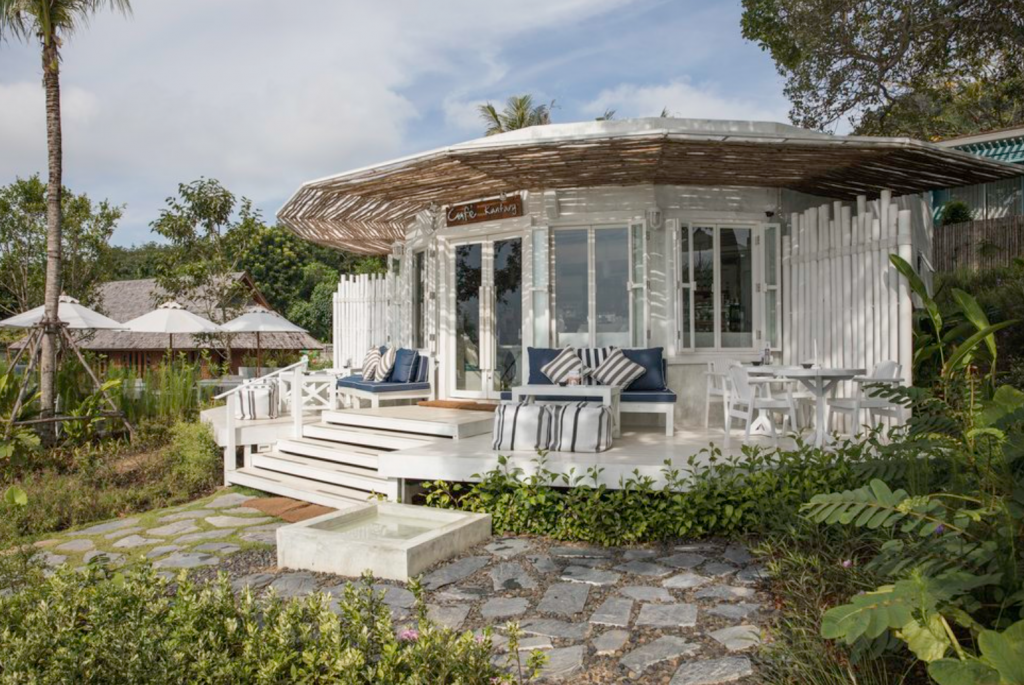 DAY 2 EVENING: SUNSET VIEWS, DINNER IN YOUR TENT
Shower, sunset, dinner. For my 3 days in Koh Yao Noi, one option is to have dinner delivered to your 'tent'. So we did that on our first evening too. That allowed us to swim in the pool as the sunset. We had a bottle of wine smuggled in from the mainland too. On arrival, we requested an icebox, and soon dinner was delivered. With the moon lighting up the sky, you can still see the views. Pretty spectacular.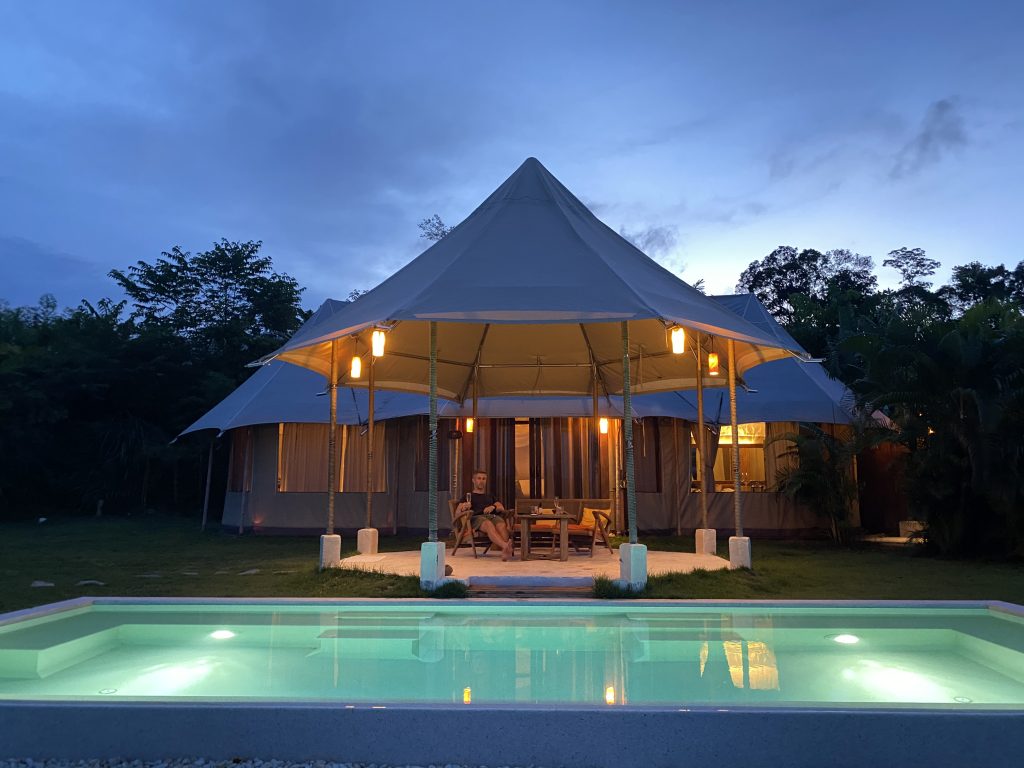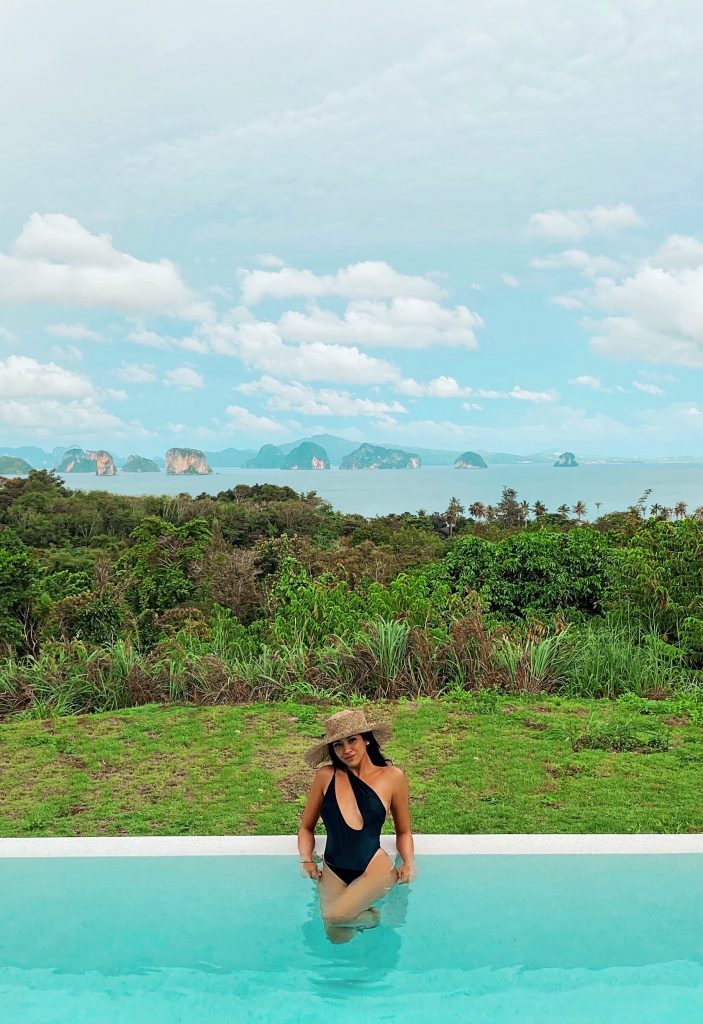 DAY 3 MORNING & AFTERNOON:
If you're spending 3 nights in Ko Yao Noi, then today's your last day! You have 2 choices depending on how chill a person you are. Either a day lounging at the resort (I'm awful at that personally). Or you can organise a day-boat trip to Phang Nga Bay and James Bond Island, or a half-day cycle trip. This is possible via the stalls at Kong Jark beach (cheaper), or through your hotel (easier). Or best of all options, BOOK IT online. Normally the tours are roughly 9am to 4pm.
TOP-TOP: Avoid the boats being full, and book online in advance with these guys!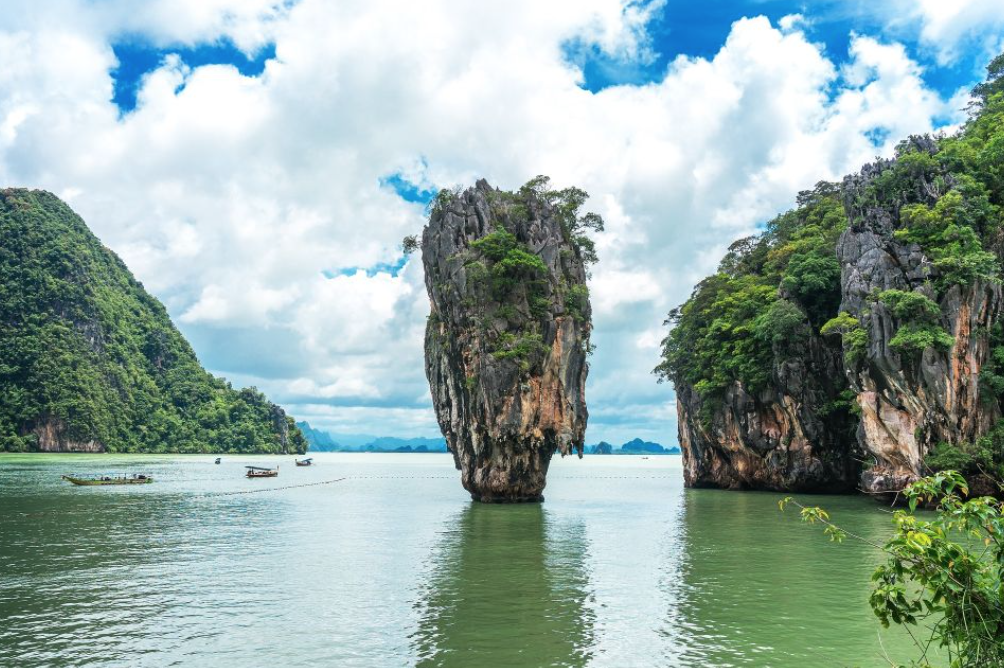 DAY 3: EVENING:
You'll be knackered by the time you're home to be honest! If you still have energy, Parabar, Chaba Bar and Pyramid bar are the places to meet people and have 1 drink too many. It's not a party island. But these 3 can often have a nice little smattering of people enjoying a cocktail in the evenings. Enjoy!
DAY 4: MORNING:
And that, my friends, is that! 3 nights and 3 days in Koh Yao Noi is perfect. If you're pushed for time, 2 nights is also possible. Your hotel will most likely drop you at the port and put you on the boat. So then depending on whether you're off to Krabi, Koh Lanta, Phang Nga or Phuket, you can organise transfers on the other side too.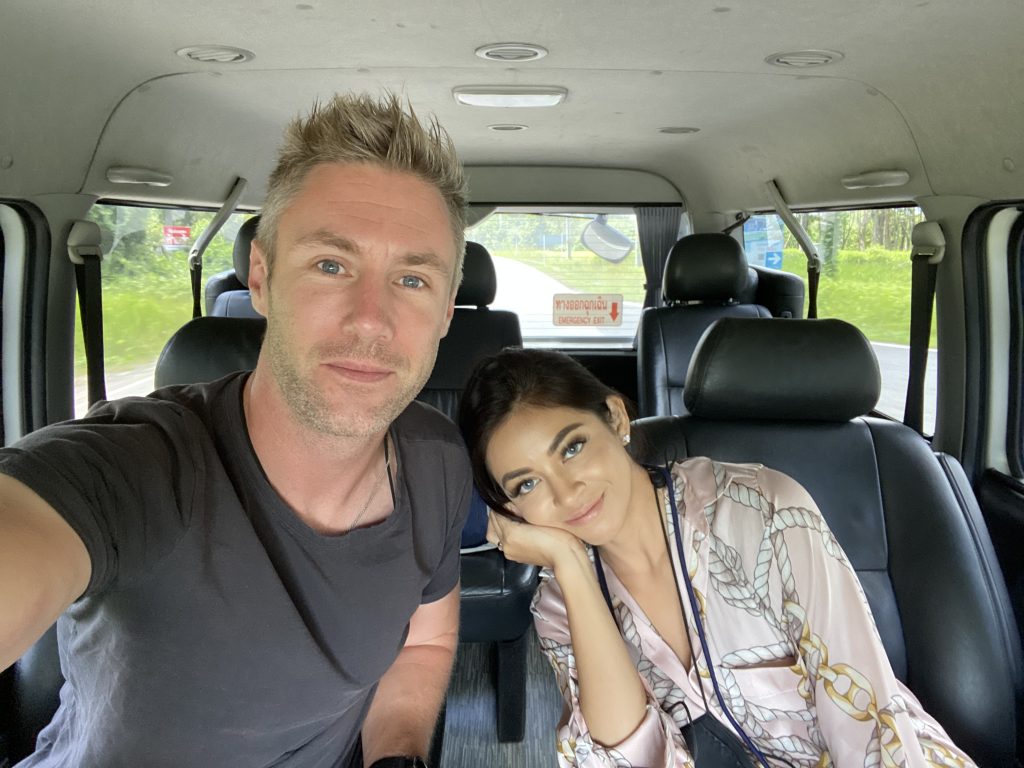 When Is the Best Time To Visit Koh Yao Noi?
November through to April is dry season, so that's perfect. July to October/November is fine too, you'll have rain, but generally only for an hour or 2 per day in the late afternoon. I went in October, and it was exactly like that. April, June, and July are rainy season and low season. You will have the island virtually to yourself, and often there are long stretches of days without rain, so personally, if I was in Thailand at that time, I'd still pop over.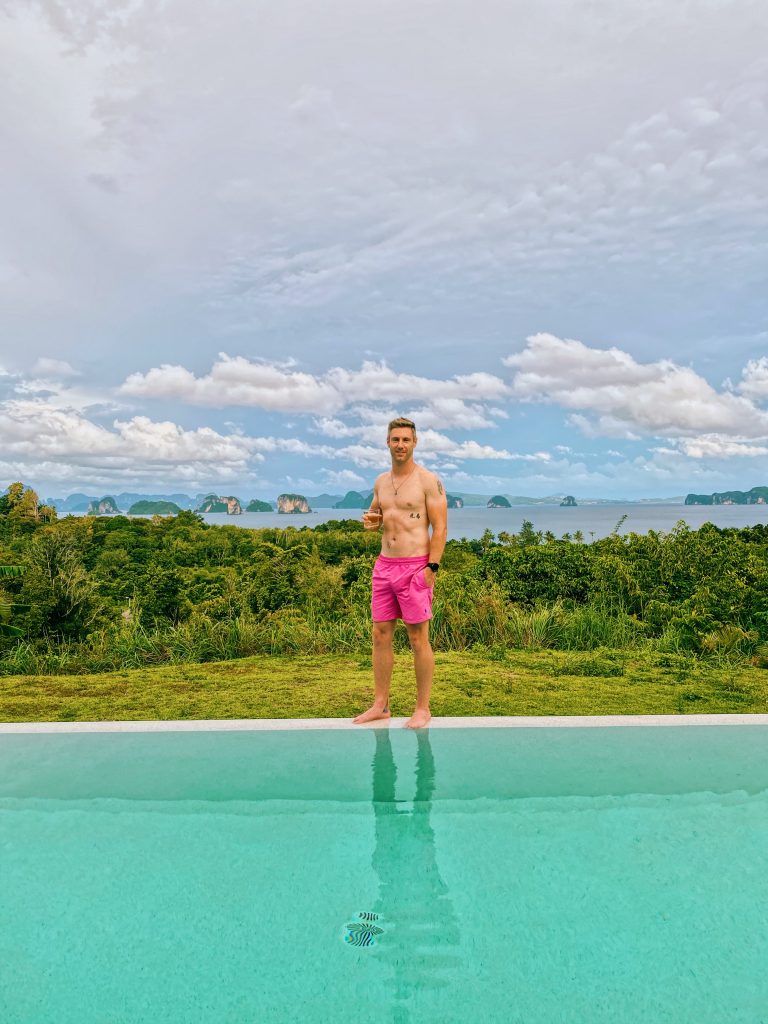 Why You Should Stay at 9 HornBills Luxury Tented Camp
Pretty simple, to be honest. I'm sure you've stayed in some beautiful hotels, me too. But often once you've seen one 'luxury' resort, the next one seems the same, albeit in a different location. I wanted to experience something new. s once I saw the tents at 9 Hornbills online I knew that's the experience I was after. I did some more research and saw the private pools, the privacy, the floating breakfasts, all really cool and for sure it'll be something to remember.
Then, with a bit of confusion through their website, I see that 9 Hornbills is the same owner and sort-of part of the Ko Yao Noi Island resort. Just a 10-minute walk down the hill. The resort is where PomPui restaurant is. It's also where you have breakfast as part of your package in the luxury tents. And it's where you check-in and check-out. That meant that you get all the seclusion of being on the hill-top, with the epic tent, and gorgeous bay views. But also full access to a private beach, and restaurant down the hill. Best of both worlds. Both the resort and the glamping are similarly priced, but for sure, the glamping is a more fun, different experience. So if you're weighing it up – choose the tents!
Glamping in Thailand
And then there are the tents! If, like me, your partner isn't quite as adventurous as you. This is a pretty cool way to compromise. It's camping in a technical sense, but with a 4-poster bed, air-con, wifi, a mini-bar, an infinity pool and a butler on call! But it's the views that make 9 Hornbills one of the best holiday memories from my time in Thailand. It was a stroke of genius by the owners to buy the land away from the beach, on the hill-top, and create this. And so we camped, and we loved it. It's hard to find new experiences, but these guys definitely delivered.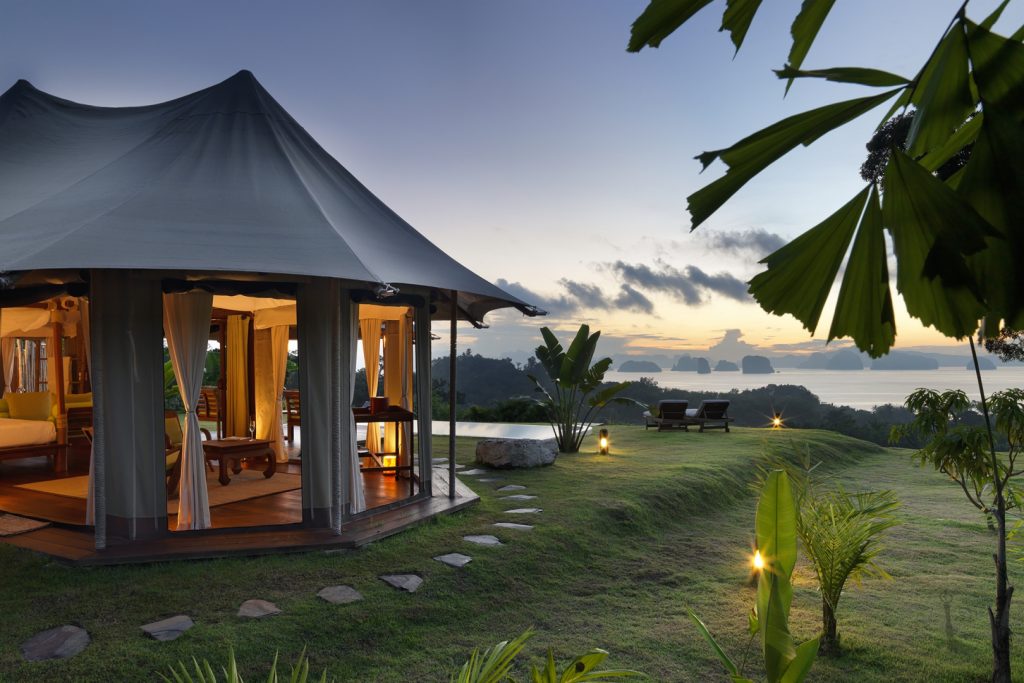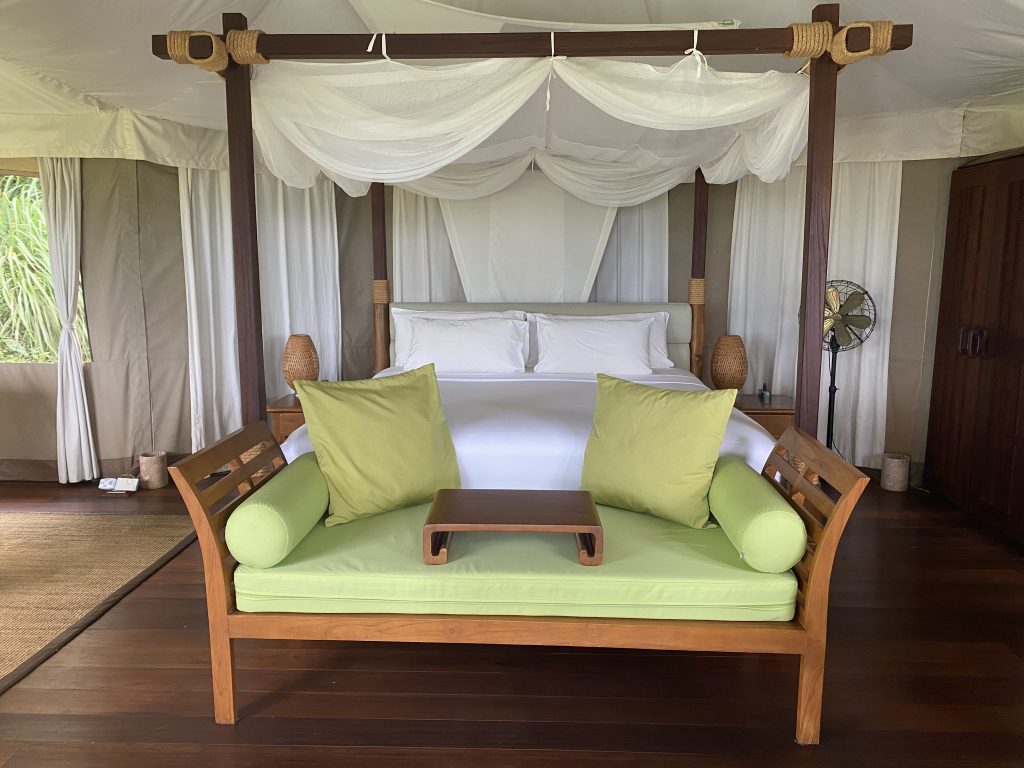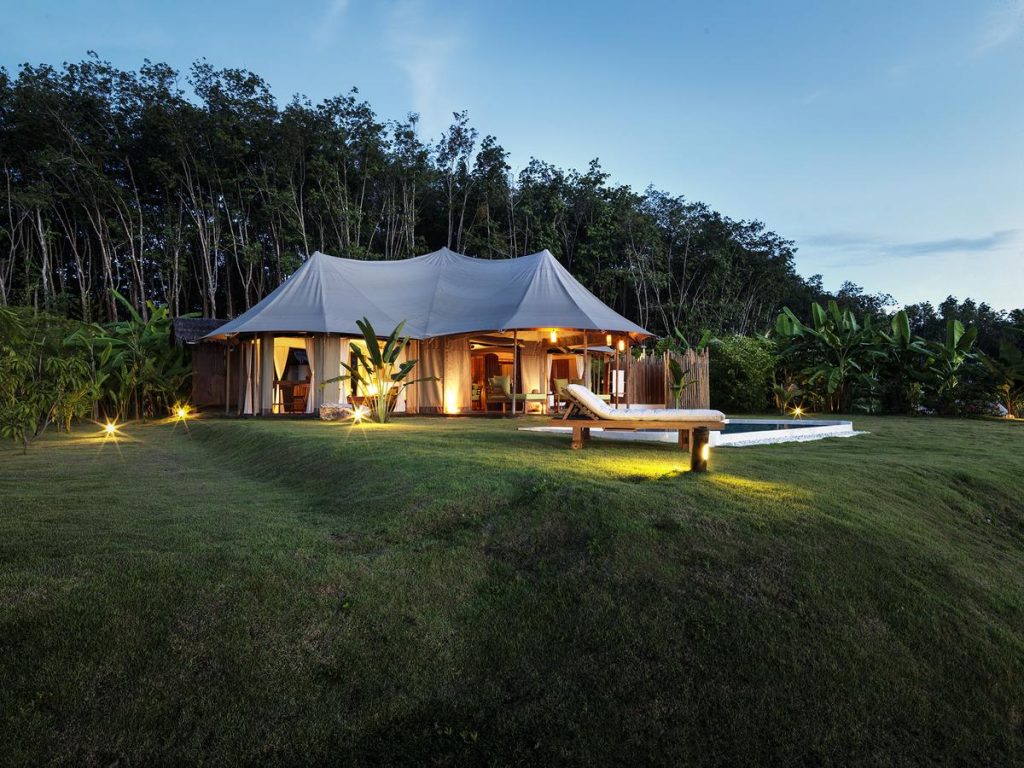 Final Thoughts on Visiting Koh Yao Noi, Thailand
I can't believe it took me so long to visit. And still, I ran out of time to visit Koh Yao Yai! I'd recommend 3, 4 or 5 nights in Yao Noi. That's plenty of time to relax, but also gives you time to explore a bit too. Personally, I think a great way to maximise a trip here is to fly to Phuket. Then head north to spend 4 or 5 days in Khao Lak, and connect to spend some time in Koh Yao Noi. If that's all the time you have (like me when I did that trip) then it's a great mix of relaxation, luxury, beautiful views etc. If you have more time, then you could head for the busier island of Phuket and party. Or connect in the other direction to Krabi. All very easy transfers to make.
Anyway, I hope this helped convince you to go to Khao Yao Noi. And if you do, to 'camp' where I did. It was a once in a lifetime experience, and I can't recommend it highly enough. Thanks for reading!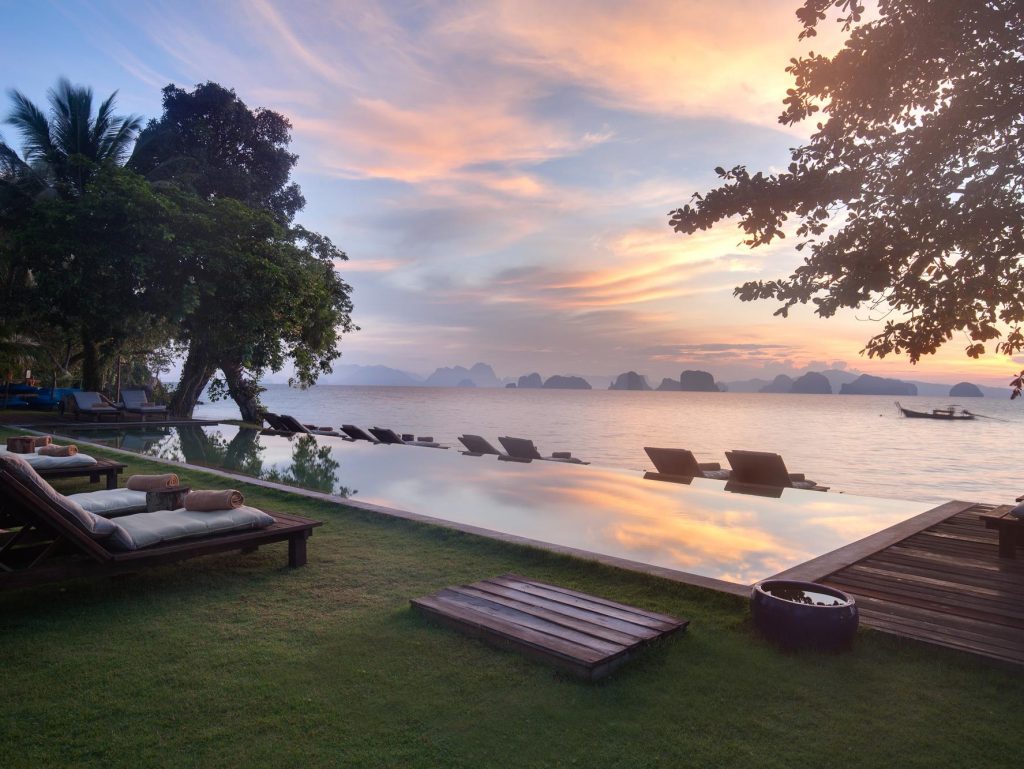 Remember, never travel without travel insurance! And never overpay for travel insurance!
I use HeyMondo. You get INSTANT quotes. Super cheap, they actually pay out, AND they cover almost everywhere, where most insurance companies don't (even places like Central African Republic etc!). You can sign-up here. PS You even get 5% off if you use MY LINK! You can even sign up if you're already overseas and traveling, pretty cool.
Also, if you want to start a blog...I CAN HELP YOU!
Also, if you want to start a blog, and start to change your life, I'd love to help you! Email me on johnny@onestep4ward.com. In the meantime, check out my super easy blog post on how to start a travel blog in under 30 minutes, here! And if you just want to get cracking, use BlueHost at a discount, through me.
Also, (if you're like me, and awful with tech-stuff) email me and my team can get a blog up and running for you, designed and everything, for $699 - email johnny@onestep4ward.com to get started.
Do you work remotely? Are you a digital nomad/blogger etc? You need to be insured too.
I use SafetyWing for my digital nomad insurance. It covers me while I live overseas. It's just $10 a week, and it's amazing! No upfront fees, you just pay week by week, and you can sign up just for a week if you want, then switch it off and on whenever. You can read my review here, and you can sign-up here!