A Bangkok Staycation Done Right; The PERFECT Itinerary
Thailand's capital is hectic, which makes a Bangkok staycation make more sense than ever. I've been living in Bangkok on and off for over a decade now, I bought a condo here, made all my money whilst based here, and now since COVID hit, I've been stuck here, unable to travel internationally. And through cycling 2000km the length of Thailand, and running from Chiang Mai to Chiang Rai for charity, and trying to keep a travel business afloat while no-one is actually travelling, I've been feeling pretty stressed.
For that reason, I decided to finally organise a luxury Bangkok staycation for me and Jaa, my partner. That meant staying in Bangkok's BEST hotel @ The Siam Hotel, and putting together a relaxing, recharging Bangkok staycation itinerary, great food and drinks, and no work. Now I hope my experience, and planning, can help you with your Bangkok Staycation. Check it out: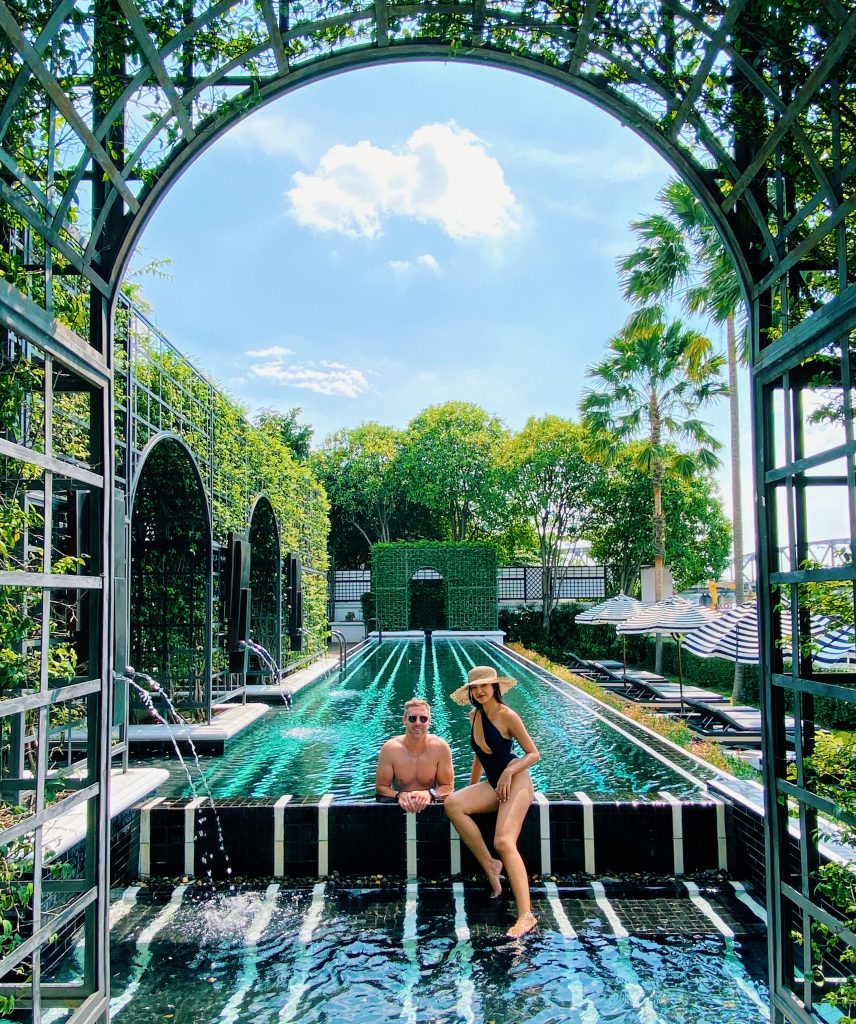 What is a Staycation?
It's basically a short holiday (normally 1 or 2 nights) where you leave your home, your condo, your apartment and move to a hotel in your city. You don't go to work, you say goodbye to your normal responsibilities, and you recharge in your home town or city. A place where you normally never get a chance to recharge. It's brilliant for a couple of reasons. First, COVID-19. COVID has hit the travel industry terribly, so a staycation is helpful as you don't need to waste time (or money ) on lengthy transfers, airports and schedules.
Normally within an hour, you can be in your staycation home. Also, it helps local businesses in your hometown during a very tough time for the travel world. Secondly, you can be a tourist where normally you're a worker-bee. You can see the tourist sites as if you're a newbie to the city, or (even better in my opinion) you can see what it must be like to relax in a city where normally you're carrying on at 100 miles-per-hour. My Bangkok staycation was a real treat, I came back to my real-life reinvigorated. I can see why staycations are becoming such a thing.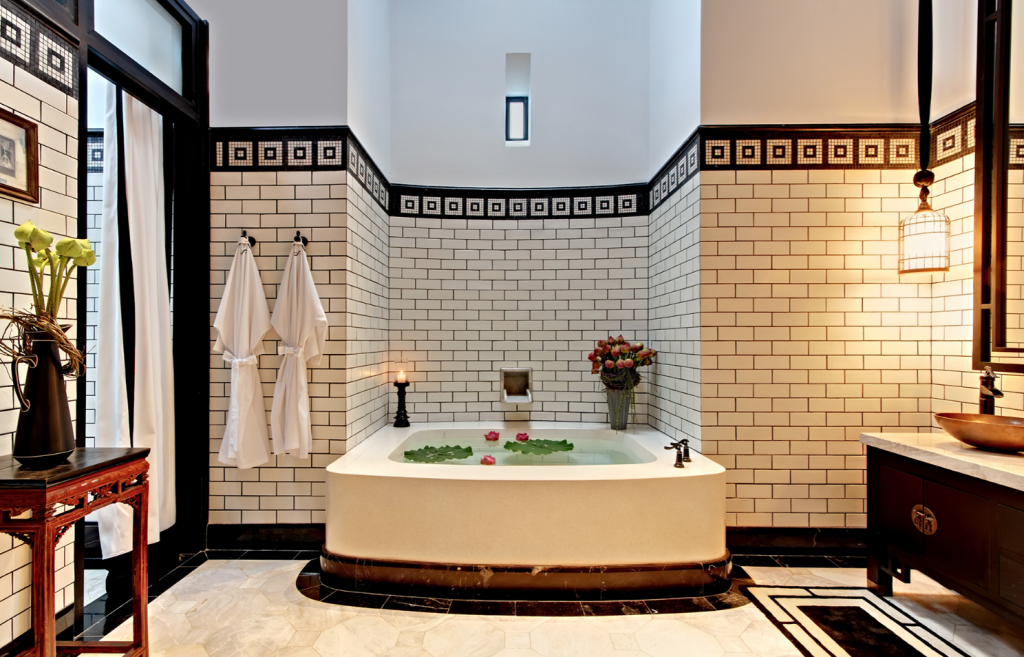 Staycation Ideas for Bangkok
When you're planning your Bangkok Staycation, there are a few things you have to factor in. First, you need to decide if you want your Staycation in Bangkok to be a tourist-affair, where you jump from tuk-tuk to temple, or a recharging experience. For me, I chose the latter. And I'm sure for anyone who lives in Bangkok, it will be the recharge you need too, so make sure to include everything on the list below. It's the perfect blend of a touch of luxury, a splash of laziness, but still feeling like you made the most of your break:
Sunset drinks
Spa treatment
A late, lazy breakfast (ideally where you eat too much and feel oh-so guilty)
Luxury dinner
Bathtub
Movie night (ok, this one is more for me, I'm a movie addict, and a lazy night with wine and a movie is heaven. But if you're also at the Siam, this is a MUST!)
A (reassuringly overpriced, but very cool) Cocktail Bar
An option for the gym (which, despite your good intentions, you probably won't use!)
If your staycation is in Bangkok, it should be on the Chao Phraya River, away from the skyscrapers and crazy traffic
Late check-out (and early check-in if possible)
The Perfect Bangkok Staycation Itinerary
I organised my staycation at The Siam Hotel in Bangkok for a total of 2 nights. I contacted the hotel in advance to see if early check-in and late check-out was possible, and because I was flexible with my dates and booked mid-week, it was possible, so that gave me 3 days along with my 2 nights. More bang for my buck! From there then, I'd arrive around Lunchtime on Day 1, and check-out around 3 pm on Day 3. So what's the perfect Bangkok Staycation itinerary then? Here we go:
Bangkok staycation itinerary; DAY 1
Check-in around lunch-time. That gives you the afternoon, and evening to wile away. As I mentioned above, the best area for your Bangkok staycation is undoubtedly on the Chao Phraya river. It feels a world away from the hustle and bustle of Asoke/Siam/Silom etc. 
DAY 1 AFTERNOON:
First things first, check out the hotel. I know Bangkok has some great luxury resort hotels, but the Siam is something else. I go into more depth about why it's the best place for a staycation in Bangkok below, but as soon as you check-in, you'll have to see for yourself. It's like a living museum, retro-chic, with artefacts from the last couple of centuries. Old Bangkok's travel guides from the 1920s, ancient Buddhist carvings from Ayyuthaya, you have to see it to believe it. After you've explored the hotel, it's time for coffee.
Bangkok is home to some gorgeous little coffee shops, but within walking distance of the Siam is an unknown, hidden little number called 'Coffee On Tree'. You can actually see it from the Siam's Pier, across the river. It's across the bridge, so if you have a scooter, or jump on a Grab Bike it's just 5 minutes, or it's about a 25-minute walk. To find it, head into the soi for the Royal River hotel and look for the old wooden door covered in greenery. And if the weather is nice, bring a book, you'll probably have the place to yourself, so chill on the rooftop, under the tree, watching the river traffic swing by. 
Best restaurant view in Bangkok?
Alternatively, if you're more active than I was, you're already on the river. So you can use the Siam's boat, and hop down to Saphan Taksin pier, where you can take another boat to 2 of my favourite spots, 'Sala Rattanakosin' or 'The Deck' (cheaper option, same view), right opposite Wat Arun. Personally, I think it's better for an early dinner and cocktail, as they light up the temple opposite it as the sunsets. But anytime it's pretty spectacular. 
DAY 1 EVENING/NIGHT:
You can either have your late lunch/early dinner at the Deck or Sala Rattanakosin, or like me, a book and some coffee, but try to be back at the Siam for sunset cocktails on the Pier. The sunsets beautifully just behind the bridge, and it feels like you've been transported right out of Bangkok. The service at the hotel is world-renowned, and each day they have specialist cocktails for you to try.
Jaa and I planned to just catch the sunset, but we ended up staying for over an hour and a half. Silence in Bangkok, delicious cocktails, and the place to ourselves. The Staycation was off to the perfect start!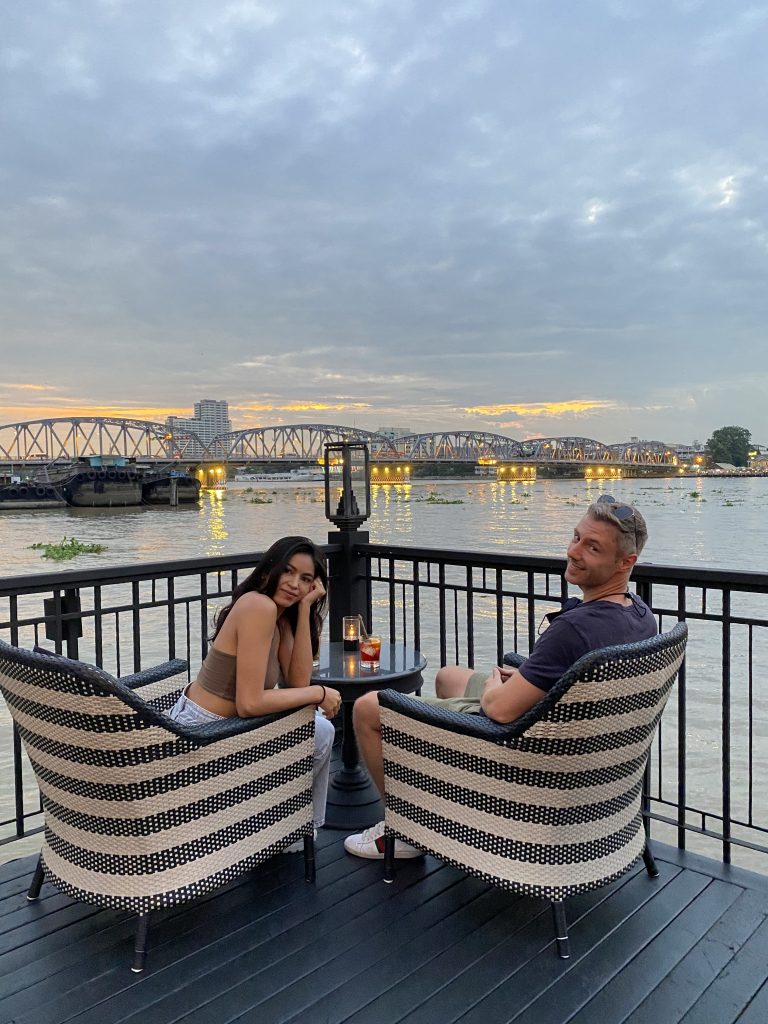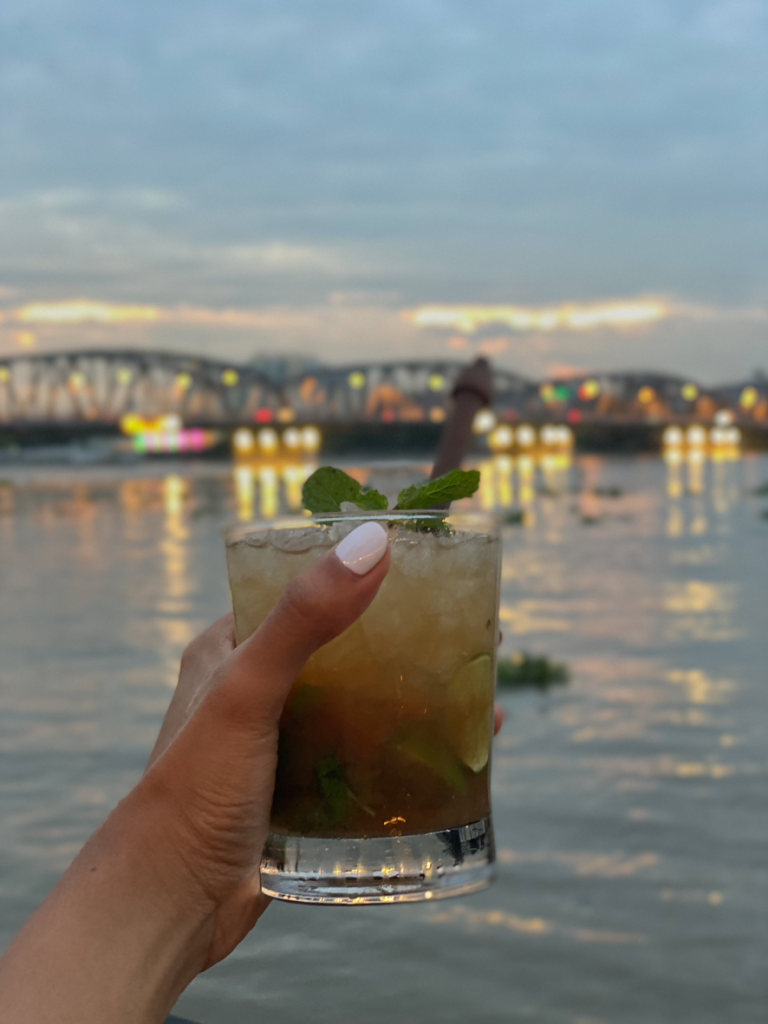 Highlight of the Staycation. Private cinema.
After the sun went down, it was time for my favourite activity of the whole Bangkok Staycation. The Siam has it's own 'movie-room'. Not some soulless movie theatre, more of a personal home cinema. Complete with lifesize ET, Yoda, and surround sound! And it's almost always available, you simply ask your butler (who comes with the staycation package) to organise it for you in advance, which I had done earlier in the day, and it's all set-up. We walked into the main building, through the library, and into the movie room where our Cokes and popcorns were waiting, the sofa was aligned with a blanket, and they have an iMac in the back with Amazon Prime, Netflix etc already all set-up, as well as a selection of movies.
From then it's up to you to watch what you want. You can continue to order drinks from the guys, or if you have some of your own wine etc, they'll help you with ice buckets and glasses too, amazing service. 3 hours, and the Godfather started and finished, with no remnants of the popcorn left, it was time to go back to our room. What an awesome extra activity this was.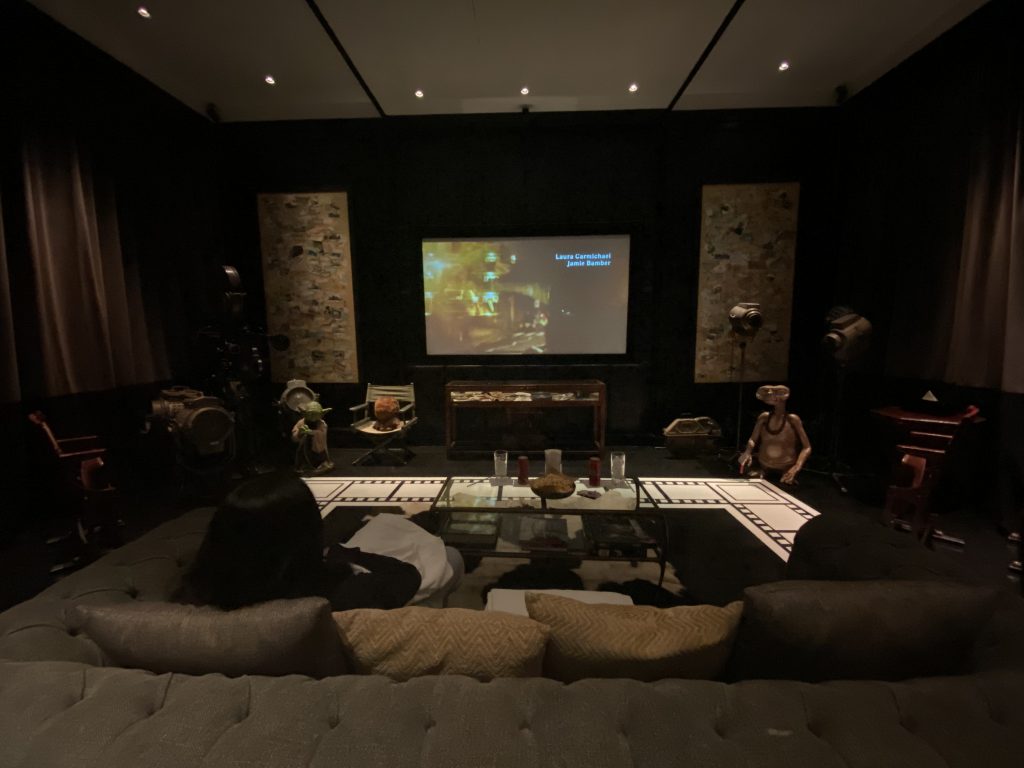 Bangkok staycation itinerary; DAY 2
MORNING:
Staycation breakfasts should be late and lazy. Although breakfast starts here at 6am, it runs all the way until 11.00am – the most generous window for brekkie I think I've ever experienced. Anyway, make the most of it, and aim to arrive around 9.30am. You could squeeze it until 10 of course, but when you see the breakfast menu and taste the breakfast goods, you're going to wish you had longer to eat your way through it!
Breakfast is served a la carte, no breakfast buffet insight. Everything is made fresh-to-order, and it's unlimited, so bring your appetite. Each morning I ordered the breakfast basket (pain au chocolates, croissants etc), and then 1 normal choice. Scrambled tofu, eggs benedict, eggs florentine, you name it, it's there. The set-up for brekkie is spectacular too, right on the riverfront. Doesn't get much better.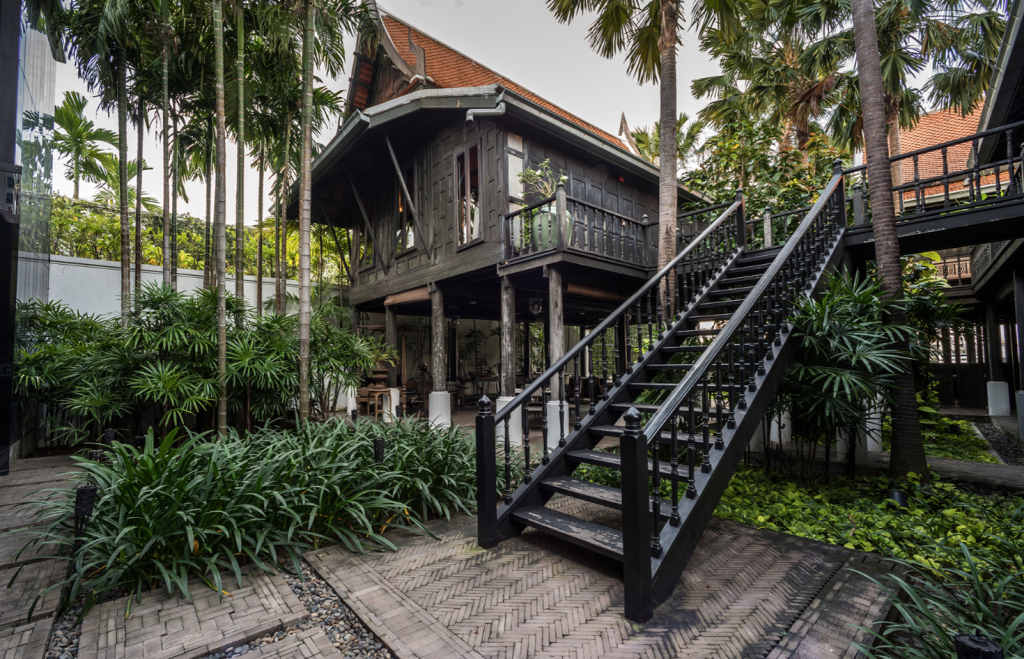 Most photogenic pool in Bangkok?
After brekkie, it's time to sample the most photogenic swimming pool you have maybe ever seen in your whole life! Perched right on the banks of the river, the pool allows the cooling breeze to keep Bangkok's intense heat at bay. And whether you're an Instagrammer, or Instagram-husband (more my role!) you have to get the now-famous arched photo in the pool! A book on the sunlounger, watching Bangkok's barges and boats transporting the various goods inland and out while you recharge your weary body is just what the doctor ordered. Your room also comes with a butler, and a phone to contact him, so if you need a coffee, a tea, or even a brunch-time Singha beer, it'll be with you in minutes. Now, why didn't I do any staycations before now?!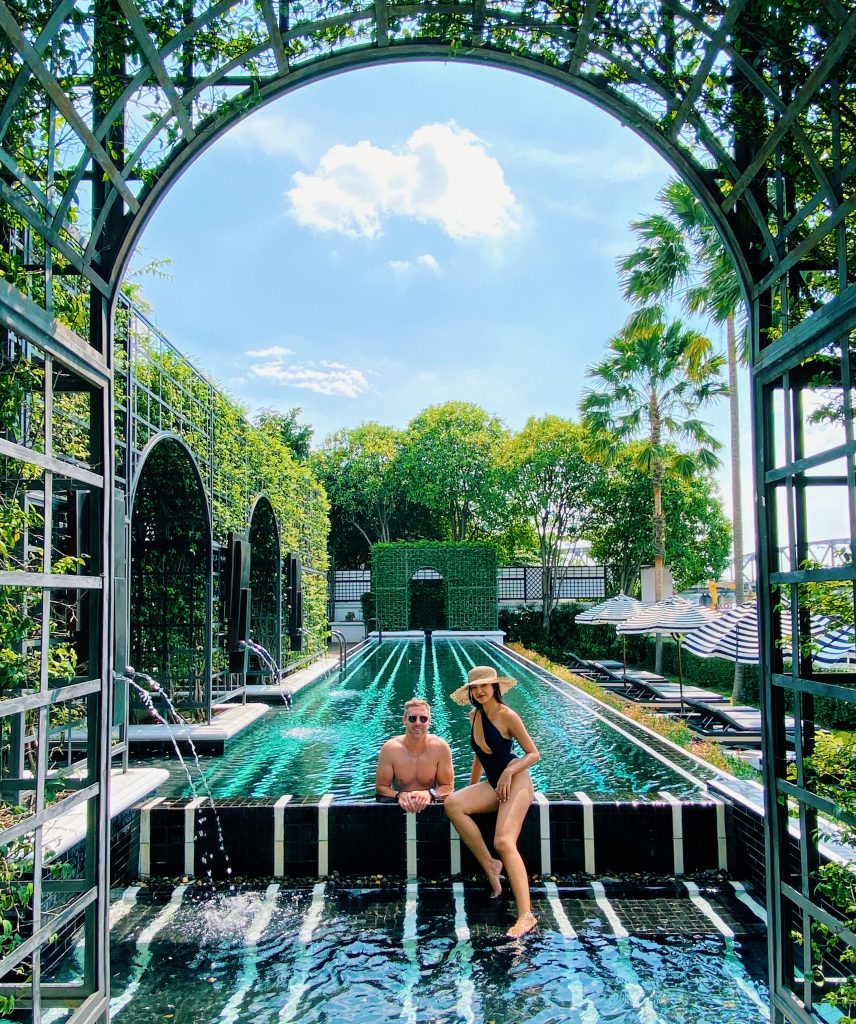 DAY 2 AFTERNOON:
That's quite enough relaxing by now, right? Or maybe not! First, if you're in full-recharge mode you have a choice of cooking class, gym (and Muay Thai lessons), the Opium Spa and even a Sak Yant Tattoo (you know the one where the monks use the bamboo to tattoo you? Yup, you can do that in the Siam too!). I was pretty tempted to do both the Tattoo and the cooking class. However, I'm currently training for the Chiang Mai to Chiang Rai 100+mile charity-run, so my body is destroyed. I figured a better option, in this case, was to sample the Opium Spa.
So, regardless of where you stay for your Bangkok Staycation, a trip to the spa is imperative! You can get cheap massages just 15-minute walk away from our hotel, around the Dusit University. So if you want to do it like a local, you can find Thai massage and foot massages there for around 250THB ($8USD) an hour. Remember though, you're on holiday, so I'd argue now is the time for a little luxury. 
Luxury Spa is a must on a staycation (the gym though? Maybe not so much!)
Considering the absolute opulent luxury that you'll find, the treatments are really affordable. My 60-minute Aroma Journey Massage costing about $100 (3500THB). And with other treatments as low as $45 (1500THB). Both Jaa and I had the same treatment, and I came back to the room fresh and alive. This staycation thing was working wonders. 
Now, I packed my gym stuff but you know what they say? "The road to hell is packed with good intentions!". I didn't even unpack it. But I did check out the gym, and I have worked out here previously. If you organise a Muay Thai class you may be lucky enough to have a former champion as your coach. As the gym comes complete with a boxing ring inside, really cool. Also, a certain Princess of the Royal Family works out here almost daily. So you may catch a glimpse of her, or her security detail, as we did on 2 of our 3 days here.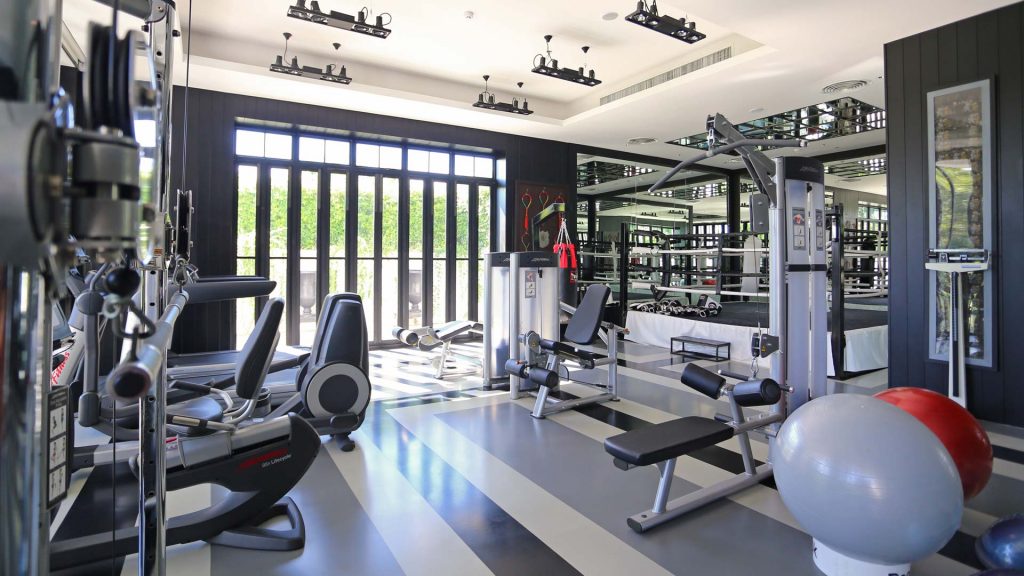 Temples or chilling?
If you need to escape the hotel during your Bangkok staycation. Or you want to feel a little more productive on your break (you won't, the hotel is amazing) then you have The Grand Palace, Wat Phra Kaew and Chatuchak Market all within 15 minutes drive. So knock yourself out. Although, if you're on a Bangkok Staycation you've probably taken your friends and family to those places every single time they visit. Personally, I'd recommend hanging up the tour-guide badge, and making the most of your time at the resort!
For us, we were celebrating a special occasion. By the time we got back to the room, our butler had prepared our bath. I had been moaning about my aching muscles from all the kilometres I was running for my ultra, that they had organised something a bit special for us. It was beautiful, check it out below.
DAY 2 EVENING/NIGHT:
So Netflix by the bath and a bottle of red wine, this day was working out nicely. We had dinner reservations at Chon at 7pm. We got ready, headed to the Siam Pier for another cocktail and made our way to Chon Thai. The Thai-style building has been imported from Ayutthaya. It was dismantled from Jim Thompson's old house, and reconstructed here. It is simply breathtaking. We had explained to the chef we were vegetarian and he put together the most delicious, subtle Thai tasting menu for us.
They allowed us to bring our own Champagne (courtesy of my mum, thanks mum!) at no extra cost. Opening and pouring from the ice bucket no-less. Great service. Often in high-end resorts, it's easy to lean on modern tastes, but in Chon Thai restaurant, and the art-deco inspired Siam as a whole, they've retained the flavour of Thailand through the ages. A very difficult thing to do. But it's beautiful. Opulently so. After dinner, we had one last stop.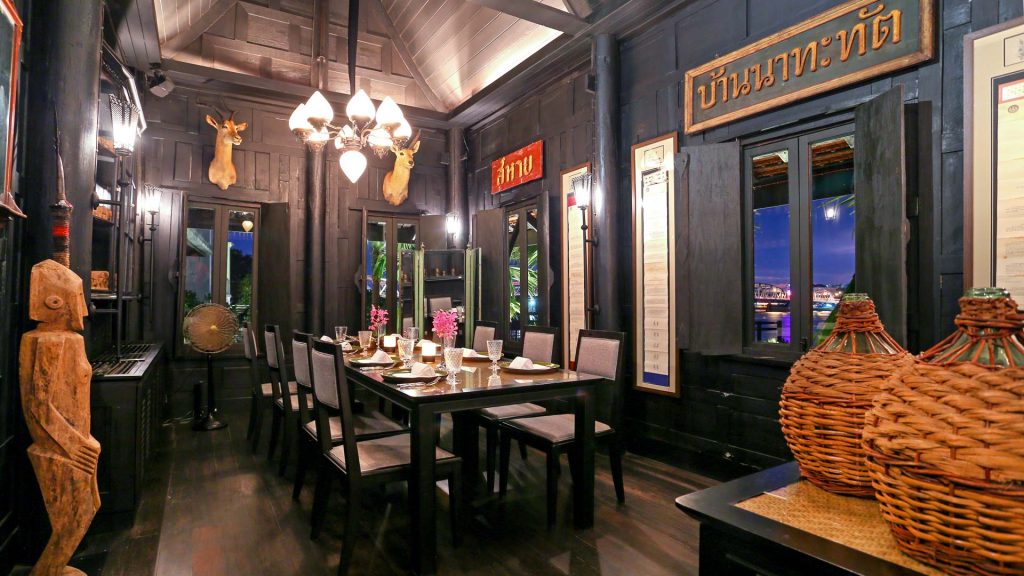 Hipster Cocktails
What's a proper luxury Staycation in Bangkok without going to an ultra-cool (and slightly overpriced!) cocktail bar? There are plenty of those in Bangkok, but perhaps none as cool as 'Buddha & Pals', just 10 minutes from the Siam. Jaa had found it for us, it's a jazz bar, with a local hipster jazz band playing to the crowd. Quite busy, but great service. Cocktails ran around 400THB after tax ($13) but they're top-notch, so it's easy for 1 to become 3, or 4. And the atmosphere at the bar ensures the hours can pass in a heartbeat. The run-down, renovated vibe is great, and despite the price-point, and the fashion it's really welcoming. It's a bar I'll definitely be back to, and one of the first I'll bring any visitors to Bangkok too, really fun place. 
DAY 3
MORNING:
Repeat your morning from yesterday with the gorgeous, delicious, oh-so-calorific breakfast (and have an extra croissant for me, the best croissants I have ever had in Thailand, without doubt). And depending on how many cocktails you had last night, you may even choose to ask your butler to organise your breakfast brought to your room at no extra charge. Brekkie in bed, nice. Although, personally, I love the river view, so we made it to the waterfront. Another dip in the pool, followed by a visit to the Hotel's Shop. This shop isn't your run-of-the-mill place selling 'I heart bangkok' shirts. It's full of the owner's family private collection, with some uber-cool pieces for sale. 
Nearby is Steve Cafe
After chilling in the room, under the advice from our butler, we checked out 'Steve Cafe' on the river. I had my scooter, so it was just 10 minutes from the hotel. It's a kind of hidden place, you park in a temple parking space, then walk through a kind of run-down village for a couple of minutes, turn a corner and BOOM a gorgeous, delicious restaurant, and a favourite for the Thai-celeb crew. It's another hidden gem that you'll love to shower anyone visiting Bangkok in years to come. Famous for seafood, but great veggie options too. 
On the way back, we drove to Dusit Bakery, within the university grounds. They make a very famous toffee cake that's sold in cafes and coffee shops all over Bangkok, but this is the source! So after hearing about it for years, we popped in and bought about a kilo of the stuff, and made our way back to our room.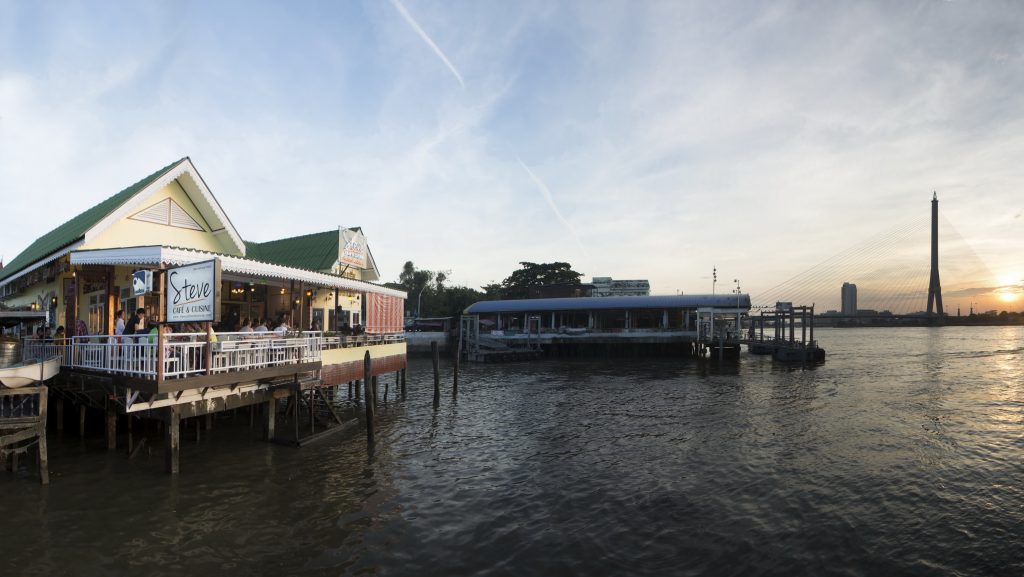 DAY 3 AFTERNOON:
Part of the Bangkok Staycation package is late check-out. We pigged out on our toffee cake, made sure to keep our gym gear unpacked in the bags, and chilled out in the pool villa. Hopping from the rooftop to the private pool, to the suite. Toffee cake in hand! Soon it was time to check-out, go home and cry that it's over. Until the next time!
Bangkok Staycation at The Siam; "The Best Hotel in Bangkok"
Firstly, I had to choose the right hotel for my Bangkok Staycation. But why the Siam? Before I bought my place here, I had stayed in lots of nice hotels downtown. And although they're all 'nice' (damning with faint praise, I know), they didn't make me fall in love with them. And regardless, on a staycation, the last thing I want is to be back downtown amidst the tuk-tuks and traffic again!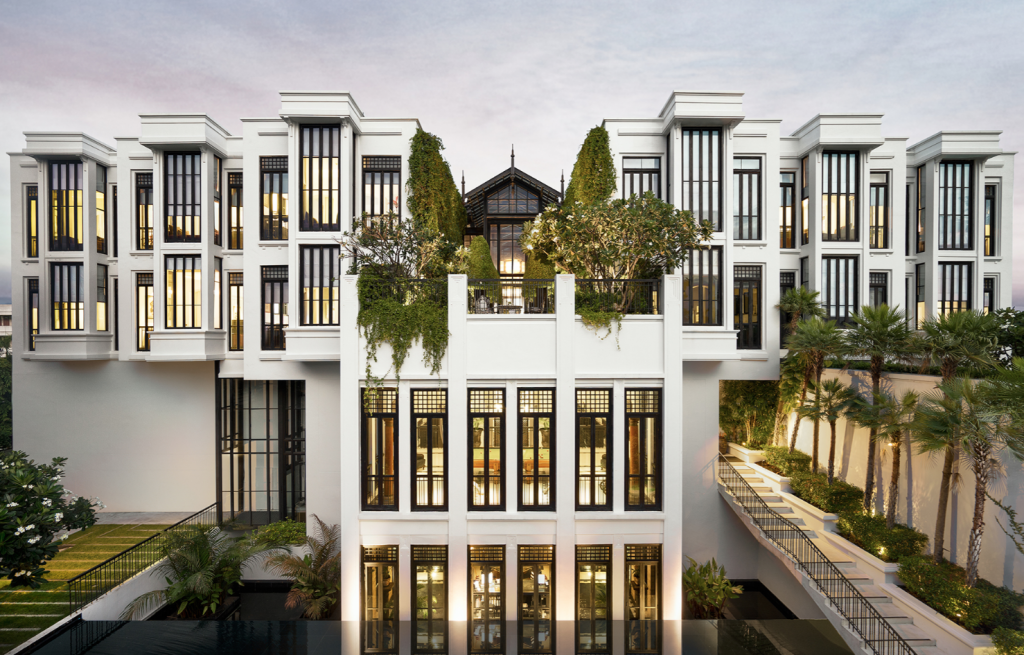 Anyway, I first heard of 'The Siam Hotel' ever since a certain David Beckham stayed there while he was in Bangkok. Then I heard of it again when it was voted by Tripadvisor as the BEST hotel in Bangkok, and the best Luxury hotel in Bangkok (wowzer!).
Finally, I ended up meeting a charming Australian gentleman when I was working out at my old gym. It turned out he was the GM of the Siam, not only that, he allowed us to auction off 2 nights there for our non-profit Mudita Adventures. That helped us fund a new school on the Thai/Burma border, but still, I had never even been in the place! Next, Nas Daily made a video about me, and he organised it to be in the Siam, so I finally got to visit, but only for a few hours, (I am friends with the former head of Marketing here, so Leanne helped facilitate that), but STILL, I had never stayed! 
Promotions for Bangkok staycation;
So, yes, Bangkok is the most visited city in the world and has the most accommodation options for any city in the world. So to always be in the top 5 hotels in Bangkok, and more often than not, announced as THE BEST hotel in Bangkok, it means you're doing something right. The Siam has, rightly-so, become a bucket-list item for anyone who knows Bangkok. It's that special. So it was decided, finally, we'd try to organise it. On the weekends, it's pretty busy, so book in advance, but mid-week you can get some great promotions especially for Staycations in Bangkok, and the best rooms are normally available. 
All the rooms could be considered suites, and they're all amongst the best, and biggest, rooms in the city, but the best room of all, and therefore perhaps the best room in all of Bangkok (!) are the 4 Pool Villa River View suites. About 160sqm of luxury. But not a cookie-cutter room at all. Super high ceilings, butler service, private plunge pool, an oversized bathtub and a rooftop with 2 sunloungers and Chao Phraya river views. The Siam is battling hard for the best hotel I've ever stayed in. And to have this much space in a huge city like Bangkok is just unheard of. I get why my buddy David Beckham stays here now!
FINAL THOUGHTS ON THE BEST BANGKOK STAYCATION ITINERARY
Well, for a start, I'm sad it's over. It's just what the doctor ordered, amidst the stress of COVID, the travel industry suffering, and all my physical training for my ultra run from Chiang Mai to Chiang Rai my 3 day Bangkok staycation did everything I wanted and more. I feel revived, and Jaa and I had just the best time.
The Siam is undoubtedly one of the best hotels in the world.
So of course, the price tag means it doesn't come cheap. But it is the PERFECT way to do a staycation in Bangkok. The service, the amenities, and the activities mean that you can plan everything and barely need to leave. All the time feeling like you're truly on holiday, despite being in your home city. I see why Staycations are becoming a thing. And after this first taste, I'm already planning my return.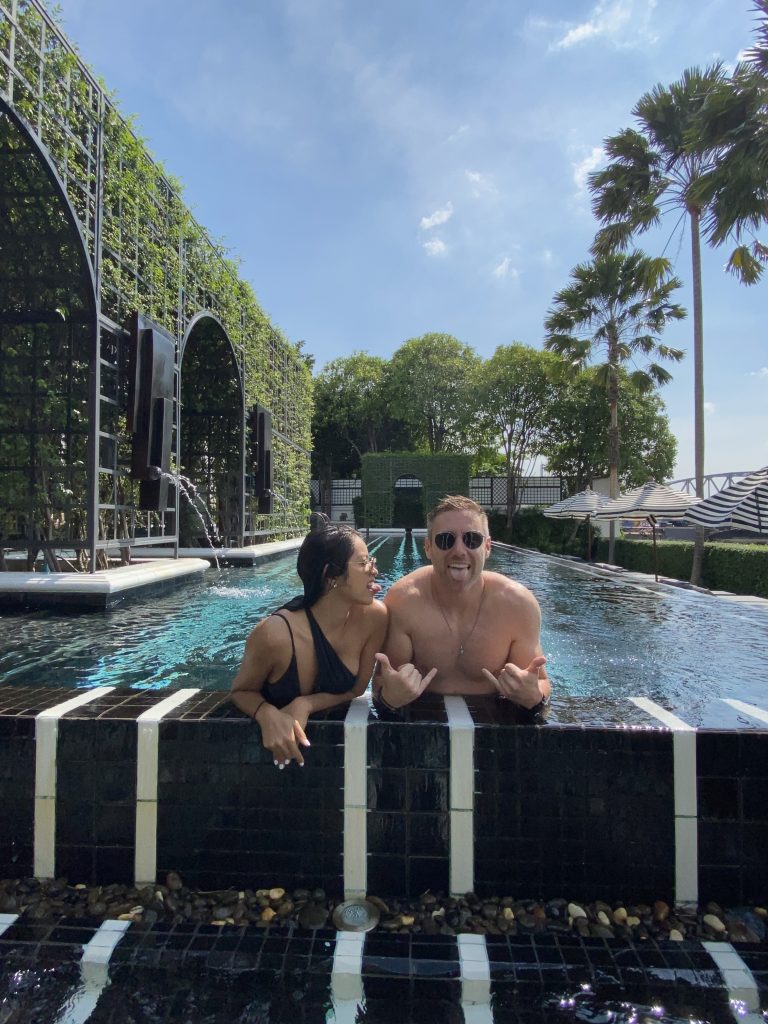 Remember, never travel without travel insurance! And never overpay for travel insurance!
I use HeyMondo. You get INSTANT quotes. Super cheap, they actually pay out, AND they cover almost everywhere, where most insurance companies don't (even places like Central African Republic etc!). You can sign-up here. PS You even get 5% off if you use MY LINK! You can even sign up if you're already overseas and traveling, pretty cool.
Also, if you want to start a blog...I CAN HELP YOU!
Also, if you want to start a blog, and start to change your life, I'd love to help you! Email me on johnny@onestep4ward.com. In the meantime, check out my super easy blog post on how to start a travel blog in under 30 minutes, here! And if you just want to get cracking, use BlueHost at a discount, through me.
Also, (if you're like me, and awful with tech-stuff) email me and my team can get a blog up and running for you, designed and everything, for $699 - email johnny@onestep4ward.com to get started.
Do you work remotely? Are you a digital nomad/blogger etc? You need to be insured too.
I use SafetyWing for my digital nomad insurance. It covers me while I live overseas. It's just $10 a week, and it's amazing! No upfront fees, you just pay week by week, and you can sign up just for a week if you want, then switch it off and on whenever. You can read my review here, and you can sign-up here!