When it comes to planning your next holiday, choosing a destination is often a difficult decision to make. If you're looking for somewhere that boasts a pleasant climate, but isn't too far away from home, booking holidays to Majorca may be ideal.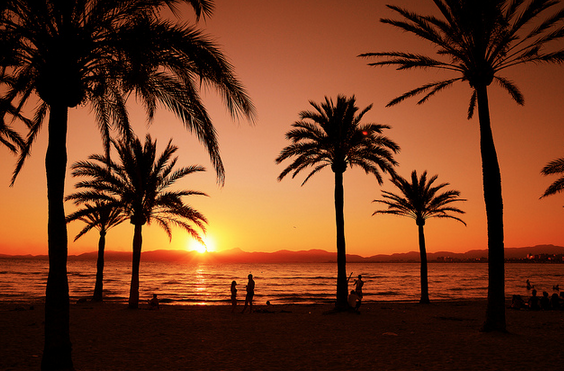 Regardless of whether you choose an all-inclusive package or a self-catering stay, holidays to Majorca are a great option for the entire family. With both sun and sea in abundance, the Balearics boast the ultimate in relaxation and here are top ten reasons to visit.
1. For the sunsets
Majorca is the largest of the Balearic Islands, set in a serene location that boasts beautiful sunsets and endless blue waters – what more could you want?
2. For the culture
There's a great deal more to Majorca than just the many picturesque beaches. Its equal blend of history and modernity, comprising the old town and the modern marina, make for a great place to explore.
3. For the golf 
If you're a keen golfer, you'll be pleased to know that Majorca is home to a number of picturesque golf courses.
4. For the kids' attractions
Both the Marineland Aquarium and the Animal Park are popular options for kids. It's here you'll be able to spot dolphins and sea lions performing at the regular shows.
5. For the activities
When you tire of the beach, take to the tracks for a day of go karting fun. This is a great option for the entire family, and one that promises hours of entertainment. Palma Nova is home to the local track and it's also a favourite resort for families.
6. For the watersports
Majorca is famed for its beautiful blue waters, so whilst in the vicinity, it's wise to take advantage of this. When you tire of snorkelling and swimming, discover your inner speed demon and jump aboard a banana boat.
7. For the food
The Balearic Islands are renowned for their local cuisines, tapas and paella being two of the favourite dishes. Great news for foodies!
8. For the short flight
With a flight time of only a few hours, you can easily visit Majorca for a long weekend break just as much as a week away.
9. For the welcome 
Spanish locals are warm and welcoming and this means any stay here is enjoyable.
10. For the location
Majorca is home to a number of resorts, but is also within easy access of numerous other locations. Make Majorca your holiday base and explore everywhere from Alcudia and Cala Millor, to Calvia and Ca'n Picafort.