Traveling can open the most unexpected of doors and this month has been a real example of that! So I have been semi-based in BKK while working on generating a steady income online so I can travel the world as long as I want without worrying about money (good plan right?!), suddenly I got an email….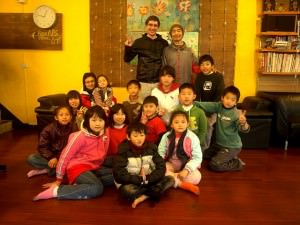 A Thai guy asked me to 'co-host' a reality travel documentary in Taiwan for Thai TV, after a couple of meetings the flights were booked and I was off (I'm currently in Taiwan writing this). We've been filming about a week or so now and it's been so much fun, basically the premise is that a Thai guy and an Irish guy backpack around countries while spending very little money – we try to stay with 'hosts' who give us accommodation and food in exchange for some work – this week I've been a furniture removalman and an English teacher – good times. Next week we're off around Taiwan which will be great but I just wanted to mention where I am right now and what exactly we are doing… I write a post about the show and everything later, but right now I just want to write a little about our hosts and their school – because it's a very cool opportunity for anyone who wants to come to Taiwan and teach!
I'm staying in Jhongli for a week or so, a smallish city about 40 minutes from Taiwan's capital Taipei. Our hosts for the documentary are a Taiwanese couple called John and Ching – possibly the nicest couple you're ever likely to meet! They are allegedly approaching fifty but through a lifestyle of working with kids, full on healthy meals every day, exercise and yoga you'll think they look 35.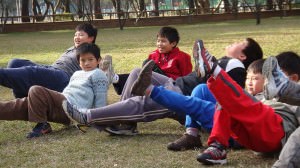 Anyway, these guys own a small school (Dada School – check out pics here) which looks after kids from 6-14 after their school days finish (between 1pm and 3pm). Ching, along with a couple of other Taiwanese teachers, work with the kids until their parents come and pick them up in the evening. The atmosphere in the school is simply amazing, so laid-back, no curriculum to follow – English is the name of the game here so the teachers constantly speak English with the kids to the extent that some of them can hold fully-fledged English conversations at the age of 10 or 11 – amazing. The work they're doing is something special and the kids are so much fun, they respond very well to the ambience that the school has created – it's a please to work in 🙂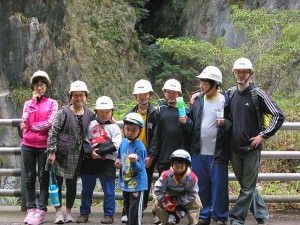 Ching and John are constantly looking for more volunteers to work in their school – helping expose the kids to other cultures, and of course further exposure to English. They can offer an awesome 3 bed apartment in the city centre for FREE (pics here), along with deliciously delicious food every day. You can effectively stay as long as you want so it's an awesome way to come to Taiwan, do some teaching and perhaps study Mandarin while you're hear. You have every morning free until lunch and every evening free after 8 or 9, I can't stress how laid back the atmosphere is – there's no hierarchy, just cool people doing cool things with kids 🙂 Dada School also runs summer and winter camps where they travel around Taiwan or, if possible, overseas so you can certainly get to see Taiwan while you're here.
– if you think it sounds great, or just want some more information, feel free to send John an email on skyinjohn@yahoo.com.tw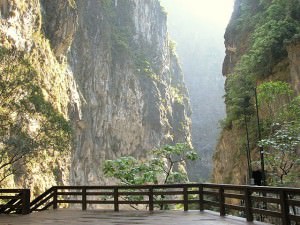 Ok guys, that's all I wanted to say. This place has been such fun to work in, John and Ching has been like a second set of parents to Petz and me,  and I just wanted to share it with you guys, it's an awesome opportunity to move to the other side of the world, no contracts and no stress and a once in a lifetime experience – good luck!
* If you want to see the location, cope and paste the address below and check it out on google maps:
達達美語補習班DADA English School
No. 153, ZhíXìn 1st St, Jhongli City
Taoyuan County, Taiwan 320