I'm still in Taiwan and this topic haunts me on a regular basis, i hope some of you guys can relate to this – make's my blood boil!! aaaaaargh….
2) Dirty clothes and doing laundry:
I completely understand that life on the road is a far cry from 5 star hotels and dry cleaning but when you wake up, having done no laundry for 2, 3, 4 weeks on end, and you have to pick up every single tshirt and choose which is the least dirty you're in trouble. Not to mention the fact that it's frequently 35 degrees+ so you've been sweating in them day in day out – no love for that at all. That combined with the fact that all your dirty clothes are shoved in one bag to fester with each other is not ideal at all. Disgusting doesn't even begin to cover this.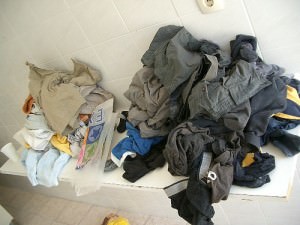 On that note then, doing your laundry is a tricky situation in itself. So you've done no laundry for weeks, you finally have a free day (and some spare cash) to do your laundry. You find the laundry place, give it in and pick it up the following day and…. it smells like a wet dog! You know that smell when wet clothes haven't dried properly? When they've been left to sit on top of each other after being cleaned rather than hung up? So you give your filthy laundry in and now, almost inconceivably, it smells worse than when you gave it in!! AAAAAAAARGH. This is a personal sore point of mine, it haunts me everytime it's laundry-time again… speaking of which it's about time i did some more (here we go again…)