When I was a kid, in my kitchen my mum had hung a small, circular ceramic plate with "A Round Tuit" printed on the centre of it, beneath the title was a small section of text which basically said that people often say they'll do something when they get "around to it", but when is that exactly? Well, enough talking – here is that 'round tuit' you wanted, now go chase your dreams.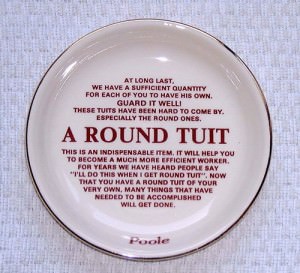 The physical item in my kitchen may have been a little silly, tacky even, but the sentiment wasn't, and it stuck with me ever since. When a person says they really wanna do something, it makes me think about the language we use because in my book if you really honestly, genuinely wanted to do something, then you should do it.
So, do you really want to do it? Because what strikes me is that people are constantly saying that they really want to do something but lo and behold here there are, 5 years on, still saying the same thing. 5 years have passed bro, what have you been doing for those 5 years to stop you from doing that exact thing that you dreamed about? It must have been bloody important to stop you from following your dreams, I can only hope, for your sake, that it was worth postponing for. I hope those 5 years weren't lost to a job you don't care about, a failed relationship or a mortgage that has left you in negative equity.
But you know what? If it has, then it has. Draw a line under it, this is your 'round tuit', 5 years are gone, that's enough. Don't let it be another 5. If you think you should start your own business, do it now. Procrastinating only allows someone else to step in and steal your thunder. Fed up of seeing other people traveling the world? Give your notice, book your trip and off you go. Who knows if you'll get a second chance? It might never come. So use your first chance, and use it well.
If you need a 'round tuit' this is it, print it out, stick it on your wall and don't waste anymore time. Tomorrow is promised to know one, so live your life the way you want to, not the way you think people expect you to. I've got my round tuit, and im bringing it with me all around the world with a smile on my face. Now you've got yours, don't waste it.