Pulling into Bangkok HuaLampong train station, on a night sleeper from Chiang Mai, 4 hours late for the third consecutive time – I finally had had enough, travel rant time. What I don't get is why trains across the 'developing world' (I hate that term, but to simplify things I'm going with it right now), pull into their stations consistently late. When I refer to consistently late, not only do I mean that they are late 100% of the time (which they almost invariably are) but what perplexes and frustrates me in equal measure is that they equally late every time.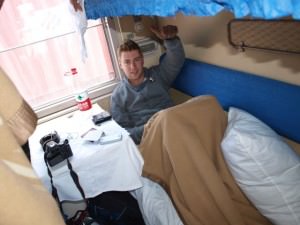 For example, this bloody night sleeper from Chiang Mai is due in Bangkok around 7.00am. Anything before 8a.m and I'd be pleasantly surprised, however they pull into Bangkok around 9.30am every single time they run the journey. Every single time. And the same can be said for buses and trains throughout South East Asia, and Africa.
So I'd like to address whatever genius organizes theses schedules, if your time states 8pm-8am and you run the journey every day BUT the train/bus pulls into the station at 11am every day then change your f*cking schedule.
You know you're not gonna arrive at 8am, the driver knows it, everyone in the departing and arriving station knows it. Why keep saying you will arrive at that time?! It makes your transport look unreliable and it pisses off your customers, namely me! Say you arrive at 10am, and when you arrive at 10am then you've got it right, imagine that! Amazing. Or, on the off chance that hell freezes over, you might once arrive at 8am and you know what? Everyone on the train/bus will be delighted they made such good time. Not stop bloody lying to me, change the schedule and don't be a retard. Thanks.