It's humbling to know that we've all made mistakes, hurt the people closest to us, wasted and spurned opportunities, made the wrong decisions. It's part of what makes us human and what helps connects us together. We're all in the same boat, all imperfect in every sense.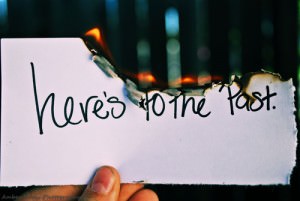 Our past is our past, there's no sense in dwelling on what's gone wrong there, whether we caused it directly or if it was inflicted upon us. We should never ignore the incidents in our lives that brought us to where we stand today, we need to recognize them and appreciate them, for the positive or the negative, but we can't spend our present hung up on them, lest we jeapordise our future.
Things have gone against us all in the past, some worse than others, but the future is a blank canvass for every single person who is reading this, me included. Regardless of the episodes behind us, we have endless possibilities awaiting us now – but we have to part with our past to grab them, we have to put the past away and move forward.
The future is awash with new opportunities, new chances to dilute our past and create something better, something worth working for, something to be proud of. But we can only achieve those things if we cut ourselves free of the negative things in our past, accept them and move forward.
Feeling sorry for ourselves, regretting mistakes, playing the victim will not allow us to fulfill our potential, we'll never reach our dreams if we play to that. Positivity breeds positivity, so f*ck the victim complex, f*ck regret, shame and unhappiness – understand that tomorrow is a new day, start producing a past you can be proud of, and start immediately.
I know I've certainly made more than my fair share of mistakes, and although I'll never forget them, I know I can put the past away and look forward to all the awesome things that I've still yet to achieve, the amazing sights I've yet to see, the inspiring people I've yet to meet. It's all in front of me and I can't wait to go out and experience it all. I hope you can experience it with me.