I've not only waved a temporary goodbye to Scandinavia, but also my two good buddies who took the trans Siberian train with me, so it's onwards into Eastern Europe all alone…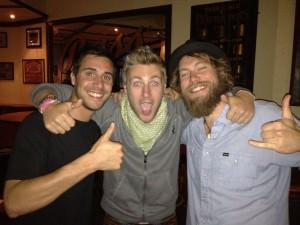 Looking back at my time in Finland, I feel so happy about the things I was fortunate enough to see and the people I managed to meet. I've traveled a lot over the years, but whether it's a case of having a bit more money or a lot more maturity, this trip has already potentially been the best I've taken, and Finland was the icing on the cake.
Renting a car and road tripping to the Arctic Circle was brilliant, as was meeting the 'real Santa Claus, ice-fishing naked on the Swedish/Finnish border and partying on Vappuu but it's the people who really set off my time in Finland.
I just wanted to take a bit of time to thank Harri who allowed us to sleep on his floor for 2 nights, to Margus who took us into his office, gave us his sauna and then helped us organize staying with his dad. A huge thanks to Mr Pasula too, teaching us how to fish, feeding us home-made Finnish booze and letting me sleep on a waterbed for the first time!
When in Tampere I met Viilde, the owner of Dream Hostel. He couldn't have been nicer to us. First off, the hostel was awesome – it's cheap, so spacious, clean and right in the city centre of Tampere. The staff were cool and there's lots of cheap bars and restaurants just around the corner too. Viilde then went above and beyond and helped us try to organize a return to Finland as part of a press-trip, if it comes off I'll be even more grateful! Cheers mate.
Sometimes trips just have away of working out in the best manner possible, and Finland certainly did that for me. The weather was beautiful throughout, and driving through Lapland in the snow was like something out of a dream, people were helping us at every street corner in the most perfect English imaginable. Helsinki is a great city, and certainly a place where, as an EU citizen, I could feasibly consider moving to.
Anyways, now I'm on the boat to Tallinn, Estonia where another couchsurfing friend is hopefully going to meet me. I've got high hopes for this next leg of my trip from Estonia, through Latvia, Lithuania, Belarus, Ukraine, Moldova, Transnistria, Romania, Bulgaria and down to Greece. It promises to be quite a journey, and I'm getting those nerves jingling a little bit, here we go again… happy travels!