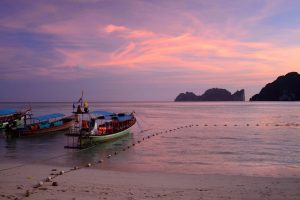 Photo Credit: Unsplash
Whether you are planning a romantic getaway to pop the question, or you are searching for the perfect honeymoon destination, a Thailand vacation ticks a lot of boxes. It's both gorgeous and affordable. What's not to like about that?
In this article, we are going to cover the most romantic places in Thailand, romantic things to do, and more. If you want to create some lasting memories with your other half, read on for inspiration!
Heading to Thailand
Most trips to Thailand begin and end in Bangkok, the Thai capital. That's actually a good thing, as Bangkok has some amazing cultural attractions that you won't want to miss. Stay in a luxury villa in the garden of a former royal residence and recover from your jet lag in style.
Once you have recovered, it's time to explore Bangkok before you visit the rest of Thailand.
Romantic Things to Do in Bangkok
Bangkok is a city teeming with people. It's famous for its opulent shrines and street life. Here are a few of the most romantic things to do in this magical city.
Visit the Royal District and admire the wonderful Wat Pho Temple and Wat Phra Kaew Temple.
Take a speedboat tour around the canals and see the royal palaces from a distance. Some of the best river cruises include a luscious banquet where you can indulge your senses with some fragrant Thai food.
Book a couple's spa treatment. You can lie back on adjacent beds and enjoy an aromatherapy massage, hot stone treatment, and any other spa treatment that takes your fancy. Do this after your long flight and feel your muscles unkink and tiredness fall away.
Take afternoon tea at the Mandarin Oriental Hotel. This Bangkok hotel has played host to many famous people over the years and sitting down in one of their antique wicker chairs is like stepping back in time. Tuck into a selection of teas, scones with jam and cream, and delicious sandwiches. It's a wonderful experience.
If your taste buds are in love with Thai food, book a cookery lesson at one of the many Thai cookery schools. Couples can book a private lesson with a master chef. It's a wonderful opportunity to learn new skills, experiment with delicious ingredients, and have fun together.
Romantic Destinations in Thailand
By the time you have explored the sites of Bangkok, you are probably ready for a relaxing beach vacation with your beloved. Here are some of the most romantic places in Thailand.
Krabi boasts dramatic scenery, peace, and quiet. Unlike Phuket and Koh Samui, Krabi is not as touristy, but it's no less stunning. In fact, the lack of tourists in Krabi makes it more attractive as a romantic destination. Rent a house on the beach or opt to stay in a luxury resort with beach bungalows. You won't be disappointed.
Koh Samui is one of Thailand's most popular islands. It has long been a popular backpacker destination, but these days, backpackers rub shoulders with people staying in the many luxury resorts that have sprung up all over the island. You can still travel cheaply if you are on a tight budget, but for a once-in-a-lifetime trip to Thailand, push the boat out and book a luxury villa or hotel room. There are also several yoga retreats and wellness spas on the island, which are ideal for a super relaxed couples' getaway.
Phuket is always popular with travelers. It has a reputation for being a party island thanks to the constant stream of backpackers heading to Patong and Kamala, but don't let this put you off. You can party all night long if you are so inclined, but equally, you can also stay in one of the quieter parts of the island. Head to Kata Beach or Nai Hark Beach for a quiet, romantic break in the sun.  
Koh Samui is beautiful. This lovely island is only a short flight from Bangkok, so you can hop over in around an hour. You can both spend your days lazing around, soaking up the sun, and enjoying each other's company, and then hit the local bars and nightlife for some dancing. Stay in one of the island's many luxury resorts or shut the rest of the world out and stay in a luxury villa.
Chiang Mai is a delicious change from the sunny beaches and azure waters of Phuket and Krabi. Chiang Mai is to the far north of Thailand. It's an oasis of lush rainforest and nature trails, where lovely temples and Buddhist shrines lie hidden in the jungle. If you would like to spend a few days gazing over towering mountains and paddy fields, spend a few days in Chiang Mai.
Plan a Romantic Itinerary
Before you book your trip, sit down with your other half and plan an itinerary. It's important that you are both on the same page in terms of activities and destinations. Some couples love nothing more than spending two weeks soaking up the sun, but others would rather explore the area and see the sights. Make sure you both agree on how active you want to be, or conflict may arise on the trip.
It's a good idea to book a couple of tours when you are in Bangkok (if you fly there first). Decide what you want to see. Tours of the Royal Palaces are always popular, as are river tours. Select the tours that best fit your budget.
Plan an itinerary that's flexible. You don't want every last minute accounted for, as there might be days when you feel like relaxing. Add a few must-see items to your itinerary and play the rest by ear.
Accommodation
Book your accommodation in advance, so you can guarantee the best rates and locations. Luxury villas and resorts are often booked up at peak travel times, so bear this in mind. Backpacking can be romantic, but not if you were hoping to stay in a gorgeous 5* resort or beachfront villa.
Enjoy your romantic Thai getaway, take some lovely photos, and remember to switch off from social media for some of the time.