Things to do in Belgrade in 3 days
If you are planning a trip through the Balkans or simply dreaming of visiting this fascinating region of Europe, Serbia must be on your list and so its capital city, Belgrade. It is one of the oldest cities in Europe and the most populous one in the whole former Yugoslavia. Belgrade is so rich in culture, events and things to do in general, that 3 days will be perfectly fine to visit it and get a sense of its magic! This is why we tailored this beautiful 3 day itinerary of Belgrade, rich in suggestions on what to do and see in this charming city.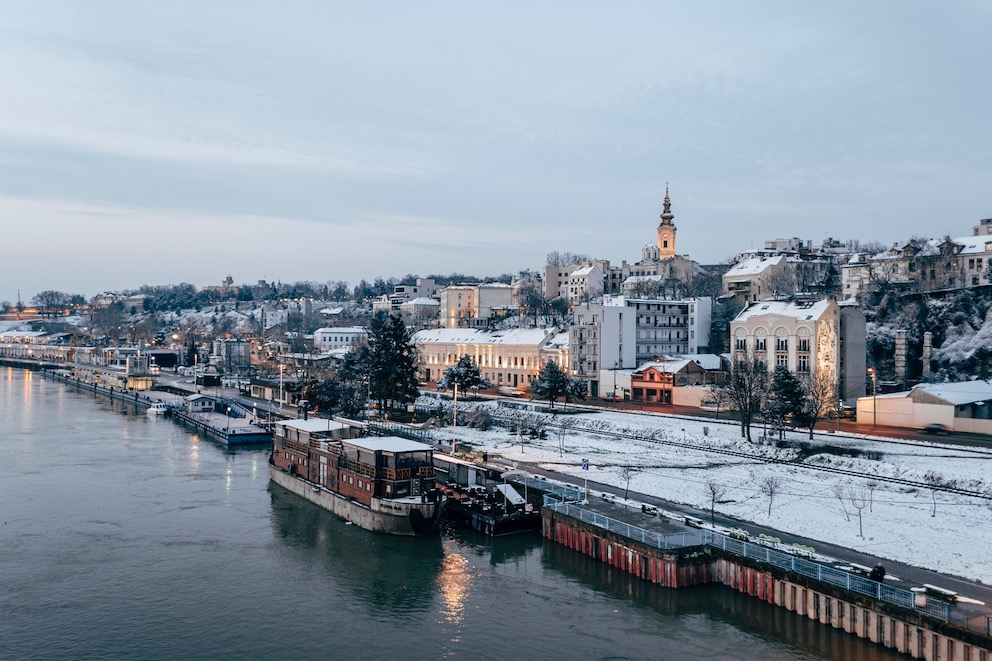 In the past couple of years, Belgrade has gathered increasing attention in the travel world, fearlessly competing with holiday giants of the caliber of Florence, Prague, and Paris. While the latter cities nowadays require remarkable skills to get out of the tourist crowds and sample a bit of their authentic taste, Serbia's capital city remains a fairly cheap off-the-beaten-track destination offering a whole range of beautiful sites to visit and atmospheres to savor, from dawn to dusk. 
From the stunning views from the heights of the Belgrade Fortress to the bohemian district of Skadarlija, the White City is ready to be discovered! Whether you have only one day or a full weekend in town, this 3 day Belgrade city guide will help you plan the perfect Belgrade city trip, from the best sites to visit to the top things to do.
Important disclaimer: this Belgrade itinerary is thought of as the best selection of things to do in the city and its surroundings in 3 days. Planning a shorter visit? No problem! Just scroll through and pick and choose according to your liking!
Day 1 – What to do to experience the 'Classic Belgrade'
#1 Kick off your day with the real Balkan breakfast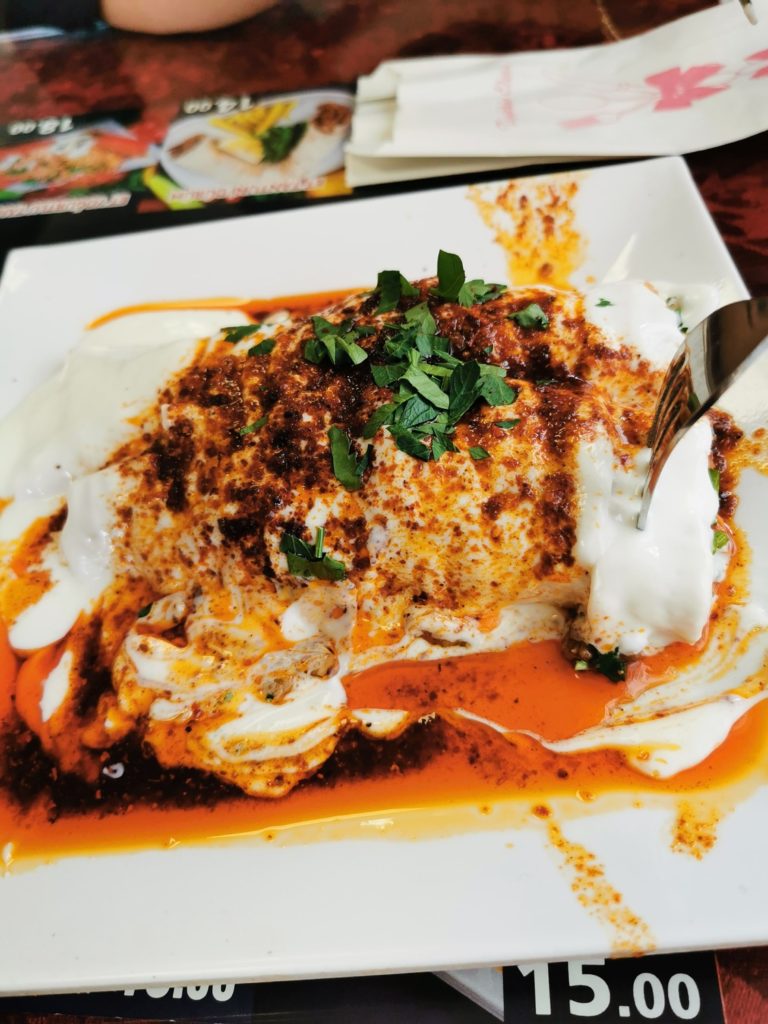 In Serbia – as in other Balkan countries, from Slovenia to Montenegro – this pastry from heaven is typically made in a round shape, with layers of dough, alternating with more layers of other fillings and prepped in a circular baking pan. To be fair, the traditional ones are baked either with no filling at all (in Serbian prazan burek) or with stewed minced meat and onions or with cheese. Spot a local bakery and ask for your morning burek: there are hundreds across town but our personal recommendation is to pay a visit to Kod Ljupceta, not far away from Belgrade's old town. The recipe is 100% according to tradition and it is handed down from one generation to the next one for half a century.
Insider tip: Burek is quite fatty and caloric. Enjoy it together with a cup of Ayran, a cold savory yogurt-based drink very popular not only from Istanbul to Iran but also across the whole Balkan region.    
#2 & #3 Discover Belgrade Fortress and Kalemegdan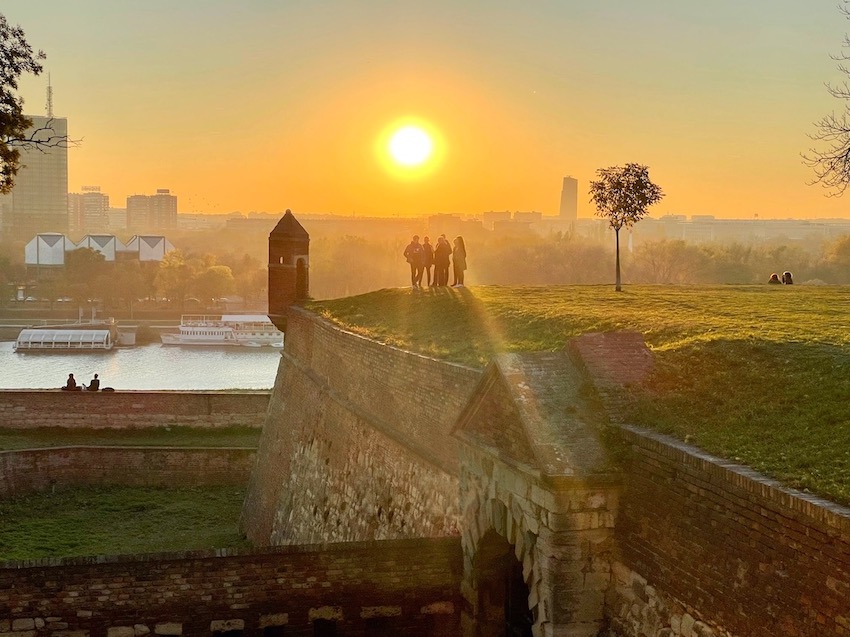 After breakfast, it is time to head to the first attraction. Belgrade was founded at the confluence of two rivers, the Sava and the Danube. To enjoy a breathtaking view of the city and its rivers, head up to the renowned Belgrade Fortress, after which the city itself was named. Built over 2000 years ago, it is the core and the oldest section of the city, and it used to enclose it all up to the Middle Ages. It bears the marks of Belgrade long and complicated history that includes the heritage of Romans, Byzantines, Ottomans, Austro-Hungarians, and – last but not least – the Yugoslavian one. 
The Belgrade Fortress is divided into four sections, of which two make the fortress itself, and the other two make Kalemegdan, a beautiful park that will offer you kilometers of paths and numerous hideouts, a few playgrounds for kids, some chess boards, and a great wall with spectacular and often romantic views of sunsets.  
Insider tip: Admission to both the fortress and the park is free and they are open 24 hours. This is the top-visited Belgrade tourist attraction, so you should do your best to head there on less-popular times of the day i.e. early morning and/or late in the evening. At night the view over the city lights is truly magical.
Also, it would be good to get a professional guide that can organize a custom Belgrade tour for you, that way you'll be certain you won't miss anything. 
#4 Breath in Belgrade's history in the Republic Square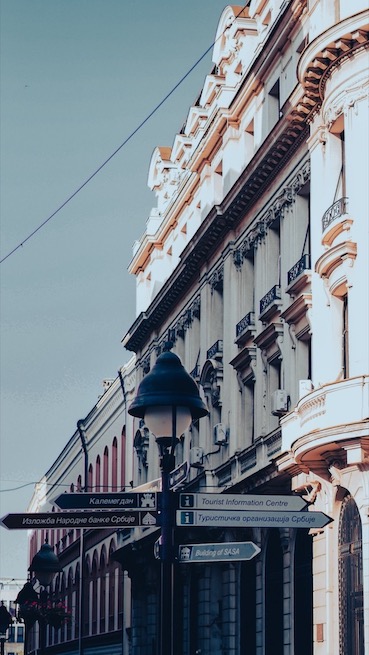 Not far away from the Fortress lies Republic Square, which can be considered the most important square of Belgrade's city center. From Kalemegdan walk down Ulica Knez Mihailova and you will quickly reach the square, which is one of the city's busiest and most popular meeting points. In ancient times the Ottomans would execute the Infidels (keep in mind Belgrade remained under Ottoman rule from the 14th century until the early 19th century, and it used to be the second biggest city of the Ottoman Empire in Europe after Costantinopol), it survived numerous vicissitudes throughout the centuries up to the present.
Nowadays the square hosts the National Theater, built in 1869 and for many years the biggest building around town, the monument to Prince Mihailo III, a key figure in the Serbian struggle for the liberation from the Turks, and the National Museum of Serbia, the largest and oldest museum in Belgrade, hosting several collections among which one of jugoslavian and serbian art, with more than 6000 works!
Insider tip: Have a look also to the modern buildings overlooking the square, like the almost-transparent Millenium Clock and the Staklenac, Belgrade's first modern glass and steel constructed shopping mall.
#5 Stroll down Kneza Mihaila and enjoy the hip vibes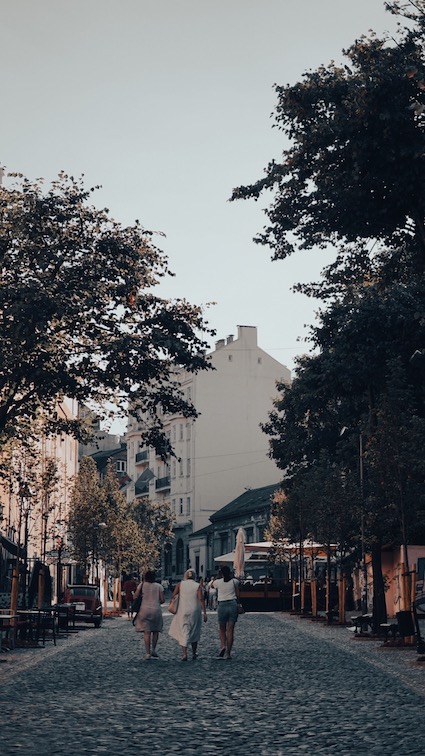 One of the streets embracing republic square and definitely a must-visit site of Belgrade is Kneza Mihaila, which is a main pedestrian and shopping area with many bars, coffee shops, restaurants but also cultural institutions. The buildings flanking the street are representative of the many architectural styles that you will find in Belgrade and it is definitely one of the best places to feel the real beat of the city! Take the time to stroll past the shopping windows and stop only when you spot a cute coffee place nearby some street artists playing live music. Sit at the table and do some healthy people watching with the music in the background.  
Insider Tip: Order a Turkish coffee accompanied by a typical local pastry called Hurmašice ("Hurma" is a Turkish word for date; these cookies are shaped to resemble dates). Simply D-e-l-i-c-i-o-u-s!  
Day 2 – What to do next in Belgrade: Beautiful Churches and Local Neighborhoods
#1 Remain enchanted by the beauty of St. Michael the Archangel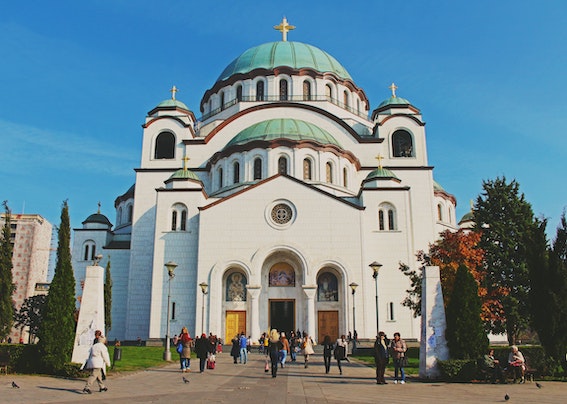 On this 3 day itinerary of Belgrade, its cathedral could not be missed. It is one of the most beautiful churches of the city and it was built between 1837 and 1845. The style is neoclassical with baroque elements, among which the most notable is the pinnacle that is visible from almost every point of the city. It is surrounded by a sweet garden full of roses and trees offering a refreshing shade in the hot summer days. But the main highlights of this church are hidden inside: do not miss the beautiful frescos and the monumental iconostasis at the end of the nave. Take a few steps back and take your time to admire the hundreds of details crafted or painted: the last image on the left of this huge panel is the representation of St Michael himself, to whom the cathedral is dedicated.
Insider tip: Try to plan your visit on a weekday. During weekends the Church is often busy because of weddings or other religious functions!    
#2 Peek into the bohemian Skadarlija District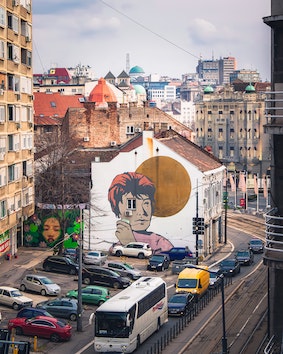 Quite close to the Basilica of St. Michael Archangel is Skadarlija, maybe the most bohemian district of the whole city, to the point that it has been often compared to Montmartre in Paris. After a 'holy start' of the day, it is time for some cute cobblestone streets, tiny colorful houses, bars and cafes. The suggestion is to wander around this charming neighborhood that will surprise you in a different way at every season. Our utmost favorites are surely spring and autumn, but also the fresh and cheerful vibe of summer in Belgrade will make you fall in love with this part of town.
This area has always been popular for its kafanas, too, and many Serbian artists, writers, and intellectuals used to meet in Skadarlija in one of such venues. Read more about kafanas below, in the next paragraph dedicated to another thing to do in this 3 day itinerary of Belgrade that you really cannot miss!
Insider tip: Try to find the house of Georgije "Đura" Jakšić, a famous Serbian poet and writer, which is still preserved and is still used occasionally as poetry venue. Useless to say that you will find it nestled in a very charming area of Skadarlija District: The street itself is winding and cobbled and one of the few remnants of the Ottoman period in Belgrade's history. Indeed, you must know that once their era came to an end, the Austro-Hungarian approach of straight, planned streets removed most of the rest of Belgrade's innate windy-ness.
#3 Enter a local kafana and drink some rakija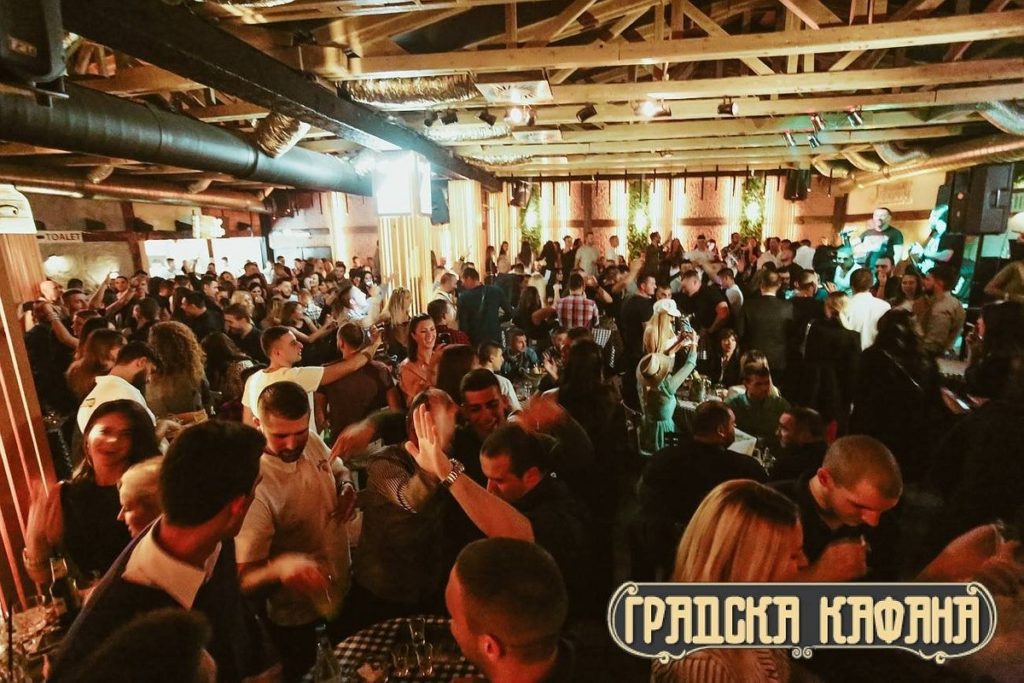 Kafanas were the local cafes of Belgrade during the Ottoman period. Over time they evolved and nowadays a kafana can be understood as the Serbian version of an Italian trattoria that is a typical and rustic venue, where people come together not only to eat local dishes but also to chat and drink. Since according to this 3 day itinerary you should be already in the perfect district for it, find the perfect kafana and enjoy the most popular drink of the whole Balkans, His Majesty Rakija! This is the national drink of Serbia (together with a bunch of other Balkan countries) and it is obtained with the distillation of different types of fruits. One of the most popular rakijas and a must-try during your stay in Belgrade is the Šljivovica that is a rakija derived from the fermentation of plums. 
Insider tip: The alcohol content in a rakija is quite high (40% on average). Although the locals drink it as a shot and almost at any time of the day, you may want to accompany your drink with something fatty to munch. Maybe another delicious burek?   
#4 Pay a visit to the Temple of Saint Sava
After some drinks it is better to sober up and head a bit off the beaten track and outside Belgrade old town to visit a beautiful Ortodox Church, which is also one of the largest worldwide, the Church of Saint Sava. The walk will be compensated by the beautiful sight. The building is quite impressive from the outside, although we suggest you to enter it (beware: come dressed properly if you want to enter the church that is no shorts nor t-shirts that leave the shoulders nude, and possibly a foulard to cover your head if you are a woman). Indeed, the interiors of Saint Sava were completed only in 2018, although the construction works started already in 1935!
Insider tip: visit also the marvelous crypt in the basement.  
#5 Explore the original Gradić Pejton and its craftsmen shops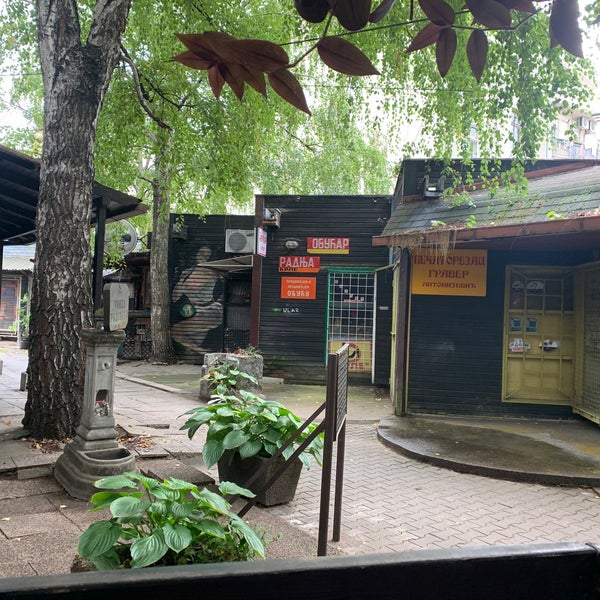 This is one of the most unusual parts of Belgrade and it should be in any list of things to do in Belgrade, and for sure in our 3 day Belgrade itinerary, too! Gradić Pejton is an old artisan settlement, where many craftsmen still run small shops and laboratories. Here survive many crafts that are dying out in big cities like Belgrade, from stamp-cutters and printmakers to frame makers and glassblowers. It was built from 1968 to 1971 by the architect Ranko Radović, who decided to build this commercial complex fully out of wood, bucking the dominant trend back then of erecting huge concrete buildings everywhere. On the lots of the complex, not a single tree was cut as the typical honeycomb structure chosen was purposefully designed to avoid that.
Insider tip: Take a rest and enjoy a cold beer in a kafana close by. Our suggestion is the hyper-local Boki GP, in Čuburska Street, where the owner is lovely and the prices are extremely low. Which beer should you drink in Belgrade? Only Serbian beers, of course! Try for example a Jelen or aNiško.
Day 3 – What to do next in Belgrade: a healthy mix of Nature, Food and Culture 
#1 Visit Great War Island and fall in love with this green corner of Belgrade
An oasis of peace in the midst of Belgrade and a protected wildlife area, the Great War Island is located right at the confluence between the Sava and Danube rivers. It is a nesting ground for many bird species – among which the majestic white-tailed eagle! – and it is also home to many rare plants and mammals. The Great War Island is part of Zemun District and summer is the ideal period to pay a visit since you can reach it via a pontoon bridge that connects to Lido beach, very popular among the locals that come here to do some sunbathing or swimming in one of the greatest rivers of Europe (do not expect clear waters, though!).      
Insider tip: If you are up for some physical activity, walk the 7 km path that encircles the island's perimeter: the walk is easy and can be done without difficulties. It will quickly take you away from the Lido and the local crowds and immerse you in the quietness of the forest and its refreshing embrace.  
#2 Eat a Pljeskavica from heaven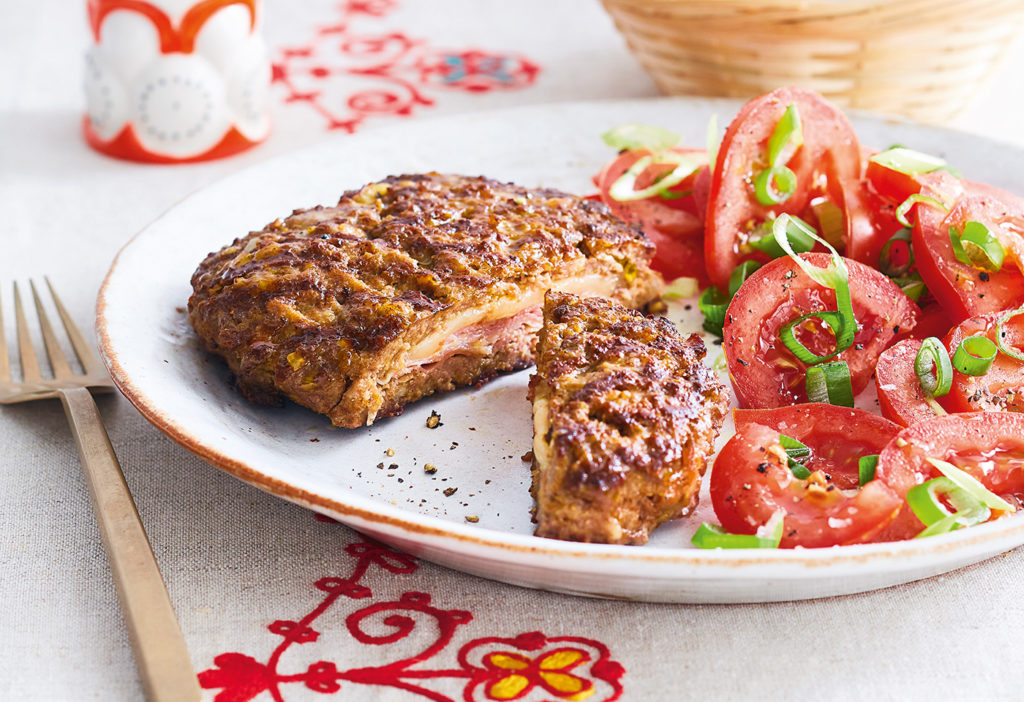 After so much nature, you must be hungry. If you are wondering what to do next in Belgrade, get back on the mainland and be ready to eat your way through the capital!
Serbian cuisine is delicious and full of flavor, but keep in mind that it is not as vegan-friendly as you might wish. Anyways, if you love meat, welcome to paradise: most Serbian dishes are meat-based and Serbian people are in general true meat and BBQ buffs. Speaking of which, a must-try specialty and the king of any Serbian BBQ is the Pljeskavica. A national dish, it is basically the Serbian version of a hamburger, a deliciously spiced patty made of a mix of pork, beef, and lamb and with minced onion inside, too! Since it is quite fatty, you may like to accompany it with somekajmak, a creamy dairy popular not only in the Balkans but in the whole Central Asia, and – the purist will agree – some cabbage salad.  
Insider tip: during your Belgrade trip you will find plenty of venues where to try a Pljeskavica. The ultimate experience requires you to queue at a fast food stand since this patty from heaven counts as Serbia's N.1 street food. If you really want to sit at a proper table though we can hand over a recommendation: check out Cubura in Macvanska Street, 1. Do not expect anything fancy though. It is an old school Belgrade tavern, where you will find beautifully-prepared BBQs and – of course! – the juiciest and biggest Pljeskavicas.
#3 Learn about the genius invention of Balkan's most famous scientist
Of course we are talking about Nikola Tesla, a Serbo-Croatian inventor naturalized in the States that was a true pioneer in the field of electromagnetism between the late 19th century, and early 20th century. Among other inventions, he is famous for inventing the first alternating current (AC) induction motor and related polyphase AC patents.
The Nikola Tesla Museum is quite small but full of original documents, photographs and historical technical exhibits. Its main purpose is to illustrate both the life, and the inventions of this prominent scientist, and we highly recommend a visit, not only if you are a nerdy Science lover, but also if you are just curious to peek into the universe of such a great personality, who contributed to human history and evolution.
Insider tip: every hour there are guided tours of the museum, followed by live demonstrations of Tesla's inventions. Definitely join one if you manage: the staff is friendly and competent and will add that extra kick to your scientific exploration.
#4 Insta-perfect Belgrade: New Belgrade at its communist architecture
On your 3 day Belgrade trip, you should venture also into the modern part of Belgrade that is the District of New Belgrade (in Serbian "Novi Beograd") on the left bank of the Sava river. You can walk or take a bus from the city center. We recommend to take a look at the Blokovi, which means "The Blocks" that are enormous housing projects started in 1948 and throughout the Communist Era of Yugoslavia. The name of these neighborhoods derives from the fact that they were planned and built without having a specific name and with time they became a unicum in the imaginary of Belgrade inhabitants. As previously mentioned, this is 100% Communist architecture, made of gigantic grey concrete buildings towering the minusculus spectator admiring them from below.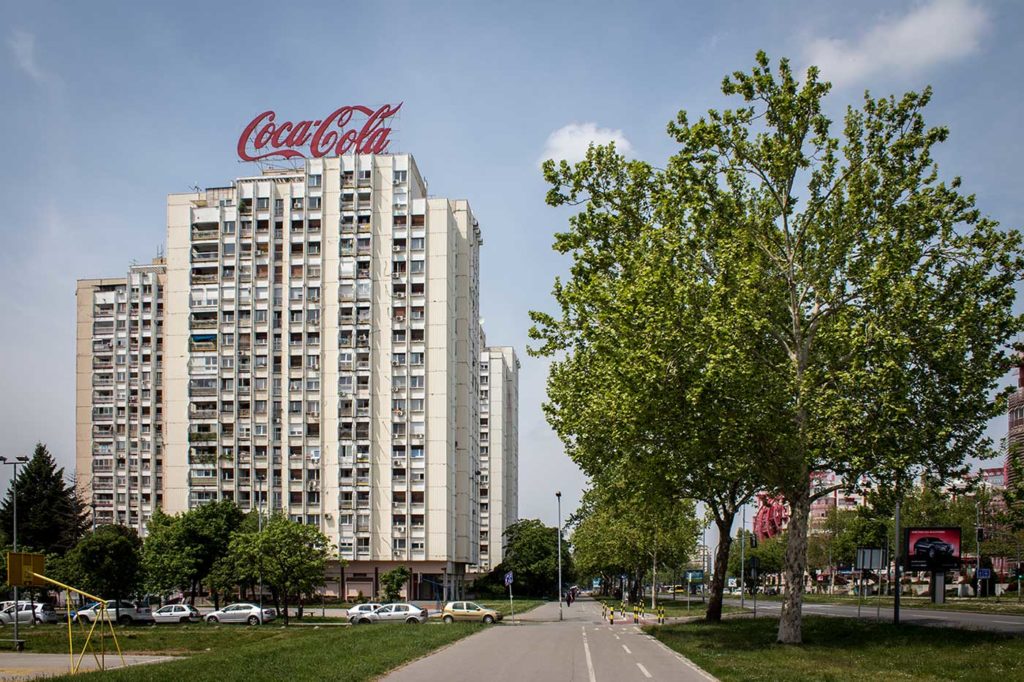 Insider tip: don't expect anything cute and curated, as in Skadarlija for example (scroll up to Day 2 of this 3 day Belgrade itinerary to read more about that), but wandering through the streets of the Blokovi will grant you some pretty cool Instagram shots. For example, the Western City Gate, also known as the Genex Tower, counts among the most iconic buildings of this Communist era, and its charm lies partly in the fact that it lies in a state of semi-abandonment. The spaceship-looking appendix on top of the double tower is a revolving restaurant that never functioned.
#5 Enjoy Belgrade nightlife to the fullest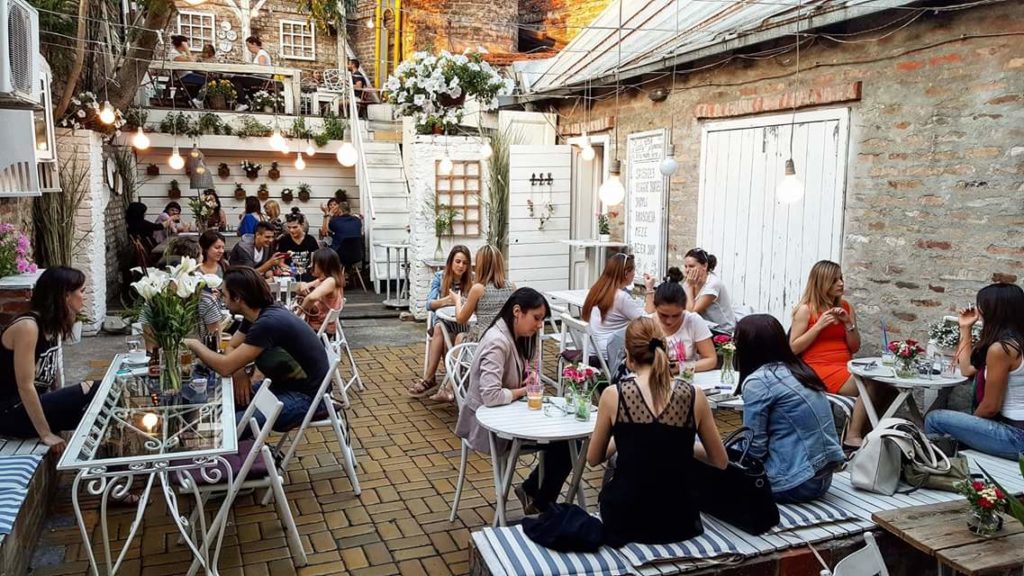 What to do in Belgrade on your last night? Of course, party and enjoy the vibrant local nightlife! Since you are coming from Novi Beograd, it will take you a little time to cross Branko's Bridge and reach Savamala, a district on the right side of the Sava river renowned for its clubs and bars.  Although it has been increasingly "hipsterified", it is still a great meeting place for designers, artists and dreamers of all sorts. There is definitely a bar for every taste:
→ If you are up for some laughter alongside your cocktail Ben Akiba is perfect for you. It is a stand-up comedy nightclub, the first one in the whole Serbia.
→ Jezz Basta – as the name suggests – is a cozy jazz bar you should note down if you are into some live contemporary jazz performance to be served with irregularly-shaped interior design and friendly locals on the side.
→ Locals evergreen favorite for some evening parties is Tranzit. This Belgrade bar was designed as an eclectic bar-restaurant and a meeting place for people who like to "prolong" a dinner directly into night out.        
→ And for those of you who cannot just settle for a drink, the perfect night out in Belgrade is at Zappa Barka, a unique Belgrade bar and club based on a boat just on the other side of Branko's Bridge. The program is diverse, ranging from jazz and funk nights to performances of popular DJs. There is an extra bonus on Sundays: if you are wondering a final thing to do in Belgrade, you could come here and attend a yoga class!
***
This is it. The perfect 3 day itinerary in Belgrade to answer your question "What to do in Belgrade?" on your next trip. As you should know by now, Belgrade is an eclectic and vibrant city, with a lot to offer for every taste, from charming landscapes to great museums, from typical tavernas where to enjoy the tastiest Serbian food to fun bars where to end your nights.
Have you been to Belgrade already and you spotted some more cool things to do we did not include in this travel guide? Drop a comment below, and we will be happy to enrich this 3 day Belgrade guide even more! Cheers! Or, to keep up with the Belgrade beat… Živeli!
Remember, never travel without travel insurance! And never overpay for travel insurance!
I use HeyMondo. You get INSTANT quotes. Super cheap, they actually pay out, AND they cover almost everywhere, where most insurance companies don't (even places like Central African Republic etc!). You can sign-up here. PS You even get 5% off if you use MY LINK! You can even sign up if you're already overseas and traveling, pretty cool.
Also, if you want to start a blog...I CAN HELP YOU!
Also, if you want to start a blog, and start to change your life, I'd love to help you! Email me on johnny@onestep4ward.com. In the meantime, check out my super easy blog post on how to start a travel blog in under 30 minutes, here! And if you just want to get cracking, use BlueHost at a discount, through me.
Also, (if you're like me, and awful with tech-stuff) email me and my team can get a blog up and running for you, designed and everything, for $699 - email johnny@onestep4ward.com to get started.
Do you work remotely? Are you a digital nomad/blogger etc? You need to be insured too.
I use SafetyWing for my digital nomad insurance. It covers me while I live overseas. It's just $10 a week, and it's amazing! No upfront fees, you just pay week by week, and you can sign up just for a week if you want, then switch it off and on whenever. You can read my review here, and you can sign-up here!