As if it costs more than $300 for a small little book, yet that's how much I got charged this month to get my new passport – thanks a lot British embassy. A*sholes.
We all need passports, they look cool, collecting stamps is a past time for any would-be traveler but once you get over the stamp love – you'll learn to dread another bloody stamp in your passport, cos it means you're one step closer to the dreaded passport renewal.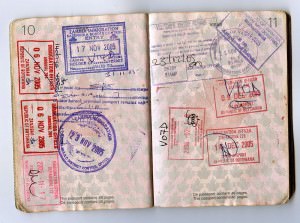 This rant increases further still for the Brits. Imagine this scenario…
You only have one page left in your passport but you are visiting 2 or 3 more countries before you go home. An American goes to their embassy, pays some cash, get some extra pages put in their passport there and then and continues on their journey. Awesome.
Now imagine if you are a Brit. You go to the embassy, explain the situation. The tell you they can't put extra pages in, you need to renew your passport. Ok, how do I do that? You pay $300, give us your old passport, wait for 1 month then receive it and off you go. Wait, so I have to wait in this country for one month!??! My visa expires next week! Tough sh*t. That's the protocol. Amazing.
Unbelievable and to make it worse we don't even own the bloody thing. If you read the small print, it belongs to the country, not to us! So what am I paying $300 for?! To rent the f*cking thing or what?! AAAAAAAAAAARGH.
Ok, I gotta go and pick up my passport from the embassy now. It's been a month. I'm serious.