I love to party, love it. In fact, I've been accused of loving it a little to much, but that's ok. We're only young once, so we gotta enjoy ourselves as much as possible, right? Right. But we have to draw a line somewhere, and that somewhere comes somewhere near to going to other countries and experiencing NOTHING other than the inside of a backpacker bar!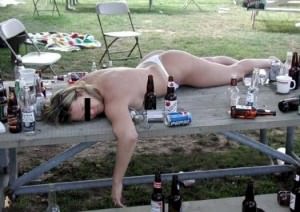 This is an all too common trait amongst travelers these days, one which does irk me quite a bit. Let me run through a conversation with some young Australian backpackers in Croatia:
On London:
Westminster? Nah what's that? Oh the place with Big Ben and that? Yeah, we were busy getting drunk in Clapham with our friends from Camp America so we didn't really sightsee in London
On Paris:
Eiffel tower? Nah. We meant to but we were just feeling pretty lazy when we got there so we just chilled out watched movies in the hostel and got drunk.
On Croatia:
Yeah we've not really done anything in Croatia. We spent that past 10 days in Split watching movies and laying on the beach. Yeah – that's one thing you do when you're travelling. You literally watch like hundreds of movies
On Rome:
Yeah – Rome was probably the best place we've been to. It's really beautiful and we had like the best night there. We got so wasted and couldn't find our hostel for hours. The Vatican? Nah, we're not Catholic so we didn't really see the point in seeing that. It's just a church isn't it?
On Amsterdam:
Yeah, the hardest thing in Europe has been trying to tell what's a country and what's a city. Like Amsterdam – who knew it wasn't a country? The Netherlands [laughs], who's even heard of that country?
On budgeting:
The cheapest place we've been to? Oh that'd be that place in Hungary I think – what was it called? Yeah that's it, Prague. Drinks were ridiculously cheap there. You could get like, really wasted for nothing.
On Scotland:
It felt too far away when we were in Leeds. I mean – what is there to do there? It doesn't seem like there'd be anything to do in Scotland. It's just the same as London right?
On keeping a diary:
Nah – that'd take up too much time, and I doubt I'd ever read it. We've took like thousands of photos though. We're like so drunk in all of them though, it's hilarious.
I literally don't know what to say, I think this pretty much covers it. And who ever said traveling broadens your horizons?