As you guys know, I'm pretty much always on the road but that doesn't mean I should have to buy new sandals every other week. Admittedly, 90% of the time I'm wearing my flipflops so they do go through a little bit of a battering, however surely the shelf life of these bloody things should be more than 2 weeks?!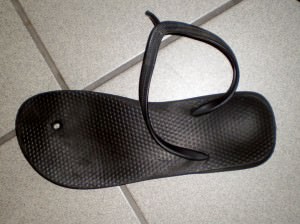 Anyone who has spent anytime traveling in hot countries will relate to this, you're bag is packed, your fake havianas are almost brand new and you're walking up the stairs to your hostel room. You take a minor, minor trip, straighten yourself up and continue your trip – wtf?! You stumble forward and the f*cking stem of your flipflop has popped through the bloody sandal again. Pause, take bag off, fight with your flipflop, force it back through the hole (which is of course ridiculously difficult to squeeze through), bag back on, continue, forget about your flipflops.
12 hours later, in a bar, wearing your flipflops, you stumble forward a little bit again, the bloody flipflops pop again, but this time they're beyond fixing. The hole is too big now so you can't put them back, great. Now you're out boozing, with only one sandal, looking like you just climbed out of a garbage skip and you've gotta spend the whole night like that.
The flipflops always, ALWAYS break at the most inopportune moment, it's a fact of life, just like the bread always landing butter-side down and beautiful girls already having bfs, there's nothing you can do about it.
All we can do is continue to complain about it and keep a spare pare of flipflops in our bag. Happy travels!