I'm Irish and my first language is English, I studied French throughout high school and most of university but it's pretty weak. I've lived in Thailand on and off during my travels and my Thai is ok, but not fluent at all. I appreciate, more than anyone, the ability to speak more than one language. This, my friends, is a sentiment seemingly exclusive to me. Get your act together you morons.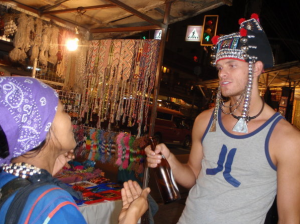 You're in another country. Let's say Thailand, because it's so close to my heart. You speak zero thai, fair enough, you've never studied it BUT you are in Thailand. You want to order a beer, or a burger, or buy a movie ticket whatever. I assume you're going to speak in English in hope that the person serving you will understand.
Now this is already quite an arrogant assumption but I'm being friendly so we'll let that slide. A step too far however, is this:
"Hey bro, I'll just grab a couple of cold ones please mate oh and maybe throw a burger my way too. Make it a big 'un."
Cue levels of confusion beyond belief. The confusion, ironically, though will not be from the Thai staff member (or the nationality of the country you happen to be in) it will be from the dude ordering whatever it is he's ordering not being able to comprehend why the server couldn't understand his order. Arrrrrrrrrrrrrgh.
Mistake number 1: You assume they speak English, even though we're in THEIR country. Ok ok ok, English is the global language so lets swiftly move onto the crux of my rant…
Mistake number 2: Yes he/she may speak a bit of English, they may even speak pretty good English BUT what they won't be able to do is understand your stupid accent, your stupid colloquial slang or the ridiculous speed you seem to be speaking at.
So listen up… here's a step by step guide how to not be an idiot when you're communicating in English overseas…
1)   Speak slowly. That means slowly. One more time – slowly.
2)   Grade your language. Don't be overly verbose, keep your tenses simple where possible and use nouns, adjectives and verbs that people would learn early on in their language learning.
3)   If people aren't understanding, try to rephrase what your saying. DON'T JUST REPEAT IT TIME AND TIME AGAIN, WITH ADDED VOLUME. THAT'S NOT GONNA WORK.
4)   Never ever ever resort to bullsh*t pigeon English. This is expediting the death of the English language. Example:
THE WRONG WAY: "Any clue what time the bus might be popping by?"
THE RIGHT WAY: "What time does the bus come?"
THE HORRIBLE, SEX TOURIST WRONG WAY: "What time bus come?"… what are you? An idiot? Clearly.
It's not rocket science. Show a little compassion, a little more patience and watch how much faster the world goes round. Rant over.