Being on a tight budget when you travel is half the fun of backpacking, working out where to say, how to eat for cheap, what local booze you can procure. Having to spend half your daily budget on replenishing your deodorant, shower gel and toothpaste supplies is not so much fun however.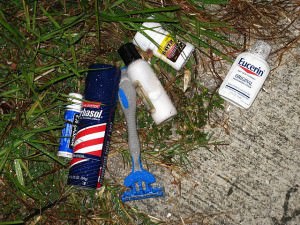 What's worse still is leaving your stuff in the communal hostel shower block. Schoolboy error. You've pushed the boat out and bought that sexy new Nivea, exfoliating shower gel, you know the one with the 'bits' floating around, God it's expensive but it just feels so good. Can't wait to have a shower this evening.
Shower time, moan and groan in ecstasy as you scrub off today's traveling dirt, you feel every cent of that $7 bottle as you feel cleaner than you've ever been before. Heaven. Ok so it was pricier than the normal shower gel, but it's awesome so it's ok. And besides, it's gonna last at least 3 or 4 weeks. I'll get my money's worth. Dry off, return to your room, get changed, leave.
Shower time the next day, grab your towel and get ready to shower. "Boys, where the hell is my new shower gel? Have any of you used it?", "nope. No. no mate". Hmmm. Then you remember.
You left it in the shower cubicle. Oh shit.
Swiftly sprint to the shower cubicle, towel in hand and there you see you're precious gel, lingering roughly where you left it, but 98% empty. Every other dirty backpacking scumbag has had their way with it, used it and abused it, and left you with the dregs. Sloppy seconds doesn't even come close. Absolute bastards.
You squeeze out the remaining globules, and wash yourself down, trying to calm yourself about your loss. There's not even enough to properly was yourself. This will be the last time you make that mistake. How are you even gonna properly wash yourself now though? At the absolute lowpoint of your grief, you realize some idiot has left his Calvin Klein shower gel beside shower number 2!  Yes! Sucker! And so it begins again. Happy travels!