After my naked gay Russian bath house experience in Moscow earlier in the year, I was a little skeptical about throwing myself back into the lion's den with a Hungarian bathhouse, especially now I'm traveling solo again, but never one to miss out on an experience, throw myself back in I did, and what a great experience it was.
Hungarian bath houses are integral to their culture, I had no idea. Budapest has two hugely famous ones – the Gellert Baths and the Szecheny Baths. The Gellert baths are the more famous of the two, and therefore are more expensive and more popular (read: overcrowded).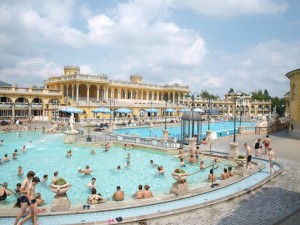 The Gellert Baths are found at the bottom of the Citadella, they cost around $18 for full access to all the different pools and saunas. However, my Hungarian friends informed me that the Szechenyi Baths are much better than the Gellert Baths, so I headed there instead.
They're found in the city park, you can go there direct on the metro line (M2 Szechenyi Furdo stop), from there it's a 2 minute walk. As soon as you come out of the station, you're in the park, go straight to the nice building in front of you and you're there, easy.
Szechenyi baths cost 3400 forints ($14) for full access to the 3 outdoor pools, the 10 indoor pools and the 6 saunas. You are given a wristband as your locker key , which doubles up as a ticket too and you can stay as long as you like. Remember though, Hungarian baths are fully clothed baths, they're mixed gender too, it's a very social affair.
The pools are all different temperatures, and the waters contain different minerals. All very healing apparently, so it's the perfect way to finish off that hangover. Massages, pedicures and all the rest are available for cheap prices (around $8-$20 per treatment).
A real cultural experience here though is hitting up the outdoor pools. Senior citizens in Hungary get into the baths for next to nothing, so they congregate here frequently. In the pools at the Szecheny baths you'll find groups of old men waist deep in the pool circling a marble pillar, where two of them will be battling it out on the chess board. The play for hours, and hours and hours but you can squeeze in for a game if you're friendly and open. Just don't expect to win!
I stayed there for about 2 and a half hours and loved it, the 70 degree (160 farenheit) sauna nearly knocked me out though so be careful! When I'm back in Budapest, this will be the first place I come back to. Happy travels!