Watching the Malaysian Grand Prix Live for $10 USD
I love Malaysia, I really do. I just spent a great weekend with some awesome Malaysian friends in Kuala Lumpur, we went to the Formula 1 Grand Prix together – the qualifying session on the Saturday and the race proper on Sunday. I know there's a lot of money kicking around in the motor sport world and I always thought I'd never fork out all that cash for a sport that I don't have a true passion for, and then the beauty of backpacking kicks in….
So I have some truly great friends in KL, ones who keep me posted on cheap air asia flights and any other promos running in the area – this one was a real gem! They booked me us the cheapest tickets available for the Malaysian F1 Grand Prix, on a 50% early bird discount so it cost me the grand total of 30RM, approximately $10 USD. That gave us the full 3 day pass (I attended two days) and what a great few days it proved to be. The girls were kind enough to let me stay with them for the whole trip too so this really was a bargain and a half.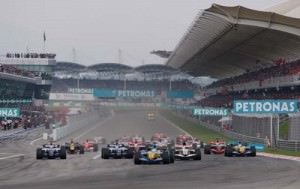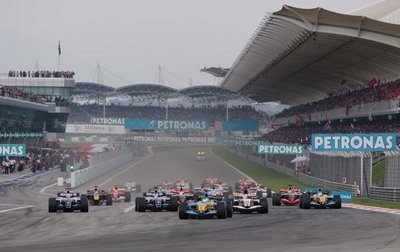 Information about the Malaysian Grand Prix
(NOTE KL HAS LOST THE RIGHTS TO GRAND PRIX, AND IT IS NO LONGER)
DATES: Normally the second or third race of the season, so around April each year
COSTS: Anything ranging from 30RM ($10 USD, my ticket!) to 11, 000RM ($3600 USD). If you want the promo fares you need to book early, failing that you can turn up on the day and get a seat on the grass for a very reasonable 60RM ($20 USD). Pack a little extra if you're keen on a little Moto Gp betting, you never know when it might be your time to come up trumps!
LOCATION: The Sepang International Circuit, Sepang. The track is only a stone's throw from Kuala Lumpur airport so you can connect directly with regular shuttle buses running every 30 mins (5RM, $2). If you're staying in the city, the track is about 50k from there – you can take numerous buses from KL Sentral for around 8RM ($3) direct to the track, they take about an hour. Or you can take a taxi from the city for around 100RM ($33) which is not a bad option if you have 4 people in your group.
WHERE TO SIT: There are a lot of areas to choose from – the cheapest ticket will give you access to area C3 which is on one of the largest corners, the shape of the track means that the 'cheap' seats give you views of 2 sections of track, more bang to your buck there. The cheap seats aren't actually seats, you simply plunk yourself on the grassy bank – the weather is generally 30 degrees+ but with the crazy Malaysian weather, rain is a distinct possibility, bring sun screen and an umbrella (I brought neither and got sun burnt and soaked, good move Johnny!).
If this $10 experience doesn't represent the beauty of international travel then I don't know what does. For the price of a subway meal I got to watch world champion Sebastian Vettel give a masterclass in F1 driving, managed to see a certain Michael Shumacher race in the flesh and, through a friend in Bangkok, got VIP tickets to the FI Johnnie Walker party thrown in too – what a weekend! Malaysia is surprisingly inexpensive, so a trip here could prove to be one of your cheapest holidays yet!
Happy travels 🙂