If your impression of Egypt is well refined tourism, world-class ancient sites and too many pairs of fake ray bans then Luxor is its poster child. That being said, it's a tourism hub for a reason so prepare to be awed by what Luxor has to offer…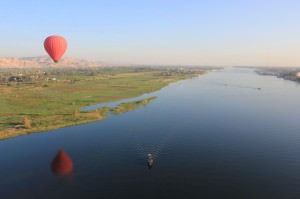 Personally I would recommend 2 nights in Luxor, 3 at a push but certainly no more. That will allow you more than enough time to visit all but the most obscure attractions in town. I spent a few days here recently and, at a nice leisurely pace, covered (more than) everything I wanted to see within 2 days. So what should you see and do in Luxor?
Here are the things I would recommend you see, and it's all easily accomplished within 2 days.
Temples of Karnak: 65 EGP Adult/ 35 EGP Student. Very possibly the highlight of your visit to Luxor. The sheer size of the architecture here can't fail to impress you and that alone is worth a visit. Rows and rows of sphinxes guide you to the entrance of this temple, a worthy introduction to a great sight.
TIP: go early (before 10am) or late (after 4pm) to avoid both the flocks of tour buses and the midday heat.
Luxor Temple: 100 EGP Adult/ 50 EGP Student. Personally I think the true beauty of this masterpiece lies in its location – slap, bang in the middle of the city, sitting on the banks of the Nile. Very special indeed. Not so special is the McDonalds which stares straight at Luxor Temple and all its wonder day in, day out. You may as well put it to good use and escape the heat with their ice-cream cones a snip at 2.50 EGP (just don't tell anyone you came all the way to Luxor and ate at McDonalds :P)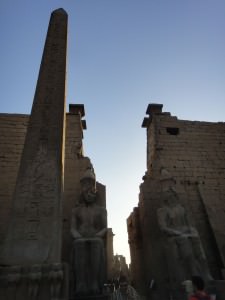 Valley of the Kings 80 EGP Adult/ 40 EGP Student *Tutankhamun's tomb is 100 EGP/50EGP extra. World famous and rightly so. This is, in essence, the most impressive cemetery in the world. A valley full of 60 odd decadent, intricate tombs for a host of kings from the Egyptian dynasties. Your ticket allows you to enter 3 tombs (Ramses 3, 4 and 9 are the most impressive). Disappointingly, all the hieroglyphics within the tombs are behind thick Perspex glass but with a drop of imagination you can imagine the hundreds of people drafted in to work on these things all those centuries ago and your sense of awe will be restored. Again, I'm no Egyptian historian so 3 tombs was easily enough and at the risk of sounding uncouth once you've seen three it feels like you've seen them all!
NOTE: Tutankhamun's tomb is very understated, small and generally underwhelming so the additional is entirely up to you. I choose to pay it as I had come all that way, and all those memories of making papyrus and talking about Tutankhamun at primary school must have had some effect. Underwhelming, true but for me stil worth it.
Oh, and no photos allowed unfortunately.
Valley of the Queens: 60 EGP Adult/ 3o EGP Student. A smaller, less ornate version of their husbands valley! Worth a peek, just don't bank on being blown away. No photos once more.           
Hot-air balloon ride: 300-1000 EGP. With such a dramatic price range, you may think it dictates the quality of service, the transport, the food, the health and safety – you'd be wrong. What it depends on is how wealthy you appear, your bartering skills and the twinkle in your eye. I paid 350 EGP, you shouldn't pay more than 450 really and don't book it from the internet, sort it out when you get to Luxor; there are no shortage of vendors.
You get around 45 minutes in the air as the sun rises over the Nile. An activity you won't forget for a long time. Sure it's touristy, but who cares when it's bloody awesome!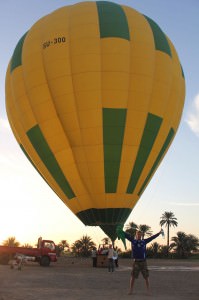 Colossi of Memnon: FREE – a distinct rarity in Egypt! You'll notice these 2 massive Colossi on the way to your hot-air balloon and what a greeting they give. 20 metres tall, these 2 guys give you over 2000 tonnes of a welcome, sitting regally all day watching the endless streams of tourists ascend and descend in their hot-air balloons. Awesome backdrop.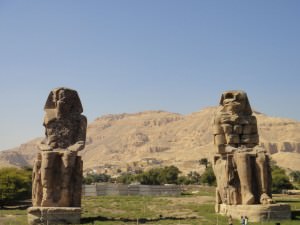 Temple of Hatshepsut: 65 EGP Adult/ 35 EGP Student. A vast temple built into the rocks in the mountain. This 3-terraced temple is a cracking sight to behold and should definitely be included in your 2 day itinerary.
OK, so that should keep you occupied for your 2 days with ease. Here's an example itinery:
DAY 1:
Arrive in Luxor by boat, bus, train or plane and sort out/check into your accommodation.
Late morning, pay a visit to Luxor Temple then enjoy lunch nearby as you continue to gaze over the sheer beauty of it.
Afternoon, grab a taxi (5 EGP) to Karnak and spend around 2 hours exploring the huge temple complex there.
In the evening, arrange your hot-air balloon ride for the following day
DAY 2:
Early start as you'll get picked up by bus, taking by boat across the Nile and driven to one of the few hot-air balloon 'airports' on the world. Up, up and away – if all goes well you'll have landed by 7am and be back having scrambled eggs in your hotel by 8.
Either day trip with a tour guide (around 30 EGP for the days transport in a group, tickets not included) or brave the labyrinthine public transport system (not recommended! Once bitten, twice shy and all that) and explore the Valleys of the Kings and Queens, the Colossi of Memnon and the Temple of Hatshepsut for a truly cultured day. You'll finish up around 2pm for a lazy afternoon.
The evening can be spent sampling some koftas and shwarmas in the local eateries which dot the city centre in abundance.
Two days done and dusted. Action packed, full of Egyptian culture past and present and a memory card full of photos to sift through when you get home!
I hope luxor is as good to you as it was to me.  Holidays in Egypt are something really awesome, and even more so with a rucksack strapped to your back! I can't wait to come back! Happy travels =)