Looking back at my time in Mongolia, some crazy, crazy stuff went on there. I had a great time, especially the safari into the mini-Gobi desert. In total, I spent less than a week there but I had 4 very unique experiences in that short time, let me break it down for you guys:
Mongolian Throat Singer:
I was sleeping in a ger (Monglian traditional tent home) in the Mongolian wilderness when an old man asked would I like to hear some traditional Mongolian music. Initially, assuming it was some tourist trap, I turned him down and he left without any insistence. It dawned on me that there were next to no tourists in Kharakhorum so it was highly unlikely to be a scam, so I chased after him, asked him how much and after him quoting me 5,000 Mongolian Togrogs ($3.80) for 1 hour, i accepted and welcomed him back to my ger.
The next hour was a genuine traveling highlight of mine. The old man played around 10 songs, using 4 different traditional Mongolian instruments, explaining in broken English, the meaning of each one. The meanings ranged from Chenngis Khan's crusades, to horse racing, and beautiful Mongolian women. Towards the end he demonstrated Mongolia's most famous musical genre, throat singing. It was a croaky, horse, deep melody which in all honesty wasn't particularly easy on the ears, but was very cool! After he finished, we shared a little vodka and he went on his way, leaving me to fall asleep in my ger, more than content with my awesome article.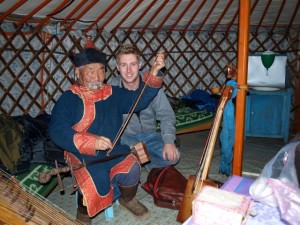 Nearly Getting Stabbed:
I had heard that Ulan Bataar get's a bit sketchy at dark. 2 friends informed me, both hostels I stayed in told me, and my guidebook told me. Still, being a stubborn idiot, I refused to listen ("I've been around the world enough, I hear that sh*t all the time, it'll be fine, yadda, yadda yadda") Wrong. After watching Liverpool draw with Aston Villa in a bar, we met a few Mongolian girls who offered to take us to a club in the city, it was about 12.30am. Cool. Off we went we in a taxi (6 people in one taxi, obviously). I entered the club, paid my $8 cover charge, it was about 12.45am now. The club wasn't exactly full but whatever, lets try to order some beers. 5 f*cking minutes later the police raided the club. They announced the club would be closed and we had to vacate the building, which I did. After leaving I went back to the door  and kindly explained I had been in the place less than 5 minutes, I didn't even have a chance to order a drink so would it possible to get my money back.
And so started the bedlam. 2 Mongolian dudes, very probably direct descendants of Chinngis Khan, were less than impressed with my request. I thought they were being friendly, but when he started screaming F*ck you, f*ck you in my face it was pretty obvious he didn't wanna be my mate. I tried to be friendly, apoligise, calm the situation down. These dudes didn't work here though, they were just 2 irate guys looking for trouble, so I left.
They followed, screaming about cutting my friend and I in half and stabbing us. Great, that's just what I wanted to hear.
Now while getting stabbed in Mongolia might sound like a cool travel war story, the reality of the situation was something quite different. And after they went to chat to some guys in a blacked-out ranger rover, and then started chasing after us, it was time to really get out of there. We sprinted, with them in tow, to the next taxi on the street, leaped in the back and screamed "drive anywhere, just drive anywhere" and off we went, 100% unstabbed and ready for bed.
Saving a baby horse in the desert:
I was driving across the middle of the mini-Gobi desert with my guide Soyolo when we came across a baby horse standing alone with no other animals in sight. The horse was struggling to stand up and it looked freshly born. We got out of the van, walked over to it and it didn't (couldn't?) run away. We could see that a huge chunk had been bitten from the back of it's leg.
The horse had clearly just been born the day before, and after being born apparently a pack of wolves had come and hijacked the newborn. That night there was a huge dust storm so although the wolves managed to take a couple of bites out of the newborn the dust storm had scared them off before they could kill it. Luckily we stumbled across the horse early the next morning, Soyolo grabbed it, picked it up and we nursed it into the van. We made a beeline for the nearest nomadic tribe and drove straight there. We handed over the baby horse to the grateful family, they immediately tended to its wounds and fed it milk from a bottle and off we went back to Ulaan Bataar. Saving baby horse, all in a day's work!
3 incredible experience in such a short space of time, and what's more is the most incredible of all isn't included. Watching the Shaman getting possessed by two spirts, whipping his brother, throwing up and hearing the family recite and chant Shamanistic songs was something so unique it needs it's own article, coming tomorrow! Happy travels!