If you're planning a trip to New York city, prepare to immerse in one of the most glamorous, buzzing, cosmopolitan cities in the world. There are literally endless possibiliteis for things to see and do here, that you'd need months or even years to check it all off. But the good news is, that doesn't need to be your goal here! Instead, focus on doing those things which excite you the most and give you a great overall feeling of this magical city where all dreams are possible. Whether you want to be touristy or more off the beaten path, you'll find great things to do on our list: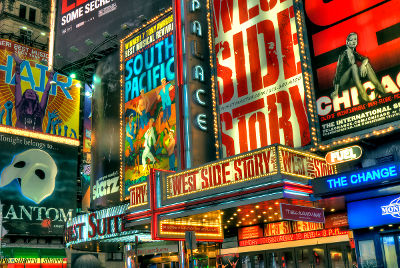 Dress up for a night out
What's a trip to NYC without a real night out on the town? And oh what a town it is! For the classic experience, get tickets for a Broadway show and see the show that's in town. You'll be spellbound by the incredible music, performance and atmosphere. To amp up the vibe of the evening, hire Blacklane limousine service to transport you throughout the city. Once you do a limo hire in New York City, you'll never go back!
Get a bird's eye view
You can try to explore every nook and cranny of New York City (good luck trying!), or you can climb to the top of the GE Building right in Rockefeller Center and get the view that the birds have. And the good news is, you don't actually have to climb since you can take the elevator! Many people choose to get their vantage point from the Empire State Building, but the advantage here is that you can get the iconic building in your photos!
Be a foodie
When you're in New York, you won't ever have enough time to sample all the delicious specialties available here. There is literally some of the best food in the world in New York, in nearly any cuisine you can imagine. You absolutely have to eat New York style pizza, and in between sample the great Italian food in Little Italy, Chinese food in Chinatown, along with amazing coffee shops, fine dining and so much more.
Soak in the culture
Whatever this means to you, there is so much culture to take in while you're in NYC. You might want to take a walk down Museum Mile where you could spend days learning and exploring in the many museums here. Or if you're more of a people watcher, spend the day in Central Park for a real experience of local New York. It's also a great way to soak in some nature and take a break from the bustle of the city.
Shop till you drop
If you love to shop, you will leave New York a pauper! Seriously though, the city has some of the best shopping in the world, and you can really find things to suit all budgets. It is fun to window shop through the exclusive areas though, so browse high-end boutiques and finger the fancy merchandise!