Touristy it may be but Cairo is so popular for a reason. Arguably the most visited city in the world, this place has sights to impress even the most disinterested of backpacker. The Egyptian capital is a sprawling city along the bank of River Nile offering histrical sights of the Pharaoh Era during the Roman civilization.
Surprisingly, Cairo (and Egypt generally) is cheap, cheap, cheap. If you avoid the Western enclaves of Sharm El-Sheik, Hurghada and Dahab with their cheese-burgers, Starbucks and tour buses you can easily budget for $20 USD per day and get to experience the real Egypt as you wander around this awesome country. Let's have a look at the top 5 things to see during your stay in Cairo:
Pyramids of Giza
Predictably at number one are the Pyramids. Located within the city, on the border of the Sahara desert and the Nile valley you'll find one of the wonders of the world. You've seen it on TV countless times but this these things will still blow your mind when you see them for real. 4500 years old and still as impressive as the day they were complete.
At the entrance to the Pyramids is the stone-carved Sphynx – a pyramid of half man/half lion  which acts as the guardian of the 'Sun Temple'. Horse and camel rides are the order of the day, over-priced? Yes. Cliched? Yes. Will you succumb to exactly the same thing? Very probably (I certainly did and I don't regret it). You can also enjoy a light and sound show in the pyramid area in the evenings which is basically a narration of the ancient history. It takes about 30 minutes by car to reach this spot from Cairo – a taxi normally costs around $10.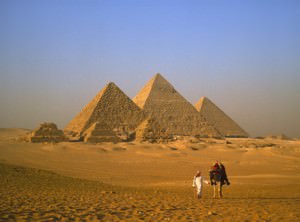 P.S I had this great idea to take a photo where I pretend to pick-up the pyramid with my fingers from a distance. Check it out, it looks awesome. I'm sure this is gonna catch on…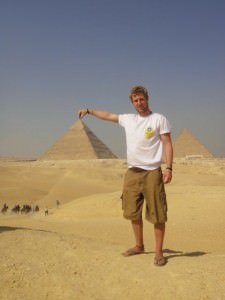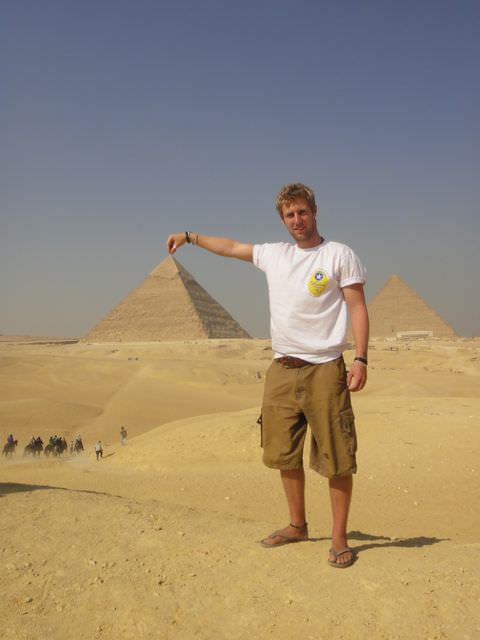 The Egyptian Museum
Now I'm not one for museums, not by a long shot. In fact I've taken to the past-time of taking photographs of myself OUTSIDE museums and pretending to my family that I went in but this one is worth the visit, honestly. Head to Midan Tahrir, the city centre of Cairo, and you'll find this famous Egyptian museum. This museum has a treasure of ancient architecture, artifacts and Egyptian relics. There is a huge collection in the museum to keep you occupied for days (read: a couple of hours for people with short attention spans); the gold mask belonging to 'King Tutankhamen', Pharaoh's coffin, with a 110 kg heavy lid made of solid gold, mummies and many more valuables lie on display. The museum exhibits over 100, 000 valuables and has 107 galleries and rooms. If you want to rewind yourself to the olden days, visit the Egyptian Museum or at the very least you can finally enjoy a museum without feeling like you had to pretend to enjoy it!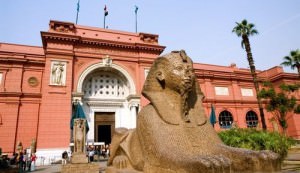 Citadel and Mosque of Ali Pasha
Walking distance from the Egyptian museum, the Citadel is a 21st Century fortress. It was built in the'Ottoman-style' with the Mohamed Ali Pasha mosque built entirely from marble. From the top of Mount Mokattam, the Citadel offers awesome magnificent scenery around the fort. Remember guys – visitors must be appropriately dressed so no knees or shoulders on show.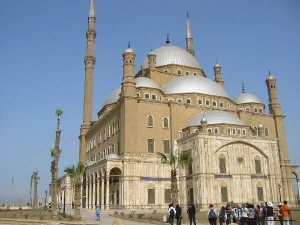 Khan El Khalili
You can't come to the African door to Arabia without visiting a 'souk'. The Khan el Khalili market is the most famous and busy bazaar in all of Cairo, selling everything under the sun. If you are passionate about ethnic wears, you can buy colorful veils shisha, silver jewelry, brass lamps, box of herbs tea and more. And if all else fails, there's nothing wrong with a 'I heart Cairo' t-shirt, right!?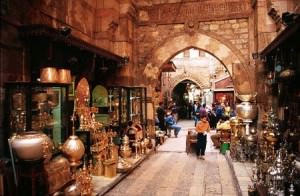 Coptic Cairo
Coptic Cairo is an historical Christian area, where there are old relics from the time when Christianity was first introduced in Egypt. This place has endless grand churches, among them the St. George is the largest and St. Sergius Church is the oldest. The Coptic museum displays valuable collections of ancient Coptic art. Spend an afternoon wandering around this area and you'll feel like you've been transported back in time until you come across some guy selling bloody laser pens on every street corner.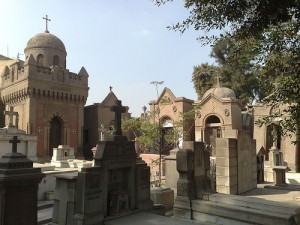 Egypt has developed a reputation of being more of a tourist destination than a backpacking route in recent decades but that's unfair. Very close to Cairo, you can find some awesome places to travel around like the Suez Canal, Alexandria, Mount Sinai etc. I spent almost a month meandering through this country and that was the perfect amount of time. Give yourself at least 3 or 4 days for it's captial, you won't regret it. Make sure to check out these five hotspots on your visit and you'll be reminiscing about Cairo for years to come. Happy travels!