Indonesia amazingly gets skipped by the masses on the South East Asian tourist trail, and personally, I think that's absolute madness! It's fun, there's loads to see, the climate is tip-top, it's cheap as chips and once you've seen enough temples and mosques you can always head to Bali!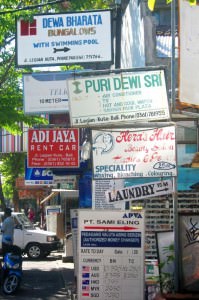 The best nightclubs in Bali are all within the Kuta/Seminyak area. Generally speaking, the nightlife in Kuta is more popular with Australian tourists, backpackers and first-timers to the island. The prices are moderate and the party atmosphere is very laid-back. You will fit right in if you wear shorts, flip-flops and singlets.
Regulars of Bali, expats and Indonesians from Jakarta will tend to prefer Seminyak, which has more expensive and stylish clubs. The music, the cocktails and the décor will be more sophisticated, but you won't get the same holiday vibe you have in Kuta.
Whatever your preferences are, here are some clubs and bars that should be on the must-do list of anyone wishing to experience Bali nightlife.
SkyGarden
The biggest nightclub in Bali and by far the most popular. It is built on 3 floors and includes an Irish pub, an R&B room, a huge nightclub "Sky Dome", an EDM dance floor, and a rooftop bar. The music is mostly mainstream and commercial, and the crowd is a mix of people from all nationalities. Sexy dancers and fire dancers usually keep the party going until 3am.
SkyGarden is the only nightclub in Bali that is crowded 7 nights a week. If you are visiting on a Sunday, Monday or Tuesday, it is the place to go. The party starts quite early: At 11pm, you should already have a full crowd and at midnight, bouncers are starting to escort drunk kids out.
SkyGarden is one of the cheapest nightclubs in Kuta. If you come before midnight, you can buy a triple vodka for less than 8$. Also good to know, girls drink for free before midnight every Sundays. Clubs similar to SkyGarden are Vi Ai Pi, Eikon and MBarGo.
Jenja
Located in Legian, between Kuta and Seminyak, Jenja is a small urban club opened in 2014. It is happening from Wednesday to Saturday with great electronic music sessions by Indonesian and foreign DJs. It is one of Bali's favorite nightspots for expatriates living on the island.  If you like Jenja, you can also visit Mint, Pyramid and Koh, which are very similar.
La Favela
Though more a bar than a club, the dance floor of La Favela is the most happening party spot in Seminyak these days.  It should be on the must see list of anyone for its impressive design, inspired by Brazilian shanti towns. The music usually starts in the bar area at midnight, featuring old school, hip hop, pop-rock, dance and disco tunes. Prices are average for Bali, around 4$ for a beer and 9$ for a cocktail.
Bosche
I am mentioning Bosche here because it is the most popular nightclub in Bali with Indonesians. Few foreigners visit it but it is a mistake as the atmosphere is very lively and fun. It usually starts with a live band (singing both English and Indonesian songs) and continues with a DJ playing mainstream EDM after midnight. You will observe that most patrons will stay in small groups around a table with a bottle of alcohol in the middle. It is only after a couple shots that they will open up and start dancing. The sound system in Bosche is among the best in Bali. If you want to experience typical Indonesian nightlife, you can also visit Akasaka in Denpasar. Be warned though as the place is infamous for being full of drugs and prostitutes.
Mirror
Mirror is the latest nightclub to have opened in Bali in early 2015. It comes from the All-In group, which is also behind the popular Fable Club in Jakarta. It is the trendiest place in Bali at the moment and you'll find it crowded every weekend nights, mostly by expats and Jakartans. Mirror is designed to look like a church, which is a bit strange at first. They have famous international DJs almost once a month and it will most likely become the place to be for the next two years on the island. If you like Mirror, you may also be interested in Velvet/Hypnotized in Kuta BeachWalk mall.
Alright guys, Bali isn't everyone's cup of tea and Kuta may make Khao San Road look like a church fair but if it's a party you're after, Bali should be on your map. Happy travels!