Bangkok, Thailand's fabled capital, is frequently the first stop for round-the-world (RTW) trippers and certainly features heavily in many long term travelers histories but what is it that draws in the hordes exactly?
Well, first off Thailand is cheap (not as cheap as it once was but you can still eat a 3 course meal in a snazzy restaurant for under $10), then there's the culture, the cuisine, the climate and of course there's Khao San road. Khao San road, which now represents a series of streets, is a place in downtown Bangkok where backpackers and tourists are immediately drawn to from when they first touch down in the airport.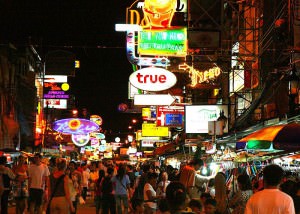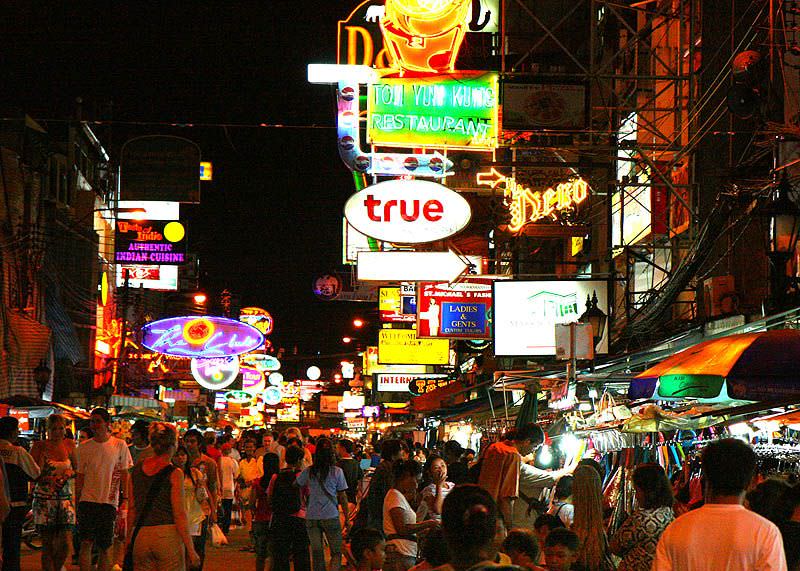 Like any self-respecting backpacking hub, Khao San road (pronounced Cow San road but more often referred to as Ko San road) caters to every tourists need and unfortunately that can be half the problem! Don't get me wrong, if you've been roughing it in India, or grinding out the corporate hours in your home city – Khao San is a welcome respite and your sure to have a memorable time. When I refer to the good, the bad and the ugly –Khao San has all it all. In abundance.
So what's so good about Khao San? Well, it's a great place to meet people especially if you're a solo traveler, there is an endless supply of new friends to meet and greet and people are very open to random conversations. You'll also easily find people to continue your travels with – North to Chiang Mai, South to Malayasia or East towards Cambdoia or Vietnam so if you're looking for travel buddies, you've come to the right place.
Also, it's cheap – cheap food and cheap booze, a huge drawcard for the thousands of backpackers who descend upon Khao San weekly. The party atmosphere is great and every night there's something going on so if you're ready to cut loose, Khao San is waiting for you. Furthermore, if your backpacking attire is looking a little rough around the edges from too long on the road this is one of the greatest places in the world to replenish your struggling wardrobe. Diesel jeans, havianas, quirky tshirts – Khao San has everything, and for a snip of the normal retail price just don't ask about the authenticity of your new goods 😛
So that's the good, sounding pretty cool right?! Yeah and it is, even more so if its your first time but it's not all cheap whisky and $2 Raybans… Let's look at the not so good, the downright bad and the 'inyourface' ugly side of Khao San. Sure it's cheap, but with the cheap booze and dark lighting comes a different kind of bargain so if seeing scantily clad ladies propositioning you (or your boyfriend) each evening then steer clear. I'm trying to stay off my high-horse here because I love Thailand with all my heart (hence me 'settling' here temporarily) but the sheer volume of sex tourists who blatingly flaunt their new found catch for the evening is overwhelming. Admittedly Patpong is worse for this but Khao San isn't far behind. I don't want to get into the discussion about legalized prostitution but what I will say is that I find something wrong (offensive?) with an overweight, shirtless 50-something stumbling around like he's never tasted alcohol before clutching his teen 'girlfriend'. Leave that for the hotel please mate – no-one wants/needs to see it.
Hearing another Thai hawker approach me with "Alright mate, you from London?" in a thick cockney accent does my soul no good either. Thai culture is a precious thing and one that we should appreciate with their good natured hospitality, warm hearts and endearing smiles – why then people insist on adopting an accent and a personality from another country is beyond me, but as anyone who has traveled through Thailand I'm sure can testify it's not cool, but then that's Khao San for you – love it or leave it.
Ok, that's my rant over (almost). Maybe I have been in Thailand too many times and the tourist scene has jaded me but I wanted to share with you my thoughts on Khao San. By all means, check it out, party hard, meet some cool peeps but don't stay too long guys – remember it for the good times not the bad or ugly ones.