While you may know where you want to spend your week off in the sand and surf of Virginia Beach, maybe you haven't thought about where you'll rest your head at night. Here are five of the best Spring Break hotels in Virginia Beach.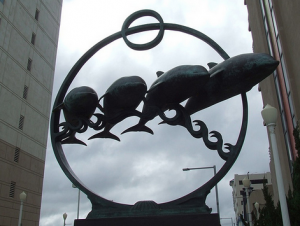 Image via Flickr by Shane Henderson
1. Hampton Inn Virginia Beach Oceanfront North
The Hampton Inn Virginia Beach Oceanfront North offers fun and relaxation on Virginia Beach. With 410 feet of oceanfront property, it's surrounded by beautiful surf and sand. Whether you're staying for the night or longer, you will be comfortable and entertained. A room with two queen beds, and an oceanfront view for two adults, comes to $169 a night.
Each room features a private patio or balcony, workspace, 32-inch HDTV, and a complimentary hot breakfast. The Hampton Inn Virginia Beach Oceanfront North is perfect for everyone from college students on spring break, to families on vacation, and couples on romantic getaways.
2. Four Sails Resort
The Boardwalk is just steps from the beachfront Four Sails Resort, perfect for relaxing walks. Watch the sunrise and sunset right from your room, with oceanfront views in every room. Enjoy a dip in the indoor heated pool any time of day. The 33rd St. Cafe is also on site providing breakfast, lunch, and dinner. A comfortable and spacious queen room starts at $199.
3. Founders Inn and Spa
  The Founders Inn and Spa in Virginia Beach is just 20 minutes from Virginia Beach Oceanfront and shops and restaurants of Downtown Norfolk. Spring breakers can enjoy the quiet seclusion of this resort's beautifully landscaped grounds. The Founders Inn and Spa also offers meeting rooms, a heated pool, and the award-winning Swan Terrace restaurant. This laid-back and charming resort is perfect for spring breakers looking for a quieter spring break, families on vacation, and honeymooners. The Founders Inn and Spa has rooms starting at $150 and a pet-friendly option starting at $200.
4. Boardwalk Resort and Villas
Located right on Virginia Beach, the Boardwalk Resort and Villas is very close to the Virginia Aquarium and Marine Science Center which is a great way for visitors to spend their break. The Boardwalk Resort and Villas offers a year-round indoor heated pool, a restaurant, laundry facilities, and room service. This resort is great for spring breakers, with the sun and surf easily accessible. There are over 100 rooms, starting at $209 a night.
5. SpringHill Suites Virginia Beach Oceanfront
The SpringHill Suites Virginia Beach Oceanfront is directly on the beach and just minutes from the Atlantic Wildfowl Heritage Museum, and a short drive to the Virginia Aquarium. This spot is perfect for spring breakers, as it's close to everything. Rooms offer flat-screen TVs with cable, wireless access, and comfortable sofa beds. The hotel also offers an indoor and outdoor (seasonal) swimming pool, spa hot tub, and a restaurant/bar combination. Rooms start at $269 a night.
When visiting Virginia Beach for Spring break, check out these five spots for a great place to rest, relax, and party with your friends and family.
Author Bio:
Meghan Paul is a Hipmunk writer who loves adventures big and small, and learning about all the world has to offer. Her dream is to try a slice of pizza in every state.