If you're planning a backpacking trip to Australia, chances are you're totally pumped and already planning tons of great things to do on your trip. From camping to surfing, exploring nature and meeting other backpackers, Australia is a backpacker's paradise. It's a friendly and laid-back country perfect for traveling spontaneously!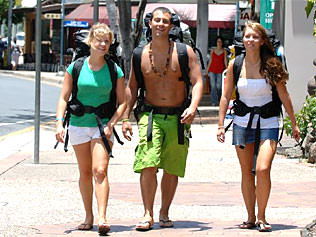 Before you go, don't forget to take care of some preparations like visas and calling your bank. Also, purchase a good backpacker travel insurance policy to cover you in case any emergency or unexpected situations come up. Here are 5 more tips to make your travels even better:
Bring More Money Than You Think You Need
The last thing you want when you're traveling is to run entirely short of cash. Backpacking shouldn't cost a lot of money, but Australia isn't a cheap place. Cities like Sydney and Melbourne are some of the most expensive cities in the world, and even if you're living super cheaply, you still have to eat!
Wear Sunscreen!
I know you're on holiday and you think a week or two of sunbathing with no protection won't kill you, but do you really want to spend multiple days of your holiday hiding under cover because your skin is blistering? The sun shines strong in Australia, so be smart and wear sunscreen.
Talk to Locals
If you really want a fulfilling backpacking experience, take some time to learn about the places you're traveling. Stop and talk to local people, older people, and hear about their experiences. They'll give you stories like you've never heard, and can tell you some things to do that you'd never find in a guidebook.
Slow Down
Outside of the major cities, Australia runs on "island time" so embrace it! Rather than stressing out if your meal takes half an hour to arrive, just chill out and relax because this is the Aussie way. People just slow down and enjoy life here, and so should you.
Pick Up the Local Language
Locals are far more likely to accept you if you pick up some of their local slang! Besides, it's fun to bring a few new phrases home! So order your "flat white with two sugars" instead of a coffee, and just keep speaking to locals to learn all the other phrases you need to know.