Somaliland may not have the Taj, the Statue of Liberty or even a Macdonalds but I'd trade all three of these for one trip here. Really, of all the places I have been Somaliland really shakes up your preconceptions. You can't walk up 100m up the street without shaking 10 people's hands, you'll have people bellowing and waving from across the road, people offering you Qat (a local leaf people chew here that 'apparently' gets you a bit removed from your conscious state :P), inviting you to their own houses etc. Friendly doesn't even begin to describe it…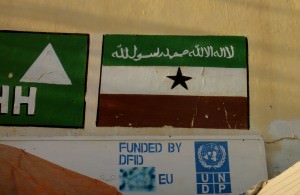 WHERE IS SOMALILAND?!
First, let me admit to my ignorance and admit I wasn't aware of the 3 separate 'countries' within what we know as Somalia – Somiland, (the relatively safeish part), Puntland (the 'probably too dangerous' to visit part) and Somalia (the dangerous, pirate hoarding, Islamic fundamentalist part). Then let me confess that my visit to Somalia was in fact to Somaliland, in the north. Somaliland recognizes itself as an independent country, declared itself a republic nearly 20 years ago but has never been recognized as such by the international community hence the borders that we see still outlining the entire region as Somalia.
IS IT SAFE?!
Ok history lesson over! So Somaliland is pretty safe to be honest; don't get me wrong the danger level doesn't quite equate itself with nipping out for a cup of coffee in Belgium but relative to the region it's safe as houses. That being said, you do require an armed guard (a steal at $10 per day) when you leave it's capital, Heigeisha, although I hasten to add this is simply a safety precaution and to be honest pretty much unnecessary (thank God!)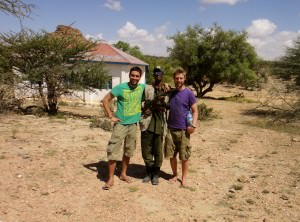 For the 10, 000 greetings and will wishes I have received, I feel it's my duty to add, I've also had one dude shouting "white man, I kill you", another old guy try to slap my face and some crazy dude chucking a rock at my friend so don't expect all roses and perfume! Remember it's still a 100% Islamic state and there are people who bear grudges against the white people for our colonial past (and ultimately breaking up their nation into 3 separate areas) and more recently for the wonderful work Mr Bush has done to antagonize and alienate an entire people. Don't fret though, I promise you will be blown away by the vast majority of SomaliLander's hospitality, affability and warmth and I couldn't recommend it highly enough.
WHERE SHOULD I VISIT?
Ok, down to business. It's not easy to travel around Somaliland and that's an absolute fact, and as i mentioned when you leave the capital it's mandatory to bring a police escort, but at $10 a day I'm sure the budget can stretch and besides it's a great story to tell when you get back home
There are 3 main places of interest in Somaliland – Hargeisha, Berbera and Laas Geel. All of which you'll want to see but 2 of which are far from easy to arrange on your own…
Hageisha is the capital and is a nice place to stay for a few days and absorb the unique culture. There's not too much to see in terms of sights aside from the market on Indepance Road and the Mig Jet Statue.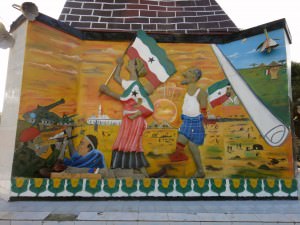 WHAT DO I DO ON ARRIVAL?!
My advice would be to head straight to Independence Road, which is in effect the city centre, and find some accommodation there. I stayed in the Siraaj Hotel, opposite Jama Mosque and for $8 a night you can get a twin room, en suite with a fan and TV, awesome staff and cleaner than my own bedroom! There are plenty of similar hotels around the market there.
When you arrive in Somailand, unless you're flying, you'll have to return to Ethiopia, which means you'll need another Ethiopian visa. You can get this in Hageisha but it can be a bit tricky.
First you have to go to Somaliland Immigration and get a letter of recommendation (costs $10 although I'm pretty sure that went in the guys back pocket). You also need 2 passport photos, a photocopy of your passport and a photocopy of your entry stamp to Somaliland. You have to do this before 11am.
After that you need to head to the Ethiopian Embassy, again before 11am, hand over $20, another 2 passport photos, your letter of recommendation and plead to get your passport back the same day which is possible if the guy likes you, if not come back tomorrow :S
Job done!
The bureaucracy doesn't end there though!  So you have your Ethiopian visa, you have a nice hotel in the city centre and now you want to venture out to Berbera or Laas Geel…
Berbera is a beach town about 100km from the capital. On paper it's simple, take a public bus, whack on your swimmers and jump in – not so! It's illegal to take a public bus outside the city as a foreigner, so you need to rent a car. But it's also illegal to drive without a 'bodyguard' so you need to arrange that too. Head to the Department of Tourism and speak to the director, who can arrange the guard for you at $10 per guard per day. 2 people will require 2 guards, 3 require 3 and so on. Renting a car is around $20-$30 for the day and is easy to sort out on Independence road.
Laas Geel is awesome. Basically, its hundreds of Neolithic rock paintings in a networtk of caves and it was only discovered in 2003, crazy eh?! This place will be world famous when the international community begin to recognize Somaliland as a republic so get there now before the hoards of tourists turn up and ruin it all! And you can triumphantly declare you were there before the Starbucks was built at the entrance 😛 Again, you need to rent a car and brings a bodyguard so either try to do a day trip to here and Berbera in one day or make sure you have enough cash to rent them for 2 days, including dinner and accommodation.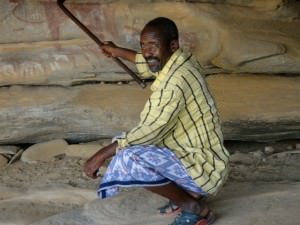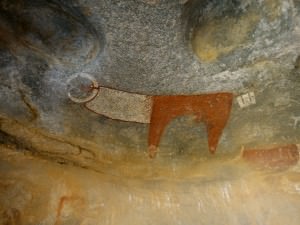 Alternatively, the Oriental hotel can organize all this for you and set-up a day trip to both places. Naturally you pay a premium for this service but it's pretty user friendly and if time is an issue this will be much quicker than doing it yourself.
Somaliland
Budget: $10-$15 per day (excluding bodyguards and car rental)
Food: around $2 per meal and pretty delicious (spaghetti is their staple carb believe it or not)
Accommodation: $3-$10 per night per person
Transport: tough to use public transport but about a dollar an hour if you dare…
People: ridiculously friendly aside from the odd hardliner who mightn't love your presence!
Weather: hot hot hot, bring suncreen and drink plenty of water
Religion: 100% Muslim so try to be culturally sensitive in terms of behaviour and dress.
Currency: NO ATMS HERE, BRING USD. 6000 shillings is $1 USD (note: their biggest note is 500 shillings, about 15 cents!, change up $50 and you'll feel like Michael Douglas from Wall Street I promise)
Visa: $30, not available on arrival by land. Get in London, USA or Ethiopia