When you board a train that will slowly transport you a roos hundreds of kilometres these is some what of a romantic feel and a sense of adventure to your journey. You will also feel like you are learning about what it was like to travel before budget airlines came in to being. Affordable Australia rail tours are quite easy to find these days and are well worth the money.. Travelling by train is a very relaxed affair, even the wait on the platform is miles better than any airport queue.
Below are 2 of the best rail journeys Australia has to offer.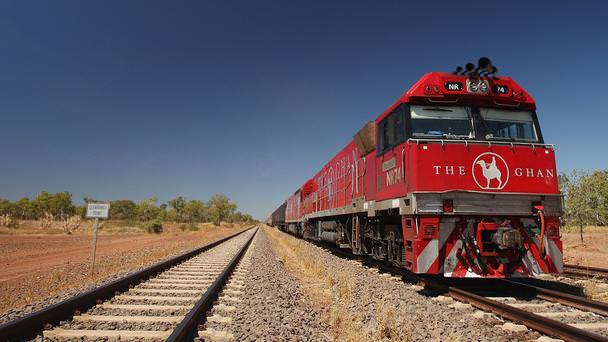 1. Spirit of the Outback
It's difficult to beat the feeling when you choose this legendary train, once aboard you will taken away to explore the Australian outback.
The journey along the Queensland coast from Brisbane and then onto amazing plains of Longreach is over 1, 325 kilometres long. If you are a keen photographer then this is definitely one rail ride you don't want to miss, the scenery is beautiful and the towns are typically Australian. One of the more famous towns you will see is Winton, the town was made famous by a song everyone in Australia knows, Waltzing Matilda.
There are very comfortable sleeping compartments inside the 15 carriages that make up the Spirit of the Outback. You can walk about the train quite easily as there is ample space, if you're feeling thirsty there's a cold beer on offer at the Stockman's bar. The bar is great place to chat with other travellers and exchange tales.
2. The Ghan
There are few rail journeys in the world than can out score The Ghan when it comes to romance, this is a transcontinental denture that chugs across a huge 2, 979 kilometres. The Ghan will take you north from Adelaide to the outback, and then on to the continent's north.
The name 'Ghan' comes from Afghan cameleers who managed the ships of the desert in the outback's cattle stations and settlements, Most seasoned rail travellers agree that this is definitely a luxury train journey that must be ticked off the bucket list. The journey takes a whopping 46 hours, you'll travel between Darwin and Adelaide, you will go via Katherine and Alice Springs, there are quick tours on offer for each town.
When you go on this journey you get a true sense of just how big Australia really is, you will spend countless hours going through empty plains and desert landscape.
This train is very will kitted out, it has five star cabins and very posh club lounges where you can  while away the hours chatting to other rail travel enthusiasts. It it's not all up market aboard The Ghan, for those on a budget, there are seats available for those that don't mind waking up with a creaky neck. This is usually a popular option amongst backpackers because there are great deals to be had and big discounts on offer.