Belarus has been good to me, with an awesome couchsurfing experience, a splattering of UNESCO World Heritage sites, cute girls and delicious food. I hadn't planned to come to Western Belarus but after I'd heard about Brest Fortress I had my train ticket booked in no time (train from Minsk to Brest was almost 5 hours and about $8).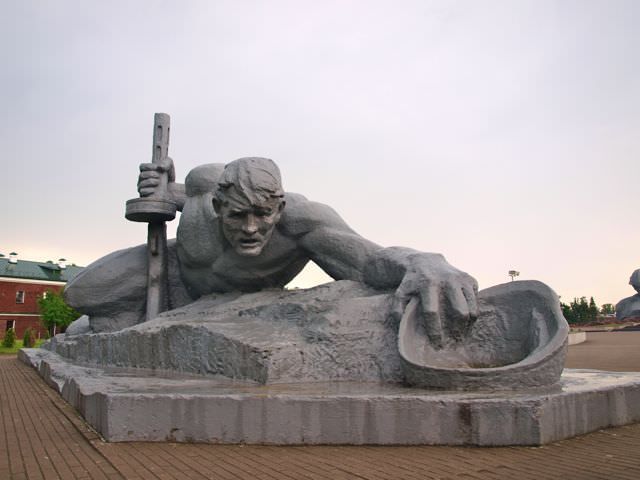 I arrived in Brest around lunchtime, and naturally there were no hostels. I found a cheap hotel near the train station (Hotel Buh, vulitsa Lenina 2, single room, $15) and miraculously one of the staff spoke a smidgen of English. A strained 5 minute 'conversation' later and I had directions to the famous Brest Fortress, it's about 2km outside the city so I thought I'd walk. Not such a great idea.
I had walked about 15 minutes and the heavens opened, not only was I walking but I was also wearing sunglasses, a tshirt, shorts and flipflops – well played Johnny boy, well played. So despite looking like an absolute fool, I persevered to the fortress.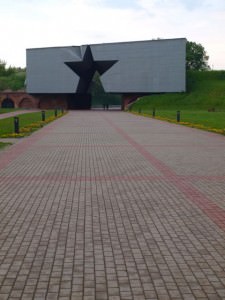 After 20 minutes or so I made it there, the sky was dark grey, thunder was filling the area and there was a somber mood around. Immediately you get struck by what could be the most impressive Soveit WWII memorial on the planet.  First up is the entrance, where you have to walk through a massive victory, Soviet star to get in. This thing is just huge, carved out of granite, and so imposing.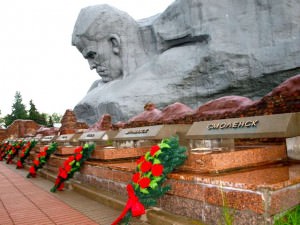 After you walk through the entrance (no ticket necessary) you walk past a row of tanks. There are 3 museums, 2 churches and a palace in addition to the actual 'fortress' dotted around the grounds, all of which are worth some of your time but none of which are the main draw.
As you leave the entrance star behind you see 'Valour' a massive rock sculpture with a soldier forcing his way onwards. Soviet war music is piped through the complex and it's no exaggeration to say I was standing there in awe, goosebumps and all. Beside the huge monument is a sky-scraping obelisk, and the ubiquitous eternal flame. There are also memorials, complete with daily fresh flowers, for those who died in their efforts.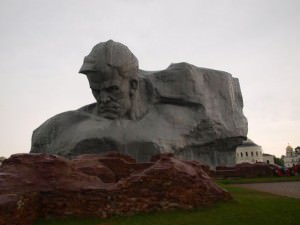 Just before all this is 'Thirst', a much smaller monument but every bit as inpisring. Carved out of stone, this soldier is straining for his helmet, representing the sacrifice and struggle the Belarusians went through in defeating Nazi Germany.
All the while the sky was grey, the rain was following, the mood was suitable glum. I never had thought I'd appreciate bad weather but this so apt, the pathetic fallacy in motion.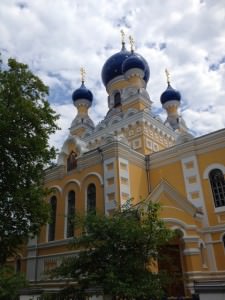 After visiting the museums I headed into Brest city to check out some more upbeat sites. Both St Nikolaiv Church and St Simeon Cathedral are worth the effort, and it's all walkable. I only spent 24 hours in Brest, and I'm so glad I made the effort to come here from Minsk. Next stop, bus to Lviv, Western Ukraine. Happy travels