I've come to the conclusion that the Lonely Planet writers either didn't come to Belarus, or spent very, very little time here. I rarely use their eating recommendations but in a moment of weakness (read: absolute confusion and lack of Russian skills) I cracked and went to their recommended 'budget' restaurant for lunch.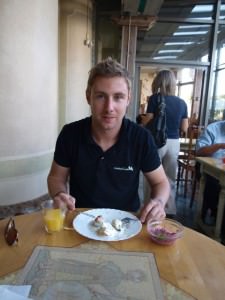 I'm not sure what constitutes budget in this day and age, but I'm pretty sure $20 for one dish for lunch isn't it. If I did that for lunch and dinner every day, I'd have spent $1200 per month before I even saw anything, slept or traveled anywhere!
Anyways, rant over. Moving on. Luckily I was taken to a true travelers venue. Slap bang in the middle of the city, cheap as chips and so delicious. I can safely say, for backpackers, this is the best restaurant in Minsk, if not all of Belarus.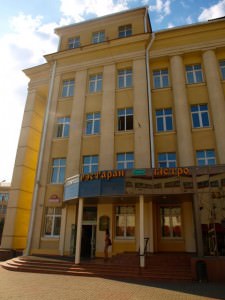 The restaurant's name is Lido, it's right at the entrance to the Yakub Kolas Square subway stop. Just look at my pics and you'll recognize it.
When you go in, you pick up a tray and start choosing. Stuff is priced per 100g, but a baked potato on it's own costs $0.15, with some cheese and garlic sauce make that $0.55. Pineapple juice, $0.40. Chocolate brownie? $0.60. Doesn't get much better than this.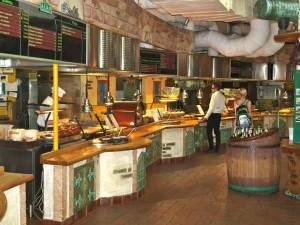 Lido is a great place to try all the traditional foods too, with borsch, Belarussian potato pancakes, cold beetroot soup (not as bad as it sounds) and all the other local delicacies on offer. I could hardly walk after I had finished here.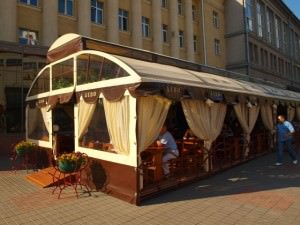 3 courses, 4 juices, an extra dessert (just for the road, you know how it is) total price = 50, 000 Belarussian Rubles, about $6. See you tomorrow Lido. Happy travels!