Burma's biggest draw is their awesome temple complex at Bagan. Rivalling Angkor Wat as the most impressive temple complex in the world, the Bagan temples come without the tourist hordes, relentless hawkers and overpriced fees.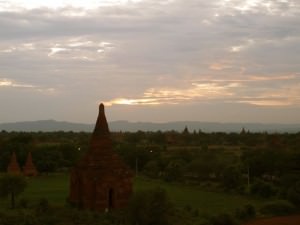 Bagan is located roughly between Burma's two main cities Yangon and Mandalay. You're transport doesn't actually run to Bagan proper but rather to Nyaung U where the bus station, ferry dock and airport are found. Nyaung U offers the best backpacking options in terms of food and accommodation too, much cheaper than New Bagan.
FROM MANDALAY:
To get here from Mandalay you can take a 6 hour bus, leaving at around 8am from the local bus station ($13).
Or, if you're lucky with the timing, you can take a ferry down the Irwawaddy. It takes around one day and costs between $10-$20. The daily private ferries only run in the dry season (September to March) but the twice-weekly (Sunday and Wednesday) Government ferries try to run year round depending on the water levels.
A train leaves Mandalay around 6am and take approximately 9 hours (often late), it costs around $14.
There are also daily flights plying the route – costing around $70. Easy to book with any travel agent across Burma.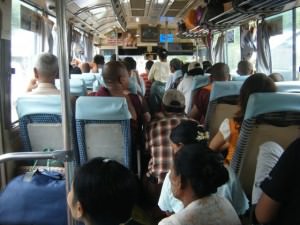 FROM YANGON:
By bus it's a bit of a trek. It takes around 16 hours + and costs around $25-$30. Leaving from the Yangon bus station (Aung Mingalar Station – about 40 mins from the city centre) throughout the day, when you arrive you'll be hassled by touts to take their bus – choose wisely, the quality can differ quite a lot.
Flights run around $90 USD and run every day.
This journey can be quite tedious, in all honesty it's better to head to Mandalay first and then onwards to Bagan (Nyaung U), it's a much more logical choice.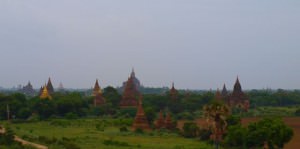 When you finally arrive in Bagan, whether it's New Bagan or Nyaung U, you can finally enjoy the amazing sights on offer. I would recommend two days of temple watching. On arrival you'll get offered a lot of tour services and generally most people take a day trip with either a horse and cart (one day $16, good fun), an air-con taxi  ($50+, older people with more cash) or go with a map and a rented bicycle (one day bike rental costs around $4).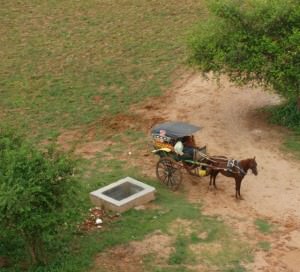 I reckon the best bet is to jump on the horse and cart with 2/3 people on your first day, see all the most physically impressive 'must-see' temples with the help of someone who knows their way around. The day should end with a cracking sunset on one of the climable temples within the complex.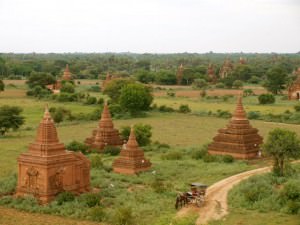 The next day can be more relaxed. Rent some bikes, grab a map from your hotel and off you go freestyling into the massive temple area. You'll have the place virtually to yourself, not a person in sight to ruin your amazing photographs. Just make sure to bring sunscreen and plenty of water – this place is hot! Head over to another famous sunset spot and your two days will be complete. Breathtaking.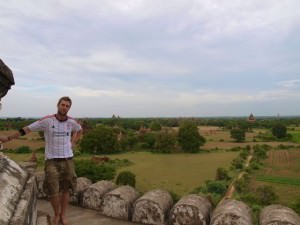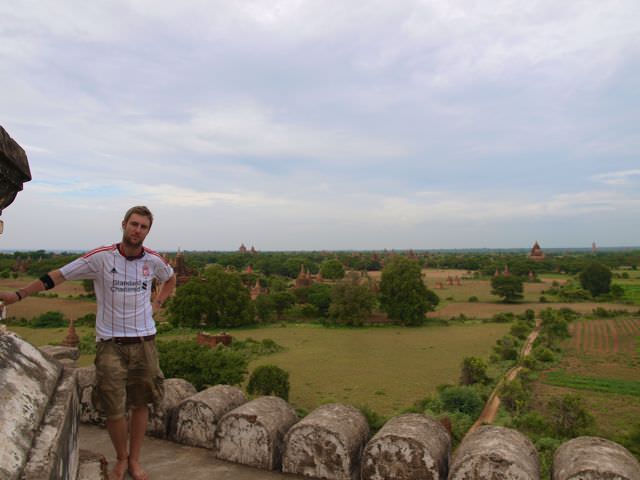 The Bagan temples, for me, outstripped Cambodia's Angkor Wat. It blew my expectations out of the water and now I'm going to be pushing Bagan hard to anyone in South East Asia so watch out! Get there before it gets ruined guys. Happy travels!