After getting far too excited about my upcoming trip to Europe (currently making my way there, in Mongolia at the mo) I'm trying to tick off some more bucket list activities.  Running of the Bulls is high up on my list for Spain, and so is La Tomatina, one of the most mental festivals around. Spain has something for everyone, from the madness of this, to  family holidays, to  awesome football matches. Anyways, my bucket list is brimming, and this is coming up soon!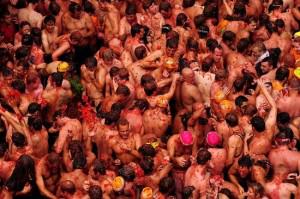 What is La Tomatina:
It's basically a crazy festival where up to 100, 000 people congregate in a town to throw tomatoes at each other for a day. The whole town gets stained red
Where is La Tomatina held?
It's only 30km from the Mediterranean, in a small town called Bunol, 40km west of Valencia.
When is La Tomatina?
It's held on the last Wednesday in August every year, during a week of festvials in the town.
How does La Tomatina work?
At 10am in the morning, people try to climb a greasy pole to get a ham at the top. Around about 11am, someone will knock the ham down, the shot goes in the air and the fight starts. Trucks come in with tomatoes, bringing them to the Plaza del Pueblo and people go crazy for one hour. 60 minutes later they shoot another shot into shot into the air signaling the end. The water cannons come in and hose the square (and the people) down, leaving the place pristine. Perfect!
Woman wanted to be part of the Bunol festivals but they weren't allowed. Then in 1945 some woman saw a vegetable cart and started throwing tomatoes at people as a protest The police removed them, but next year more people came and did the same. The rest is history!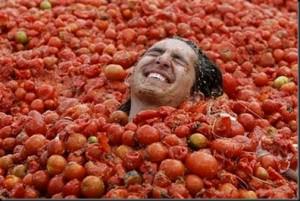 I'm hoping to time it right so I can be here for this, it really looks like a lot of fun. After the chaos of this, I could be looking at  Lanzarote holidays to wind down! Either way, I'll see u guys here this summer – happy travels!