A380 Emirates First Class Review (Dubai to London DXB to LHR)
I hope my A380 Emirates First Class Review helps you understand whether the ABSOLUTE LUXURY of flying First Class with Emirates is worth the price (or air-mile points). TLDR? If it's the A380, then yes, it's worth it!
It's super expensive, so when I was trying to decide whether to go for it or not, I spent a lot of time trying to find advice. And I couldn't find much. Of the little advice I did find, it was blogs like the Points Guy and One Mile at a Time who ALWAYS travel First Class. They had a zillion air miles AND they're used to the crazy level of Frist Class. They were used to the lavishness. So I didn't feel like their advice applied to me. This was a fortune for me, so should I do it or not?! Let me help you guys!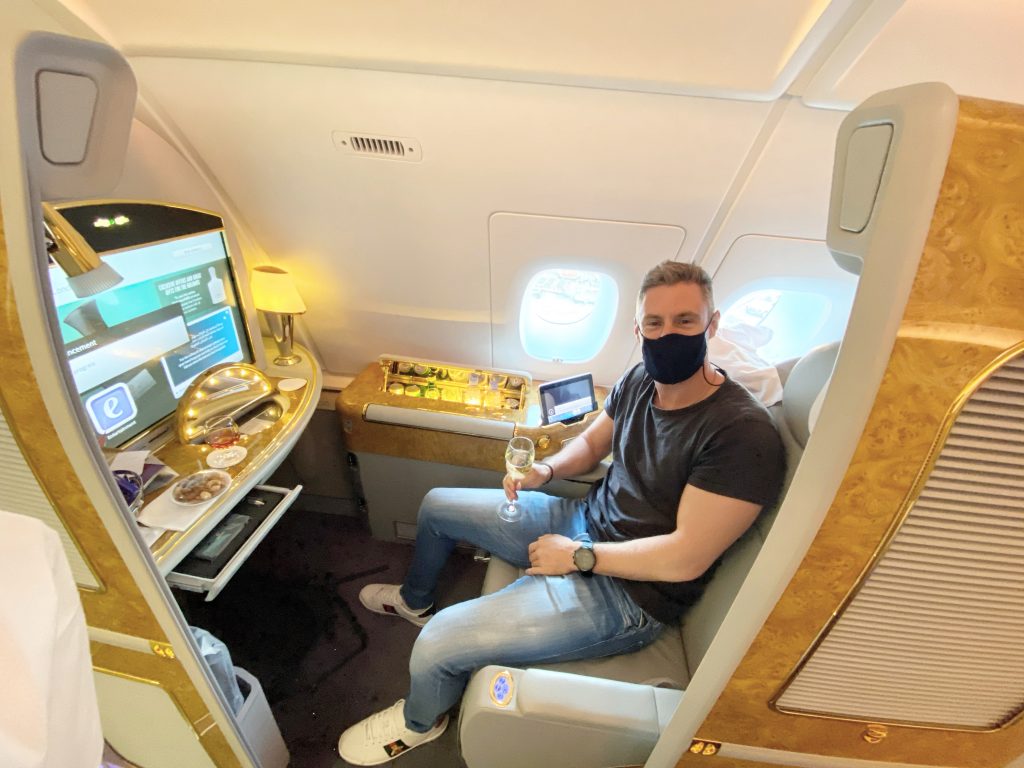 One thing I can honestly say is that yes, flying on the A380 First Class Emirates was worth all the airmiles and taxes it cost me (I explain how much exactly further down below). It was a huge bucket list item, and although it wiped out my air mile balance, I talk about the experience to this day. In fact, I'm saving them up to try it again!
But don't take my word for it. This A380 Emirates First Class Review is going to attempt to explain why I felt it was worth the cost. Every little detail of service and experience was pure luxury. From the service to the (copious amounts of) high-end alcohol. And yes, Emirates does serve alcohol on all flights, in all classes.
What does First Class Emirates Include:
For me this was the big question. If I'm going to splurge all my air miles, what do I get for my expenditure! So, on the A380 (NOT on the 777, be careful!) you get:
A shower (with heated flooring)! Limited to 5 minutes of hot water, but you get a huge bathroom to make yourself pretty before debarkation. With luxury toiletries too. *Not available on 777 First class.
A stand-up bar! This stand-up bar is an amazing feature available to First class AND business class. If you like to get a little tipsy on flights (like me) it's fun to order cocktails and meet people here. *No stand-up bar on the 777.
Your own suite/cabin/pod. On the A380 (or 777) you get your own cabin/pod with electric doors. The dream! And even more so during COVID.
Dine when you like – no set meal times. Just order whenever!
High-end alcohol, including $500 Dom Perignon P2 champagne or $1500 Hennessy Paradis cognac free flow. And of course any cocktails you want. I was on the Espresso Martinis.
Bvlgari branded amenity kit and the quality Emirates Pyjamas and slippers (which I still have to this day!)
Video call the attendants from INSIDE YOUR SUITE. You don't even need to meet anyone!
The MOST SPACIOUS First Class suite in the world
Skincare products from your vanity table (!?) and Emirates stationary to take home
The First Class Lounge in Dubai complete with a cigar bar, shower spa, in-lounge duty-free shopping, business center and wine cellar, and first class entrance run-way to board! This only applies if your flight startes from Dubai, try to ensure it does.
Chauffeured driver to or from the airport for 60km(but not if you book with points, like me, booooo).
Complimentary spa treatment in the First Class lounge in Dubai (and shoe-shine if you wish)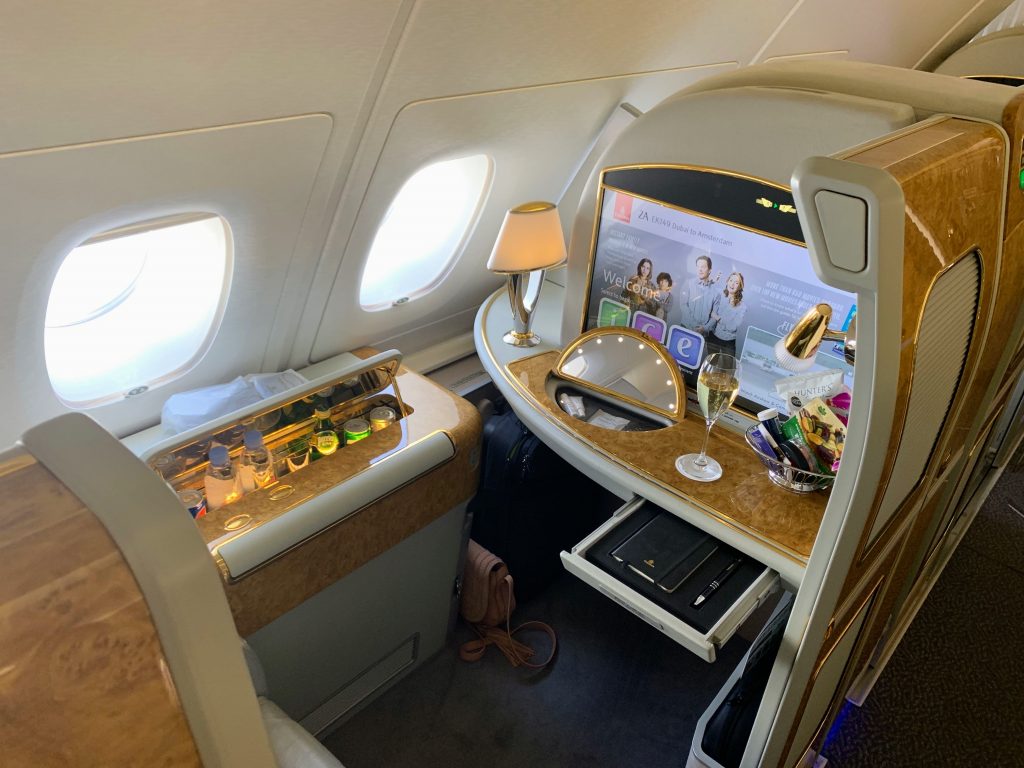 BOOKING FIRST CLASS WITH EMIRATES
First up, was of course booking first class with Emirates. This is naturally the first step, and also the point at which you choose to either. I'm reviewing specifically Dubai to London, the route I flew First Class. So the prices apply for that.
Pay cash. $7,373 (5300GBP)
Pay miles. 85,000 Skywards Points.
Pay cash (or miles) for business and upgrade to First: $2150 and then 39,000 to upgrade
TOP-TIP: Make your decision before you start booking anything! I booked business on miles, and then went on to upgrade once more to First. That was a BAD CHOICE! For another 10,000 miles or so I could have flown first all the way from Bangkok to London, rather than just Business Bangkok to Dubai, and then First Class Dubai to London. Don't make my mistake! Remember too, the chauffer service only applies if you pay the cash far, not if you upgrade with miles.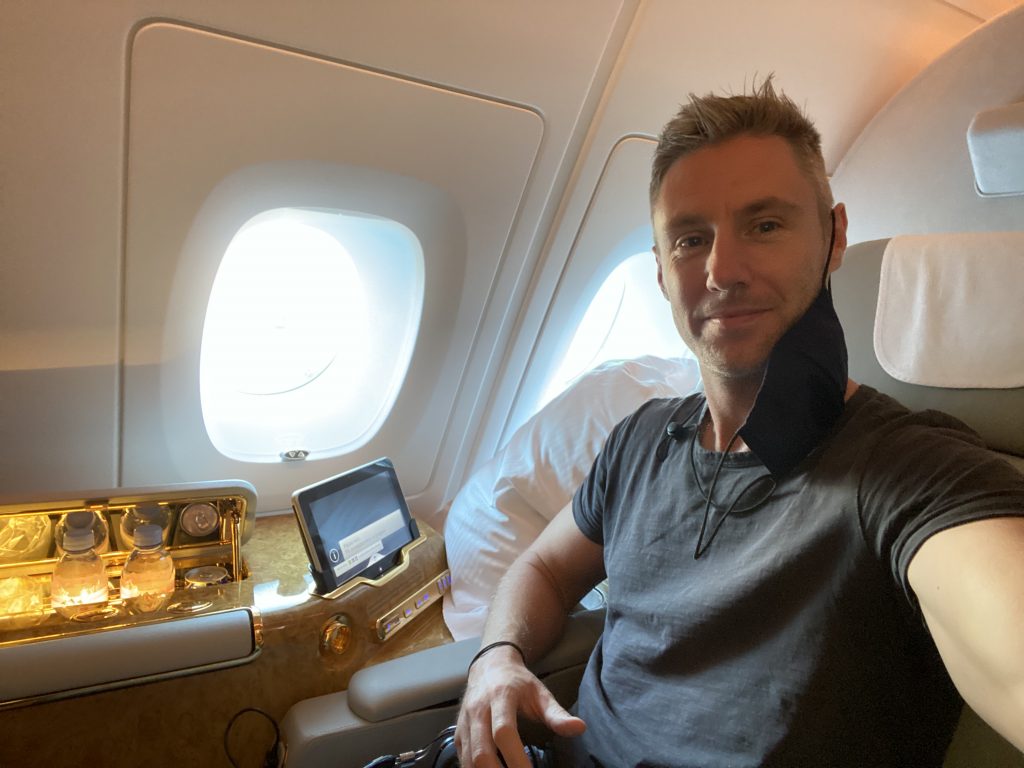 Checking in First Class With Emirates
Most probably, unless you're based in Dubai, you'll be traveling VIA Dubai, rather than your journey origin being Dubai. However, if you're in Dubai, the check-in for Emirates when you're flying First Class is perhaps the best service in the world with a dedicated First Class check-in, where you sit down and have 2 people do everything for you. Then a separate security procedure with no queue. Pretty amazing. The only thing comparable in my opinion is if you're flying Business or First from Doha with Qatar Air. That's also insane!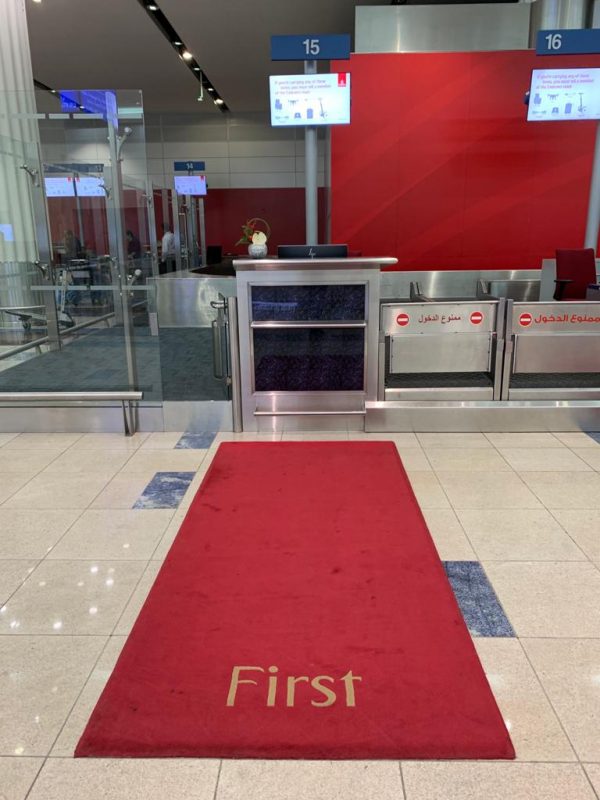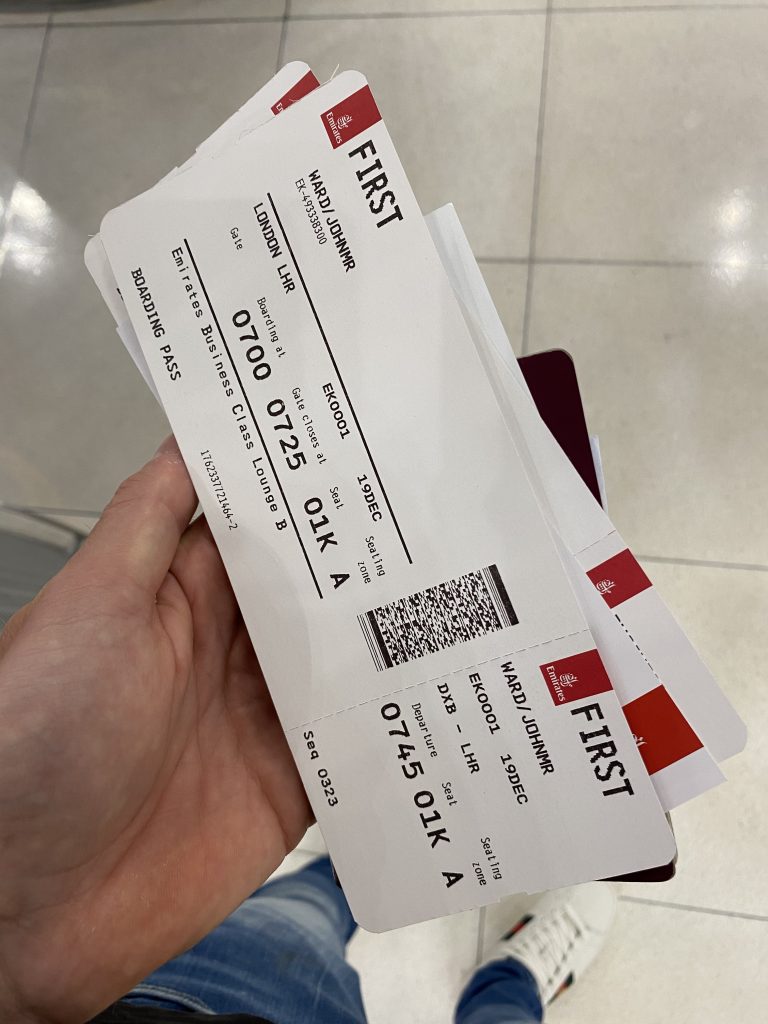 Emirates A380 First Class Lounge
A HUGE plus when flying First Class with Emirates is their First Class Lounge in Dubai. Now I know, maybe you have a Priority Pass which has been giving you lounge access for years, even if you're flying Economy (the AMEX Platinum in the UK includes the Priority Pass for free for me). So, like me, you think you're used to lounges. Then again, maybe you flew Business Class before with Emirates, so you've had access to the beautiful Emirates Business Class lounge. A big upgrade on the Priority Pass lounges. And then there is the Emirates First Class Lounge. Another level again.
In fact, my advice would be to book a flight via Dubai with a layover of at least 2 hours. If you have a choice of a quick 1 hour layover, or another flight with even a 4 hour layover, I would choose the 4 hour so you can fully appreciate the amazingness of the First Class Lounge (and get your money/miles worth for the Emirates First Class experience!). But why so special?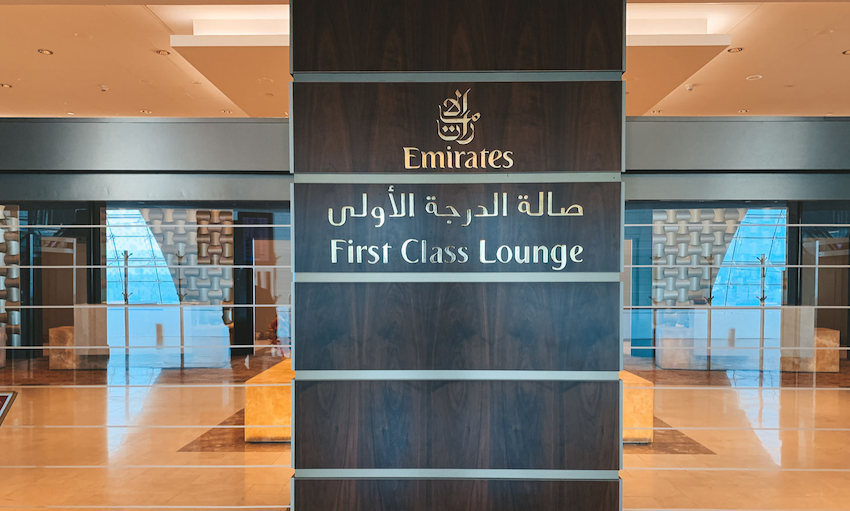 It's home to the Le Clos Wine Cellar, a quiet area (where you can sleep), a cigar bar, and direct boarding via a specific first class channel. It is HUGE. Like the same size as an airport kinda HUGE, and you might share it with 10 other flyers and about 100 staff. They have high-end brand shops here so you can purchase in peace (or window shop, like me).
There are high-end buffets dotted throughout. Quality booze, amazing snacks. The quiet area, while not being a 'bed' per se, has 'day-beds' (sofa type things) with pillows and blankets. And then of course you have the actual restaurant. A full a la carte experience where you can order pretty much anything you want.
If it's a spa treatment you want, you have that too. In fact, you even get a complementary treatment as part of your first class booking.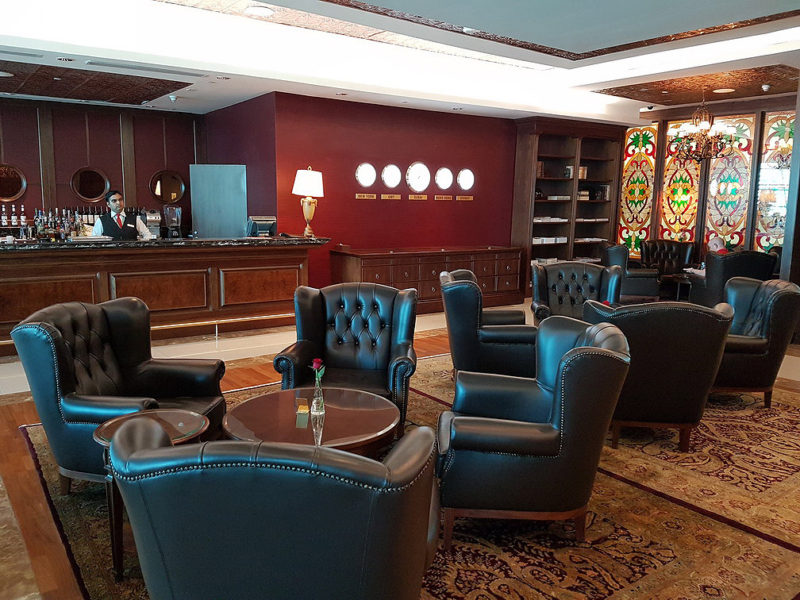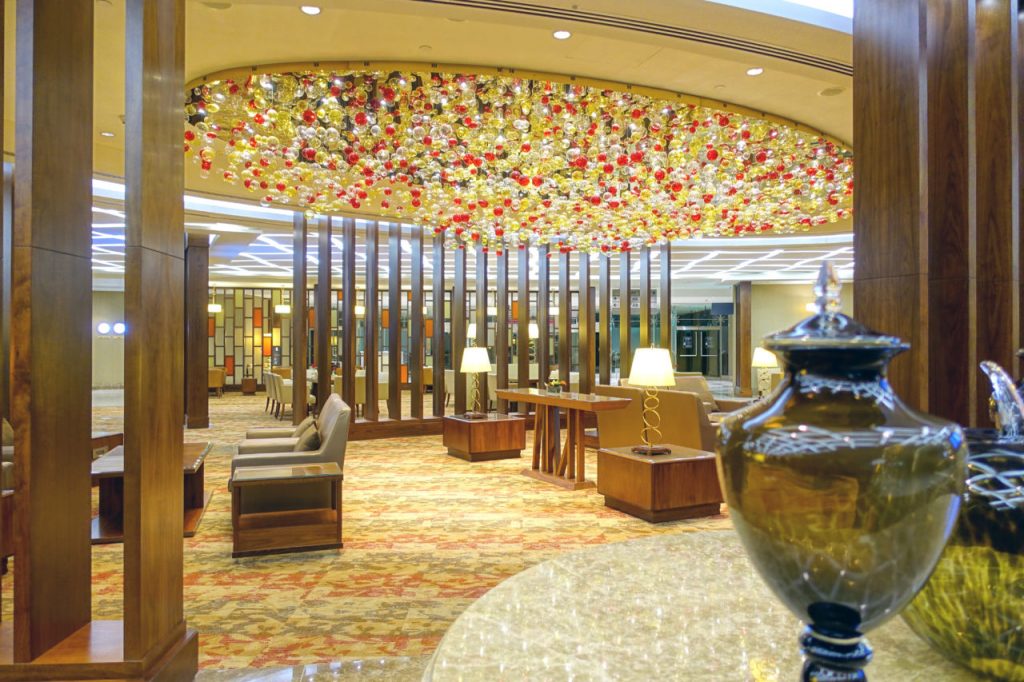 A380 Emirate First Class Flight Review & Experience
I had just flown Bangkok to Dubai in business (which is already great) so I was so excited to fly the next leg, finally, in the famous A380 First Class. After boarding through my direct gate onto the plane, I had chosen Suite 1A. Actually, 1A isn't the best 'suite' in First Class because you only have 1 window as opposed to 2. However, despite knowing that, I booked it anyway because I always dreamed of being in Seat 1K, so now I was!
Walking into the First Class cabin, if like me you have never done it before, is pretty exciting. Seeing the Suites finally is pretty cool. I walked up to the very front (Suite 1A remember) and made myself comfortable. I had a very -attentive cabin crew person introduce herself and explain she'd be my sole point of contact, and to book the time for a shower, I can tell her. She went on to explain I can eat and drink as much, or as little, as I'd like and at any time of the flight.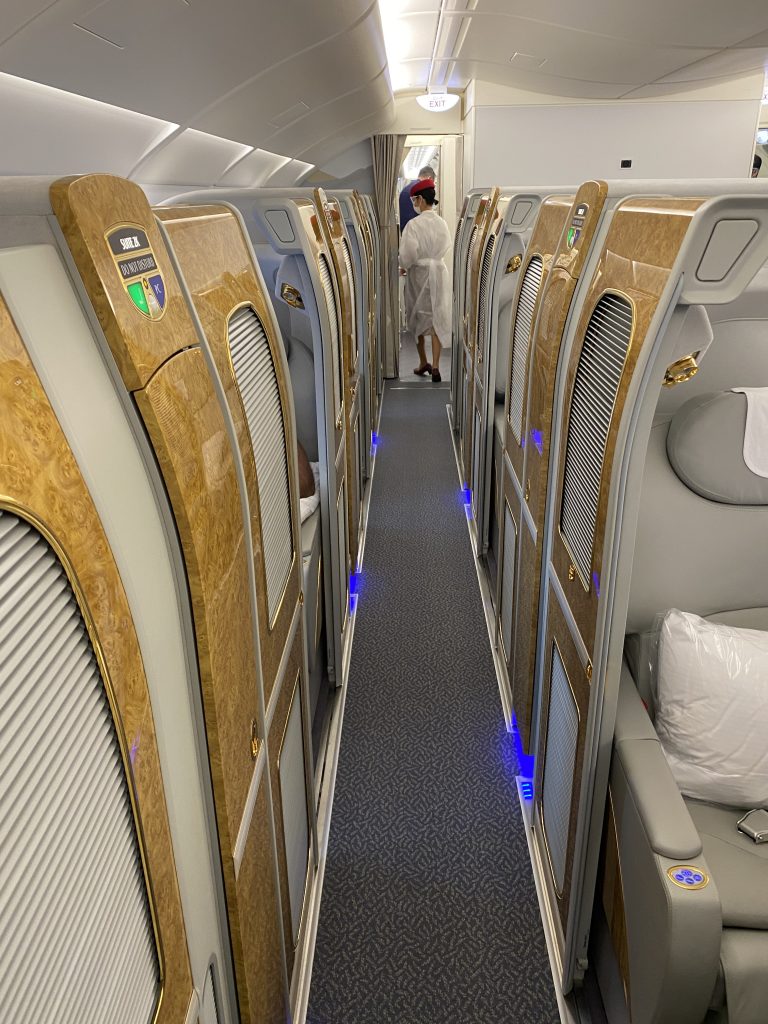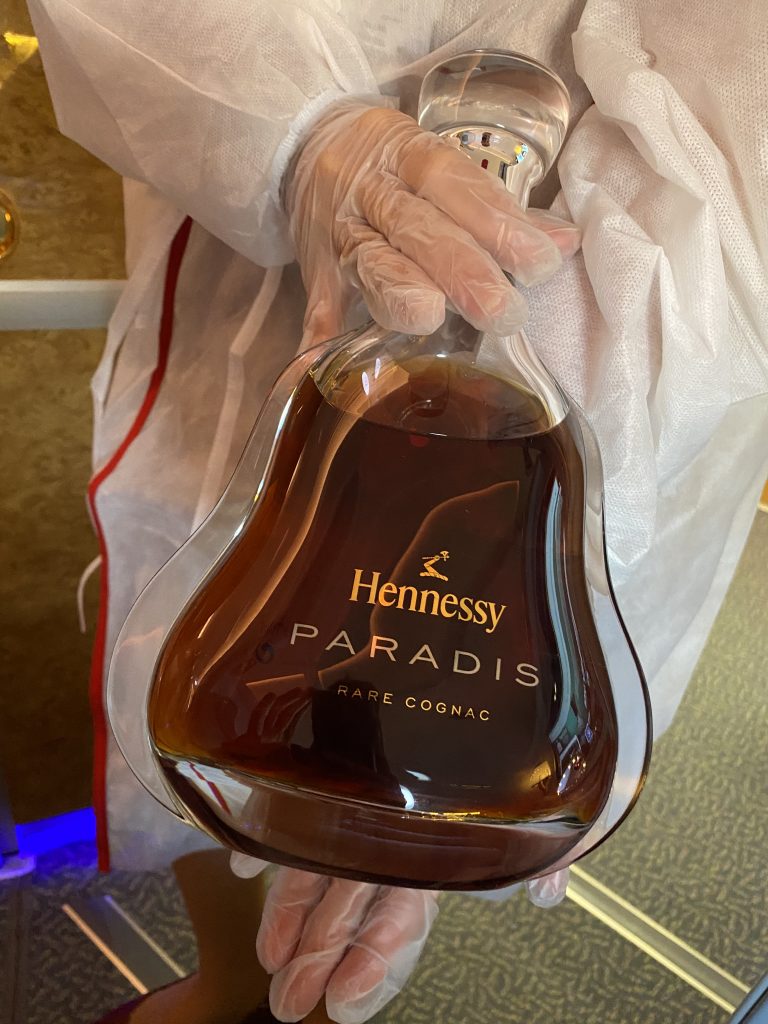 At this point, my ego considered pretending I 'belonged' there. But I cracked and told her it was my first time and I was super excited! A good choice in turned out as she was then even more helpful and friendly. I asked her about the $1500 cognac that I had read about. 60 seconds later she brought a bottle to me to take a pic and "Would I like to try it before the flight took off? Yes please!
So Champagne and cognace was a great start to the flight. I didn't even want a shower to be honest, but I DID want to experience the First Class amenities, so actually I booked the first available shower slot, 30 minutes into the flight so I could then get back to my Suite and enjoy the whole flight.
The flight attendant asks all about your drinks preferences, and how you'd like the flight to be. Sleeping? Chilling? Drinking? And with that she left me to explore the suite. And wow.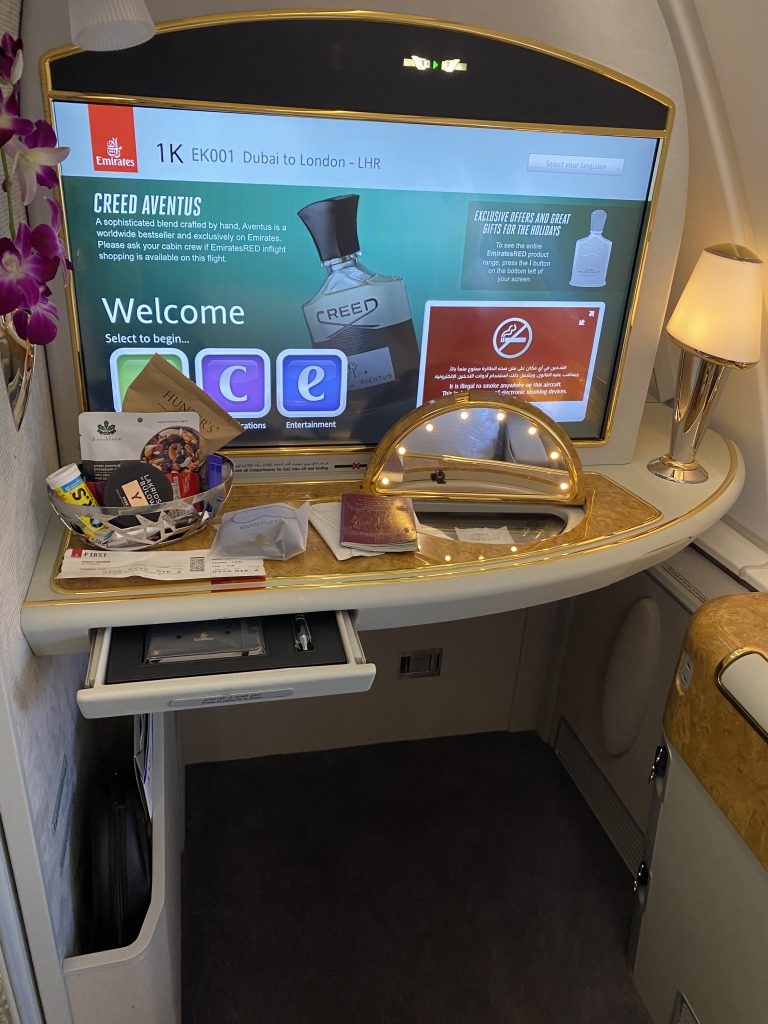 Amenities
I closed the Suite Doors (electronic of course). Then I got down to exploring my cabin. There was technology, and little luxury gifts everywhere. The actual Amenity Kit is the highest-end I've ever seen in all my business class experiences. A proper Bvlgari wash bag, with Bvlgari toiletries. The washbag alone must be $100? And you get a full cologne/aftershave as well (Another $75?) amidst mostiruisers, lip balms etc.
In addition to that, you get the famous Emirates Pyjamas. These aren't some token throwaway kit. Proper clothing, branded with Emirates, complete with furry slippers. Unless you're always flying First Class, you'll be keeping these (like me!).
At the front of the Suite is a desk to work (ermm, no thanks, keep the Champagne coming!). In here is a set of note-pads and pens, all Emirates branded, and you can take them home. Beside that, there is a pop-up vanity mirror and a shelf full of skin-care products from Byredo, and even sleep oil and pillow mist too!
There is also a pop-up mini-bar with waters and cokes. It looks cool, and the electronic pop up is snazzy. But when you essentially have a butler waiting outside your cabin, it's a little unnecessary truth be told. There is a box of high-end snacks too. Nuts, posh chocolate etc.
Finally, you have your noise-cancelling earphones (but you don't take these home unfortunately) Bowers & Wilkins.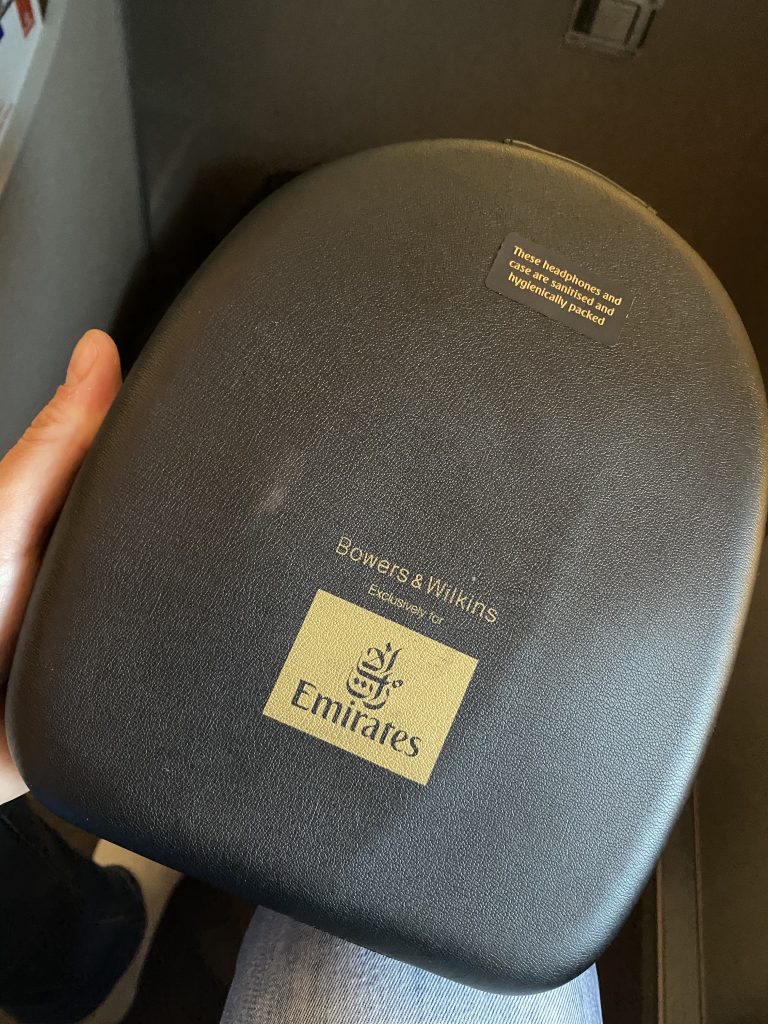 The A380 First Class Cabin
The largest first class cabin in the sky at 23 inches wide. What more can you say? You close the doors and it's private suite. It's SUPER spacious. Like a private little movie theatre, with controllable ambient lighting. As soon as I closed the suite doors, it was pure comfort and luxury.
Also, if you're new to this high-end flying, as I was, the fact that you can close it off and then explore like an excited child without people seeing you, is great!
The seat controls are hugely variable, from full-on lay-flat bed of course, to movie mode, to eating mode, and everywhere in between. Even a massage function exists. I spent most of the time almost flat, champagne and water on one side, whiskey or cocktails on the other. Being fed endless snacks and amazing food.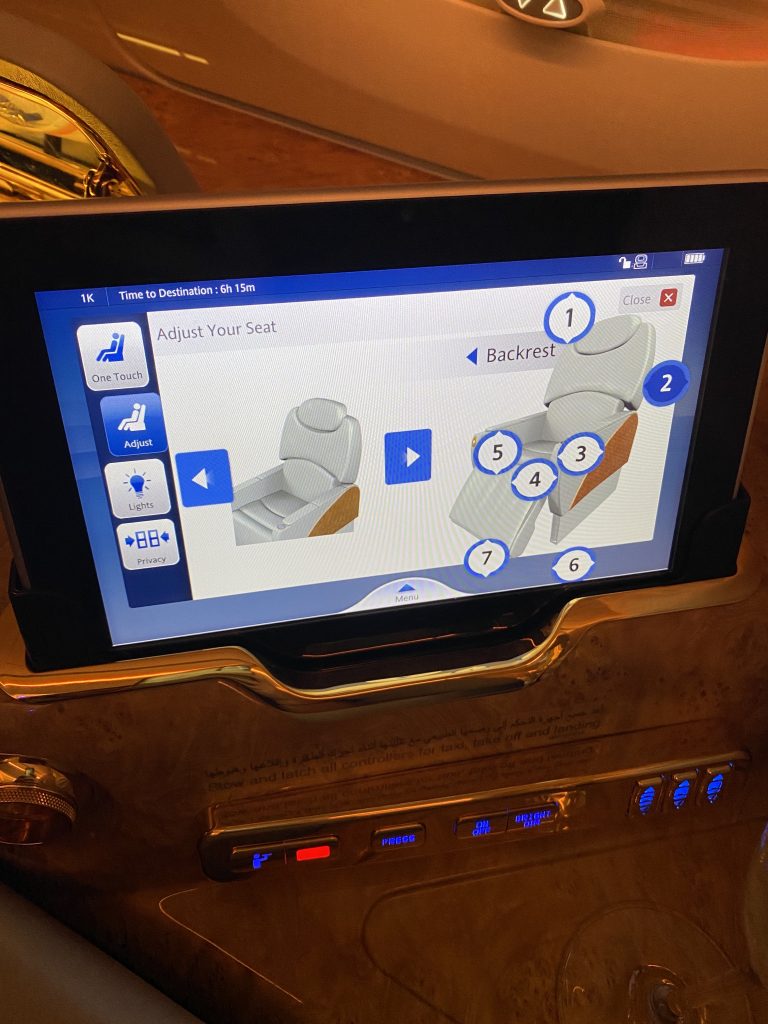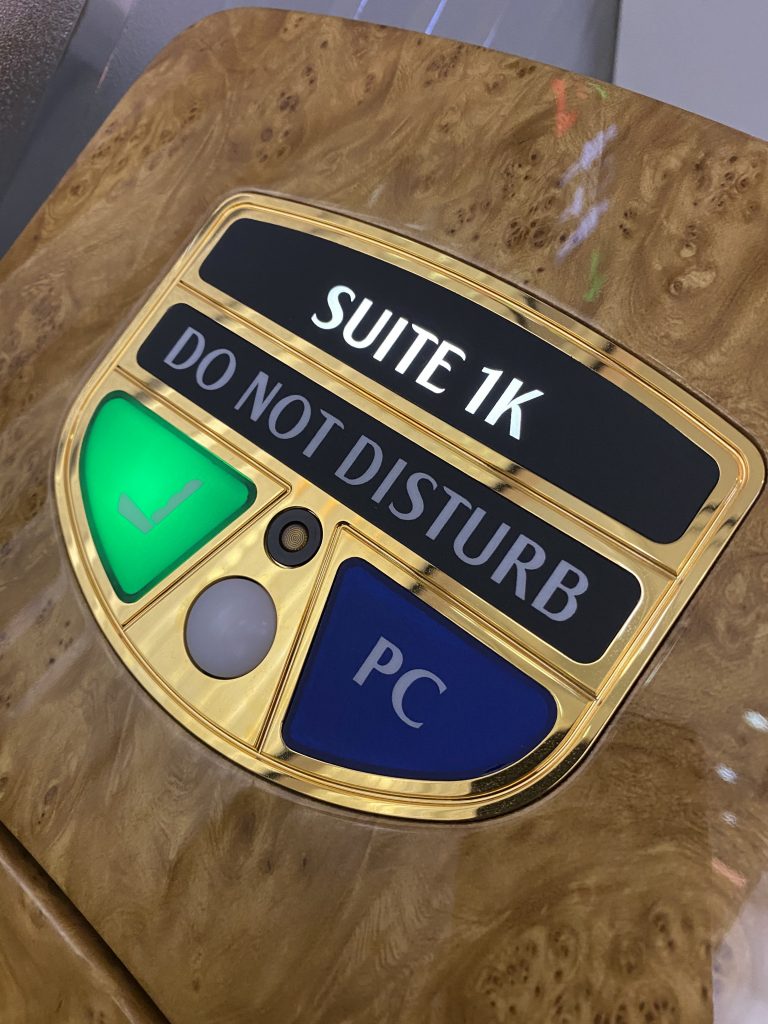 Emirates First Class Food and Drink
I've been a vegetarian for years, so often when you go for premium services, or high-end restaurants you can get a little short-changed without the meat. Now with Emirates First Class. The food was tip top. And the drinks even better.
For the drinks, Emirates First Class has the most expensive alcohol in the skies with the Hennessy Paradis (ranging from $900 to $1500 a bottle). And Dom Perignon P2. They also have Johnnie Walker Blue Label for their whiskey choice. All really top-of-the range drinks that you could expect to be paying $30-$50+ a glass in a bar. You can also order any cocktail you like, either on the menu or something you personally choose.
And of course, the wines are all of a similar caliber too, retailing at $100ish a bottle wholesale, or $300+ in a restaurant. Everything is just delicious!
The dine-when-you-want concept was invented by Emirates, so that's really unique and something I think only them and Qatar offer. The food is served on Royal Doulton fine bone china with exclusive Robert Welch cutlery. And the food choices are wide. Then there are the endless snacks on offer. If you don't leave fatter, and a little drunker, you're not trying hard enough!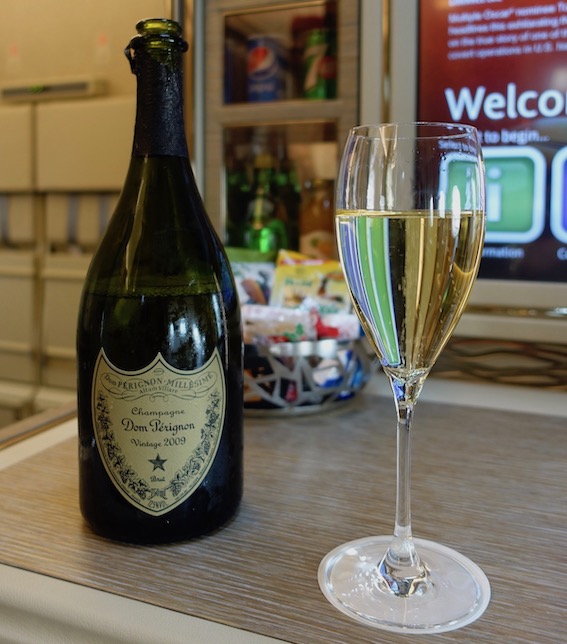 Emirates A380 Stand-Up Bar (Business Class and First Class)
My favourite thing about flying either Business Class or First Class on Emirates A380 airplanes is the stand-up bar. Especially if you're flying with friends. It's the ultimate lavish experience.
Ordering cocktails, standing chatting to he 'barman' or siting on the lounge chatting to other people on your flight. I love it. And sometimes I spend more time here than in my Business Class seat BUT this was my first time flying Fisrt Class so I only had one beer here, and then quickly made my way back to my 'Suite' to maximise my experience there.
But if you are flying business class, or if you fly First Class regularly, then the A380 stand-up bar is the coolest thing in the skies in my opinion.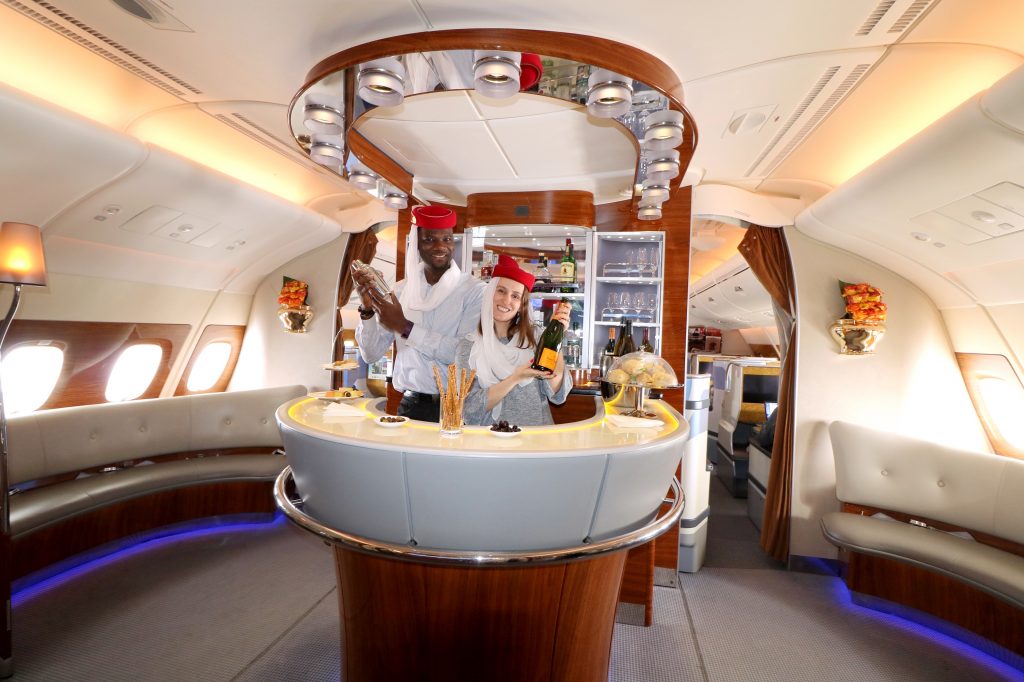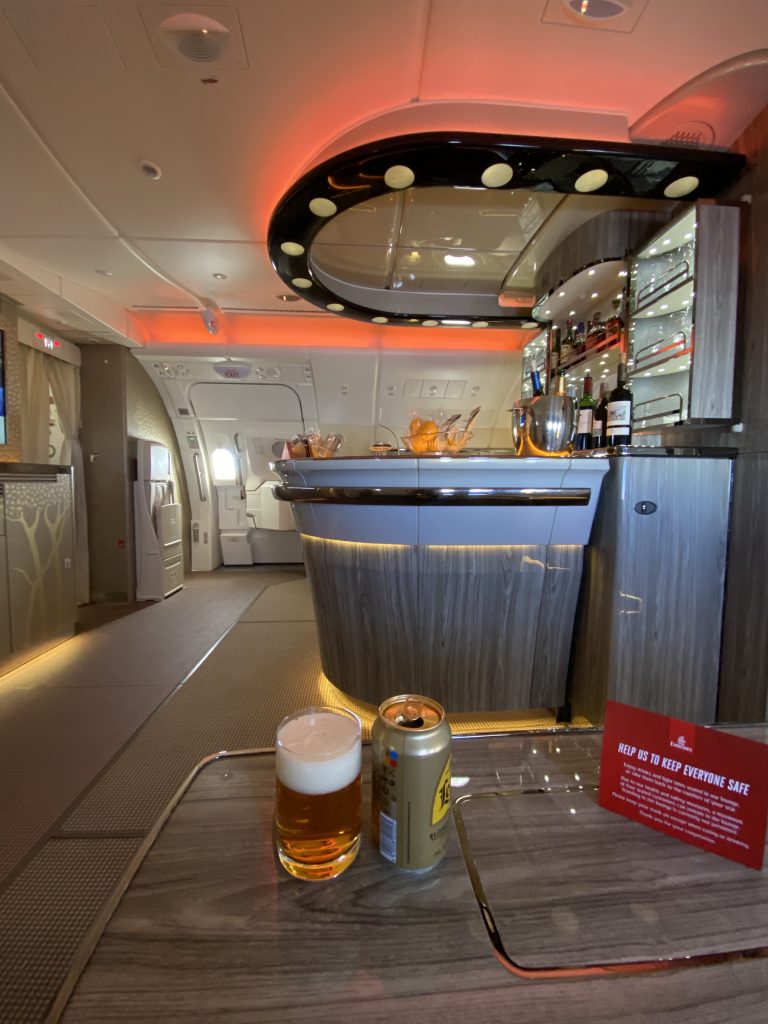 THE EMIRATES A380 FIRST CLASS SHOWER EXPERIENCES
Ok, the piece de la resistance of the Emirates A380 Experience. The onboard shower spa. This is quite the luxury. Even more so if you think you have amazing lounge access with your First Class ticket anyway. The only way to 'justify' it would be if you fly super long-haul (Dubai to Sydney perhaps?) and then you need to go straight to a meeting. But whatever, who cares. You don't have to justify it. You paid for it with miles or money. So enjoy it.
And enjoy it I did. The way it works if you only get 5 minutes of ht water, but you get 30 minutes to enjoy the spacious bathroom so you're in no rush to get in or out. Your cabin crew/butler will offer you the chance to book your 30 minute session when you first sit down in your suite. At any point throughout the flight. Like I mentioned above, I didn't need a shower but I wanted to experience it, so I opted to do it straight away, then kick back in luxury, without any distractions, after.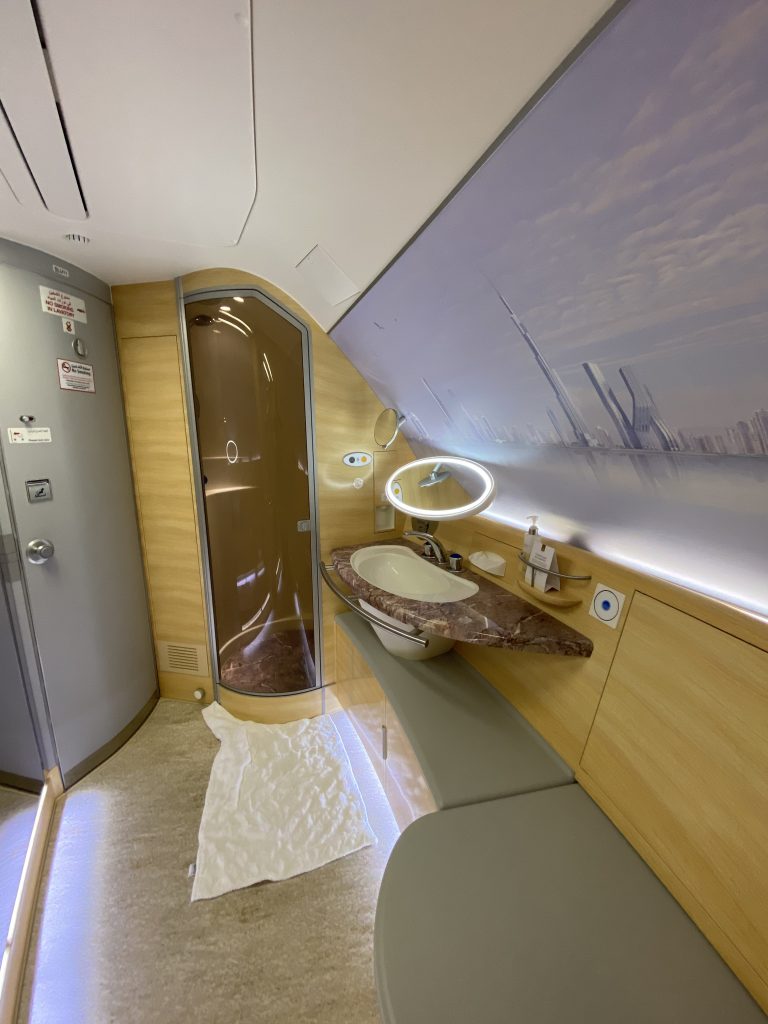 You enter the bathroom and it's the opposite to every other airline bathroom experience. It's HUGE. Like a walk-in wardrobe. You have robes, towels, and high-end showergetls and shampoos. Take your time, you have 30 minutes.
The actual shower has a stop/start button with a gauge running from green (5 minutes of hot water left) to red (no hot water left). You can pause and restart if you want. Once your five minutes is up, make yourself beautiful again with the vanity table and toiletries and retire to your suite. Madness!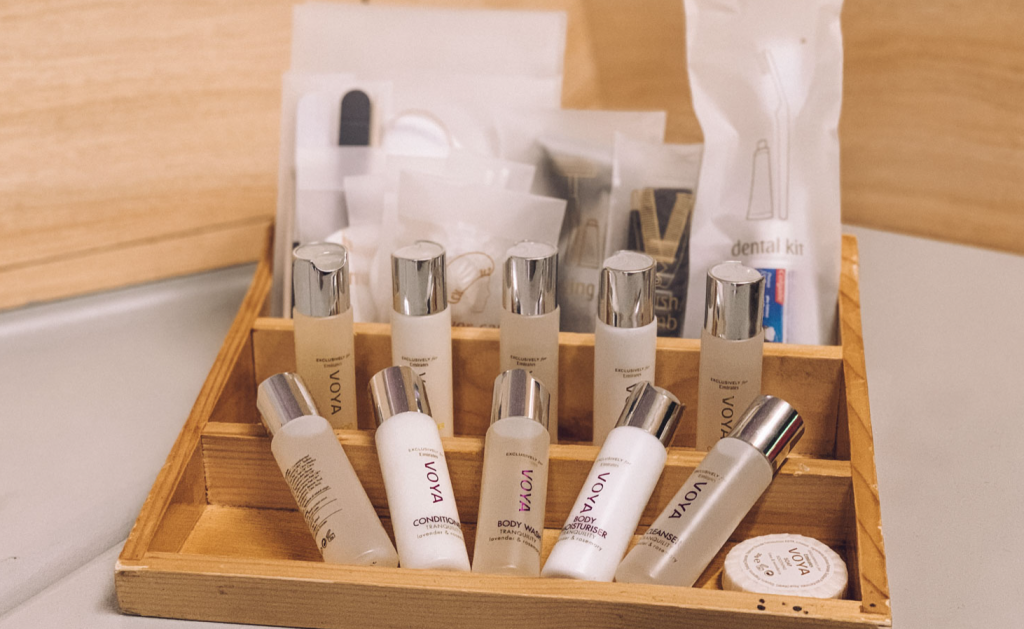 Should I Book A380 Emirates First Class or Business Class
The truth is, believe it or not, the difference between Economy Class and Business Class is the same difference between Business Class and First Class. When I first worked out how to collect air miles and started to fly Business Class, I never believed that First Class could be much better. But it is!
And this is doubly true if you fly with Emirates on the A380 – that's the airplane where First Class gets you a pod and… THE SHOWER!
The main question I was wondering was whether I should use my Airmiles for 2 or 3 business class upgrades OR splash it all on one first class. In the end, I did splash it, and I'm delighted I did. BUT only because it was the A380. So the answer for me is, if it's the A380 Emirates First Class product – then do it! If it's any other plane, don't bother.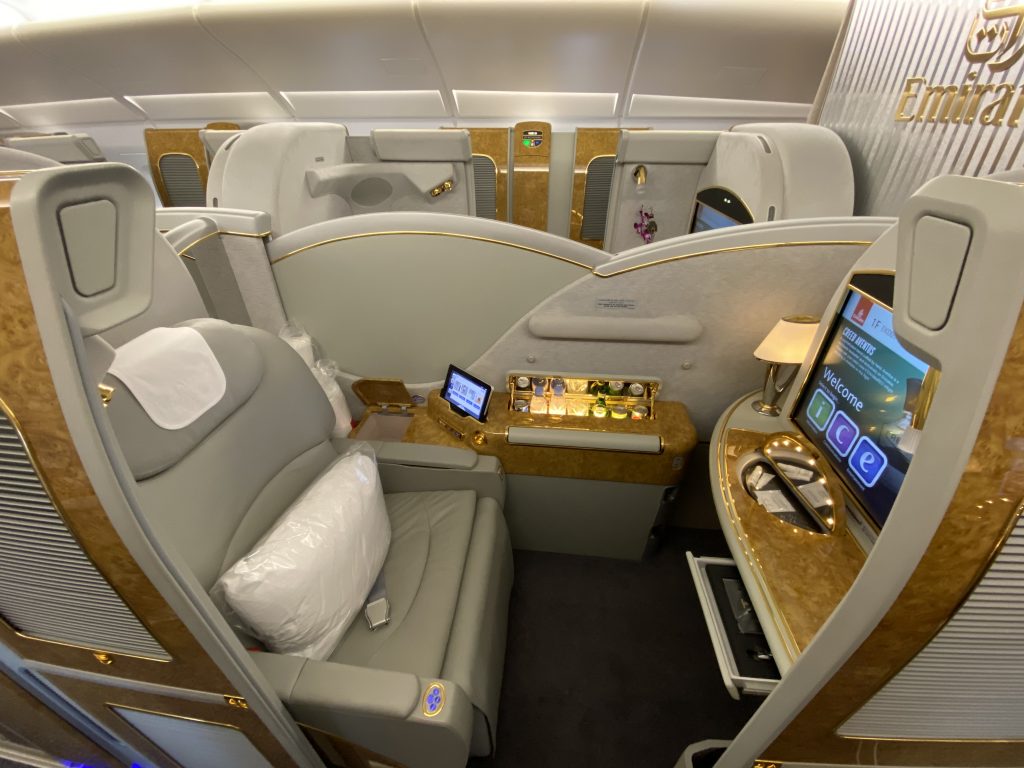 Disembarking
Not much to add here. You get priority of course. You get off ahead of Business Class and you get your bags ahead of business class too. If you paid cash, you have someone meet you and ready to chauffer you up to 60km to your home or hotel. I booked with points so I didn't get this sadly!
What is the A380 Emirates First Class Price from Dubai to London (DXB to LHR)?
The standard rate, if paying cash, is $7,373USD. OUCH!
For me, I booked A380 Emirates Business Class from Bangkok to London for 103,750 Air Miles + $177. I then got an option to upgrade the 2nd leg of the flight, from Dubai to Lond (DXB to LHR) for an additional 30,000 air miles. I took that option, meaning I flew business in Leg 1 (Bangkok to Dubai) and First in Leg 2 (Dubai to London). However, the first Leg wasn't on the A380, BOOOO!
If you just book DXB to LHR one-way, that's 85,000 miles. For the experience, that's a great way to spend 85k points IMO. Or even better, and what SHOULD have done, BKK to LHR for 141k miles (but I didn't decide to upgrade to First Class until last minute!).
Compare that to Business class – DXB to LHR is 62k and BKK to LHR is 103k miles. So just an extra 23k miles, or 31k miles for First.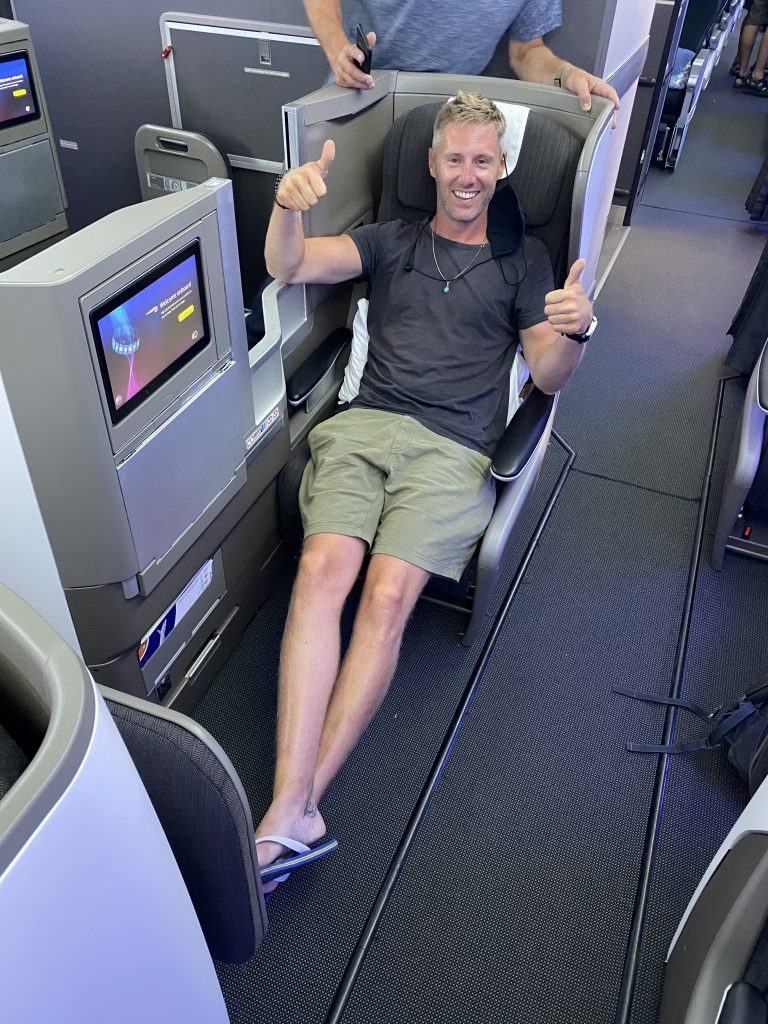 Final thoughts on my A380 Emirates First Class review
Flying First Class on the Emirates A380 was, without doubt, the best flight experience of my life. For me, it was worth every single air mile. I was excited for weeks in the build up, I enjoyed the WHOLE experience hugely, and then still, looking back, it was a great experience too.
I'd go as far to say that if you were to go to London or Dubai for the weekend, and fly First Class on the A380, then the A380 flight may well be the highlight of the trip!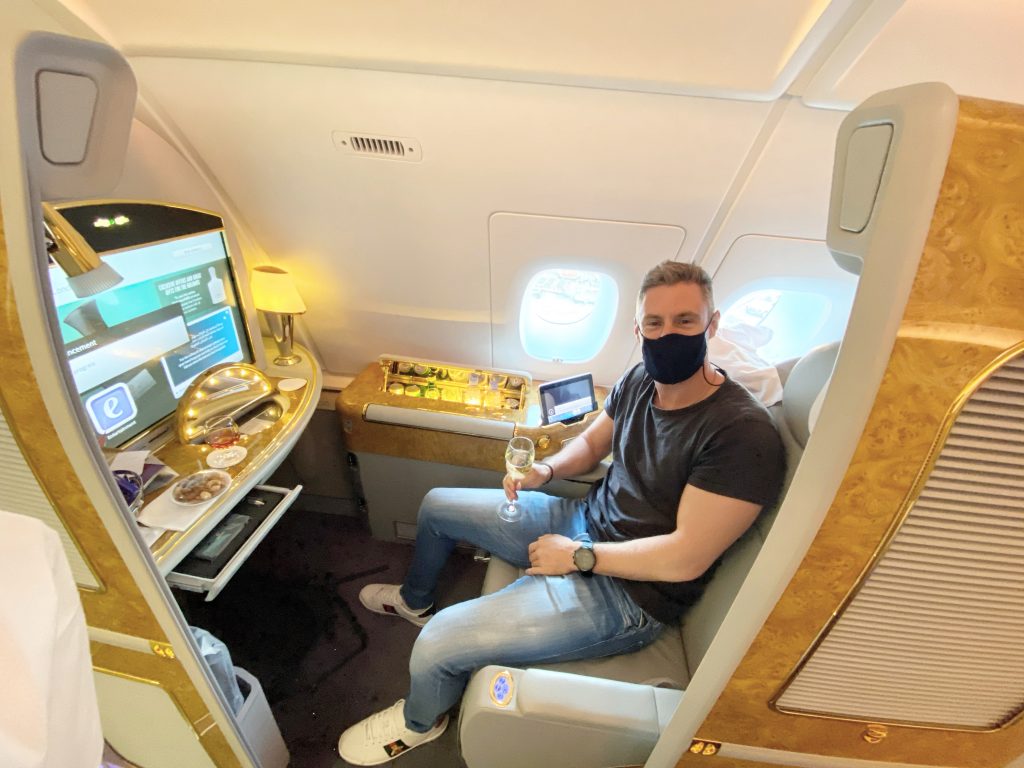 Remember, never travel without travel insurance! And never overpay for travel insurance!
I use HeyMondo. You get INSTANT quotes. Super cheap, they actually pay out, AND they cover almost everywhere, where most insurance companies don't (even places like Central African Republic etc!). You can sign-up here. PS You even get 5% off if you use MY LINK! You can even sign up if you're already overseas and traveling, pretty cool.
Also, if you want to start a blog...I CAN HELP YOU!
Also, if you want to start a blog, and start to change your life, I'd love to help you! Email me on johnny@onestep4ward.com. In the meantime, check out my super easy blog post on how to start a travel blog in under 30 minutes, here! And if you just want to get cracking, use BlueHost at a discount, through me.
Also, (if you're like me, and awful with tech-stuff) email me and my team can get a blog up and running for you, designed and everything, for $699 - email johnny@onestep4ward.com to get started.
Do you work remotely? Are you a digital nomad/blogger etc? You need to be insured too.
I use SafetyWing for my digital nomad insurance. It covers me while I live overseas. It's just $10 a week, and it's amazing! No upfront fees, you just pay week by week, and you can sign up just for a week if you want, then switch it off and on whenever. You can read my review here, and you can sign-up here!