Oh my God, this place is either heaven or hell depending on your point of view. Whatever you've heard about China making knock-off clothes, electronics, even food (heard a rumour about fake eggs!) – here is your proof – all 5 air-conditioned floors of it.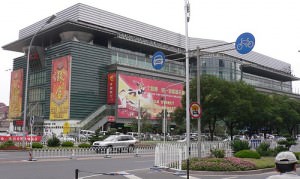 Now I don't wanna be too negative because no matter what I say, I can't deny the fact that I go back here every time I'm in Beijing and buy some more dubiously branded items but what I will say is make sure you bring a bucket load of patience and some hard core bargaining skills. This place exists for tourists, there's no doubt about that, so don't expect a cultural experience. Expect haranguing, bartering, shouting and 5 bags full of unwanted goods! But as long as you leave with a smile on your face, that's all that mattesr.
How to get to the Silk Market in Beijing:
It's directly linked to the subway, get onto line 1 and go straight to Yong'anli subway stop. Take exit A and you'll be straight into the Lion's den.
If you've go no moral issues with buying counterfeit stuff, then this is a great place to stock up on gear for your travels. You can buy everything you need hear, backpacks, trainers, shirts, jeans, rock climbing gear, sun glasses, even fake netbooks and Iphone 5s (I'd advise you to stay clear of the electronics though).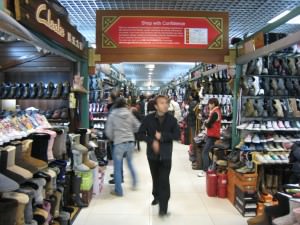 Each floor specializes in different types of goods, pearls and jewelry on the fifth, silk on the 3rd etc. When you walk down each isle expect to literally be accosted by the sales people, physically grabbing you into their stores, shouting "What you want man, you want a suit, your clothes are bad, buy some new clothes". Real confidence boost that was.
No matter how much resolve you have, you'll buy something, I can almost guarantee it. Set yourself a time limit for how long you plan to stay, say 90 minutes for example, and get out once your time is up. Enjoy it for what it is, grab some fake diesel jeans and get out before you get too jaded! It's hectic and it's 100mph but there are certainly bargains to be had, at varying levels of quality.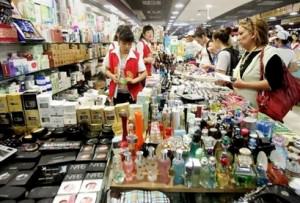 I bought a bear of sneaker there 3 or 4 months ago, travel in them everyday and they still go strong. Here's a quick approximate price guide of what stuff costs:
Starting Bid               Final Price
Sports shoes (Nike, adidas etc):     650RMB                     75RMB ($12)
Jeans (diesel, replay etc):                 400RMB                     100RMB ($16)
Sunglasses (raybans, police):          300RMB                     20RMB ($3)
I could go on and on but you get the gist. It's one crazy place, but certainly one worth experiencing. Good luck folks, happy travels!