So as you make your way around the world it is inevitable that you will find yourself bartering for pretty much everything you need to buy – accommodation, taxi rides, generic touristy goods that we all seem to fill our rucksacks with! Sure, it can be part of the fun but you don't want to get taken for a cash rich tourist now do ya?!?
Here are 5 tips that you should try to keep at the forefront of our mind the next time a local approaches you with "hey, hey welcome, cheap price, look look…"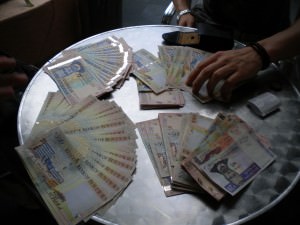 1) How much are you willing to pay? This is vital! When you see something you quite fancy, take a second to yourself and think how much, in your currency, are you prepared to part with to take that trinket home. The worst thing you can do is shout a price at the guy, well below his opening price, then when he agrees to your price, refuse to buy it (easy to do when you're under pressure :S) so think of a reasonable price and if he matches it – it's all yours.
2) Avert your eyes! If you don't need (or want) to buy anything today then don't get suckered into looking!! Best-case scenario: you waste his time and yours. Worst-case scenario: you end up with 20 miniatures tuk-tuks made out of recycled coke cans in your bag for the rest of your trip! So when those big friendly smiles and vocal "looking is free, come come" beckon you in – it's ok to politely shake your head, smile and walk on.
3) Try to find what the locals pay. Easier said than done, I know. But if you can find this out then you're much more likely to get a quoted a number that resembles a fair price than the one with 5 zeroes added especially for you. Try to ask people in the area (locals but not salesmen!) what they think a fair price is, or watch to see how much cash the locals are handing over and stick to your guns when it's your turn!
4) The Walk away. This is a tried and tested technique but one that needs to be honed perfectly before you can unleash it on these hardened sales people! Don't walk away too early in the transaction or you'll alienate the guy, don't walk away too late or he'll think you're bluffing! Get out there try (and fail) until you get it spot on, once you've got your technique down pat, you'll save yourself a fortune!
5) Remember your relatives. What I mean is remember relatively the amount of money you are trying to save. I am not in any way advocating paying over the odds for something– in fact I hate that more than anyone – but equally try not to make too many enemies when bartering for sake of saving a few cents or pennies. You probably can't even buy a mars bar back home for the price you're trying to save on those nice fake original RayBans – I promise you, more often that not they need it a lot more than you do
Ok guys so hopefully you'll save yourself some cash if you listen to this. Never accept the first price, in fact never (or rarely) accept a deal from the first salesman – let capitalism take control and they'll bid themselves down before you know it! Good luck and have fun =)