This story is a painful one to rekindle but here we go…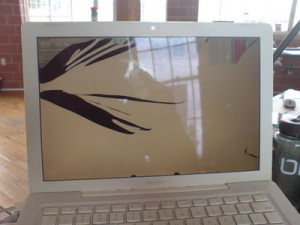 I was in South Africa with plans to head from Cape Town to Cairo and start to try to make money from One Step 4 Ward and truly redesign my lifestyle, obviously then my laptop was pretty integral to this plan, so I packed my Macbook in my hand luggage ready to start my website properly.
I was staying in a hostel in Cape Town for a week or so and after a few beers I thought I'd quickly jump on facebook before hitting the town. Maybe those few beers were a few beers too many and I dropped my bloody Macbook on the hostel floor!
Praying it wasn't broken, I picked up it, tried to switch it on and…. Nothing. F*ck. So much for my new money making blog plans! I used a friend's computer to see where I could get the thing fixed, and the only Apple service centre was in Johannesburg, 10 hours away.
I waited a couple of days, headed to Johannesburg on the night bus, paid $35 for a taxi to find the place in the middle of nowhere, found it and explained my situation to them. They could fix it, but it would costs $150 and take 17 days! I had no choice, lodged it with them and continued my trip around South Africa.
17 days later, I went back to Johannesburg, paid $25 in a taxi this time and got my Macbook back, fixed, $150 well spent. Back to the hostel in Jo'Burg and off to Swaziland the next day. Stress over.
Next day I gathered together a few friends and we rented a small car to drive to Swaziland, and then head onwards to Mozambique. The car was there in the morning, 5 of us were going, everyone was outside bags on the floor, car parked. I had to nip inside and grab my big bag.. "hey guys, I just gotta pop inside and get my backpack, I'll be back in 2 mins". I dropped my small bag with all the other luggage and went inside. When I came back, the car had moved, everyone was in and we were about to set off. "Why did u move the car boys?", ok whatever, I jumped in. "Where did u put my small bag?".
Cue… stupid faces. So the boys has put all their bags in the car, left my small bag (with my Macbook) on the floor, then reversed over my bag, then drove forwards over my bag and sat there oblivious! Agggggh. I ran back, checked my bag – destroyed!
After an hour long Mexican standoff, playing the blame game, and me anworking out what the hell I'm gonna do, we finally made a decision…
Swaziland was delayed, back to the bloody repair centre I just came from yesterday instead, dumped the smashed up Macbook on the desk and sighed. They laughed, that didn't help!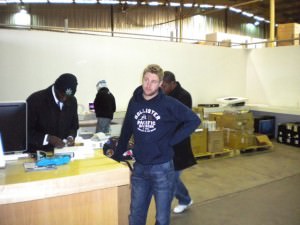 To cut a long story short, I had to buy a refurbished Macbook, reload my backup and head off to Swaziland the following day. The 5 people involved all paid 20% each, about $120 and it allowed me to get One Step 4 Ward off the ground, since then I've been earning online, not having a job and living my dreams!