The  Fave Hotel is a newly built hotel stepping out onto the Langkawi scene. The interior is very trendy and modern with cool, futuristic bowl-shaped chairs in the lobby. The cafeteria had an airy, but open vibe while the bar and lounge had more of an intimate setting. All three of the common areas had really different looks with orange and neon green everywhere but somehow it all works!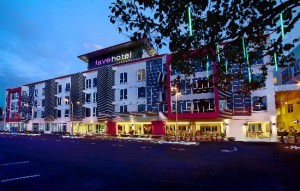 Getting there early, the staff checked me ahead of schedule. They were very attentive, friendly, and knowledgeable about the area, and eager to answer any questions that I may have had.
I stayed in the superior room. It was a decent size with a double bed and all the necessities. Keeping in trend with the outside of the building, the room was accented with a pink colour and light brown wood furniture, including a funky little wavy working desk. And of course it had a flat screen television. The wifi was speedy and reliable, always a plus. The room was extremely clean.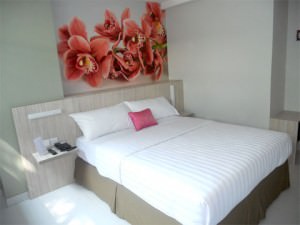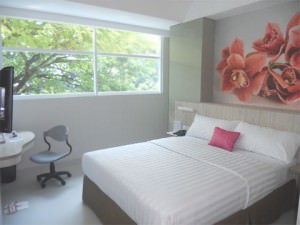 The location of the Fave Hotel Langkawi is reasonably close to many shops and cafes, and the small amount of nightlife the area has to offer. But it isn't exactly by the main drag. It's about a ten-minute walk to get to Cenang beach (which really isn't bad). They also provide a free shuttle to take you directly there.
But they make up for that with their awesome swimming pool. It was long and narrow, making it good for exercise. With comfortable loungers and views of the nearby lush green hills and sprawling field, it was an inviting oasis.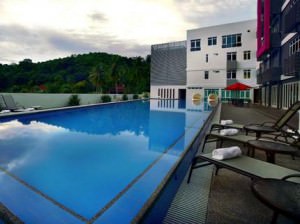 They have an amazing happy hour at their bar between 4-7 pm. Every drink is 50% off! The bar food is reasonably priced as well.
My only gripe is that the continental breakfast was disappointing, with a small selection of items. But with a good Malaysian restaurant next door and hawker stands nearby you definitely won't go hungry.
The Fave Hotel Langkawi is a good budget hotel with top-notch service and has all the basics covered. With it being in a quieter, more secluded area, I think it would be a choice hotel for backpackers looking to upgrade from a dorm bed or families looking for affordable lodgings.