Being in contact with nature is a very beneficial activity, both for the body and for the mind. Going out to natural environments is of vital importance, especially for children , since, in addition to helping to feel connected to nature, it allows them to run, play, get dirty, explore, learn and feel free.
In addition to going out to the field, if you want your children to do some exercise, while enjoying and learning, hiking is the ideal activity. Taking advantage of weekends or holidays to go for a walk in a natural environment brings many benefits for both your children and you. Hiking, in addition to keeping fit, helps disconnect from day to day, will surprise your children for being a different environment than usual and will make you come home as new.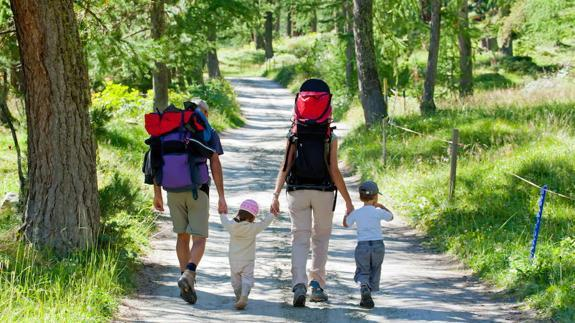 Benefits of Hiking for Your Children
On A Physical Level
Fight obesity and sedentary lifestyle by keeping your children away from televisions and screens in general.

It improves circulation, cleanses the lungs and helps maintain a healthy cardiovascular system.

Increases physical endurance, both cardiovascular and muscular.

It helps improve balance and motor skills. By walking on unpaved terrain, with natural obstacles, children learn to overcome them by improving their psychomotor abilities.

Strengthens the immune system. Pure air, exercise, contact with the earth, water and animals, favors resistance to pathogenic microorganisms.
At The Psycho-Emotional Level
The practice of hiking decreases stress, and increases the feeling of relaxation and well-being. 

It promotes the development of self-esteem and autonomy. In the field the game is favored in a free environment, with less rules being able to climb a tree, spot or cross a stream. In addition, encountering small obstacles favors decision making in a natural way.

Stimulates creativity and imagination by offering endless options for free play and learning.
At The Level of Socio-Emotional Relationships
Strengthen values ​​such as cooperation and friendship. Tasks such as bringing food or water can be distributed. Also if you go with other children, they can help each other overcome obstacles or lean on when they are tired.

You spend more time with your family, in an environment that favors complicity and the adventurous spirit.

It promotes respect and love for nature. With our example, children learn to value it and be more aware of the importance of its conservation.

It favors learning in a fun and fun way. As we walk we can learn the names of the plants and animals that we find along the way.
>> Also read, Top 10 Tips for Road Trip with Kids – Family Road Trip Ideas
Basic Tips to Enjoy Hiking with Your Children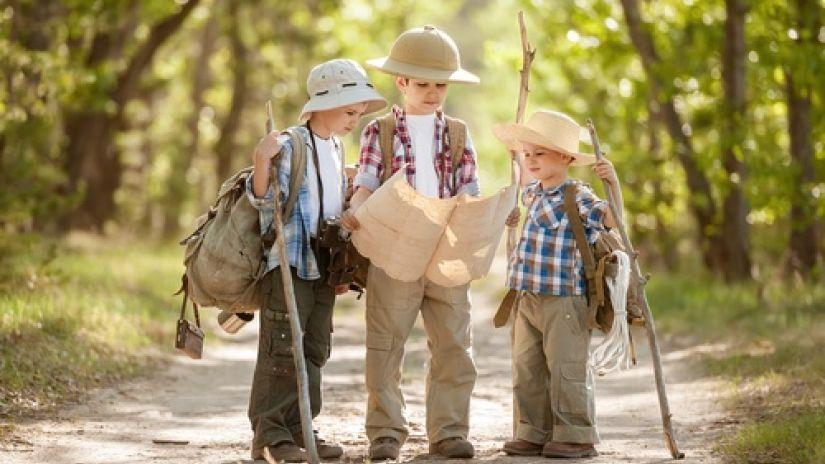 Anyone can practice hiking, ranging from toddlers from seniors. You just need to adapt your children physical conditions to the needs. Therefore, change the chip and try to see the activity with the eyes of a child to be able to instill in your children the passion for this enriching activity.
Prepare the excursion together.

Talk with your children about the place you are going to visit, look for information, itineraries, check the weather and prepare as a family everything you need to make it an unforgettable day.

Bring enough food and drink to spend the day.

Try to include foods such as dried fruits or nuts that weigh little and provide a lot of energy.

Prepare a small kit

with everything you need to cure a scratch or scratch.

Take outdoor GPS tracking devices

for everyone to share real-time location and ensure everyone's safety even when there's no cell service. One can send SOS signal with the tracking devices.

Give children responsibilities

. From 3 or 4 years old, children can carry their own backpack, adapting the weight to their age. Also let them participate in the decisions on when to rest, which itinerary to follow, to be in charge of the map or to look for signs of the trails, will help them feel the activity as something in which they really participate.

There is no hurry, respect their rhythms. It is not necessary to beat any records, or to reach a specific place. The important thing is to enjoy the day and the environment. It is normal for children to stop to be moved by curiosity. If they are tired you can make a stop to rest, drink water or have a snack.

Let them feel free. While they play, explore and get stained, children are learning things that only nature can teach them.

Find out about the itinerary and what you can find in it in order to teach your children and answer their questions.

Keep in mind the clothes. Find out about the time you will take to bring the right clothes and shoes to the weather. Take some spare to change if they get wet.

Use sunscreen, even in winter.

Do not forget the camera and binoculars to observe and immortalize everything that catches your attention.

Remember that many species are protected. Do not tear plants or disturb animals. Try to leave the place the same or better than when you arrived.
Now that you know the benefits and some ideas for hiking with your children, there is no excuse. Take advantage of the weekend to put on your boots and go out to enjoy nature with your family.