Everyday you hear about some new blogger cashing in on their website, press trips around the world, free flatscreen tvs or a new pair of shoes sent to their house. How do they do it? How can I do it?
I know, , I know I used to doubt it too. Thinking – People can blog as a full-time job?! Surely not.  Well, they can, and they do and even better still is that they work for themselves and often work less than 5 – 10 hours per week (my limit).
So you've got a blog, or an inclination to start one – how many hits do you need to make money on it, and how much can you make? Here are some rough figures to go by. I'm no google genius, in fact I'm pretty horrible with computers but I do blog full time, I run a number of sites and it's my full-time income even though I don't have to work 'full-time':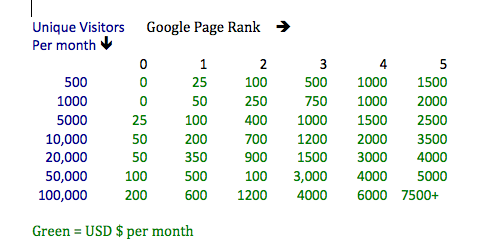 Now I'm sure these figures can be disputed but they give you an idea about what page rank you require, and how many unique monthly visitors you need to generate a certain amount of cash (through ads etc). So if you wanna make $50k USD per year, then you need a site with a Page Rank of 4 and with around 50, 000 unique visitors per month, not that difficult and certainly achievable within a year.
This is all without selling ebooks, using affiliate marketing or selling your time or expertise, they all increase revenue further.
Note, I'm not selling anything here, I'm not making any money from this post, I just know that when I started out blogging I wanted to know some figures and they were difficult to come by, these are the sort of figures that I, and some of my friends, regularly turn from each website. Now imagine having 4 or 5 websites, hmmmm. Good luck and happy travels!!