An Irish travel buddy, Gerard Darragh, of mine was sitting on a bus beside me this week in China and we were talking about life. He recollected a story about how the Romans were the first people to use obituaries for their fallen. They would go to the town square and read a list of achievements the person had obtained, the final question would be 'did he live his life with passion'.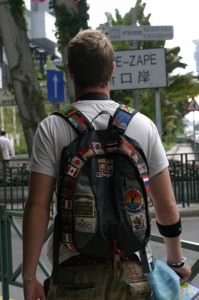 I hope when my time comes, sooner or later, people will be able to reflect on my life and decide that I most certainly did live my life with passion. I love to meet people, to learn about different cultures, to lend a hand and inspire where and when I can. I love to create and business is a great outlet for that too. With my lifestyle design I'm trying to follow all my passions so when death comes knocking I'll know my answer.
I hope you guys can say that you too live your life with passion. This isn't something we should plan to do when we retire, or when we save enough money, or when we pay off the car/house/2 week holiday in Spain. We should live our lives with passion today, and if we're in a position where it's difficult then that needs to be addressed immediately. A bus might hit us tomorrow and while I know 'it's never gonna be me' holds true most of the time, what if tomorrow is your time – what will the obituary read? That you pigeon-holed yourself into a job or lifestyle that didn't fulfill you, or that you made the most of every opportunity, walked around with a smile and enjoyed your life to the maximum.
If you're reading this thinking 'you know what, I am following my passions and I'm happy right here where I am' then that's great, I salute you. If not, then do something about it and do it now. Tomorrow is promised to noone and you can only say 'it'll never happen to me' until it just does. Follow your dreams, live the life you wanna live and make sure you'd be proud to hear what's read outloud when your time comes.