When it comes to packing, it's perfectly proper to be prepared, but it's also pointless and possibly perilous to panic. In any case, (for want of a better expression) items will be bought, discarded, given and received as gifts along the way, and hopefully your trip will have a welcome element of unpredictability.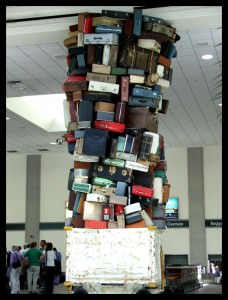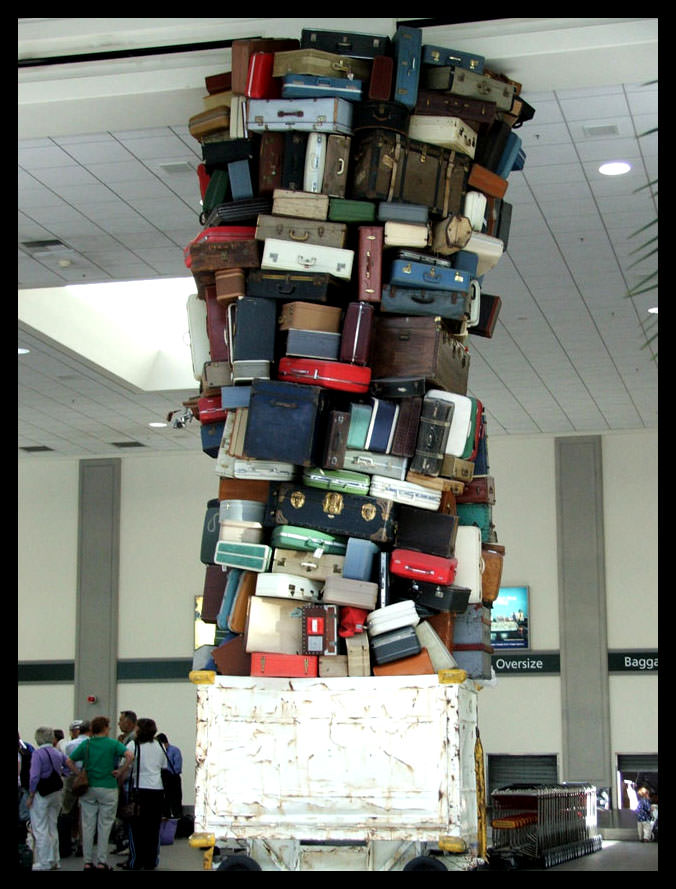 A lot of what you'll choose to pack will depend on your budget. As long as you've got travel insurance and a passport, the rest is pretty much optional – unless you're doing a survival trip.
Remember, you're likely to be going to a civilised place. There'll be shops which have spent years adjusting their stock to local needs. You'll drive yourself mad trying to find pair of flip-flops in February before you go, but it won't take half as long in Bangkok.
If you can afford it, invest in a secure and comfortable rucksack. A travelling-gear shop will advise you on a good fit that keeps a percentage of the weight on your waist, not your back and shoulders. Have somebody fit your rucksack especially for you. There are plenty of useful guides online that can show you how best to do this.
Consider slash-proof bags, which offer added security in a low-key way, as opposed to bright padlocks. You're better off putting valuable things in a locker, and using your padlock (essential) on that. The most important things I look for in a rucksack other than durability are compression straps for comfort, and are that it opens from the side because I hate unpacking or digging around in the dark. Ultimately, it'll depend on your trip, so think about whether you'll be climbing, walking or just city living.
Going somewhere with variable weather? Patagonia, perhaps? Glasgow? Layer up with plenty of technical clothing and thermals. Otherwise, you really can get by with two technical or Merino sweatshirts and a Gore-Tex jacket which is smart enough to look ordinary in a capital city. I like to wear clothes that will alienate the fewest people – a couple of plain colour shirts go down just as well with academics as they do with artisans and anarchists. Plus the ability to unbutton in the heat adds functionality.
People either love or hate microfibre travel towels – I love them. They dry quickly and take up far less space. If anything goes in a zip lock pack (and for some people that'll be everything) make it sunscreen – it likes to leak.
There are certain things that are small, and incredibly useful:
A universal bath plug – these are hard to find, but will allow you to hand wash your clothes anywhere, but more importantly, I wish I'd had one in a hostel in Bariloche which had a bath tub with a one of the most beautiful mountain views I'd ever seen.
A Swiss Army knife (in your checked luggage, of course) – If like me, you work in marketing, you'll find that it's essentially a way of opening beer and wine, which is likely to be a frequent occurrence when mingling with other cultures. I also used mine to cut up oranges, but more resourceful folk have been known to get a broken vehicle back on the road using one of these. (They're even used by armies, apparently). Its usefulness for fixing and making things is enhanced if you bring some electrical tape and some string or wire.
A small pouch of pharmaceuticals and medical tit-bits goes a long way. Amoxicillin (a generic antibiotic), antiseptic cream or wipes, blister plasters, and ibuprofen will help with the ailments you're most likely to suffer.
Photocopies of essential documents – your passport (along with some spare passport photos) a driving licence, your annual travel insurance policy with emergency numbers, travel money – it's worth carrying some American dollars, still the world's most trusted currency – and a spare credit card are handy to have too. It's also clever to keep these things separately. So if you carry your passport in your hand luggage and your wallet in your pocket, then keep its photocopy and your spare credit card in your rucksack. Then, if you lose your wallet, your rucksack, or your hand luggage, you'll have some identification and possibly access to some cash to get you by – and you can stay as chilled as a chicken.
The most important thing, of course, doesn't weigh anything at all, and that's an open mind.
*Joe Bond is today's guest post writer, speaking from ample experience backpacking around the globe, and learning a little more from his mistakes each time!