I don't like to follow people's paths, I always have a burning desire to blaze my own trail, to find my own way to when I subscribed to taking the Trans Siberian railroad from China to Russia, 1/3 of the way around the world, I knew I had to do something a little different.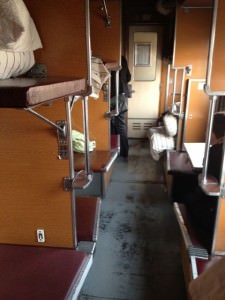 So rather than taking the normal route from Omsk all the way through to Moscow via a serious of rather non-descript Russian towns and cities I thought I'd try to freestyle my way to Kazakhstan instead.
After searching on internet for a way to get from Russia to Kazakhstan I couldn't really find anything so it was time for a little adventure! There is a train that runs from Novosibirsk to Astana, Kazakhstan's new capital city but it's far from ideal. It only runs once a week, and with the restrictive 30 day Russian visa that can mess up your whole trip, also from Irkutsk to Astana, via Novosibirsk looks like madness to me. I'd have to go north, north, north just to go south.
So I looked at the map, saw that Omsk was the nearest biggest city near the Kazakhstani border and headed straight there from Irkutsk. I figured I'd work out a way to get to Astana from Omsk once I arrived.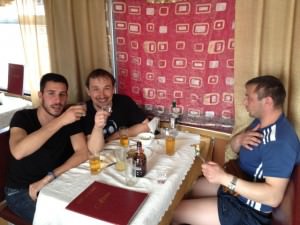 After 41 hours on the train, I got off in Omsk train station, wondering around the parking lot trying to speak English to people, enquiring about a bus to Astana wasn't proving fruitful. Not a word of English was spoken and when someone finally worked out I wanted to go to Astana he was trying to charge me $500 (payable in Euro) to drive me the whole way there, eehhhh cheers mate but I think I'll give it a miss.
Finally a fat, stumpy Russian cab driver started shouting 'autubus, astana' repeatedly, it was the best offer I'd had, so after a spot of negotiating I jumped in his taxi and paid the $13 prearranged fare. Overpriced for sure, but what choice did I have?!
After blaring out some Europop on full volume and him (unsuccessfully) trying to convince me to have sex with some Russian girls finally he pulled into a run down station 30 minutes late, it was about 11am. Time for another game of charades with the ticket agents.
Astana, astana, bus, Kazakhstan.. Repeat in the vain hope that they understand and that buses do infact go there. Then some angel of a lady grasped the concept I was trying to convey, wrote down 21.20 on a piece of paper followed by 967 Rubles. Awesome! Looks like im on my way to Kazakhstan! I had to wait around the station for 9 hours, and the run down bus was another 15 hours but I knew I was finally on my way, and now here I am, in Kazakhstan, recounting the stress about buying a ticket.
So here's how to get from Omsk to Astana:
There are two buses from Omsk to Astana, one leaves at 6pm the other at 9.20pm
The journey takes 15 hours
The bus costs 967 rubles ($33), plus 193 rubles ($6.50) for your backpack. $40 total.
From Omsk train station to Omsk bus station, it's about 20km and cost me $13 in a taxi
I bough the ticket on the same day, but the 6pm bus had already sold out.
That's it folks, so there are indeed buses from Russia to Kazakhstan, every day you can take the bus from Omsk to Astana, I'm off to try to stop myself from doing Borat impressions every 5 minutes, it's proving to be quite a struggle. Happy travels!