South Africa Itinerary; How To Spend 2 Weeks in South Africa 
I spent almost 2 years in Africa, visiting all 54 countries, on my journey to every country in the world in 2 stints (one 9 month trip from Cape Town to Cairo and one 9 months trip from Cape Town to Casablanca). Both trips started in South Africa for a reason. South Africa is far and away the most tourist-friendly country in Africa, it has so much to offer during your South Africa Itinerary, and it's the easiest to organise. I'vr spent a total of almost 2 months here, organising visas for my trips as I headed north through Africa, but 2 weeks in South Africa would be a perfect amount of time to spend here, maybe a few extras days on top if you also want to do an additional safari. 
I explain in details the 2-week South African Itinerary below, but if you're impatient like me, and can't be bothered to read it all. 2 weeks in South Africa should look like this:
1) Arrive in Cape Town. 4 Nights, including Cape Peninsula
2) Winelands (Stellanbosch or Franschoek). 2 Nights. 
3) Self-drive road trip across the famous Garden Route, finishing up in Port Elizabeth. 4 Nights.
4) Fly from Port Elizabeth to Johannesburg. 1 Night in Jo'Burg.
5) Kruger National Park. 2 Nights.
TOTAL TIME: 13 NIGHTS/14 DAYS IN SOUTH AFRICA!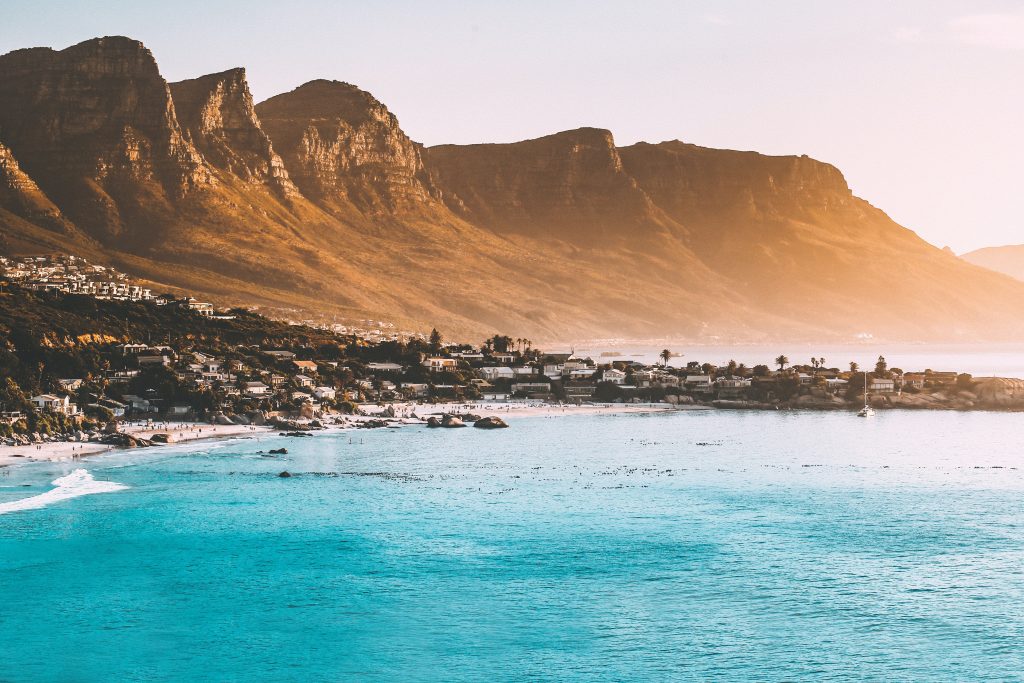 When Is The Best Time to Visit South Africa?
In short, November to May.
The longer answer to when is the best time to visit South Africa? In Cape Town and along the Garden Route coastal belt, summertime is usually warm and mild but can be unpredictable. Summer here in the Southern Hemisphere is November to February. However, locals will say between March and May is the perfect time to visit when the weather is mild and the tourists have gone.
South Africa Itinerary; 2 Weeks in South Africa
1)  Cape Town – 3 nights
Find yourself a cheap flight to Cape Town, and then you'll be starting your two weeks in South Africa with Cape town as your base, exploring all the amazing sights this exciting town has to offer. If you are arriving by air it's about 20km from the centre. You can catch the MyCiti fast bus for around R70 or book a taxi for around R300. The journey will take between 20 and 40 minutes to get you right to the centre of the city.
DAY 1: Robben Island and Bo-Kaap:
Robben Island, where Nelson Mandela was kept prisoner during Apartheid, cannot be missed on your trip to South Africa. A somber, but important, memory of the troubles here. That normally takes a half-day, afterwards, head to the gorgeous Bo Kaap (formally the 'Malay Quarter' where the people stem from Muslim descendants of slaves from South-East Asia).
TOP-TIP: Book a hotel pick-up and ferry tickets to Robben island here. 
TOP-TIP: The best way to experience Bo Kaap is to take an authentic cooking course, less than $30!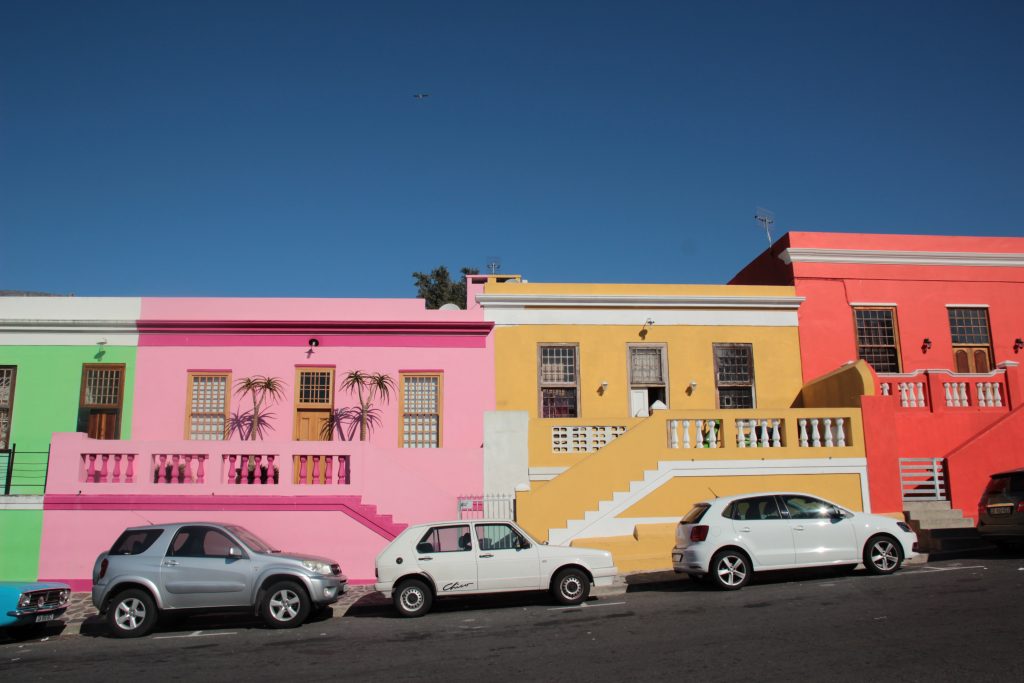 DAY 2: Table Mountain:
The icon of Cape Town, Table Mountain. Here you have 2 choices. Either a lazy morning followed by taking the cable-car to the top of Table Mountain. Or, even better, hiking to the top of Table Mountain (roughly 2 hours each way). 
If you hike, it'll be your whole day. You can do it solo, or for about $60 you can hire a guide to help you find the way etc.
If you take the cable car, it'll be a half-day. In that case, I'd highly recommend spending the other half-day on a Township tour to see the real Cape Town.
TOP-TIP: Skip the cable-car line by buying your ticket in advance HERE.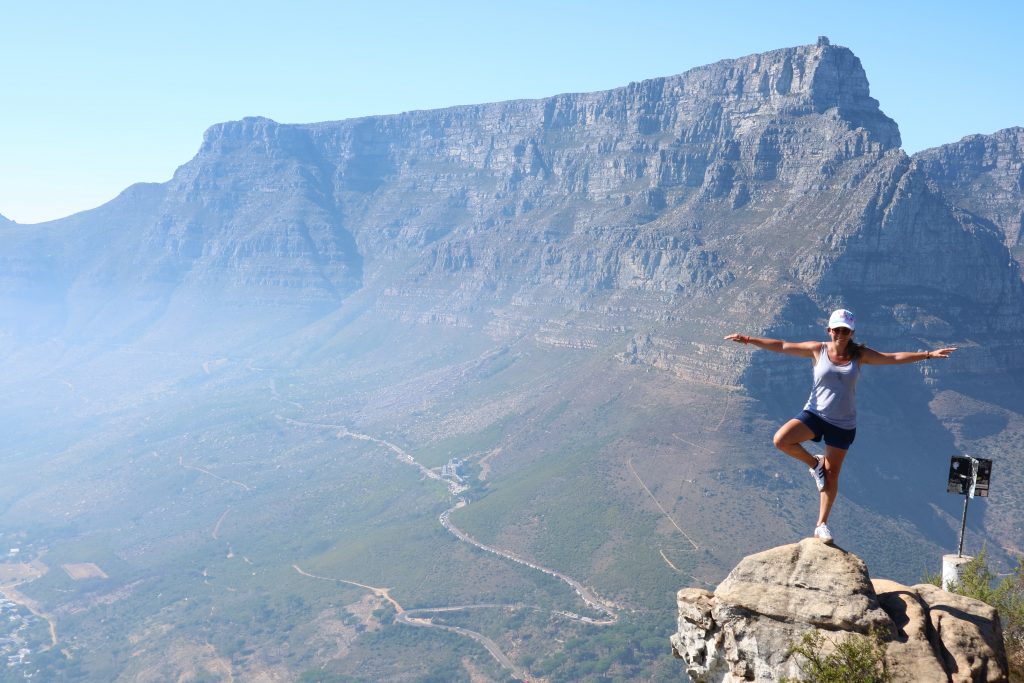 DAY 3: Cape Peninsula
You can access the southern tip of Africa on a day-trip from Cape Town, and it's well worth your time. Try to include swimming with the Penguins at Boulders Beach, and perhaps cage diving with great white sharks at Shark Alley!
TOP-TIP: Cage diving with Great White Sharks sells out, book in advance. Check it out here. 
TOP-TIP: You can do Cape Point AND Boulders Beach as a day trip from Cape Town for $60. 
DAY 4: Cape Town City Tour
You've ticket all the main boxes – Robben Island, Bo Kaap, Boulders Beach, Cape Point, Great White Shark diving and Table Mountain. Now it's time to soak up Africa's coolest city. Either wonder the streets independently (ending up with drinks on Long Street of course) or book a half-day, or full-day tour of Cape Town. 
TOP-TIP: Fill your day with a local guide and a half-day city tour, followed by a one hour cruise on Table Bay, looking back at the Cape Town skyline and Table Mountain (super cheap at $15!)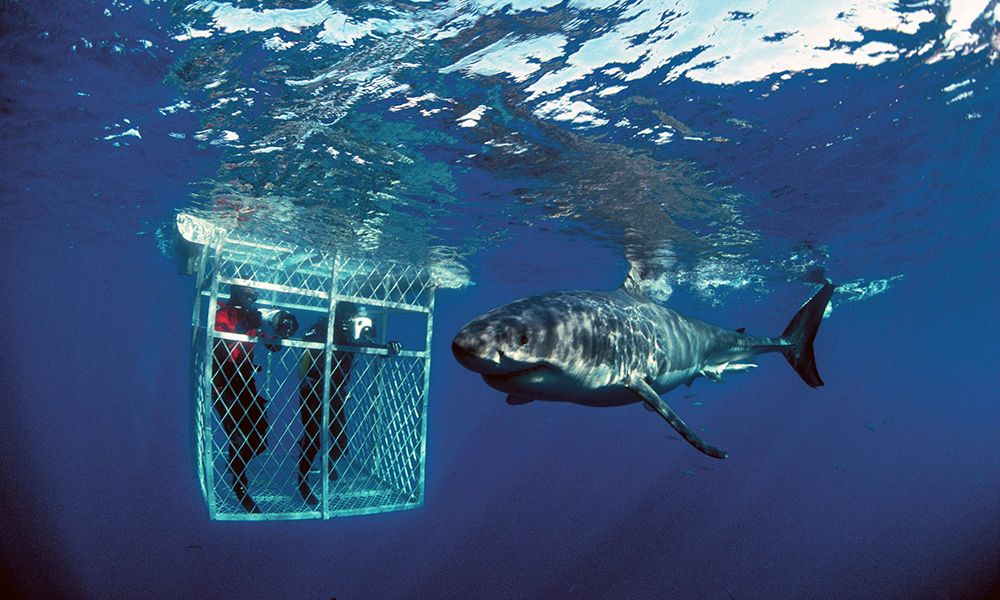 A Summary Things to do in Cape Town:
There are lots of things to do in Cape Town and with 4 nights to explore you will see everything you want. Here are some of the top things to do in Cape Town.
V&A waterfront, a nice place to relax, eat and shop. The waterfront is set on the edge of a natural and historic working harbour with Table Mountain as its backdrop. It is a real melting pot of people with local and international visitors taking advantage of the mix of experiences to enjoy here.

Trip to Robben Island and the famous prison where Nelson Mandela was held. Learn about the history of this place and how it affected the rest of the country. During the apartheid, this island served as a prison for political activists.

Visit Table Mountain. Take the cable car or try the four-hour hike to get to the top of this iconic mountain in Cape Town. You'll enjoy magnificent views in all directions.

Take a cooking

lesson in Bo-Kaap n Cape Malay. Enjoy the brightly coloured buildings and stop to take a cooking lesson too. Whip up some great Cape Malay curries and samosas and learn to cook like a real Cape Malay 'Auntie'!

Stand at the tip of Africa at the Cape of Good Hope. One of those things to tick off your list whilst in South Africa. Walk to the lighthouse and enjoy incredible views, but be prepared its very windy there.

Swim with Penguins at Boulders Beach. This is a protected colony of African penguins which you can see by walking along the wooden walkways. The nearby beach is great for swimming and you may be joined by the penguins too.
Getting around Cape Town
Taking taxis or jumping on the city tour bus are the best ways to get around. Uber operates in Cape town too, so if you are a fan it's an easy way to get around.
Where to stay
Luxury
Belmond Mount Nelson Hotel. Centrally located a choice of rooms and suites and excellent service. Also, try the afternoon tea. Prices around £350 per night.
Mid-range
Bliss Boutique Hotel located on Sunset beach offers its guests excellent views of Table Mountain and the sea. Prices around £80 per night.
Budget
The Backpack Cape Town is a centrally located hostel which prides itself for investing in the local community. Funky modern rooms and even a pool. Prices start from £14 per night.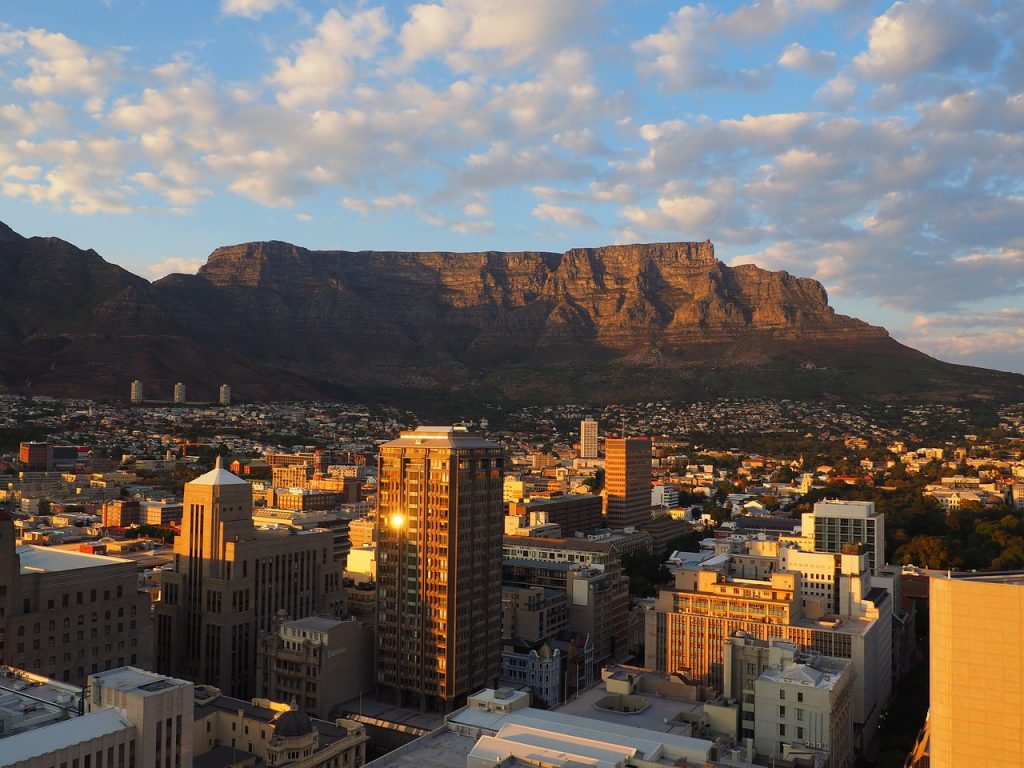 Stop 2: Wine Country – Franschhoek 2 nights
Next, move on to the nearby wine country and enjoy the fruits of the land. You should hire a car and drive from Cape Town which will take just over an hour. Ideally, you'll want to overnight in 'the Winelands'. The scenery is beautiful, and if the wine-tasting goes well (which it will!) you won't want to day-trip back to Cape Town!
TOP-TIP: Wine tram. A different way to explore the wines of the area. This hop-on hop-off tour gives you a relaxed introduction to the Franschhoek Valley. Make your way through rolling vineyards in an open-side tram and open-air tram-bus stopping at some of South Africa's oldest and most notable wine estates.
Things to do
Take a full-day wine tour visiting a few different wineries in the area. It is easier to do this by organised tour than on your own. You'll also get to know a bit more about the area and some good deals on the wines through your tour too.

Mont Rochelle Nature Reserve. Here you can make the most of the stunning scenery of the area. An excellent place for hikes and walks before sampling some more wines of the region.
ting around
Driving from Cape Town to Franschhoek is easy and you'll need a car to get around here too, and for the rest of your journey. You may want to book with a tour company however for tours of the local wineries.
Where to stay
Luxury
Akademie Street Boutique Hotel and Guest House. Excellent service and a tranquil location walking distance to the main town. Prices are around £300 per night.
Mid-range
Le Franschhoek Hotel & Spa. About 5 minutes' drive from town, this is a friendly hotel in a beautiful mountain setting. Prices around £100 per night.
Budget
22 Van Wijk. This hostel come bed and breakfast is ideal for a budget stay. It is located next to one of the hop on-hop off wine tram stops great for exploring the area. Prices around £30 per night.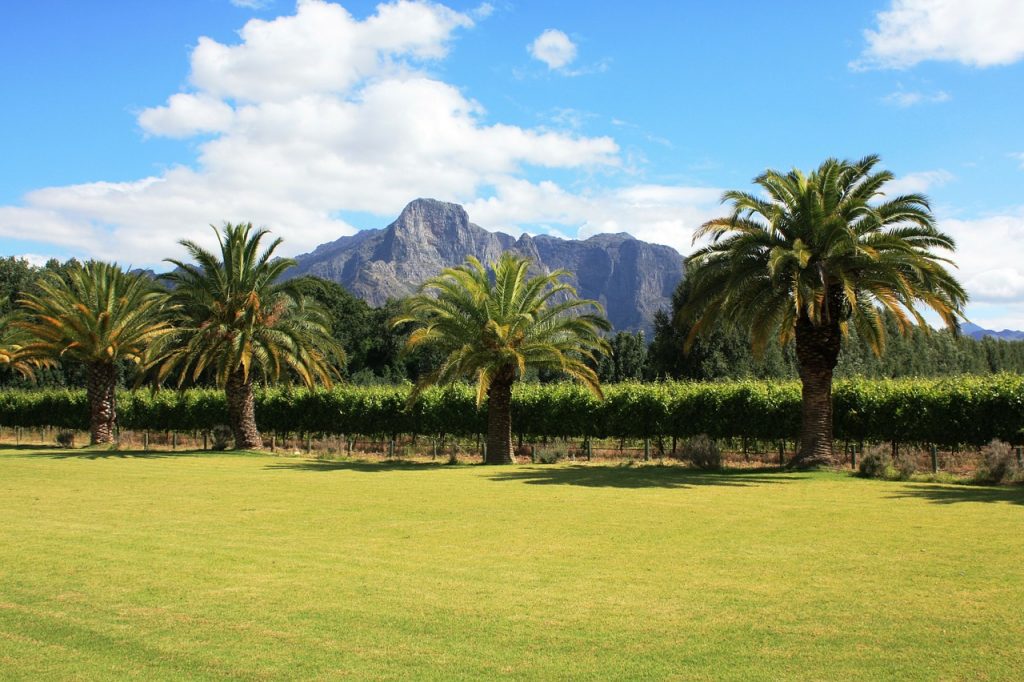 STOP 3: Garden Route Road Trip from Mossel Bay to Port Elizabeth – 4 nights
So, to get to your next destination, you can either drive back to Cape Town and fly on to Mossel Bay (booo, a road trip is better!), or you can drive the three and a half hours from Franschhoek to Mossel bay (yay!).  Either way, from there, hiring a car is essential to drive the garden route proper. There are a few great places to stay along the way.
The Garden Route is the most famous driving route in South Africa and for good reason. Depending on what you want to do, it is best you make your own itinerary for this route, however here are some ideas for stops along the way, I'd recommend these 3 stops, one night in each.
NOTE: if you want to do this 'road trip' but not driving, you can book a 4-day trip starting and finishing in Cape Town which drives you along the best places in the Garden Route. Personally, I drive myself though! Although it is pretty cheap at $395 to be fair.
Mossel Bay
Your starting point for your road trip. A harbour town known for the beautiful Santos Beach and the 19th-century Cape St. Blaize Lighthouse. Take a boat ride to seal island, visit the market at Hartenbos, or just chill at one of the world's best beaches.
TIP: If you missed shark diving in Cape Town, you can also do that in Mossel Bay.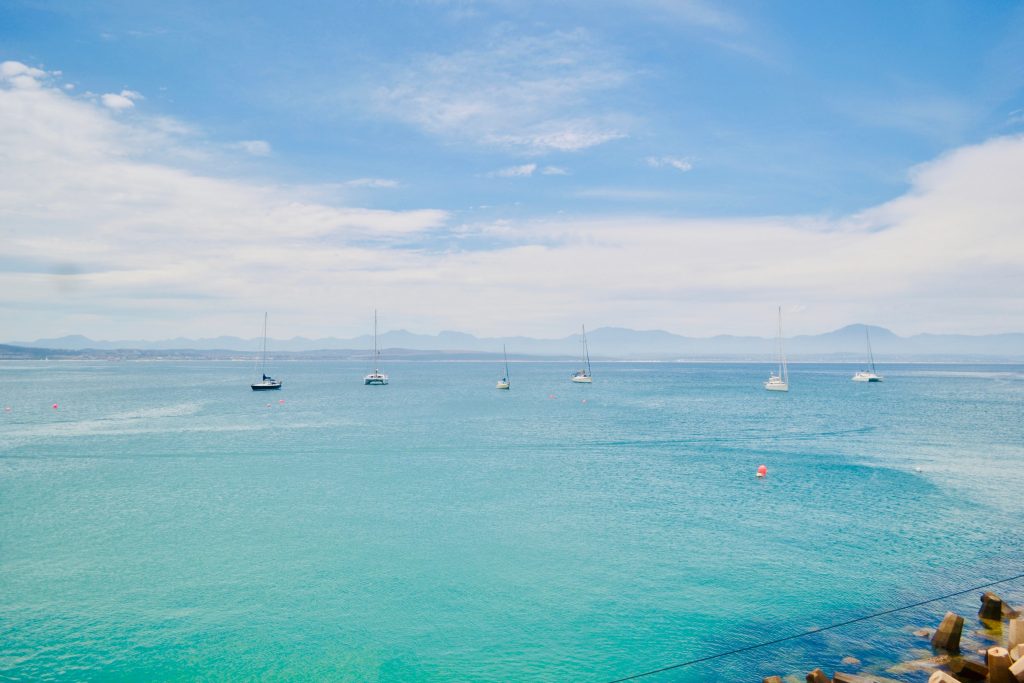 Knysna
The best stop on the Garden Route. There's a great range of activities and things to do in Knysna. Whether you are looking for relaxation or adrenalin-fuelled activities. There are lots of tourists here, so the area has adapted to cater for international visitors, however, the natural beauty of the surrounding areas remains untouched. Also, whale watching is possible here, pretty epic.
TOP-TIP: One activity YOU HAVE TO DO IN KNYSNA is a sunset luxury cruise on the lagoon. Amazing.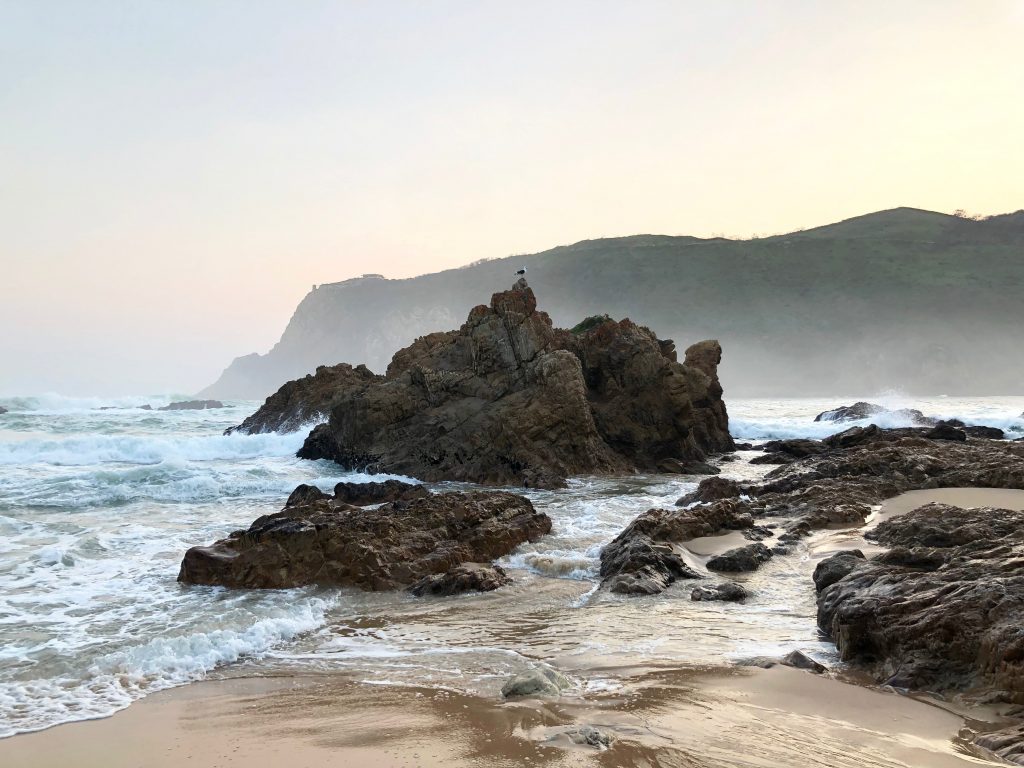 Jeffreys Bay
A holiday and retirement centre, Jeffreys bay has countless outdoor activities to try. There's hiking, cycling, surfing and other water sports. You can also enjoy the natural environment and seek out the wildlife living in the nearby areas. 
TOP-TIP: For $14, you get the full Jeffrey's Bay experience by Sandboarding on the dunes!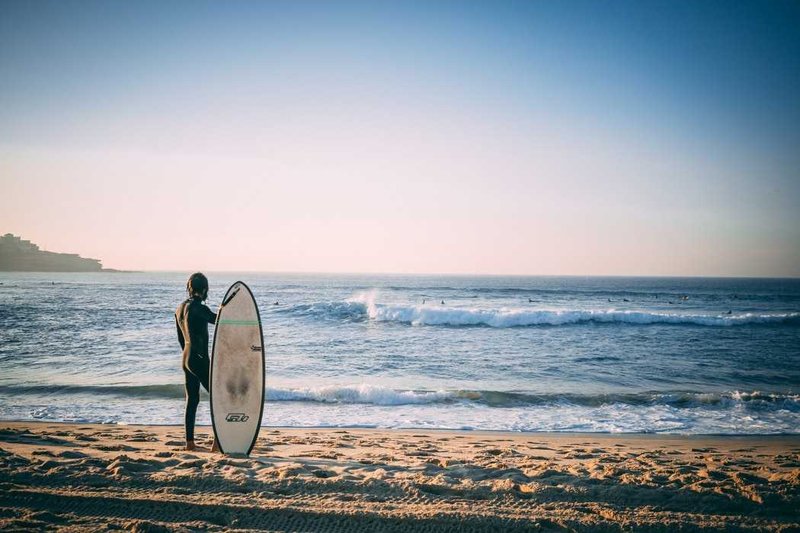 STOP 4: Port Elizabeth – 2 nights
After arriving in Port Elizabeth, you should definitely take a day to see the wildlife reserves of the area. I would recommend staying in Game lodge accommodation in Port Elizabeth to get a real feel for the place. Some stays include daily game activities, day and night game drives, bush walks and even horse-back safaris.
Port Elizabeth as a town is also a great place to hang-out. You can visit the townships, the dune fields, meander along the boardwalk and check out the live entertainment. It's also a great spot for Scuba too. You can also do a few brewery tours too which is always fun! Check out the Ibhayi Brewery for that. 
DAY 1: Off to the Game parks and spot some animals.
You can do a half-day park visit for as little as $40 or so. Or a full day for $100 or so. 
DAY 2: Spend in Port Elizabeth, on a city tour or chilling on the beach. The best idea is a half-day walking tour ($25) then the rest of the time to yourself. 
Things to do
Shamwari Game reserve. See the big five within the 25 000 hectares of natural terrain. Enjoy close encounters with the big five who roam the reserve, and you can also stay here in one of the lodges.

South African Marine Rehabilitation and Education Centre. Learn about the incredible marine life and how volunteers are helping to save our environment. You can tour the marine rehab and education centre and experience through tactile exhibits. A highlight is the endangered African Penguin.

Kragga Kamma Game Park. A natural reserve with free-roaming White Rhino, Buffalo, Cheetah, Giraffe, Zebra, and Nyala amongst others. Here you can drive in your own car to explore the area.

Boardwalk Casino Complex. Everything you need to enjoy a relaxing time in Port Elizabeth. If you need to blow off some steam or have a blow out after all that nature then this is the place.
Getting around
Like Cape Town, Port Elizabeth is best explored on foot or by taxi, Uber operate here too. You can also drive if you are heading to the surrounding game reserves.
Where to Stay
If you are not staying at any of the Safari lodges then here are some ideas for a stay in Port Elizabeth.
Luxury
No 5 Boutique Art Hotel. A luxurious and highly recommended hotel near to the Boardwalk Casino Complex. Prices around £125 per night.
Mid-range
Paxton Hotel. A hotel located near to the town, harbour, the beach and shopping. There's also a pool too. Excellent value for money with prices starting from £50 per night.
Budget
28 Towpath on the Riverfront. A budget-friendly option for those who are interested in responsible tourism. An eco-friendly hostel with large rooms from just £5 per night.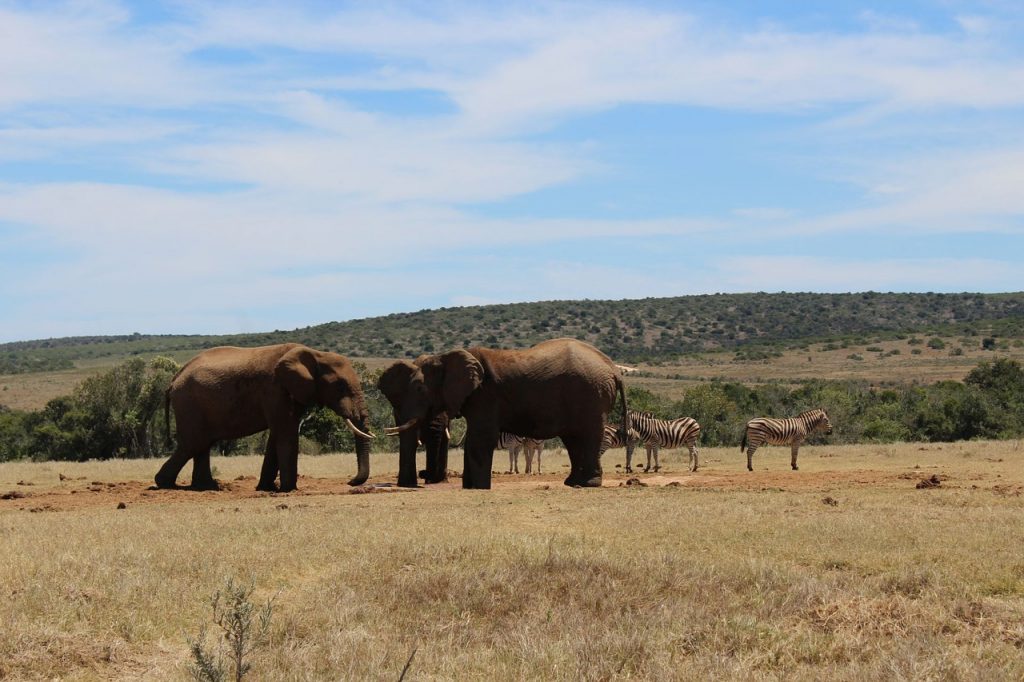 STOP 5: Johannesburg – 1 night
You can fly from Port Elizabeth to Johannesburg in only one and a half hours, (it's a long drive, 12 hours!) leaving you plenty of time to explore the best of Johannesburg before returning home, spending a second day in Jo'burg OR adding a safari in Kruger National Park.
DAY 1: If you only have 1 day in Jo'burg, then the most important things to visit are the Apartheid Museum, and Soweto (former home to Mandela). And then off for a night on the town in Melville or Sandton to finish up. 
TOP-TIP: Combine a Jo'Burg and Soweto tour into your one day for $40 or so here. Or for $70, including the Apartheid Museum for the full experience. 
Things to do in Jo'Burg
Apartheid museum. Learn about South Africa's turbulent past. You will learn so much in a short space of time in this informative, interesting museum. Although hard to take in, the stories are depicted in such a way that visitors get a feel of what life as really like during this time.

Constitution hill. A national heritage site, home of the highest court in South Africa. This site has been transformed into a place of solidarity and democracy. It is now home to the Women's Gaol museum, Number Four Museum and the Old Fort Museum.

Neighbourhood markets. Take some down time and snap up some bargains. You'll want to pick up some souvenirs and the best places are the African flea markets. Explore and rummage through the locally made items and bring something special home.

South African National Museum of Military History. Interesting museum if you'd like to know more about the local military history. You'll find military records, journals, weapons and lots of photographs that depict the nation's participation in wars and conflicts.

South Western Townships.

Visiting Soweto

, and the former home of Nelson Mandela.  There are corrugated steel huts amidst big houses, this area is a real eye opener to visitors. See how people live in the city in very different circumstances.
Getting around
Driving is the best way to get around the city by far. There are also good public transport and long-distance routes too. Taxis are also good but they must be pre-booked.
Where to Stay
Luxury
The Saxon Boutique and Spa. Here you'll find sumptuous suites, a spa and pool and three restaurants to choose from. Prices start from around £350.
Mid-range
Holiday Inn Johannesburg-Rosebank. Good location and a name that you can trust. A standard room is priced at around £100 per night.
Budget
Curiocity Backpackers. Closer to the centre than some other popular hostels and a way to get to know other travellers. Dorms cost around £10 per person.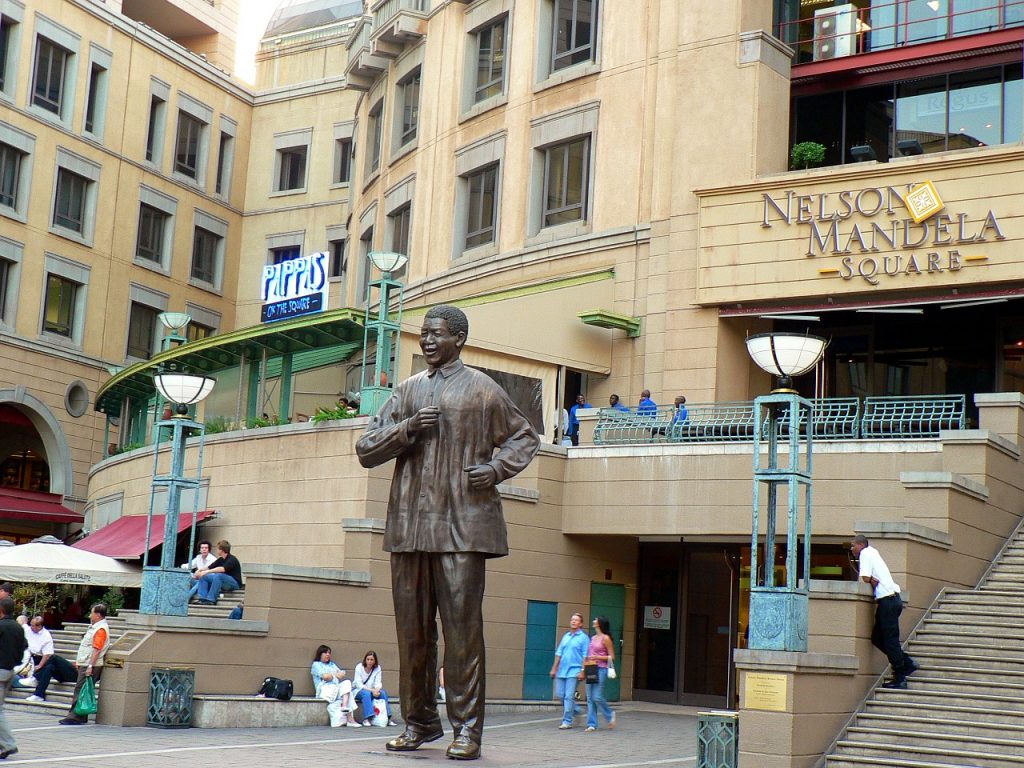 STOP 6, LAST STOP: Kruger National Park – 1 night
Kruger National Park is South Africa's most famous national park, and your best chance of spotting the Big 5 in the wild. It's a 6 hour drive from Johannesburg and day-trips to Kruger are possible if you're pushed for time, but it's a long day. The best plan is 2 days and 1 night there. Prices can range from $350 to $2500!
TOP-TIP: You can organise a 2 day, 1 night trip to Kruger, including pick-up and drop-off from your hotel in Johannesburg here for $359.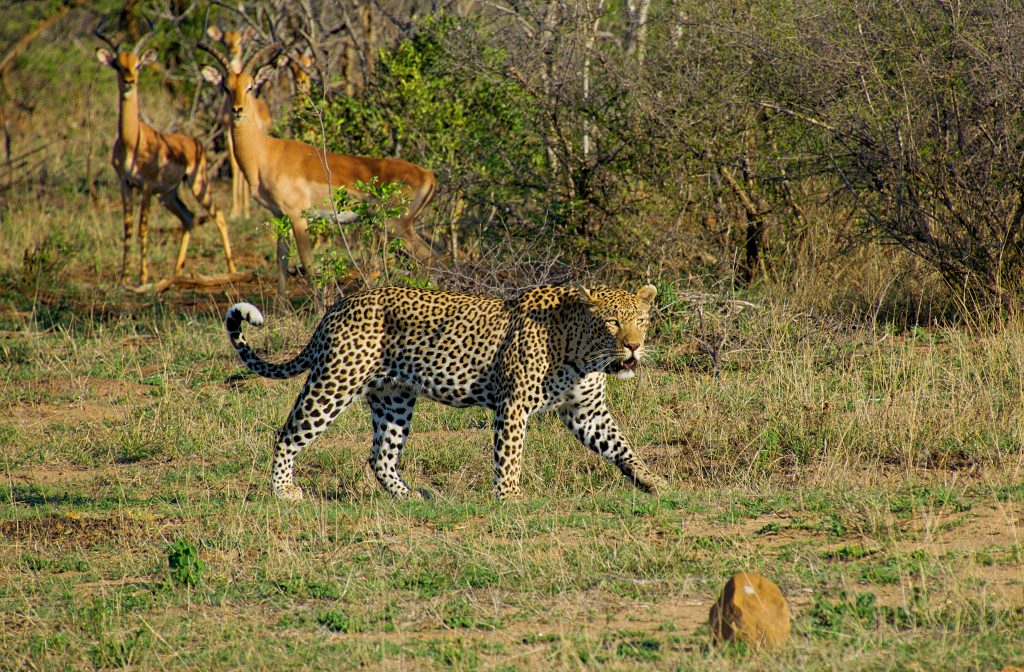 South Africa Itinerary;
Your whole route on your two-week trip in South Africa. RECAP:
1) Arrive in Cape Town. 4 Nights, including Cape Peninsula
2) Winelands (Stellanbosch or Franschoek). 2 Nights. 
3) Self-drive road trip across the famous Garden Route, finishing up in Port Elizabeth. 4 Nights.
4) Fly from Port Elizabeth to Johannesburg. 1 Night in Jo'Burg.
5) Kruger National Park. 2 Nights.
TOTAL TIME: 13 NIGHTS/14 DAYS IN SOUTH AFRICA!
Final Thoughts on my South Africa Itinerary
2 weeks in South Africa is a perfect amount of time. And South Africa is a great country for your first foray into travelling on the African continent. I hope my South Africa itinerary helps you anyway. For me then, I continued on to  Swaziland, then though to Malawi and began my trip north, all via public transport. It was pretty hardcore, but a brilliant trip, and one that changed my life as it's when I started blogging!
Remember, never travel without travel insurance! And never overpay for travel insurance!
I use HeyMondo. You get INSTANT quotes. Super cheap, they actually pay out, AND they cover almost everywhere, where most insurance companies don't (even places like Central African Republic etc!). You can sign-up here. PS You even get 5% off if you use MY LINK! You can even sign up if you're already overseas and traveling, pretty cool.
Also, if you want to start a blog...I CAN HELP YOU!
Also, if you want to start a blog, and start to change your life, I'd love to help you! Email me on johnny@onestep4ward.com. In the meantime, check out my super easy blog post on how to start a travel blog in under 30 minutes, here! And if you just want to get cracking, use BlueHost at a discount, through me.
Also, (if you're like me, and awful with tech-stuff) email me and my team can get a blog up and running for you, designed and everything, for $699 - email johnny@onestep4ward.com to get started.
Do you work remotely? Are you a digital nomad/blogger etc? You need to be insured too.
I use SafetyWing for my digital nomad insurance. It covers me while I live overseas. It's just $10 a week, and it's amazing! No upfront fees, you just pay week by week, and you can sign up just for a week if you want, then switch it off and on whenever. You can read my review here, and you can sign-up here!