Tel Aviv runs at the same cost as London, New York and Tokyo, it's seriously expensive. But just when you thought all was lost, a shining beacon of fun, frolics and unbelievable good value enters in to the fold, step forward HaYarkon 48 Hostel!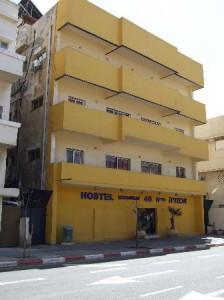 Tel Aviv is renowned for it's nightlife and it's beaches, so if you're hoping to sample them both then you need a good location and of all the places I've stayed around the world, the location of the best hostel in Tel Aviv, HaYarkon 48, is hard to beat.
Aptly located on HaYarkon 48 (you won't get lost stumbling home to this place, when you drunkenly bark the name of the hostel to your less-than-amused taxi driver, at least he'll know exactly where you mean) is a stone's throw from the beach.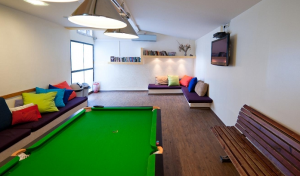 It literally takes about 80 seconds to leave the front door of the hostel until you're in the warm, clear waters of the Mediterranean, unreal. Furthermore, gone are the days when you have to get your backpacking towel covered in sand, these guys even supplies you with beach towels!
The hostel also has a rooftop terrace, it's a great spot to sink a couple of beers, gaze out to the ocean and watch the hot Tel Aviv beach weather turn into party mode. Music starts playing, the lights come on, the sun falls and before you know it you're chatting to a group of backpackers about to paint the town red.
The dorms are great value at around $15 per person, the wifi is fast (and free) but it's the location that really takes the cake. The hostel is surrounded by transport links – train station? Jump on a direct bus and be there in 10 mins, bus station? 8 minutes.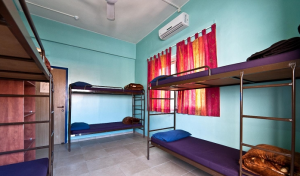 Tel Aviv is worth at least 2 nights of your schedule in Israel, ideally in the middle. It doesn't have the culture of Jerusalem or the history of Nazareth but it offers you worldclass nightlife, beautiful people, and great beaches. Sometimes you need to take you foot off the sightseeing gas, and Tel Aviv is waiting to help you do that, and there's no better place to stay than HaYarkon 48. Happy travels!