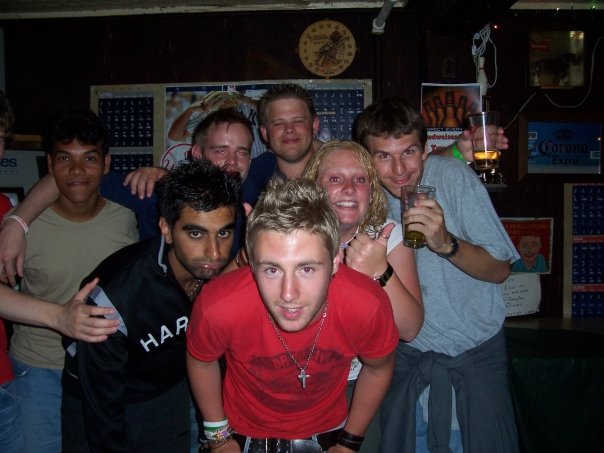 I was struggling with where to begin my blog and I was very tempted to start on my move to Asia but after listening to my housemate's advice then it's true that it's better to start at the start! So, my journey truly begins after graduating from university in England in June 2006, where I moved to the USA to work as a general counsellor at a kids camp.
About Summer Camps: I'll just spend a second or two explaining what a summer camp is and the opportunities they provide for people like u.  Basically, every summer hundreds of thousands of American kids get kicked out of their family homes and sent to the middle of nowhere, normally near a gorgeous forest and a lake, and get looked after by a group of international 'counsellors' (used in the loosest sense possible considering the distinct lack of experience working as a counsellor that most of the employees do but heh – you pay peanuts, u get monkeys!).
In a nutshell, working at a summer camp in America is not something you do for the money – you do it for the experience, and I promise you – it will be one of the best summers of your life.
You will be surrounded with cool, like-minded people, generally aged between 19-26 from across Europe, North America and Australia
Most 'counsellors' have no experience with kids so dont worry! (despite what the camp brochures tell the parents!)
Camps run for around 8 weeks
Pay depends on if you have worked with camps before: 1st timers get around $800 and returners get around $1200 – for 8 weeks this is nothing BUT you do get a J1 visa which allows you to work for 8 weeks and then TRAVEL around America with your new found friends for a couple of months. It's normal for you to make life long friends and travel around America in groups of 4-10 people… very very cool!
In terms of getting a job, a visa, travel/flights arranged etc it is MUCH EASIER to go through an agency such as Camp America (www.campamerica.co.uk). I would definitely recommend a first timer to go through them. They charge around 350 GBP and you get your flights, accommodation, visas etc all sorted out for you – pain free! True they make a lot of money from us but they are easy to deal with, very patient and understand and make it very easy for us
All-in-all you pretty much break even with cost vrs pay but I guarantee you will have some of the best times of your life, meet people from around the world and you will probably end up going back the next year!
Keep it on the down low (!!) but camp is famous for the parties, hook-ups, booze, late nights cheating curfew, tips from parents and all round good times + a lot of American cheese!
A couple of summers back I worked as a general counsellor at a special needs camp,    Round Lake Camp, in Pennsylvania. I had a really great time and it taught me to grow up a lot, dealing with kids with Aspergers, Autism, Social Communication disorders, ADHD – certainly makes you realise what you have and how lucky you are. Not to mention that I still visit my coworkers years on and I know I'll always have a bed to stay on in various cities around the world.
My second experience at camp was very different, but still great, although not without a few bumps in the road…
GETTING SACKED FROM CAMP
My (Second) Time at Summer Camp: Now you get an idea about the general ideas behind camp I'm going to get all nostalgic and talk about my last summer in the USA.
I had already completed my first Camp America experience, through an agency, a couple of years previously so now I knew a bit more about what was going on I thought I could negotiate a better pay packet if I told Camp America that I had already been offered a job by a camp (which was a lie). In the mean time, I was contacting all the richest camps across America telling them that I had been accepted by Camp America and would like to work at their camp, "I have loads of experience", "I'm great with kids etc etc".
My plan worked, and soon after this, I got offered a general counsellor position at arguably the wealthiest camp in the country. The parents were paying $10, 000 for each kid to attend – I mean jetskis, banana boats, rock climbing, everything.. awesome! It should have been a great summer. HOWEVER, I went to camp, met a cracking group of people, met a gorgeous Australian girl, things were going swimmingly then….. I GOT SACKED!!!!! I let a kid go to the bathroom on his own, all of about 30 feet away but they said I should have gone into the bunk with him – it soon transpired that the camp was overstaffed and they were waiting to get rid of people and I was unfortunate enough to commit the first minor transgression.
Heartbroken and angry I was shipped to the bus station in the middle of Pennsylvania at 11pm and told thanks for your effort, see you later .WOW, I was screwed. No phone, no job, a JI visa which expires if i'm unemployed for 7 days and no ticket back home :S I slept in the station with my backpack and got the 1st bus to New York City Central Station. I found the cheapest hostel I could find and booked in, called home to explain my not-so-awesome situation and got in contact with CAMP AMERICA. They were easy to deal with and told me that other people get fired for genuine misdemeanors so I should be grand, I gotta sit tight and wait for someone to get fired elsewhere and they'll try to get me a job in their camp! All with the knowledge that sitting tight is all well and good but when day 7 comes, my visa expires and I become an illegal immigrant in America haha! not good!
So I sat tight, and sat tight, and sat tight and on day 5 of wondering around NYC on my own, wondering what's going to happen to me, Camp America called me to tell me they had found a vacancy for me. Working in up state New York – sounds good! They went on to stress that they could see from their records that I had come from a very wealthy camp and that this camp was not quite as wealthy "no probs love, I'm just happy im not gettin deported – just give me the directions and I'll be on my way". So I did just that… well she was right, the next camp wasn't 'quite as wealthy'. That was a euphemism apparently, and I had been posted in a camp for disadvantaged kids from Brooklyn, Harlem and Queen's, most of whose parents had been shot, stabbed, put in prison – soooo this should be interesting……
Remember, never travel without travel insurance! And never overpay for travel insurance!
I use SafetyWing at $9 a week, and it's amazing. Also, it has great digital nomad insurance for people who are constantly travelling too! You can read my review here, and you can sign-up here
Also, if you want to start a blog...I CAN HELP YOU!
Also, if you want to start a blog, and start to change your life, I'd love to help you! Email me on johnny@onestep4ward.com. In the meantime, check out my super easy blog post on how to start a travel blog in under 30 minutes, here! And if you just want to get cracking, use BlueHost at a discount, through me.
Also, (if you're like me, and awful with tech-stuff) email me and my team can get a blog up and running for you, designed and everything, for $300 - email johnny@onestep4ward.com to get started.
How about $55 free AirBnB credit?
Oh, one last thing! If you've never used AirBnB before, here's a $50 voucher for you! Enjoy!