I have travelled throughout the world and one of the best things I like about visiting a new country is tasting the food that is on offer. Remember the golden rule before you travel, forget about any idea of diet and eat as much of the local food as you possibly can! It is a crime to go to a new place and not to try everything you see, so leave the diet at the airport and indulge yourself! What's the best food that you have eaten when you have been on the road? Let me know what you think about my favourite, are there any that you would add to the list? Now you don't even have to leave the country to try the best food from around the world, check out EatNow to see what amazing food you can have delivered to your door tonight! Here are my favourite cuisines that I have been lucky enough to try.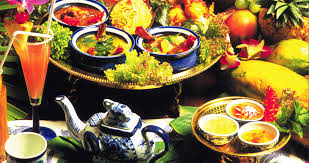 Greece
The cuisine in Greece was heavily influenced by that of the food from Turkey and Italy, what ever the influence I am happy it happened because the food is amazing! There is a big focus on vegetables, herbs and of course olive oil in nearly every dish you eat. I love going to Greece, finding a nice little taverna on the beach and eating until I can't eat anymore.
Thailand
This is without doubt my favourite food in the whole world, I have not visited any other country that has consistently good food wherever you eat. The mix of herbs, spices and meat is truly amazing. You can eat on the street for a dollar or eat in a 5 star restaurant for one hundred dollars, the surroundings might be different but the food will still be so tasty! My favourite dish is called Pad Krapow, you can have it with either pork or chicken, it is a stir fried dish with chilli and basil. Remember to tell the chef not to make it too spicy if you're not used to chilli or you my find your eyes watering very quickly indeed!
Italy
This has to make the list, when I visited Rome I was blown away by how good the food was. I was amazed but of course not surprised at all. Tucking into a freshly made pizza on a street side restaurant is still one of my highlights. The thing that I noticed was how simple the pizzas were there and how good the dough was. So don't load a pizza up, do it the Italian way and keep it simple for the best taste. Then there's the ice cream, wow! If you love ice cream then you will be in heaven in Italy. It is everywhere you look in Rome, what makes it even better is that the price is so low you will buy more than you can handle!