Sitting at the crossroads of Asian culture and history,   Singapore is a cosmopolitan city-state of modern wonders and ancient dreams.  In Singapore, traditions that arrived from China, Malaysia, and India centuries ago have merged with the most fertile contemporary creative energies to generate an intoxicating mixture of sights, sounds, feelings, and experiences that conquer and delight all who choose to visit her shores.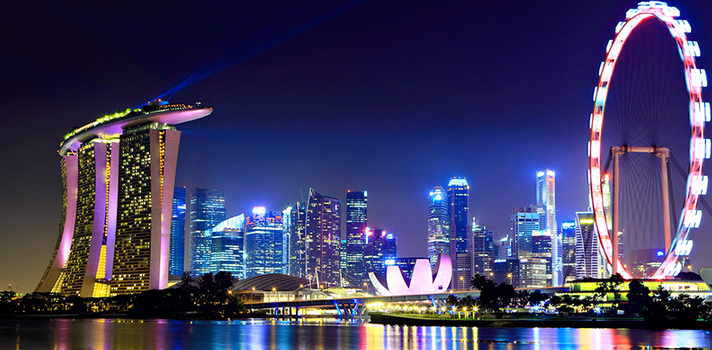 One of the most densely populated locations on earth, Singapore is packed with exciting attractions that emblazon themselves on the memories of every world traveller fortunate enough to experience them. Wherever you turn in Singapore something wonderful awaits that will stimulate the senses and what follows are just of few of  the very best 'can't miss' sights and experiences that this bustling, enchanting island-state has to offer.
As Southeast Asia's answer to the London Eye, this towering observation wheel is the world's largest. The view high above Singapore is fantastic and unforgettable, and by some miracle the lines to ride are usually quite short.
The Double Helix Bridge at Marina Bay
A wholly-unique metallic sculpture masquerading as a suspension bridge, this massive intertwined dual structure features a built-in night lighting feature that converts the surrounding cityscape into a surreal flashing kaleidoscope at dusk (traversing the Double Helix Bridge on foot is highly recommended).
Art Galleries at Tanjong Pagar Distripark
Five sparkling galleries and one active studio brought together in a white minimalist setting that beautifully frames the amazing artwork on display. At Tanjong Pagar you will find a broad assortment of traditional and contemporary Asian art, as well as one gallery devoted to the exhibition of indigenous Australian creations.
Despite Singapore's urban reputation, there are stunning green spaces everywhere in and around the city. This downtown retreat is an oasis of peace that brings tranquillity to visitors with its expansive flower gardens, elegant ponds, and sacred sculptures.
Carefully recreating Singapore's fascinating past, the Heritage Centre is a living, breathing retreat into antiquity, with intricately designed bedroom sets, authentic kitchens and living spaces, and vivid street scenes that bring the visitor back in time to  the old Chinese settlements of the late 19th and early 20th centuries.
On the banks of the Singapore River, this lively and perpetually jumping 24-hour waterfront destination features numerous restaurants, clubs, wine bars, entertainment facilities, and high-end retail shops that cater to the tourist.
Haji Lane
This glittering avenue in the heart of the Muslim Quarter has been transformed into a sophisticated retail promenade that will utterly captivate fashion enthusiasts, window shoppers, and those who enjoy the finest in life.
This 40-hectare animal park is a haven for nocturnal wildlife, and it is the first reserve in the world to be devoted entirely to creatures that only come out at night. Its PM public tours have been named the city's Best Visitor Attraction eight times by the Singapore Tourism Board.
On Dempsey Road an expansive former British Army complex has been turned into a queue of warehouse shops specialising in antiques. Dempsey Road is a popular destination for ex-patriots as well as Singapore's high rollers.
Opened in 2008, this lush 5-storey Chinese-style place of worship does indeed house a tooth that is believed to have belonged to the Buddha himself, prominently displayed on a 420 kg. gold mound like structure called a stupa.
Little India
A buzzing, energetic neighbourhood of small shops, street vendors, Hindi music, pungent aromas, and restaurants serving the best Indian food found outside the Indian subcontinent.
The Restaurants
Experiencing Singapore means savouring its food, which is as varied as it is delicious. The culinary arts are practiced with peak efficiency here, so rather than trying to select one establishment we will instead offer the names of several elite restaurants that will astound your palate:
Waku Ghin
Les Amis
Iggy's
Restaurant Andre
Tippling Club
JAAN
Any type of food you might desire can be found in Singapore, so no matter what you crave you are guaranteed to find it somewhere – and it will send your taste buds soaring.
The above attractions only scratch the surface of the magic that can be found in Singapore. Of course if you do decide to  travel to Singapore on holiday you should  compare your options for  compare your options as medical costs can  be higher than most Asian countries, although the hospitals are renowned for their medical treatment and are of a high standard. Fortunately, finding an agreeable place to stay is easy in this tourist's mecca, so if you decide to plan your trip you should have no difficulty finding a hotel, hostel, private room, or temporary apartment that will fit comfortably within your budget.